Top 20 lead generation companies in the Philippines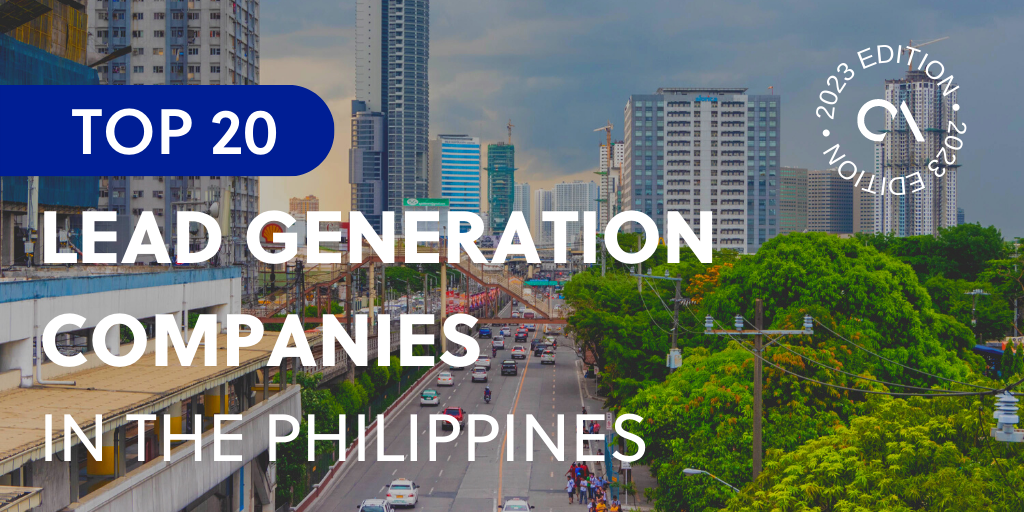 List of lead generation companies in the Philippines
When talking about excellent customer service and highly competent people who can perform marketing efforts, the Philippines is part of the list with its top lead generation companies. 
Filipinos are known to be one of the best English-speaking and competent workers today. The country's business process outsourcing (BPO) industry is growing exponentially every year, bolstering the Philippine economy, according to Nextford University.
Lead generation services, including telemarketing, cold calling, and other marketing activities, continuously progress and are part of the emerging industries in the country.
Take an in-depth understanding of the lead generation industry in the country and how the top lead generation companies in the Philippines help many businesses unleash their full potential.
Roles of lead generation companies in the Philippines
Lead generation companies in the Philippines has significantly contributed to the country's overall economic development. 
As companies learn about the capability of lead generation, the correlation between economic progress and business development becomes collective. 
Here how the top lead generation companies in the Philippines aid global businesses:
#1. Research and maintain lead generation database
Lead generation companies in the Philippines have gone the extra mile researching and partnering with different marketplaces online. 
They also generate contacts and information from various companies and establishments by building relationships. This helps many businesses to have an instant connection to the heads and leaders of the organization and offer services with intelligent and customized strategies.
#2. Conceptualize lead generation strategies
There are so many techniques to consider in conducting lead generation. However, unique and customized ways to communicate and propose a deal to target leads can ensure higher possibilities for acquisition. 
For example, a simple telephone call can be dull and pushy for some customers. Learning and understanding the right tone and approaches to relay your offer can lead to a more productive conversion.
#3. Develop comprehensive marketing campaigns and techniques
Because of advanced technologies and digitization, top lead generation companies today have level-up strategies from simple call handling and direct email marketing to website development.
Some agencies also offer search engine optimization (SEO) services and landing page customization. They help brands and firms strengthen their presence and ranking in search results online.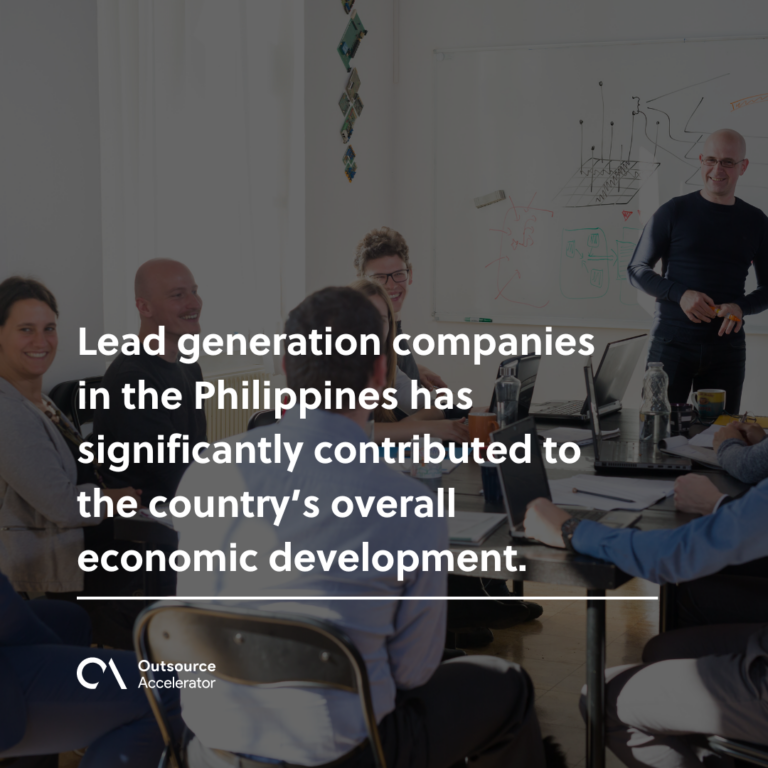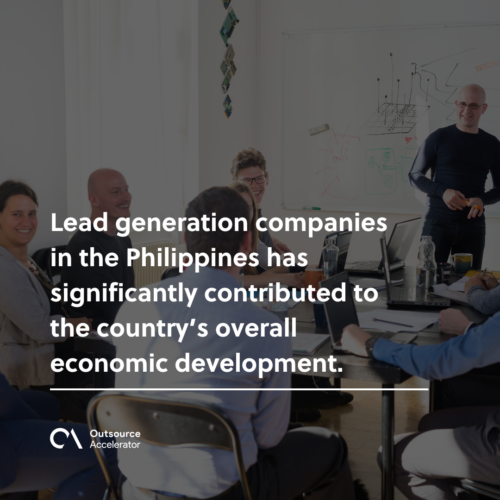 Lead generation vs. General marketing
General marketing management comprises sales and promotion of goods and services more inclined to the traditional and typical practices available in the market.
However, marketing trends and techniques are becoming more advanced. Business leaders have learned to value the importance of hiring third-party agencies as partners for executing marketing and advertising efforts.
Lead generation has substantially changed the ways of general marketing with the help of outsourcing. It establishes more personalized and tailor-made techniques based on the requirements and nature of the business. 
It also became essential to many companies because of its ability to enhance operations and ensure possibilities of closing deals and higher profit generation.
Top Global Outsourcing List
Outsource Accelerator is the world's leading outsourcing marketplace and advisory. We list over 3,000 BPO firms located across the globe in our global directory, and we provide detailed information, price guides, and reviews.

Whether you're a solopreneur, SME owner, or corporate executive, we can help you find the most suitable outsourcing provider for your business.

Explore our outsourcing directory now. You may also check out our Top lead generation companies lists per country here:
Top 20 lead generation companies in the Philippines
Below are 20 of the premier lead generation companies in the country at present:
Outsource Accelerator is known to be the world's leading aggregator marketplace for outsourcing. It primarily helps create a pipeline between world-leading outsourcing suppliers and businesses and clients across the globe.
The company's website contains over 5,000 articles, 350+ podcast episodes, and a comprehensive directory with 2,300+ BPO companies. Its platform is designed to make it easier for clients to learn about – and engage with – outsourcing.
Outsource Accelerator is one of the top lead generation companies in the Philippines. It is the trusted source of independent information, advisory, and expert implementation of Business Process Outsourcing (BPO).
Callbox is a top lead generation company home to over 700 marketing leaders providing excellent service across 3 locations in the Philippines and Columbia. 
Since 2004, the agency has offered lead management solutions for tech companies through lead generation, appointment setting, and data-related techniques. It is the only company capable of global coverage.
Loop Contact Solutions is a full-serve call center company that supports clients by creating high-performance sales, support, and retention teams. These professionals can handle inbound and outbound calls, emails, and live chat. 
The company is focused on customer loyalty and subscriptions, helping businesses establish a customer database for potential and existing leads to generate more profit.
Staff Outsourcing is a leading global business process outsourcing company. It offers business value to more than 200 international clients by linking operational excellence with expertise in key industry verticals.
Established in 2011, the company specializes in voice services, non-voice BPO, back office services, and HR consulting. It is a global BPO company based in Cebu, Philippines, with clients across various industries. 
Concert8 is headquartered in Vancouver and has a satellite operation center in Manila, Philippines. It offers a unique operation process with quality service, global reach, and a cost-effective structure.
Concert8 conducts a thorough recruitment process, including extensive interviews and testing. It diligently profiles agents by personality, experience, and skill to find and refer the right people for a client's program.
OBPO is an offshore service company specializing in call center services. It is also one of the top lead generation companies in the Philippines with a proven record of successful partnerships. 
The firm is composed of experienced professionals creating customized strategies for each client's requirements. It offers services to help businesses generate high-quality leads that convert into loyal customers, such as:
Outbound telemarketing

Social media and email marketing 

SEO optimization and content marketing

Web development
Markable Solutions is a B2B marketing company that offers end-to-end marketing, B2B demand generation, and sales services to clients worldwide. It specializes in executing marketing campaigns using digital and telemarketing skills. 
Located in Silicon Valley, California, the agency's also has it physical operations in India and the Philippines, with services ranging from the following:
Prospect list development and lead generation

Digital and strategic marketing

Automation service and website development

Content syndication, info-graphics design, and animation
Magellan Solutions is a leader in the BPO industry, providing comprehensive customer management solutions. It creates integrated platforms for businesses, which include multiple customer channels and process support. 
These platforms enable the consistent delivery of stellar service across different locations worldwide. It provides businesses with the right tools, best practices, and the most talented workforce.
Remote CoWorker is composed of an experienced team that has established operations while working with Filipino virtual talents. The goal is to ensure that clients can keep up with the daily challenges of business operations. 
The company offloads organizational tasks, enabling firms to focus on what is vital for the operation of the business. It offers a wide range of services, including sales support, BPO, and customer service, to name a few. 
TDCX provides transformative digital CX solutions, bringing world-leading and disruptive brands to acquire new customers, build customer loyalty, and protect online communities. It paved the way to making it one of the top lead generation companies in the Philippines.
This agency helps clients achieve exceptional customer experience by harnessing technology, human intelligence, and global footprint. It serves clients in the following industries:
Fintech and e-commerce

Gaming and technology

Home and travel

Digital advertising and social media
1840 & Company is a  remote talent acquisition partner performing roles as a seamless extension of a firm's human resource department. It scales human capital on demand and drives growth. 
Aside from sourcing talents, 1840 & Company also caters to clients as trusted advisors, helping you navigate local benefits, payroll, compliance, risks, and other legal complexities. It helps scale business growth through the following services: 
Hire vetted talent & teams

Freelance, outsource, or direct placement

Fully managed or self-managed

Process automation
Fusion offers top lead generation services, including inbound and outbound sales call support and call answering services. It caters to industries like healthcare, banking, financial services and insurance (BFSI), and telecom, to name a few.
Its BPO services include an extensive range of customer support services that have helped bring brands closer to their customers for the past 33 years. It links innovative technology and the power of humans in myriad BPO services.
CIENCE is a top lead generation and software company offering various approaches, including software platforms, sales and intent data, targeted ads, and multi-channel prospecting. It helps companies build relationships with potential clients and widen their reach.
The company offers SaaS (Software-as-a-Service) and People-as-a-Service (PaaS) to build pipelines. It links products, people, and processes to create a unique conversation model to start sales conversations.
Virtual Done Well is a remote business support agency with a Filipino management team supported and supervised by Australian Directors. It aims to provide professional and economical support to its clients.
The agency offers support services, mainly for US and Australian small & medium enterprises (SMEs), with highly competitive and cost-effective solutions. The generated profits are for community and environmental projects.
This multilingual outsourcing company provides multichannel processes and solutions for emerging and fast-growing businesses of any industry, size, and location.
Open Access BPO offers customizable services focused on customer experience, content moderation, and back-office solutions. It collaborates with brands to develop positive and culture-specific customer experiences in over 30 languages.
MySource Solutions takes a consultative and process-driven approach to the virtual assistant needs of customers with a committed team of skilled professionals. It takes an active role by ensuring partners' growth and success.
This company solidifies viability and establishes a foundation of growth and brand reputation. Its services include administrative support, digital marketing, and call center services comprising top lead generation strategies.
DBOS offers world-class outsourcing services and offshore staffing from the Philippines and helps businesses streamline operations, cut costs, and save time.
This agency delivers offshore solutions for businesses to help meet key performance indicators (KPIs) and return on investment (ROI) at a reasonable cost. It pays attention to consultation, recruitment, implementation, and quality assurance.
Helpware establishes team support for customer service and back office for startups and modern companies. With a satellite office in the Philippines, it provides processes that will link success to many powerhouse clients in the country. 
Helpware has grown and evolved into creating client partnerships with large enterprises. It offers BPO services that drive brand loyalty, including call center, answering service, chat, technical, and email support.
Acquire BPO was established in 2005 to address the lack of offshoring providers with a high-quality solution. The company has then expanded with more than 9,500 experienced professionals operating at 15 state-of-the-art locations today, including the Philippines.
The agency serves various industries and performs marketing services like technical support, back-office functions, software development, and customer service that comprises top lead generation approaches.
Centro CDX is a multinational boutique provider of customer contact solutions and business process management, operating in North America, Europe, the Middle East, and Asia Pacific.
Its clients range from startups to large-sized businesses, primarily in the healthcare, automotive, and telecommunications industries. It provides services in data management, digital experience, health care, and customer service.