Top 30 lead generation companies to partner in India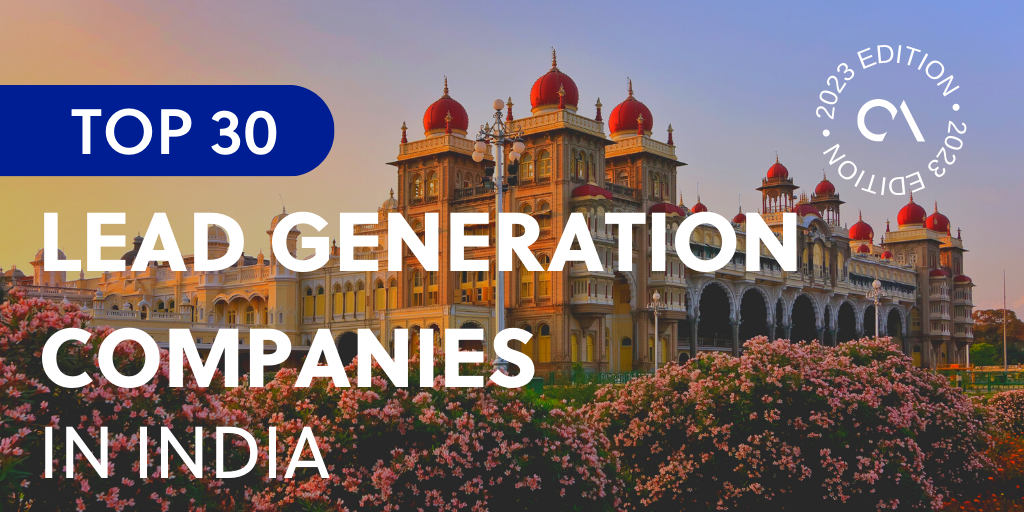 List of lead generation companies in India 
In today's global market, generating sales is a top challenge for businesses and caused many to use powerful lead generation strategies. 
India is one of the prime destinations where the top lead generation companies emerge fast and has contributed positively to the state's economic growth.
Third-party providers in the country have a track record of successful lead generation services, after-effects, including strong relationships and customer loyalty.
Companies with expertise in this field ensure that all of their services are up-to-date with all the trends and progression of executing a successful lead generation. 
This article will give a more comprehensive overview of how top lead generation companies in India share success with many businesses worldwide.
India: A new destination for lead generation services
India is flexible in adapting technological advancement and customer service, factoring it as a well-known place for English-speaking talents.
No wonder the outsourcing service industry in the country also expanded over the years. It also led top lead generation companies in India to include it as a platform to widen the reach of its services globally. 
Business-to-business (B2B) and business-to-customer (B2C) lead generation is equally important in a market perspective of India. Both are connected to provide and build relationships with clients and partners.
The duties and responsibilities of a lead generation company are critical. It gives the impression and drives the connection to its prospect lead. 
Here are some of the roles of top lead generation companies in India:
Research and maintain a lead database 

Conduct outgoing calls to develop new business

Contact prospects to qualify leads

Customized email

Conduct customer analysis and research potential leads

Prepare pitch presentation for sales or partnership

Manages timelines and programs of activities

Mastering knowledge of the company's products and services
Factors to consider in partnering with lead generation companies
Despite so many lead generation companies today, it is necessary to determine the top factors that can bring a high impact on your sales and return on investment (ROI).
Here are the top factors to guide you in choosing a top lead generation company:
General reputation and customer satisfaction rate 
In partnering with a lead generation company, it is necessary to research its overall performance and accomplishments. 
Different organizations recognize top lead generation companies in India, which adds credibility and competitiveness. Testimonies and satisfaction rates from their valued clients and partners back up most of the firms' websites.
Expertise of the companies employees
Dealing with market trends and innovations is a challenge, but it has sought a great impact to get more attention from your target leads. Like in India, top lead generation companies that hire expert and dedicated talents can only give nothing but extensive service outcomes.
Creative and drivers of innovation
Lead generation requires creativeness and adaptability to innovate practices. The process includes customization and personalization to avoid sounding pushy or disturbing, like sending emails or making a call. 
The idea is to make our prospect lead more knowledgeable on how top lead generation companies elevate business growth in sales profit and building connections.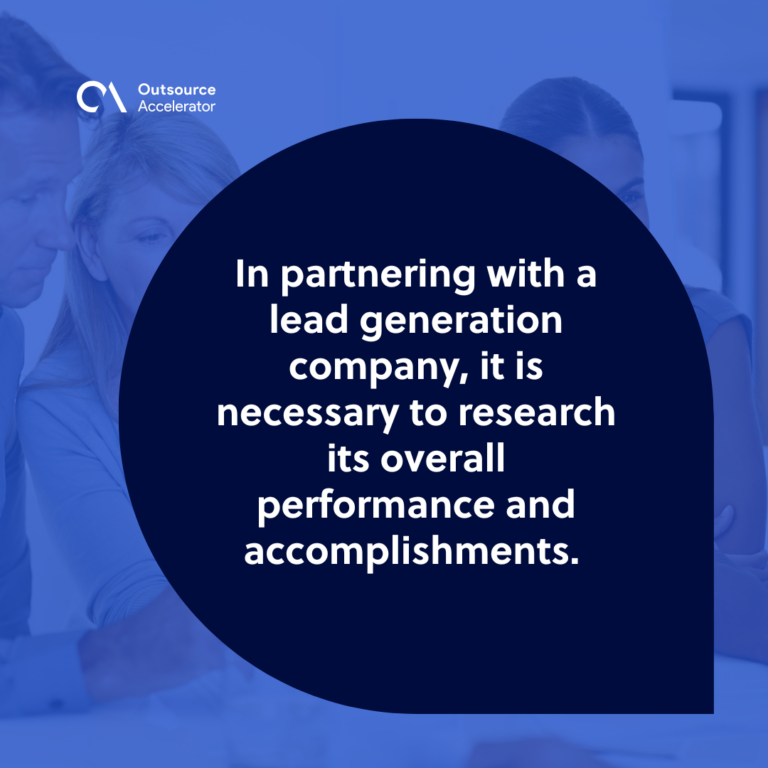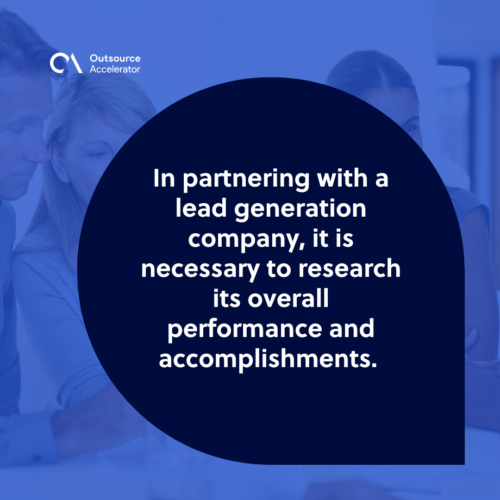 Top global outsourcing list
Outsource Accelerator is the world's leading outsourcing marketplace and advisory. We list over 3,000 BPO firms located across the globe in our global directory, and we provide detailed information, price guides, and reviews.

Whether you're a solopreneur, SME owner, or corporate executive, we can help you find the most suitable outsourcing provider for your business.

Explore our outsourcing directory now. You may also check out our Top lead generation companies lists per country here:
Top 30 lead generation companies in India 
Listed below are the premier lead generation companies in India: 
Leadzen is a software solution focused on automating lead generation processes. It helps industries by acquiring contact information and other lead data.
This firm, located in India, collects data through different online platforms like Linkedin, Google, Facebook, and Youtube, to name a few. It specializes in B2B lead generation, servicing over 50 top-performing companies today.
Established in 2016 by Yosef Eisenstein and Yoni Tserruya, Lusha created prospecting tools that provide reliable data for its partners' target leads.
The service has unique features that include data verification and a database of possible companies to partner with. Lusha is determined to help B2B partners connect with the right target customers backed up with reliable sources and information.
SalesAladin is one of India's top lead generation companies. It offers cost-effective and personalized solutions for B2B product and service companies and B2B SaaS companies.
The company helps in attracting customers by providing scalable and proven lead-generation solutions. SalesAladin designs ideal customer profiles, reaches out through multiple platforms, and conducts research and customer analysis.
upGrowth is a growth-focused company based in India that provides unique ways to grow and expand your business. It was founded by Bhaskar Thakur and Amol Ghemud as a "growth hacking company." 
It helps companies drive the right customers by using techniques like search engine optimization (SEO), paid campaigns, and social media management. upGrowth establishes buyer personas, identifies early adopters, and targets them through the right channels.
This digital marketing company was founded in 2003 to provide solutions to e-commerce firms. Over the years, Krish helped several top brands innovate and thrive in the e-commerce industry. 
This award-winning company shares various tactics with its customers in lead generation, including inbound and email services. It operates in India, the USA, the UK, and UAE.
LeadNXT is dedicated to helping partners generate new leads and convert them into customers. They provide services like cloud telephony, web application programming interfaces (APIs), and lead management. 
This top lead generation company in India also helps automate the process of generating relevant leads. It has design systems like CRM projects and upgraded company websites. These systems help businesses attract the right kind of customers to their websites.
Whizcrow is a data-driven agency in India with a global presence. It helps startups, entrepreneurs, agencies, and small and medium-sized enterprises (SMEs) to expand with the most applicable approach. 
The company is known for services like content creation, social media management, demand generation, and SEO. It has championed more than 78,429 leads for businesses and is a certified partner of Semrush and Google.
EasyLeadz is a top company in India providing top lead generation tools. It helps startups, multi-level establishments, marketers, and recruiters to attract potential customers by giving contact numbers and relevant information.
EasyProspects is a platform designed by EasyLeadz to provide the contact numbers of directors and top managers of prospective lead companies. It helps firms to seek more possibilities to acquire leads.
PageTraffic has been a top-rated digital marketing agency in India since 2002, providing fully managed SEO and website design services to generate more leads.
The company caters to everyone from startups to highly established firms for their lead generation requirements. PageTraffic has served more than 10,000 clients over the years, focusing on SEO to bring relevant traffic to its clients' websites. 
CAI is a data mining and work-from-home service provider. It has established stocks of databases from pan India, maintaining an accurate database of million leads and still growing.
CAI works on a transaction-based revenue structure that provides value-for-money-oriented services to its clients. This agency's database has security measures that enable maximum utilization of the resources.
FreshDataLabs is a Data-as-a-Service(DaaS) provider startup that helps firms find ideal customers with greater ease and convenience. 
With intelligent technology and proven prospecting channels, FreshDataLabs empowers sales teams with top-of-the-sales funnel activity and effectively grows sales profits through data services.
Founded in 2010, MattsenKumar (MK) is a back office services provider based in Woodburn, Ore., with an office in Gurgaon, India. This agency has 364 employees offering voice/call center services and non-voice business process outsourcing (BPO) services.
MK is committed to providing quality outsourcing capabilities, a well-trained workforce, and accurate data security measures that can result in maximum return on investment (ROI). Its expertise in process transformation makes them a trusted partner of top industry-leading brands. 
Go4customer is a global organization headquartered in India that provides transformational services in multi-level verticals. Aspiring to create collaborative advances in the business process industry, it significantly expanded across customer interactivity domains and digital and social media marketing. 
It caters to various industries by navigating across the digital space and researching big data analytics. The agency maximizes SEO services to promote brands and help them rank higher in search engine results.

The 4P Solutions is a top lead-generating agency with customized solutions for businesses in India and international clients. It is a full-service digital agency helping companies to grow by providing online marketing and communication solutions. 
With an integrated approach to marketing services and communication, The 4P Solutions helps in solving challenges with its well-trained employees.
It featured offerings are:
Search engine and social media management 

Web portal development and maintenance

Online reputation management

Marketing collateral support 
Technosys provides businesses with restrictive excellent leads. The firm has over 250 employees in 3 locations in India (Delhi, Patna, Pune), servicing hundreds of top companies from more than four countries.
Many industries utilize lead generation, including insurance firms, real estate agencies, and education. The company guarantees to generate sales profit and process leads that can be future loyal customers.
SkyWeb Service is a data entry outsourcing company founded in 2009 in New Delhi, India. It is a one-stop-shop agency for all web-related concerns that assists with sustainable and strategic solutions on these core services: 
Data management and processing

E-commerce Management 

Data conversion 

Medical Billing 
Meta Leads is a top lead generation company based in Bangalore, India, that collaborates with businesses to generate high-quality leads online. It offers services, including consultation, tailor-made strategies, and CRM integration. 
At Meta Leads, lead generation is easy because of its expert team that helps innovate and boost online efforts for hundreds of small businesses. It helps growing businesses generate leads using proven and tested digital marketing strategies.

As another leading provider of business services in India, ICCS focuses on building partnerships beyond usual business. Aside from being a service provider, ICCS believes in the "partnership approach" and acts as an extended arm for companies.
Apart from the vast experience and built workforce business service in Noida, Delhi, Mumbai & Hyderabad, ICCS is recognized for delivering excellent support on the following services:
Inbound and outbound services

Market research and back office 

IT and tech support

Staffing, finance, and accounting

Cybersecurity
Established in 2001, NoidaExim is a top-rated call center located in Nehru Place, the technological hub of Delhi. The company provides a wide range of call center outsourcing services to meet the requirements of different types of businesses and improve brand image.
Noida Exim Private Limited offers innovative and seamless call center outsourcing solutions. Services include a host of BPO solutions like inbound, outbound, back office, ORM, IVR, and web services. 
ClientCurve is a lead generation company in India that has been working with sales and marketing professionals from different countries since 2008. The agency's designed solutions help companies to automate their entire processes. 
ClientCurve has catered to over 220 clients from various countries. It has serviced over 50,000 B2B meetings and generated millions of pipelines for its clients across India, the USA, the Middle East, South Africa, and Singapore.
LeadCreations is a marketing company. It provides full-service capabilities in a performance-driven structure and a worldwide reach through design technologies, a network of publishers, and a team who lives for advertising ROI.
The agency has become one of India's top lead generation companies focused on technology and innovative strategy. Believing in quality over quantity, it assisted startup networks and provided exclusive campaigns and quality leads. 
Acquist Asia is a company based in India focused on magnifying customer acquisition outcomes for its clientele. Moreover, the principal objective of its endeavor is generating measurable gains for firms reflecting their sales profit.
This company composes a high-performance team of senior professionals with decades of combined experience. They perform customer acquisition and marketing programs for industries such as real estate, IT, telecom, banking, and logistics.
DoubleDigits generates the highest quality life, health & auto insurance leads from search engines and other campaign channels. Each lead is verified to ensure the highest quality and interest level anchored on three service offers:
Highest-quality insurance leads

Search and buys insurance leads

Affordable insurance lead packages
This top lead generation company in India has online technologies to capture customers' attention. It helps generate top-quality insurance leads and offers SEO, social media, email, and SMS marketing services.
Two leading demand generation and sales solution companies, Salesify and Demandshore, have merged to become Ziff Davis Performance Marketing. 
Ziff Davis Performance Marketing is the world's largest B2B tech performance marketing company. It is committed to delivering high volume, high-quality leads with an unyielding focus on technology, data, and process.
Kredis Consulting's personalized digital marketing and sales solutions help B2B companies:
Elevate website traffic

Reach out to a broader audience

Drive sales profit

Meet engagement goals effortlessly
The agency is composed of committed professionals equipped with cross-domain experience and subject matter expertise. It offers services to tech start-ups and companies operating across the supply chain, logistics management, and financial services.
Local Rank is situated in the technological city of Bangalore, India, with the top industry marketers. The company's result-oriented work revolves around the following areas:
Data based strategy

Market research & analysis

In-depth keywords research

Customer Behavior techniques
Local Rank creates progressive lead generation services through social media channels like Facebook and Pay Per Click (PPC) models like Google Adwords, BingAds, and Youtube.
White Dwarf Media Pvt. Ltd. is a fast, creative, and client-oriented media firm in Mumbai, India helping companies with its in-house specialists in the following service areas:
Digital engagement 

Lead generation

SMS, email, and telephone advertising

Web promotion, radio ads, and SEO 

Brand management and online surveys

Business and product promotional activities
The firm also conveys enthusiastic and tailored services to clients in India and abroad. White Draft Media Pvt. Ltd. believes there is no legitimacy in a one-size-fits-all approach. It provides advanced digital marketing strategies designed and envisioned based on clients' goals.
EFFE connects its clients to their market leads with simple yet effective solutions. As an established marketing and communication company, it ranks many campaigns to top lead generation, customer engagement, and awareness.
As sales strategists, EFFE Consultancy teams up with clients in different industries to help achieve their goals, naming the company as one of the top branding agencies in Chennai. It specializes in creating marketing strategies for startups, enterprises, and companies.

QLB Marketing Insights is a top lead generation company in India with strong research capabilities and robust sales experience across the global market. It is composed of passionate business marketing professionals working hand in hand to translate the objectives of businesses into reality.
It primarily caters to clients offering B2B products or services across various industries. The offered functions include:
B2B appointment setting

Demand Generation 

Lead nurturing through communications & brand Recognition

Account-based marketing

Market research and database enrichment
This tech-savvy digital marketing agency aims to increase the number of customers of its partners. Working with content + strategy + tech, LeadFactory ensures its clients achieve the most desired objective through customized systems.
LeadFactory has successfully solved complex business challenges from startups to high-performing companies by finding and using the right channels. 
Its featured services are:
Digital marketing consultancy

Performance management

Content marketing

Inbound & email marketing

Facebook and Google lead generation