Top 20 lead generation companies in Puerto Rico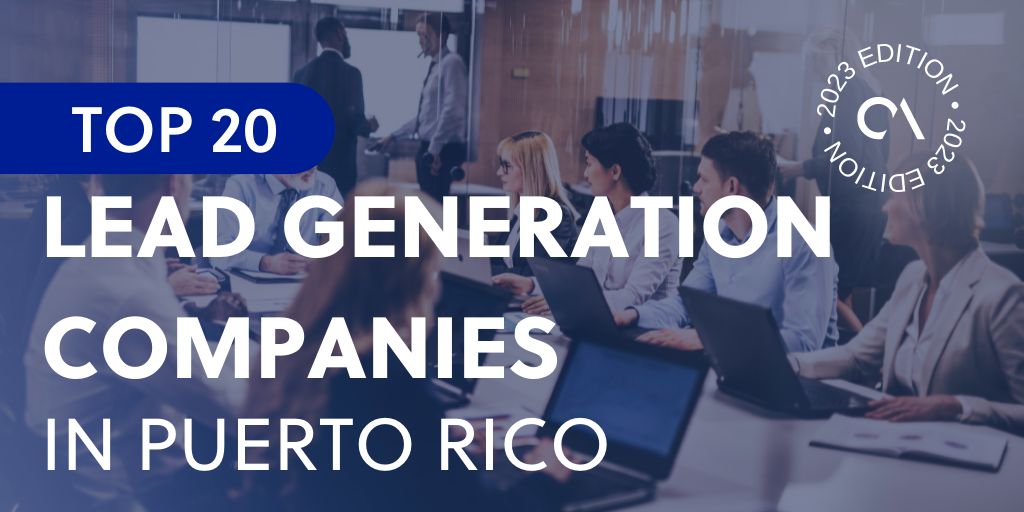 The market is evolving and so should your lead generation process. Businesses that rely on traditional sales methods such as cold calling and buying data are missing opportunities to win new customers.
A Gartner study found that more and more CEOs find lead generation as one of the biggest challenges that leaders face. 
Considered a lifeline of a company, lead generation is a vital part of any successful business. It involves reaching out to potential customers and getting them interested enough in your product or service that they'll want more information.
Outsourcing to Puerto Rico allows global clients to access a highly-skilled, low-cost workforce that can carry out lead generation best practices.
With this in mind, it's easy to see why so many companies outsource their operations to Puerto Rico. It provides them with the resources they need for their business while ensuring that all legal requirements are met.
Here are the top lead generation companies in Puerto Rico that will help businesses make memorable connections with leads fast.
Benefits of lead generation outsourcing
A company's sales cycle determines how quickly it can expect results from its lead generation efforts. It requires a considerable amount of time and effort to be done right. 
As a key part of revenue generation, many companies allocate large amounts of resources to lead generation drives. Here are some reasons why outsourcing this business activity is valuable for companies. 
Up-to-date knowledge and expertise 
If you're a small business owner or entrepreneur, you have less time and resources to do everything yourself. As a result, you could do yourself more harm than good if you don't hire the right people for your digital marketing strategy.
Lead generation is introducing different ways to do business regularly, such as content marketing, influencer marketing, automation, and more. Keeping up with all these methods to keep your business afloat is easier with a dedicated team. 
Cost-efficiency 
Time is money. When you outsource lead generation, your in-house team will save time and energy by focusing on the right leads. This is especially important for brands that are in a highly specialized market.
Your agency will target those that fit your ideal persona through different contact lists and outreach methods. This way, you can focus on finding and working with people who are interested in what you offer.
Additionally, outsourcing lead generation specialists in Puerto Rico can save your business from costs related to office space, equipment, and in-house employee wages.
Broaden your reach
A dedicated team can help you tap into a global market. This will help your business increase its presence in different countries with varying languages, cultures, and expertise. An outsourced lead generation can help improve efficiency as well as the diversity of your business. 
Top global outsourcing lists
Finding a BPO company that can provide the support your business needs can be daunting. Save time and money by browsing our directory of the best providers in the world.
Our team of advisors has deep experience in identifying the right outsourcing solution for your specific needs, so get in touch and let us help you optimize your workflow today!
Outsource Accelerator is the world's leading outsourcing marketplace and advisory. Find the list of over 3,000 BPO firms around the world and learn more about their price guides, reviews, and other information that can help you make the best decision for your business. 
Top lead generation companies in Puerto Rico
Find a list of lead generation firms that offer value in sales development and other lead generation strategies to help your business grow. You can find companies specializing in B2B or B2C.
Leadgenera is an outsourcing agency that offers a comprehensive solution to businesses. It offers marketing consultancy, web development, and other services. 
Its lead generation solution involves different methods to drive interest and conversion. The company's process covers digital leads, PPC, social media, and other lead generation forms. The firm prices its services per lead captured. 
Pro Leads PR is a Puerto Rico-based lead generation and marketing company. It serves local and international businesses through industry-focused legal, insurance, and home improvement services.
It offers real-time delivery through different email, text, and call channels.
Mas Digital is an agency that offers traffic, branding, and sales services. The company works with Hubspot, Google, and Meltwater to provide quality service to its customers. 
Its lead nurturing services go hand in hand with its inbound marketing methodology. The company also provides lead nurturing to help keep customers engaged. 
Telecontact Resource Services is an eContactLive division that has been providing B2B telemarketing services since 1994. Appointment setting and lead generation are two of its  leading offers. 
Its team of experts has over 50 years of experience in providing customers with pre-qualified leads.
DRSI Call Center LLC is the leading contact center in the largest Hispanic market in the U.S., serving companies throughout the country by providing Spanish-Speaking bilingual agents for their Customer Service and Technical support needs.
Its services include inbound programs for B2B and B2C applications. Other services offered by this firm include live chat, fulfillment, and warehousing, among others. 
Intelemark offers specialized solutions for B2B companies. It offers for-hire inside sales teams to drive revenue opportunities and generate qualified leads. Logistics, healthcare, and manufacturing are some of the industries it serves. 
The company also supports businesses through other solutions for customer retention, and tradeshow support. It has been recognized by platforms such as Clutch for its services. 
Callbox helps companies to generate quality leads and sales opportunities. It does so by offering solutions that meet different lead generation avenues such as webinars, websites, voice, and more. Its services are trusted by different brands around the world. 
The company offers core competencies for different regions of the world to help expand domestic efforts and broaden the reach of its customers simultaneously. 
Upcall offers a conversation-driven platform that works with a team of sales experts. The company provides services for B2B, healthcare, insurance, real estate, and other fields. 
It takes existing leads and engages them with customizable scripts. For integration, it also offers custom call times as well as training. Over 400 global companies trust this provider for lead generation services.
CIENCE Technologies operates through a lead generation approach that includes premium sales and intent data, targeted ads, and multi-channel prospecting. It is a BBB-accredited company with an A+ rating and recognition from renowned business publications. 
Its services come with account-based sales enabled by AI research to speed up sales qualification. The company has different global locations ranging from Europe to Asia.
CandorWorks is a digital marketing agency specializing in B2B Performance Marketing. Among its service offers is lead generation. It is compliant with GDPR, CCPA, and other regulations/
The provider has a reach of over 24.6 global professionals and a team of trained marketers. It can help drive leads using AI-powered account-based marketing, content marketing, and event promotion for B2B lead generation. 
Treemont Consulting is a B2B consulting firm that services industries such as media, software, and construction, among others. It helps customers improve their reach through an in-house team of outbound experts.
The company offers personalized copy and assets to drive improved client results. Its cold email outreach offer has driven over $30 million in revenue. 
JumpCrew provides outsourced sales and marketing for startups and global brands. It was established in 2016 and has now grown to serve renowned brands like AT&T.
The company offers lead-generation services through behavioral data and a proven sales strategy. It handles onboarding, prospecting, lead qualifying, calls, and closing.
Purple Sales Solutions specializes in providing B2B services for tech companies. The company is a hybrid agency with a strong focus on marketing and sales. Its services include market validation, appointment setting, and sales outsourcing. 
Its sales solutions are anchored on a trained sales team, operational support, and sales technology. It can provide teams of three up to 20 sales specialists. 
VSA is a B2B lead generation company with over 20 years of experience. With a full suite of services and strategic thinking, it is the one-stop shop for prospecting insight and execution.
The company offers lead-generation solutions that cover website design, content, social media, and calls. It has been recognized by publications such as Inch for its rapid growth. VSA works with brands from various industries, including healthcare and education. 
RemoteCoWorker was founded by industry experts with over ten years of experience in the industry and who have successfully filled tens of thousands of jobs while working with some of the most prestigious companies in the world.
The company's services include business process outsourcing for sales and business development. The company provides 24/7 support while maintaining compliance with rules and regulations.
Also known as UAM, the company has provided business process outsourcing since its establishment in 2009. It provides fully bilingual support for different services such as customer service and marketing. 
Its lead generation solutions offer lead research, cold calling, pipeline development, and sales cycle management. A trained team of sales experts supports clients to offer full support.
Out2Bound is a B2B lead generation company. It also offers sales consulting to help clients solidify their strategies. 
The lead generation solution provides a dedicated sales team consisting of a business development representative and a sales lead. The team handles research, strategy, cadence, and execution. It serves startups, SMEs, and enterprises. 
AnswerConnect provides 24/7 live answering, virtual answering, and lead generation services. 
Its process starts with pre-qualified leads to increase efficiency. Outreach is done with a custom-scripting process to help identify hot leads fast. The company finds leads through email, texts, and click-to-talk.
Pexly is a multinational customer support service provider for organizations with a global audience. It operates 24/7 and speaks over 20 languages. It provides up to 100 agents for businesses of different sizes. 
Its lead generation and pre-sales communication are available with omnichannel support from chat, email, messenger, and social media. The company offers solutions centered around lead generation and sales development representation.
SupportYourApp is a Support-as-a-Service that provides augmented customer care and support services for growing startups and tech companies around the globe. It offers customizable packages that include customer support, customer success, and sales. 
It serves global clients with over ten years of experience. Customers can expect 24/7 support and a personal approach to help them meet unique business objectives.