Top 20 Lead Generation Companies in Malaysia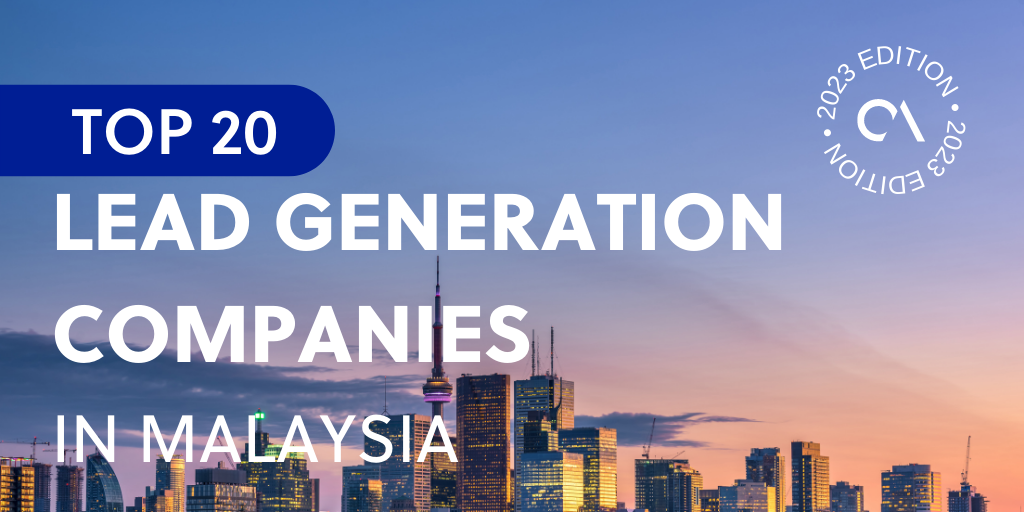 Malaysia is an emerging destination for many multinational companies. As a member of the ASEAN, it welcomes various foreign investments within and outside the region. To date, it is considered the third-largest economy in the region and is an emerging electronics exporter.
These conditions spurred the growth of smart technologies and digital marketing services in the country. Many companies are turning towards sales and marketing with the intention of generating more leads and revenues for their clients. 
What is lead generation, and why is it important?
Lead generation is the process of converting sales leads into actual revenues. This is done through aggressive or passive marketing strategies. With the use of industry databases, agents call these leads and offer the services or products of their partner companies. 
The advantage of lead generation is it actively ensures that the customers are engaged. They understand the product, its benefits, and its limitations. Complaints are addressed in the shortest possible time, and a sturdy relationship between the brand and clients is established. 
Normally, lead generation is conducted either through a B2B or B2C approach. 
Top 20 Lead Generation Companies in Malaysia
Global outsourcing lists
Outsource Accelerator is the world's leading outsourcing marketplace and advisory. We list over 3,000 BPO firms located across the globe in our global directory, and we provide detailed information, price guides, and reviews.
Whether you're a solopreneur, SME owner, or corporate executive, we can help you find the most suitable outsourcing provider for your business.
Explore our outsourcing directory now. You may also check out our Top Lead Generation companies lists here:
Top 20 Lead Generation Companies in Malaysia
Below is a list of lead generation companies in Malaysia.
Upstream BPO was recognized as the top leader B2B company in Asia in 2020. It takes pride in its 50 years of cumulative experience providing bespoke telemarketing solutions across three continents.
It is based in Cyberjaya, the technology hub and capital of Malaysia, and is affiliated with MDEC, IAOP, and MSC Malaysia. 
Callbox is a sales lead management provider servicing North America and Asia Pacific clients. It is an established partner of notable brands such as Acer, Forbes, and Motorola. 
Callbox harnesses the power of smart technologies backed by its capable workforce. It specializes in database solutions, lead generation, and appointment setting. 
Just Simple is a full-service digital marketing agency based in Kuala Lumpur. It has been in the industry since 1999 and caters to various local brands and companies, helping them make an impact in Malaysia. 
Its repertoire of services is digital marketing, web design, and branding. Some of the notable companies it has worked with include POS Logistics, Kuala Lumpur Kepong Berhad, and George Kent. 
Online Success is a digital marketing agency focused on providing scalable results for its local and international clientele. Banking on its smart solutions capabilities, it strategizes digital content and campaigns that generate sales leads. 
An industry veteran in Malaysia, it has mastered the unique taste and preferences of Malaysians that make it easier for its campaigns to be relatable and viral. Clients it has partnered with are Fresh Select, E&J Trading, and Heritage Services. 
Envo BPO was awarded as one of the top 100 fast-moving SMEs in 2020. As an award-winning BPO, it is ISO 9001 compliant and a recipient of top B2B companies in Asia by Clutch the same year. 
As an expert in back office support services, it specializes in telemarketing, leads generation, and desk support. 
VPO Services is a global BPO company that services Southeast Asian countries, the US, and the UK. From its initial dealings as a BPO, it gradually expanded to HR operations, IT solutions, and telemarketing services.
Leveraging its experience combined with multi-industry coverage and expertise, it enables its clients to scale and focus on core competencies. 
Quad Ventures is a web and mobile applications company with a plethora of solutions. With 1,000 accomplished projects in the past 15 years, it has mastered the science of digital marketing and targeted business goals. 
Servicing multiple industries worldwide, its services reach the shores of Australia, the US, and Singapore. 
A partner of many startup companies and established brands across 31 countries, Revenew has developed successful targeted campaign strategies since 2017. 
It is a recipient of the Most Customer-Centric Startup and the Best Global Professional Service Marketplace both by the Singapore Business Awards in 2021. Despite being a startup, it has successfully expanded to Malaysia, Australia, and the US. 
StarCRM was ranked as the 7th top CRM solutions provider in Asia-Pacific last 2017 by the APAC CIO Outlook Magazine. It has 10 CRM solutions software used for telemarketing, data analytics, and digital transformative solutions. 
It is a trusted partner of blue chip companies such as AXA, The Ritz-Carlton, and DHL. 
Swivelt is a global infotech company that has been servicing the top 500 Fortune companies for 23 years. It is multinational with various technical support hubs in LatAm, Europe, and Asia. 
It is based in Singapore with satellite offices in Malaysia and other parts of Southeast Asia. Leveraging data and technology, it drives growth and performance through its scalable methods. 
Upwork is a global company and platform for various contractors and professionals. A primary option for affordable yet quality services, it prides itself on the diversity of its industries and services that it can cater to. 
It operates in various countries allowing businesses to choose the right fit for its demands and means. 
Truelancer is another multinational platform for professionals to offer their services at affordable rates. Vetted and verified through a stringent process, businesses can be assured that contractors are experts in their field.
Putting the interests of its clients first, it offers a wide diversity of contractors and services which fit the different needs of companies availing their services.
Jacarlin is a design and marketing agency based in Kuala Lumpur with around ten years of experience. Transforming business models into creative and multiple web-based applications, it helps businesses forge a unique identity in the market.
An advocate of leaving a mark in a sea of campaigns, it tailor-fits its strategies to drive successful conversion of leads into sales. 
Greenhouse is the go-to company for multinational companies to expand and scale their businesses. With its extensive and intensive market research and validation, it prepares the groundwork for its clients, allowing them to access new markets and new sales leads.
Gojek, Socar, and DA are some of the small to large enterprises it has partnered with. 
Denave's services reach five continents, 50 countries, and 500 different cities. With over 5,000 sales solutions generated every year, it has generated USD 5 billion. 
An award-winning company bagging the Gold award in the Most Admired B2B Marketing at the ACEF Asian Leaders Forum and Award of 2021 and listed as a global innovator under the top 100 Red Herring Global Company.  
With a global footprint of 44 countries, five continents, and supporting 60 languages, Majorel is a leading global lead generation company. Equipped with its 82,000-strong workforce, it services multiple industries helping them create strong sales and digital experiences.  
Driven by the digital requirements of its customers, it continuously develops and engages the market with its tailored campaigns. 
Locus-t is a leading marketing agency in Malaysia that helps companies build an empire through digital leads in Google, Facebook, and company domains. 
It partners with small to large enterprises with the notable inclusion of GSK, MBSB bank, and Sunway property.
Nick Metrics banks on its time-tested, parsimonious solutions, which provide actionable insights for businesses to adapt. Backed with a strong research background and an extensive reach of its database, it supports companies to meet the sales they need annually. 
Mastering the art of the new rules of digital marketing, such as influencer marketing, Nick Metrics enables its partners to secure more leads across different channels and platforms. 
Canaan is an outsourcing company established to enable businesses to scale. As a premier BPO in Malaysia, it handles technical and administrative services for its clients across different industries in different time zones. 
Canaan is multi-awarded with some of its accolades, including top 100 fast-moving SMEs and a certified MSC Malaysia status.
TDCX is a Singapore-based company with satellite offices in Malaysia, India, and Mainland China. As a techno giant and a leading digital marketing provider, it accelerates sales generation through the mixture of traditional business strategies and innovative platforms. 
Both in Singapore and Malaysia, it has bagged awards such as The Strait Times' Best Employer in 2020 and a Malaysia globally recognized awardee.