Top 20 lead generation companies in Brazil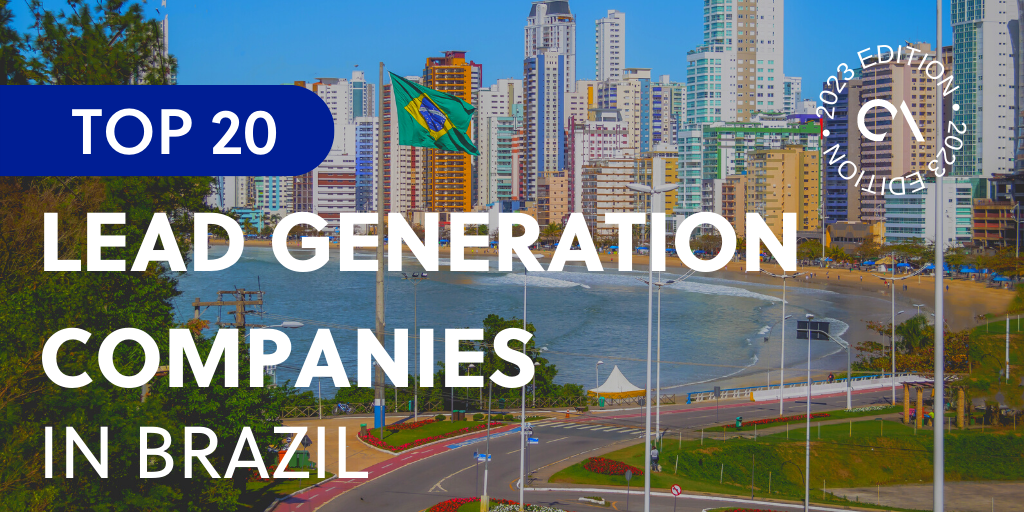 List of lead generation companies in Brazil
Today, many companies take lead generation solutions as a time and resource saver that yields more desirable results than traditional lead acquisition methods.
A study spearheaded by Offering and Enterprize Size revealed that the lead generation solution market size is projected to spike US$ 9,589.1 million by 2028 from US$ 2,763.8 million in 2020. It is expected to grow at a compound annual growth rate (CAGR) of 17.5% from 2021 to 2028.
The emergence of top lead generation companies expanding to different countries supports this study. It includes Brazil, where excellent service in lead generation is recognized.
Let's look into the country's lead generation industry and how the top lead generation companies  in Brazil can help your business maximize its potential and ensure competitive sales profit.

Lead generation: An emerging industry in Brazil
Because of technological advancement and automation, virtual services are made easy. The outsourcing industry became a go-to partner of many firms in hiring virtual talents.

Like contact center functions, lead generation is one of the top outsourced services in Brazil. The country's English-speaking virtual workers are among its leading competitive edge, making it an ideal destination for lead generation.
In fact, Brazil ranks fifth in data released by Statista, citing the top countries with the largest digital populations in the world. 
The digital space is one of the main platforms for conducting various lead generation strategies. Because of that, companies in Brazil in this industry leveled up their capacities in providing services and are now recognized globally.
What are the benefits of lead generation in business?
Expanding your company requires powerful and strategic lead-generation practices. Generating more leads will result in an increased sales profit and will drive success to the business. 
Due to the demand of industry competition in the market, companies in Brazil learn to deal with the creative needs of marketing strategies. Keeping updated with top lead generation trends is essential, given that customers' tastes constantly change.
Here are some benefits that can encourage you to hire a top lead generation company for your business: 
Brand awareness and recognition
Awareness will set the extent of the connection between companies and their customers. The degree of familiarity with your products or services will help you seek prior attention from your target lead.
In lead generation, the process involves both existing and potential clients. The main goal is to ensure customers will remember the product or services as well as the purpose of the company.
Increase audience and revenue
Targeting specific leads is vital to increase and expand your audience reach. Up-to-date lead generation tactics designed and customized based on the needs and preferences of target leads support the process.
Reaching out and building a solid relationship with your leads will help drive the sales of your products or services and increase your company's revenue.
Cost-effective
As compared to the traditional methods of lead acquisition, lead generation today is far cheaper in terms of its cost. It is because of the power of technology and online platforms, including social media.
To set effective lead generation campaigns, email, cold calling, web development, and search engine optimization (SEO) can be used. These practices can dive into digital space and get as much audience as possible. 
Dealing with a cost-effective way of generating leads will help maximize the resources of the company and increase its return on investment (ROI).
Top global outsourcing list
Outsource Accelerator is the world's leading outsourcing marketplace and advisory. We list over 3,000 BPO firms located across the globe in our global directory, and we provide detailed information, price guides, and reviews.

Whether you're a solopreneur, SME owner, or corporate executive, we can help you find the most suitable outsourcing provider for your business.

Explore our outsourcing directory now. You may also check out our Top lead generation companies lists per country here:
Outlined below are the best lead generation companies in the country: 
This company in Sao Paulo, Brazil, is a customer service solution specialist designed to bring brands closer to their customers. It uses top technology to automate processes, reduce costs and deliver quality services.
Sinch utilizes multi-level channels such as email and video chat services to customize calling techniques. Its offered solutions are adjusted based on the client's needs and address the challenges of its operation.
SmartPR is a leading Public Relations agency with operations in São Paulo, Porto Alegre, and Rio de Janeiro. The agency offers wide-range communications and PR services for Brazilian and international clients. 
Translating global strategies into local campaigns and replicating local experiences into international programs is a top capability of the agency. It helps businesses to strengthen their presence in the market competition.
BRSA was founded in 2009 and is a technology and innovation company that operates in the B2B market providing integrated corporate communication services.
The company developed a comprehensive portfolio of services based on the Account-Based Marketing (ABM) strategy. It focuses on the search for potential client leads and the reduction of costs and sales cycle.
Proxis is an omnichannel strategy magnifier that allows consumers to buy customized and convenient services without losing information.
This strategy sets the consumer at the center and builds a positive perception of experience with the company. It also helps firms understand customer behavior and preferences and improves their operations' quality

Ramper serves as a partner of your company to generate and engage more leads, convert them into sales, and grow revenue through a platform that integrates outbound services, and B2B sales. 
This company offers 4 top solutions for its clients, namely: 
Ramper prospect (B2B digital prospecting software)

Ramper pipeline (B2B sales management software)

Ramper marketing (B2B digital marketing software)

Ramper engage (B2B lead engagement software)
Hounders, a lead generation company in Brazil, automates and accelerates lead prospecting without losing human sensitivity. It generates more qualified opportunities, so your company can sell more and connect customers to the right opportunities.
It offers services that will guide clients throughout the complete sales cycle of lead generation, from commercial intelligence and process automation to scheduling of meetings.
This agency is one of Brazil's first search agencies for SEO, search engine marketing (SEM), and Google Analytics services to hundreds of customers since 2006. 
SEO Marketing supports clients by consistently and efficiently establishing a strong presence in the digital world and global market. It offers the following services:
Search engine optimization 

Google ads

Social networks

Creation and design 

Inbound marketing
Callbox is a top lead generation company for B2B and sales solutions for clients to connect with its potential customers in the market. The company plans and manages integrated campaigns that deliver qualified leads for clients.
It also has a proven multi-level approach to generate results at a scale that partners with companies that need help with their campaigns using these top B2B verticals:
Information technology and software services

Manufacturing and distribution 

Marketing and advertising

Consulting and professional services

Telecommunications
Marketeria is an SEO service provider that designs tools to improve a company's site ranking in search results through relevant keywords. It also optimizes your site's content, technical structure, and usability and creates an effective link-building strategy to increase the site's authority.
In addition, Marketeria offers specialized services to drive operational efficiency and optimize your company's revenue. It involves aligning marketing, sales, and operations teams to maximize lead generation and improve sales conversion. 
Founded in 2017, this agency is headquartered in Brazil and operates in other countries serving clients of different characteristics and sizes. Simplex is a national technology startup formed by Brazilian and French executives with long experience in e-commerce.
It offers a wide range of services in these core areas:
Consultancy

Page creation 

Page optimization 

Performance Monitoring
Simplex utilizes technologies dedicated to helping businesses. It believes that technology exists to reduce operational work and let teams take a more strategic position. 
This lead generation company helps companies increase revenue by boosting their sales operations and customer lifecycle management through technology-enabled solutions. 
Techsho is also an all-in-one solution for B2B Software as a Service (SaaS) companies. It has experienced teams that focus on sales & business development, customer success and support, lead generation, and appointment setting.
AG Call Center has been in business since 2002 with more than 18 years of offering contact center and multi-channel customer relationship services, including the following:
Special Ad Category (Sac)

Lead qualification and after-sales 

Back office and technical support

Ombudsman 
The company's top solutions are customized based on the specific demand of each client. It is present in the most diverse operation segments, such as retail, financial, automotive, aviation, and health industries.
GoConvert is a company that designs sales funnel intelligence apps with experts helping clients maximize their return on investments (ROIs). The company's guide to top lead generation practices aims to help businesses categorized in infrastructure and campaigning. 
The first part is about experience launching localized marketing, while the other talks about customer campaigns run in Brazil and other countries. This guide is one of the top comprehensive marketing guides in Brazil.
Founded in 2009, Boa Imagem is a top lead generation company in Brazil that uses the full-service approach.  It is a complete growth-driven company that can handle all aspects of marketing and advertising.
Boa Imagem acts on the needs of businesses where communication serves as a top engine for generating sales, including the following services: 
Strategic planning 

Production management 

Creativity and innovation

Consulting services

Business modeling 
Since 2008, B4B has been designing media alternatives to capture the attention of existing and potential customers for clients. It provides top lead generation practices through the following techniques:
Segmented verticals

Email marketing

Inventory system 

Multiple segmentation
The company also offers top solutions to boost your performance in attracting audience-focused customers, pay-per-lead, and precision marketing.
Bold Communication is a Brazil-based company whose culture focuses on innovative results. It uses communication as a tool to solve sales and management-related problems. 
The company also takes creativity seriously, as good ideas and clear goals are fundamental to sustainable return on investment. It has proven competence in SEO, Inbound marketing, and digital content.
Techflow generates results through its customized design and own method of developing and managing projects of digital strategies. 
It offers services in the following core areas: 
Lead generation and programmatic media

Digital planning

Inbound marketing

Social ads and digital projects 

Email marketing and targeting 
Techflow uses best practices in marketing and technological advancement to plan and execute actions that increase sales and billing of clients, regardless of their market or segment.
4Leads is a performance marketing company specializing in local businesses, virtual stores, and online product launches. It services large and small companies in the retail industry from various niches and types of markets.
Its methodology anchors four pillars combined with top-performance marketing techniques. It has millions of experience in ad investments developing successful Google campaigns and social media ads capable of generating results for any market worldwide. 
Esauce is a professional and experienced company that invests in innovative techniques that promote technology in organizations. The firm has expertise in increasing sales and expanding markets with digital marketing. 
It connects companies and target leads using top advertising techniques, mathematics, and advanced technologies. The company's creative campaigns have converted to millions of ROI for its clients.
Corre MKT is a top lead generation and digital marketing agency with a mission to establish impactful brands to generate competitive results. It develops advanced solutions and strategies that connect companies to their customers.
Corre MKT aims to help businesses increase their revenue by creating complete digital marketing and sales tools that make sustainability present, regardless of size or industry.