Top 20 Lead Generation Companies in Washington
Last updated: November 28, 2022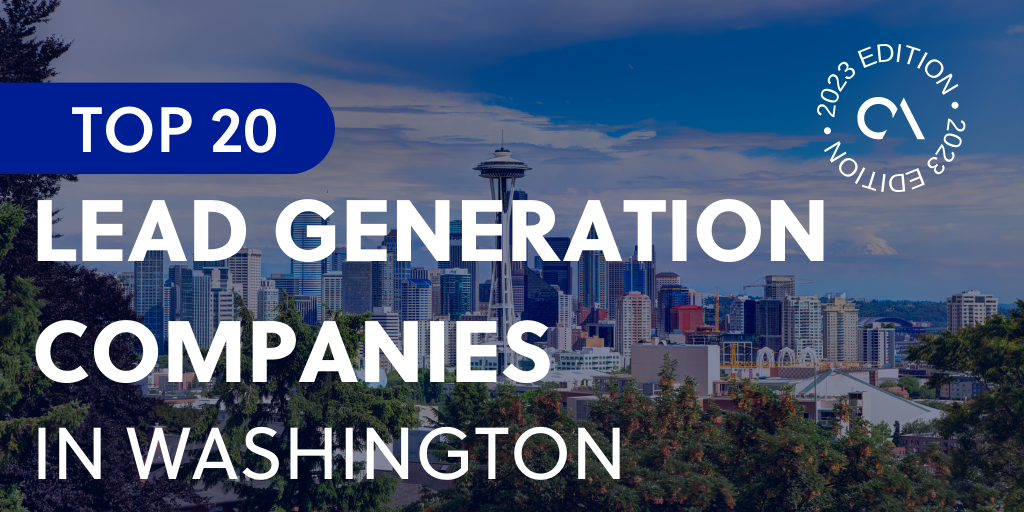 Advertising your products and services in the 21st century is more challenging than ever. You can still spend hundreds of dollars on traditional marketing to make your products or services known. However, consumers today are longer interested in aggressive ads and sales pitches. 
Believe it or not, consumers are now looking for the content of every advertisement. They are more likely to purchase a product or get a service that they can relate to. This highlights the importance of building customer relationships. 
With that, lead generation companies can help you be found rather than finding customers. Let's look at the top 20 lead generation companies in Washington that you can connect with. 
How Does Lead Generation Work
Lead generation is an important strategy to know your market. It can help you target the right consumers from different locations by tailoring the value of your service to the consumers' needs. 
Lead generation can also help in building a stronger reputation for brands in the market. This strategy can help businesses raise brand awareness, meaning the more people know the brand, the better for its reputation. 
Compared to other advertising methods, lead generation costs are more cost-effective. Depending on the company, quality, and price, you can find the perfect lead generation company to help market your brand. 
Top 20 Lead Generation Companies in Washington
Top global outsourcing list
Outsource Accelerator is the world's leading outsourcing marketplace and advisory. We list over 3,000 BPO firms located across the globe in our global directory, and we provide detailed information, price guides, and reviews.
Whether you're a solopreneur, SME owner, or corporate executive, we can help you find the most suitable outsourcing provider for your business.
Explore our outsourcing directory now. You may also check out our Top BPO Outsourcing lists per country here:
Benefits of Hiring a Lead Generation Company
Improve Lead Quality
Lead generation companies can help you in improving the quality of leads that your business gets.
They can assist you in making more tailored content to connect with your desired buyers. From website content, emails, and social media posts, these lead generation companies will surely raise the caliber of your leads and boost conversions. 
Expand Your Market
Lead generation companies can help you expand your target market and make sure you attract the right people and connect with them. With their help, you'll be able to know more about your market, what interests them, and the things you can do to engage them in your business.
Get More Reviews and Feedback
Reviews and feedback in today's market significantly impact sales conversion. That said, lead generation companies can help you gather customer reviews that can help you build your brand reputation. 
Connect With Other Businesses
Aside from attracting prospective customers, generating business opportunities is a great deal that leads generation companies can provide.
They will help you connect with non-competing brands and collaborate mutually. With that, you can have the opportunity to get your brand known to a larger market.
Top 20 Lead Generation Companies in Washington
Bluechip Call Center was established in 2004 and is now one of Washington's top lead generation companies. The company serves clients from the United States, the UK, India, Australia, and more. 
Bluechip Call Center prides itself on offering outstanding customer care to different companies. They are devoted to helping businesses put their focus on expansion and innovation. 
What makes Bluechip Call Center unique is that they believe that every business can benefit from one another to make sure that they make their brands known from one side of the globe to another.
Founded by Todd Huotari in 2009, Inquisitek offers lead-generation services to assist companies by providing outstanding technology solutions. As a local marketing agency, Inquisitek finds it fulfilling to connect and work with other local companies in Washington. 
Though they enjoy providing services within the area, Inquisitek can also expand its network to help more businesses solve technology-related problems.
Full Beaker is a lead generation company located in Bellevue, Washington. With Vicky Prezeau as their current CEO, the company believes in paying it forward by helping different companies make complex decisions. 
Full Beaker takes pride in having core values, such as doing the right thing, innovating obsessively, succeeding together, prioritizing important tasks, and more. 
Zipline is a B2B marketing agency helping companies connect with their desired clients and turn each into potential consumers.
The company assists in telling the story of every brand they work with through blog writing, e-books, case studies, website content, infographics, and more. They also do podcasts, photography, and video production. 
Market Leader was founded in 1999 and is considered one of the pioneers in lead generation. They have provided services to real estate companies to help them grow and expand their business. 
Ignitium is a lead generation company located in Spokane, Washington. The company provides services to help businesses tailor their brand to connect with their ideal customers.
Through assisting account-based marketing, solutions, and other services, Ignitium prides itself on delivering promising results, such as a better return on investment, shorter sales cycles, and improved customer experience.
Roadside Dental Marketing is a lead generation company founded in Marysville, Washington. The company was founded in 1999 and now has more than 50 employees. 
Roadside Dental Marketing takes pride in empowering other businesses by simplifying complexity and achieving their business goals. They focus on providing excellent and tangible results that improve their client's business. 
Actuate Media is a digital agency in Seattle, Washington. Founded in 2016, Actuate Media offers data-driven B2B relationships through different digital marketing platforms. 
The company takes pride in using a conversion-focused strategy to gather information and improve each company's marketing intelligence. Actuate Media's comprehensive approach to marketing and advertising makes them stand out. 
Metia is a lead generation company located in Bellevue, Washington. Founded in 1998, the company takes pride in offering integrated advertising programs that improve the performance of every business. 
Metia also takes pride in executing campaigns in more than 88 countries and 39 languages.
I Take the Lead is a lead generation company located in Seattle, Washington. They offer outstanding services to help businesses achieve their company goals. I Take the Lead assists in building membership which they believe is a huge advantage to the networking industry. 
Mighty Media Studios is an award-winning creative agency located in Bellevue, Washington. Founded in 2010, the company has already worked with a lot of big businesses in the industry. 
Mighty Media Studios provides services such as digital event production, promotional production, staffing support, and more. 
Digital marketing company Exo Agency is based in Seattle, Washington. They specialize in pay-per-click management, SEO, mobile development, and more. Exo aims to make it possible for companies everywhere to realize their full potential. 
To do their goals, they offer cutting-edge marketing techniques that have been shown to help firms grow in terms of size, income, and reach. Exo Agency was just founded in 2021, yet it already has more than 200 clients. 
Hydrogen Advertising is a marketing and advertising agency located in Seattle, Washington, and they have been offering their services since 2001. The company aims to provide every business with a comprehensive strategy that connects them to their ideal customers. 
Hydrogen Advertising works closely with every business to provide a solution that ultimately matches their needs. 
Tilladelse is a lead generation company located in Olympia, Washington. Founded in 2018, Tilladelse offers top-of-the-line services to help businesses create a website and develop a digital marketing strategy that converts visitors to customers. 
Tilladelse takes pride in helping each client by utilizing multiple ways, such as developing website content, email marketing, and more. 
KPI Marketing is a multi-channel digital agency located in Vancouver, Washington. The company was founded in 2015, and since then, they have been providing outstanding digital advertising services to its clients. 
Among KPI Marketing's services are reporting and analytics, keyword research, SEO, paid search, and website development. Through these services, KPI Marketing helps its client connect with the right customers and catch their interests. 
PNW Web Marketing is a digital marketing agency in Washington that offers comprehensive advertising services, such as consulting, research, and more.
Though a newly-established company, PNW Web Marketing takes pride in having the right team who specialize in SEO, website management, and Amazon consulting. 
Connection Model is a digital marketing agency located in Issaquah, Washington. The company focuses on providing clients with the right marketing solutions to grow revenue and generate quality leads. 
Connection Model takes pride in offering services that deliver outstanding results through content marketing, blogging, and other programs.
Jack Pine Media is a digital marketing agency located in Spokane, Washington.
Founded in 2017, Jack Pine Media offers personalized touch in every service they provide. The company focuses on helping businesses connect with their ideal customers through a full suite of digital marketing services.
Rory Martin is a digital marketing company in Seattle, Washington. The company focuses on providing comprehensive advertising services through connection. Rory Martin takes pride in helping businesses build bonds and relationships with their ideal customers. 
Wakes Digital is a marketing agency that offers a comprehensive and creative approach to generating quality leads for different businesses in Washington.
The company provides services such as website design, SEO, Facebook Ads, Google Adwords, email marketing, and social media management.