Top 20 lead generation companies in Poland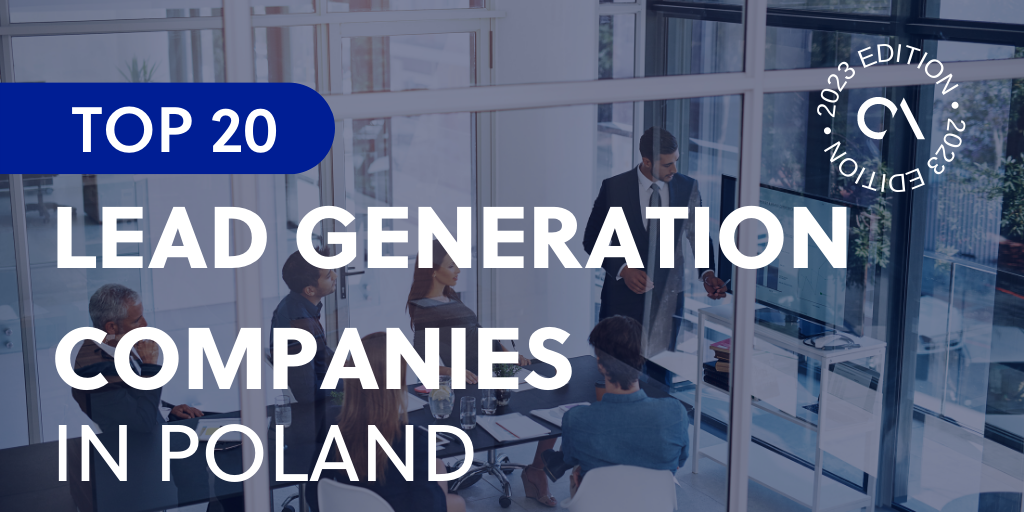 Sustained growth is important for any business. With the competition getting fiercer and technological advancements becoming more disruptive and invasive, businesses need to be more aggressive and creative in formulating strategies that will help their businesses to scale.
However, getting clients to take action more so that getting noticed by them is tough. Businesses need more information and even their contact details to direct and tailor-fit the appropriate products and services for them. 
This is where lead generation companies come in. With their intensive knowledge of market research coupled with their extensive demographic reach, they assist businesses in directing their campaigns to their target audience. 
Why is it beneficial to hire lead generation companies? 
Lead generation companies minimize the usual errors of companies in terms of marketing. Instead of creating general campaigns and ads directed to the general public, lead generation companies help businesses to better understand the psyche of their target market.
Lead generation companies have thousands of databases, both industry and regional, gathered through loads of integration research. Along with these databases are analytical reports which simplify the trends, preferences, and potential bottlenecks which businesses can address. 
In addition, lead generation companies usually support B2B transactions, which makes it a lot easier for companies to do business with other companies. 
Why Poland?
The Polish workforce has a young emerging market that is technologically adept and familiar with the digital world.
In addition, Poland has a multilingual workforce, making it easier for businesses to conduct various transactions anywhere in the world.
Top 20 Lead Generation Companies in Poland
Global outsourcing lists
Outsource Accelerator is the world's leading outsourcing marketplace and advisory. We list over 3,000 BPO firms located across the globe in our global directory, and we provide detailed information, price guides, and reviews.
Whether you're a solopreneur, SME owner, or corporate executive, we can help you find the most suitable outsourcing provider for your business.
Explore our outsourcing directory now. You may also check out our Top Lead Generation companies lists here:
Top 20 lead generation companies in Poland
Below is a list of the well-known companies working on B2B and B2C solutions:
Banking on its six years of experience in the industry, Hand2band is B2B IT company specializing in lead generation, software and technology development, and social media management. 
It has 120 specialists under its brand, which have produced over 165 projects for 180 partners. Its consulting expertise enables businesses to scale using its structured, time-tested metrics of success. 
Protip Marketing is a trusted partner of brands such as WashPro, Kopi, and Maczfit. It is a B2B and B2C company that helps businesses to connect with their potential customers. With over a thousand contacts in its database, it can set up to 200 meetings monthly.
The main advantage of Protip's services is that it comes at an affordable rate allowing its partners to tailor fit the services and solutions it needs. 
KODA harnesses the effectiveness and efficiency of chatbots in generating leads. Combining these innovations with phone campaigns, its partners can customize the messaging they want to convey to their potential clients. 
With the help of KODA's sales and marketing expertise, its partners can generate spiels and campaigns that evoke quick actions. 
Cience Technologies is a B2B company known for its flagship product, Cience Go Data. Through this platform, companies can access verified sales and industry research that can guide their strategies based on demographic and psychographic considerations. 
With clear KPIs and metrics, business owners can better understand their competitive advantage vis-a-vis their selling points in the digital sphere. Cience is a trusted partner of Malwarebytes, US Bank, and Heyday.  
Datomni is inspired by the power of data. Integrating data into its solutions empowers its clients to grow dramatically in months. Datomni's efficient operation is powered by tools such as Pipedrive, Omnisend, and Segment.
The analytical tools and solutions offered by Datomni allow business leaders to arrive at informed decisions in conducting their business. 
Clipatize is a world-renowned B2B marketer and lead generation company trusted by big brands such as Microsoft, Philips, and Shell.
Focusing on companies' unique needs and motivations to convey their messages, it globalizes these international brands, allowing local audiences to relate better. 
Clipatize has seven years of experience, but its impact is felt internationally with its practical and localized campaign and lead generation capabilities. 
Admetrics is composed of young professionals backed with digital awareness and acumen. As a trusted partner of Aviva, Helios, and NowEra, it creates campaigns that will make a buzz in Omni channels. 
Driven by actionable insights and results, it has an extensive database that leads its partners to the right audience. .  
Commonly known as IPTCC, it is a B2B and B2C BPO company that is based in Poland and Ukraine. As an experienced call center, it supports the sales department through 24/7 after-service solutions. 
IPTCC has established databases to generate qualified leads, hot leads, and marketing data for its clients. With its multinational employees, it can support up to 12 different languages in different time zones. 
BPO Nextdoor is a highly rated BPO company that services the e-commerce, IT, and media industries. With a large talent pool of young professionals, it helps clients with their media monitoring and data generation needs. 
With its ability to optimize websites and SEO rankings, leads are generated organically and through paid means. It is a multilingual company capable of catering to 15 European languages in different locations. 
GoldenComm is a website service provider established in 1996 to help businesses' websites to do more, generate more leads, and convert all of these to sales. Combining digital marketing with technological advancements helps its local and global clients position better in the SEO rankings. 
Employing customized strategies with time-tested marketing solutions leads clients to the leads they need with the help of the Google Business platform,  eCommerce services, or hedgehog microsites.
InStream group is a well-known and established sales support company. With over a thousand clients locally and internationally, it has mastered the art and science of sales acquisition using a mixed method of B2B and digital marketing approaches. 
Notable brands that have partnered with Instream are Shell, Siemens, and BMW. Other services that it offers are Consultancy, CRM, and sales services.
Call Center Pro is a homegrown Polish call center that offers appointment setting, market research, and virtual assistance. It thrives in personalizing its clients' solutions, ensuring that the message conveyed will turn to actions. 
Zielinet was established in 2015 and had been providing digital and marketing services. As a firm advocate of customer experience, it curates engaging and interactive content relatable and relevant to the experience of various demographics. 
The other services of Zielienet include remote customer services, content marketing, and direct marketing. 
Combining technical skills with digital know-how, Ampe is revolutionizing the promotion of both the public and private sectors. It primarily promotes products and services through its massive network and database. 
Activities such as trade fairs, consultations, and conferences provide perfect avenues for its clients to meet customers and other business partners that can help them grow locally or internationally. 
IT Smart Solutions is a member of the distinguished Eclectic Talent Group, known for its exceptional back-office services and solutions since 2009. Through this group's established network and channels, ITSS operates in Ukraine, UAE, Europe, and Central Asia. 
As eclectic and talented as its organization is, ITSS has established and experienced teams working in different industries such as marketing, legal, and recruitment. 
Regalix is the official partner of Meta (previously known as Facebook), Dell, and Google. As an experienced marketer, it has generated 1.5 million leads, 600,000 appointments closed, and a staggering $3 billion annual revenue for its clients. 
With a good understanding of the ins and outs of the digital scene and marketing principles, Regalix has helped various local and international companies to scale.
Founded in 2005, it has grown into a multinational company with 2000 and above employees across Europe, the USA, and Asia.
AutoArti is an official Hubspot partner offering world-class sales and marketing solutions. With its ten years of experience, it is capable of CRM migration and lead generation that helps its clients find the right partner to grow. 
AutoArti's growth included data-driven services. From processing, migrating, and generating analytical reports, clients are ascertained that they can grow exponentially with ease. 
Adfenix is a lead generation company in Poland with 1 million records, 800,000 contact numbers, and 99 industry databases, all in its arsenal of established databases.
It regularly updates its records to ensure that the information and data used by its clients are correct and directed to its desired client pool.
Included in their records is essential information such as voivodeship, predominant PKD, and legal standings that are crucial in making business. 
Upwork is an established multinational outsourcing company that offers a wide range of services.
Most of its contractors are experienced and have been in the industry for decades. This is vetted through various certifications and a series of tests to gauge the understanding and suitability of different business natures. 
Upwork is well-known for its affordable and flexible terms, which allow companies to choose based on their needs and financial capacity.
CCIG is a B2C and B2B call center that uses multi-channel platforms to communicate with different businesses and clients. With 20 years of experience in the industry, it has 6000 consultants working on 500 partner projects across 15 locations. 
It is based in Wroclaw and is an established partner of Sharp, Proama, and Orange.