Top 20 lead generation companies in Chicago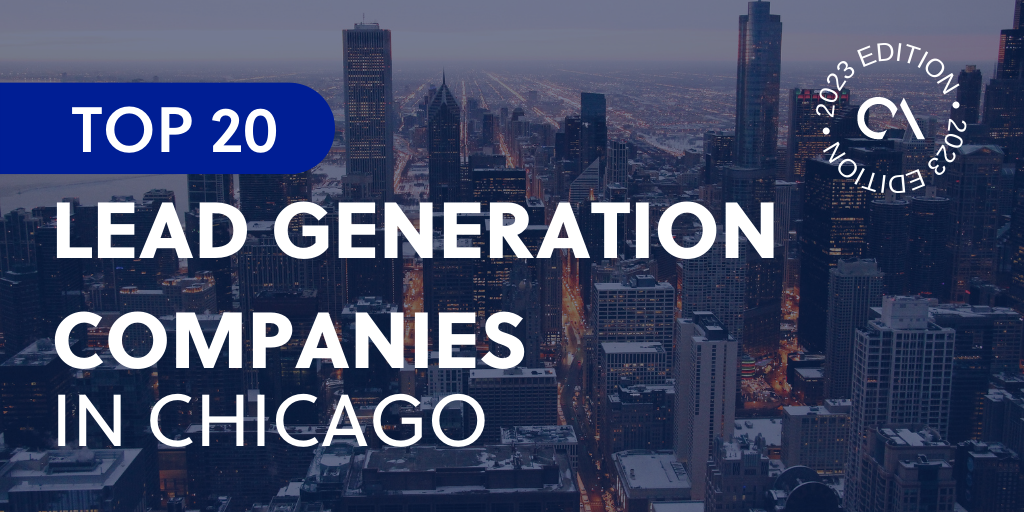 Any firm must constantly seek out new clients. Most businesses will find it easier to expand if they have fresh leads. This is why despite having an internal sales and marketing team, many businesses outsource to lead generation companies.
What is lead generation?
Lead generation is the process of capturing and turning prospects into clients. Lead generation teams use marketing techniques to draw customers to their products and turn them into leads.
Creating leads and generating results takes time, effort, and expertise that most startups don't have. This is why they outsource their lead generation to specialized companies that offer these services.
What is a lead generation company?
Lead generation companies provide clients with quality leads they can convert into paying customers through data and other marketing strategies.
They help give the business more freedom to invest time and energy on other important business tasks and more focused sales efforts by doing the hard work of finding leads for them.
Why is lead generation important?
Companies can't simply rely on customers. They also need to employ techniques to draw in the kinds of customers they want.
The success of typical businesses depends on a steady flow of potential leads. An organization that lacks lead generation strategies is vulnerable as it is difficult to maximize growth and income without them.
Generating leads expands a target audience's knowledge, trust, and interest. Therefore, it can help deliver traffic from high-quality prospects by focusing on lead generation.
To make it simple, lead generation will help your company achieve more income by expanding your business and the lifetime worth of each customer with effective lead generation tactics.
Why look for a lead generation company in Chicago?
Planning out effective strategies to grow your business can be a laborious task as it demands a lot of time and energy. This is why you need all the help you can get from people and other companies that offer the exact help that you need.
By outsourcing tasks such as lead generation, you are directing your company's resources toward more important aspects. 
The best resources and technology are available from the lead generation companies in Chicago. Industry experts have studied, created, and improved best practices over time to produce the most accurate leads in accordance with their clients' needs.
These experts may come up with a lead-generating plan specifically designed for your company using a combination of inbound and outbound outreach techniques.
Top 20 lead generation companies in Chicago
Top global outsourcing list
Outsource Accelerator is the world's leading outsourcing marketplace and advisory. We list over 3,000 BPO firms located across the globe in our global directory, and we provide detailed information, price guides, and reviews.
Whether you're a solopreneur, SME owner, or corporate executive, we can help you find the most suitable outsourcing provider for your business.
Explore our outsourcing directory now. You may also check out our Top BPO Outsourcing lists per country here:
Top 20 lead generation companies in Chicago
It makes sense to outsource to lead generation companies in Chicago. By doing this, you are directing your company's resources toward more essential responsibilities like corporate growth and expansion.
Here are the top 20 lead generation companies in Chicago.
The award-winning staff at the Digital Marketing Agency offers complete assistance in generating leads and accelerating client growth.
They help businesses create long-term plans for success and produce a competitive marketing strategy for the online market. They cater their services to both small and large organizations in the US.
Deep Footprint is a digital marketing company in Chicago, Illinois, that has been building strong relationships with its clients since 1999. They have mastered the art of Search Engine Optimization (SEO), Search Engine Marketing (SEM), and Social Media Marketing (SMM).
Deep Footprint can help your company create and implement a custom digital strategy to pinpoint its specific needs so that it can get more business.
MarketVisory Group is a HIPAA-compliant healthcare marketing agency that specializes in helping established, independently-owned healthcare practices grow. It focuses on medical, dental, surgical, psychotherapy, and holistic health practices.
They offer website design, SEO, reputation management, social media management, and PPC.
Caliber is known as "Chicago's best Brand Quarterback" in helping companies build, grow and ignite their business.
They guarantee to provide the talent, tools, and proven marketing system to help professional service firm owners move toward their goals while focusing on the other areas where their time and energy should best be spent.
Pietryla PR & Marketing is a MARCOM growth agency in Chicago that works with different brands that seek to take their brand, business, and bottom line to the next level.
They offer successful digital marketing and public relations strategies that get more leads and improve credibility by identifying the blind spots, angles, and opportunities and developing better communications, decision-making, and results for the company.
The Loop Marketing is an award-winning digital agency based in Chicago that serves clients by offering website design, search engine optimization, paid search and social, content marketing, social media marketing, email marketing, and advanced digital strategy. 
They work across many industries, including legal, healthcare, professional services, e-commerce, engineering, industrial/manufacturing, and others.
Alpha Efficiency is invested in the global movement toward achieving a better internet through advanced web design, development, cyber security & DevOps consulting & execution. 
They pursue innovative content creation and innovative design using a zero-carbon-emissions digital business.
Spectrum has served small and medium-sized businesses for nearly 25 years.
They work with more than 1000 clients in about every major North American market and deliver quality online marketing and lead generation services and software tools that generate new business and consistently stimulate growth.
Winsite Digital believes that small and medium-sized B2B and professional services businesses should have access to a top-notch digital marketing experience.
They are a digital marketing firm with an awesome team of creative strategists, technical masters, and search specialists who are passionate about helping their customers succeed.
VisualFizz creates digital marketing experiences that help companies tell their stories and win customers by allowing them to try something new, strategic, and more efficient. 
They have a team of tenured digital marketing and advertising staff that strive to push boundaries to create memorable marketing experiences for their customers.
Basically made up of people who care about their customer's success, 97 Switch is an award-winning Chicago digital marketing agency that specializes in marketing, web design, and strategy. 
They take great pride in their relationships with people and operate with the understanding that it's all about being good to others in everything they do.
Established in 2003, TelePro Group focuses on supporting the inside sales and marketing functions of B2B enterprises, trade associations, and market research organizations.
They focus on the front-end calling and early-stage pipeline, so your company's sales team can better focus on meeting with prospects, closing more sales, and developing accounts.
DemandWorks Media helps businesses generate targeted B2B email newsletters that provide personalized experience and predictive targeting.
They also have an eBulletins platform that analyzes hundreds of various data points that should enable you to target prospects that are researching topics that may be directed to your products.
LiveAdmins aims to diminish the gap between businesses and their website visitors by offering real-time online customer support that helps clients increase their ROI and provide their valued customers with an excellent online experience.
Treetop is a marketing agency that focuses on working with B2B, SaaS, and early-stage startups. They specialize in inbound content marketing and customer acquisition and are bound to help clients develop content that will attract their chosen audience.
With over 50 years of experience in planning and executing successful, profitable telemarketing campaigns and active lead generation/marketing efforts, Crook & Associates has 30 call centers and a team of tenured agents who can become an extension of your organization.
Since 2001, Walker Sands has been trying to maximize B2B marketing to deliver excellent service to their clients.
Their mission is to further the growth of B2B companies through strategic programs specialized to meet the client's needs by offering marketing expertise from strategy to execution.
Blue Flame Thinking helps B2B financial and manufacturing brands solve marketing challenges by working backward their client's goals to develop an effective strategy, integrating digital marketing tactics, and formulating classic storytelling.
Proceed Innovative is a full-service Chicago internet marketing firm that helps companies expand brand awareness and generate sales through interactive marketing strategies, search engine optimization, PPC management, creative web design, and web analytics consulting.
Symbiont Group is a sales and marketing agency that helps B2B companies identify, reach, engage, and maintain leads by designing sales and marketing campaigns that are extensive enough to be customized around the company's needs and goals.