Top 20 Lead Generation Companies in Jamaica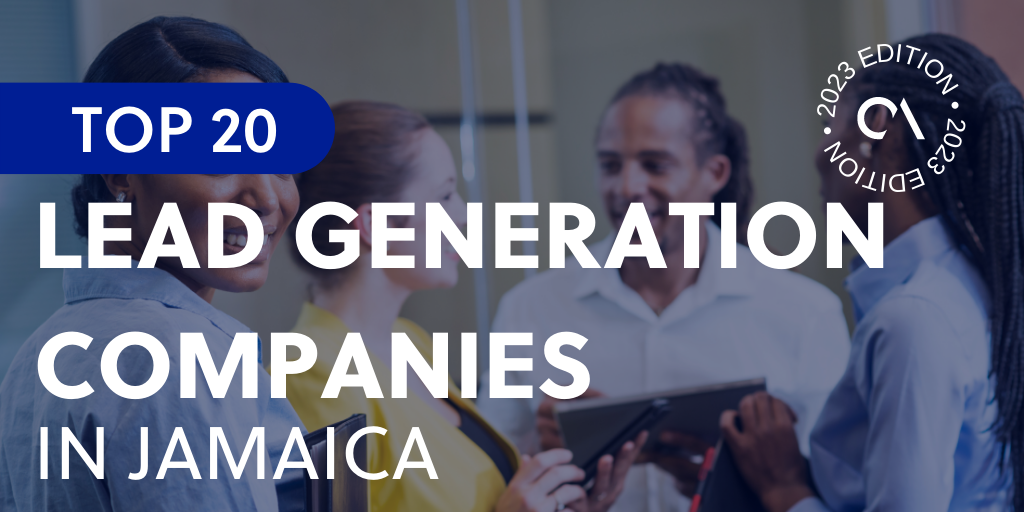 Digital marketing, as it is called these days, has a variety of strategies to attract potential customers. One of them is lead generation.
What is lead generation?
Lead generation is the process of drawing and turning customers into a brand or business and piquing their interest through nurturing. Some ways to generate leads include job applications, blog articles, and online materials.
Lead generation can be a time-consuming task. But when done right, it can potentially increase brand awareness and, consequently, business sales.
Why is lead generation important in businesses?
Maximizing the growth and revenue of a business can eventually be a challenge without new leads. This is why outsourcing lead generation is important, especially in small enterprises.
As the consumers' awareness of the brand increases, new leads will come to where the sales will go. Here are some more benefits of lead generation:
Market expansion. As the business expands, its clientele also expands, which means new leads should come in. Lead generation allows business owners to identify new prospects from new markets.
Follower growth. Lead generation, through several strategies, such as content creation, stirs a conversation among consumers. This can result in an increased social media following and brand advocates.
Stronger social proof. While not all customers would leave a review about a brand, business owners can always ask for reviews from past customers. This also encourages others to give their reviews, which strengthens the brand's social proof.
Boost revenue. When a business has plenty of leads, especially new ones, it can potentially increase its sales and revenue. Revenue growth is every business owner's dream, which can be achieved through lead generation.
Top 20 Lead Generation companies in Jamaica
Top global outsourcing list
Outsource Accelerator is the world's leading outsourcing marketplace and advisory. We list over 3,000 BPO firms located across the globe in our global directory, and we provide detailed information, price guides, and reviews.
Whether you're a solopreneur, SME owner, or corporate executive, we can help you find the most suitable outsourcing provider for your business.
Explore our outsourcing directory now. You may also check out our Top lead generation companies lists per country here:
Top 20 Lead Generation Companies in Jamaica
While most of the outsourced lead generation talents are coming from Asia, the US, the UK, and Australia, countries from other regions like the Caribbean are also stepping up in providing unwarranted services.
Here are the top 20 lead generation companies in Jamaica.
Located in Kingston, Jamaica, Lucralux Marketing is a digital marketing company that provides marketing consultation services. They offer lead generation strategies, including social media marketing, search engine marketing, and marketing automation. 
The company boasts an impressive portfolio showcasing the huge brands they have worked with.
Known as the leading digital lead generation company in Jamaica, Impression Marketing Jamaica provides an array of services, including social media marketing and email marketing.
With over 3,000 new leads they have driven for their clients, Impression Marketing Jamaica can achieve its goal of keeping its reputation in the industry.
Founded by a digital nomad in Jamaica, Hoopla Ocular started by providing digital marketing services, including search engine optimization (SEO), content creation, and pay-per-click (PPC). 
After eight years of acquiring experience, the company has expanded into providing more services as a response to the growing demand for digital marketing services. Hoopla Occular now offers marketing consultation and social media marketing.
Web Solutions Jamaica is another digital marketing agency that focuses on providing web design and lead generation services. Their lead generation strategies include search engine optimization (SEO), search engine marketing (SEM), and social media marketing.
Established in St. Catherine, Jamaica, PTS Marketing Agency primarily caters to financial advisors and real estate agents.
Their services include marketing strategy and lead generation services. Their lead generation strategy is mainly running Facebook and Instagram ads using correct targeting based on the client's ideal prospects.
Founded in Kingston, Jamaica, Hop In Top is a digital marketing agency that provides an array of digital marketing services, including lead generation. With over 100,000 qualified leads generated, the company website showcases its live results.
Hop In Top does its lead generation through social media marketing, pay-per-click, SEO, content marketing, and more.
Originally established in Colorado, the US, in 2019, Rampart Marketing expanded to Kingston, Jamaica, as it is the third-largest English-speaking country in the Western Hemisphere.
The company started by providing inbound call centers and outbound B2B and B2C services. It then expanded into providing B2B lead generation services, B2B audience development, and event marketing.
Formerly CyberDream Developers, Zeilhan was founded in 2018 as a website development company.
Zeilhan provides marketing services to online businesses and offers a package that includes a website that generates leads, a social media marketing expert, a marketing and sales manager for eCommerce stores, online business success consultations, and more.
Also known as Carreau Professional Service, Atlantic Corporate Solutions is comprised of accountants, analysts, advocates, and strategies helping businesses through their combined experiences.
The company offers various services, including internet marketing and social media marketing.
Innovative Outsourcing is located in Elizabeth, Jamaica, that started as a call center company. Over the years, it expanded its services and now caters to companies that need lead generation services.
The company offers other services, such as inbound and outbound customer service, outbound sales, and telemarketing.
Fusion has 27 offices across 14 countries around the world, including Jamaica. With over 12,000 employees spread in over 27 locations, what started as a call center company has expanded its services to customer engagement and data marketing.
Among its services under these categories are social media, email management, lead generation, and data validation, respectively.
Ikonik Digital Agency provides digital marketing services to its clients. Lead generation strategies like social media advertising, SEO, and social media management.
With over 30 clients in branding, digital marketing, video animation, and web development, Ikonik Digital Agency possess an outstanding portfolio that can impress any client.
What started as a personal blog has now turned into a business that provides various digital marketing services to small and medium enterprises. Natalia Oh Agency is located in Kingston, Jamaica, and offers digital marketing services, brand management, and marketing consultations.
Its digital marketing services include social media and content marketing, as well as lead generation through pay-per-click advertising, remarketing, and data analysis.
Comprised of skilled and diverse professionals, Mystique Integrated is a marketing agency that offers different solutions for specific client needs.
Among the services they offer are lead generation strategies like social media marketing and management, brand consulting, and creative strategy.
Launch Potato was established in Delray Beach, US, but has 24 more locations, including St. James, Jamaica. The company provides a variety of digital marketing services, such as lead generation, social media marketing, email marketing, and paid search.
Centerfield is a Los Angeles-based digital marketing agency that has offices in Kingston and Montego Bay, Jamaica. The company is focused on providing outcome-based digital marketing services.
Its lead generation strategies include omnichannel media, automated optimization, and end-to-end measurement. With these strategies, Centerfield guarantees that its clients' shoppers will be converted into buyers of the brand.
Based in Kingston, Jamaica, ICAD Marketing is a consultancy firm that offers digital marketing strategies to businesses. The company offers different packages depending on its client's specific needs.
The company's Marketing Execution package contains lead generation strategies, including content creation and HubSpot integration.
Next Step Digital Solutions is a digital transformation company founded in 2010 with headquarters located in Kingston and St. Andrew. The company offers a variety of services that will help entrepreneurs and business owners digitalize their business strengthen their brands, and create a website that drives traffic. 
Its digital marketing services include lead generation through SEO and social media management. 
Infuse Media is another brand agency with several offices across the globe, including Jamaica. It focuses on providing the omnichannel funnel experience to its clients, from lead generation and nurturing to creating valuable content to converting them into paying customers.
The Lab Jamaica is a branding agency that strategizes lead generation through creatives. The company offers packages that showcase its different services depending on the business needs.
Strategy, Creative, Production, Post-Production, and Digital are the five steps that they do to create a brand with a lasting impression on the audience and eventually generate quality leads from the expanded audience.