8 Tell-tale signs you need to outsource content creation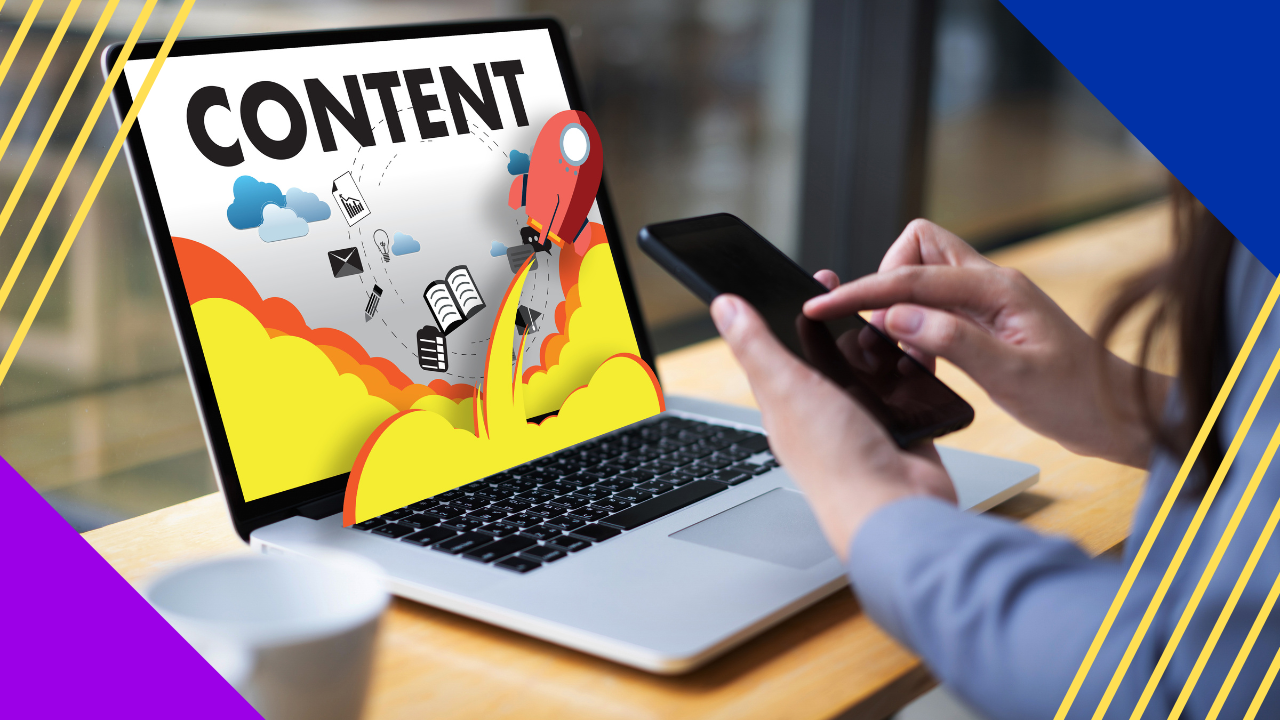 8 Tell-tale signs you need to outsource content creation
The Internet has replaced print media as the main source of relevant information in today's highly-digital and visual environment. Through the World Wide Web, people can read the day's news, research information relevant to their interests and engagements, keep themselves updated, and entertain themselves.
In fact, in the dynamic world of digital marketing, content is and will, for the long-term, be king. People of diverse backgrounds and professions search for content and demand to be wowed, motivated, and fully informed. Being a blogger, digital marketer, or website owner, the only way to get those lucrative audiences is through outstanding content creation.
Since websites are essential in the success of modern enterprises, it is important that their owners present useful and engaging content. This is because, considering the sophistication of today's online consumers, content holds a tremendous amount of importance.
Factors that indicate the need to outsource content writing
Business owners and bloggers have the option to take the content creation aspect of their enterprise in-house or through outsourcing.
By employing a company's staff or in-house content creation personnel and not resorting to outsourcing writers, these firms may experience the following drawbacks: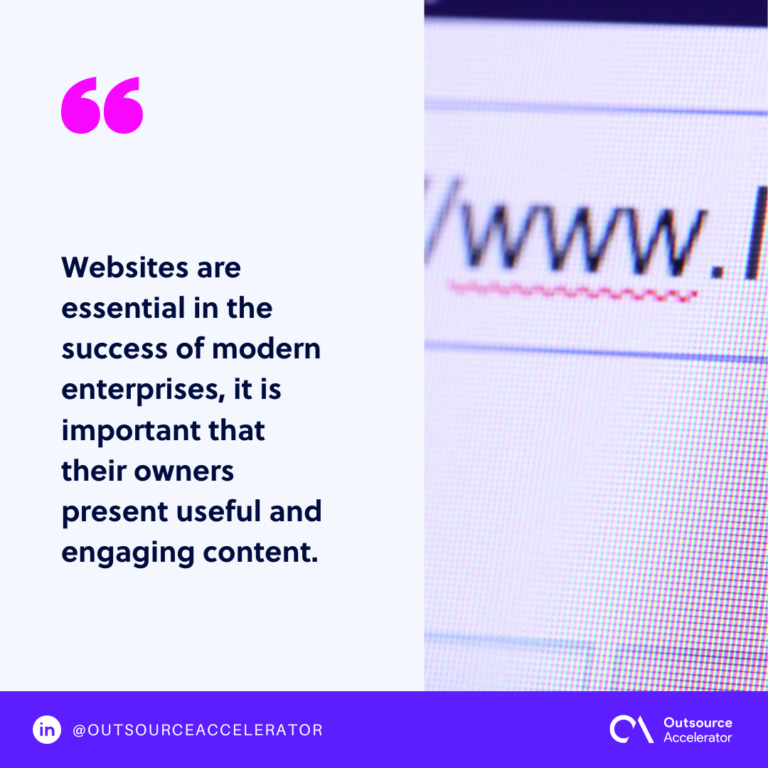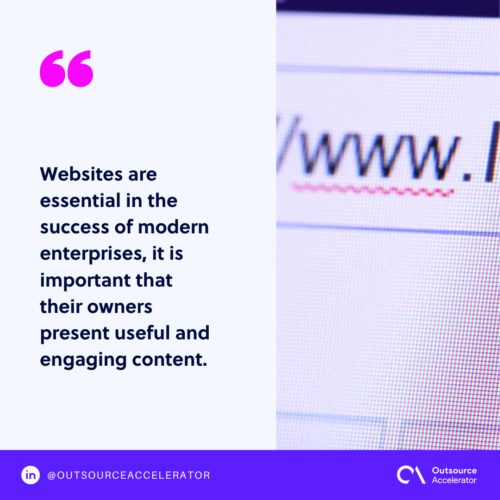 1. Your content views and readership are dropping.
If you are a blog or business owner who does not consider outsourcing content writing, your content may fail to generate readers effectively.
One reason is that the content is not optimized correctly for leading search engines like Google.
Also, the way the information was written may not be in-depth and engaging enough, making the audience uninterested and dissatisfied. Thus, they stop visiting your website.
2. You or your team are overloaded and cannot find the time for content writing.
As an entrepreneur, you and your staff may find it difficult to allocate time for writing and developing the content on your website since a business venture has typically plenty of other key areas that require concentration.
Since you have chosen not to avail the service of outsourced content writers, the content writing task unfavorably adds to the innumerable things that must be done in your office.
When it can be accomplished and if it could be done well will remain to be a lingering problem as well.
3. You are missing publishing times, or you have irregular posting habits.
You may be quite occupied with your other engagements in both your personal and professional life.
Researching and writing content for your website or blog site is not your priority.
Also, as you feel burned out and unmotivated, you choose not to take the time to determine the best form of content for your marketing website or blog site.
When you do not outsource content writing aspect of your business, you hence lose the chance to write marketable and enticing content that could help you attract customers and earn profits.
Plus, your website would not be updated so your previous readers will lose interest in visiting it.
4. You lack the supplementary skills to execute your content successfully.
If you are tasked to write and maintain your or your office's blog or website, but you are not a content writing professional, this certainly poses a dilemma.
Due to lack of understanding of blogging and search engine optimization (SEO) techniques, resorting to in-house content writing instead of content outsourcing usually results in poorly written content. Although you may know how to write, you are not a specialist who possesses sufficient knowledge about how to properly sell your establishment's ideas, products, or services. Plus, you do not have a sound understanding of your competitors since you lack knowledge about analyzing and competing with them.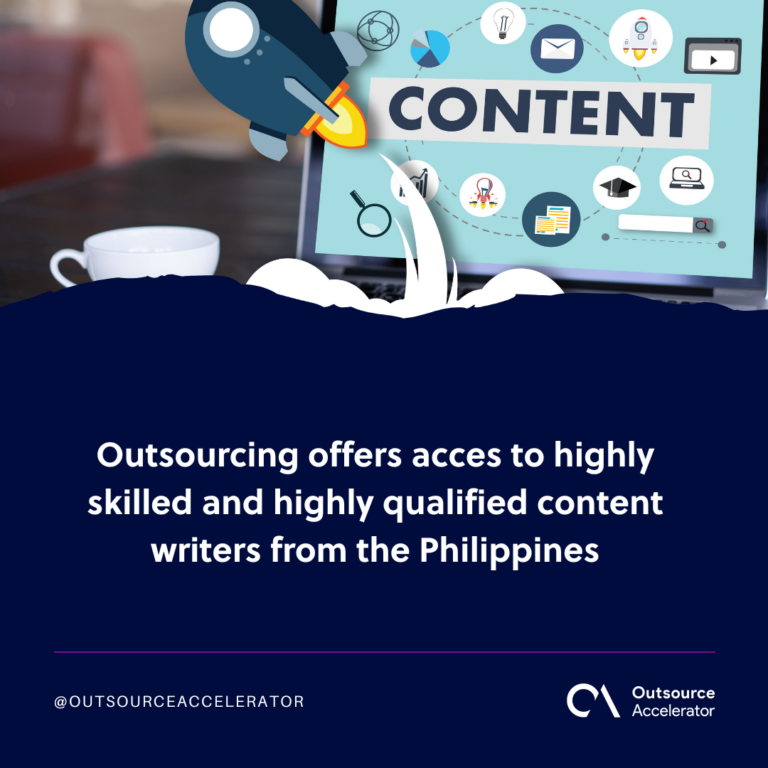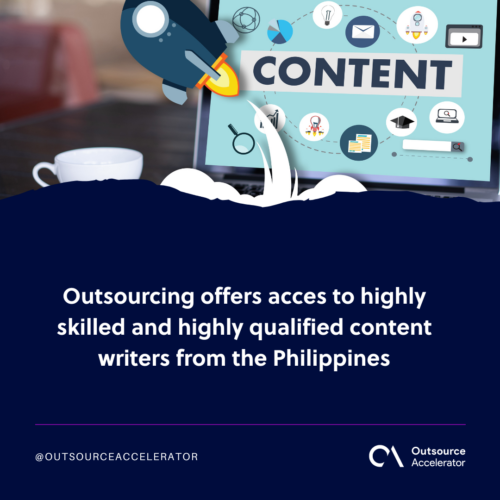 5. You are not using a content or blog strategy.
As a blog or business owner, you may not be aware of how to make effective and appealing content. You may also not understand the kinds of information that are the most effective in reaching your business objectives and target customers. Moreover, you may not have adequate knowledge when it comes to the tools required to create and promote your content.
These conditions are undoubtedly troublesome unlike with the employment of outsourced content writers. These writing professionals understand how to properly evaluate and analyze content and outcomes as well as what to alter for their client to get optimal results for their enterprise.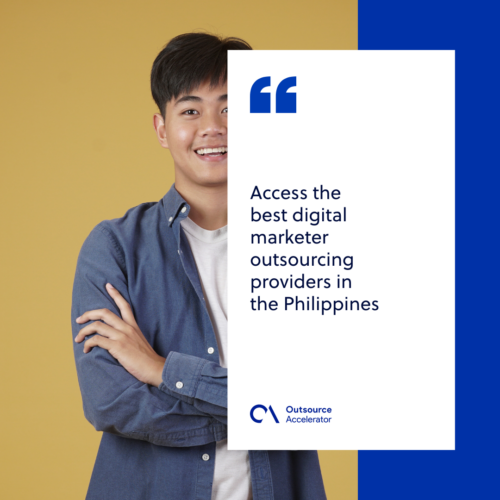 6. You are not seeing revenue growth.
By not outsourcing writers, your brand, product, service, or idea becomes less appealing.
Also, your potential customers may fail to learn and be more acquainted about what you are mainly offering due to weak content creation.
In this manner, not resorting to content outsourcing could lead your revenue to nosedive, or worse, could reach and remain zero for a long time.
7. Content writing is taking your focus off your core business.
If you take content writing in-house, this option does not involve the delegation of work to a service provider specializing in the job.
In this way, you as the business owner and your staff will have to take significant amounts of your time engaging in content writing to enhance your website.
You will, unfortunately, become unable to focus more on your core business functions such as providing a better experience for your customers and building customer relationships.
8. You have been missing amazing blogging opportunities.
Since you need to focus on the other core aspects of your business, you may not find the time to engage in rewarding blogging opportunities.
If you decide not to outsource content writing because you are too busy or uninterested with it, you will also most likely fail in building your proficiency and thought leadership. This condition is undoubtedly detrimental for both yourself and your audience.
Benefits of outsourcing content writing for businesses
Blogging and marketing campaigns heavily depend on amazing content. Being a blog or business owner, you may have revolutionary ideas, products, and services. However, these can only translate to success – more readership and customers – through engaging and easily accessible content.
If you choose the practice of outsourcing content writers, this measure certainly facilitates efficiency.
Outsourced content creation specialists are usually professional copywriters who can make your online content marketable. Furthermore, as a client, you only need to pay for their content creation service, so it is indeed cost-effective.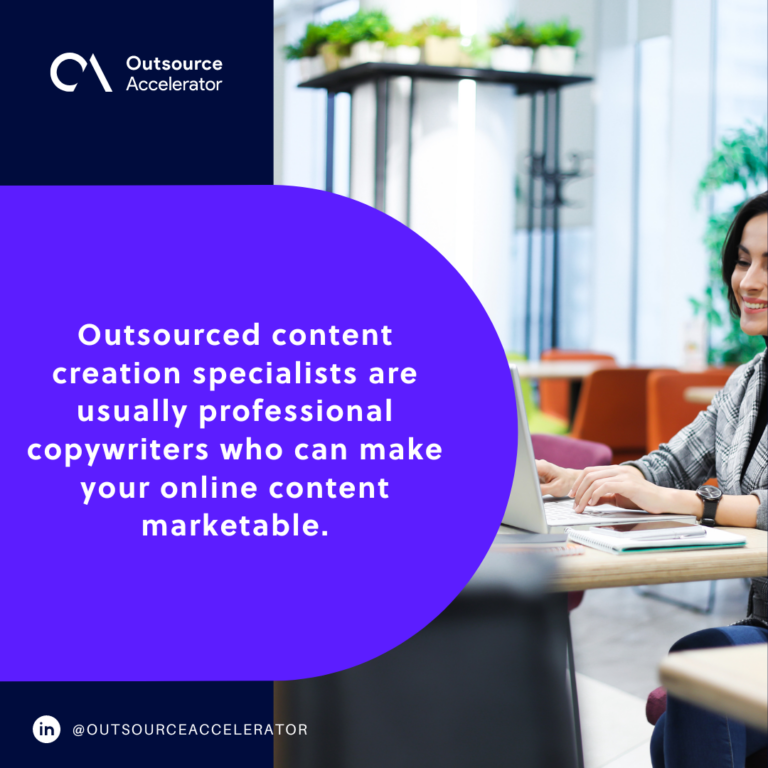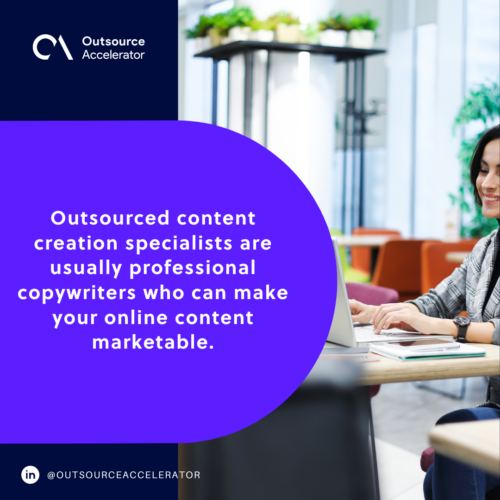 You will greatly benefit because outsourced content writers can more effectively communicate in written ways unlike those who are not mainly trained for this kind of occupation.
If you engage in outsourcing writers, you can expect sellable and captivating content creation outputs because these people possess a tremendous knowledge of your offerings and what your target customers desire. Plus, they have a comprehensive understanding of the market as they conduct an in-depth study of your competitors aside from thoroughly learning about your brand.
Service providers like Staff Domain can help you find the best team of content writers who can effectively tell your story in the most engaging way.
In-house content writers may avoid the unwanted outlay, but your company's income will be sluggish due to the poor content creation outputs produced by these non-professionals.
Also, your brand and message will not have enough exposure as these writers are not specialists in search engine optimization (SEO) writing.
They are incapable of content creation that resonates well with your target audience. Hence, not outsourcing writers prove costlier in the long haul.