How to outsource content writers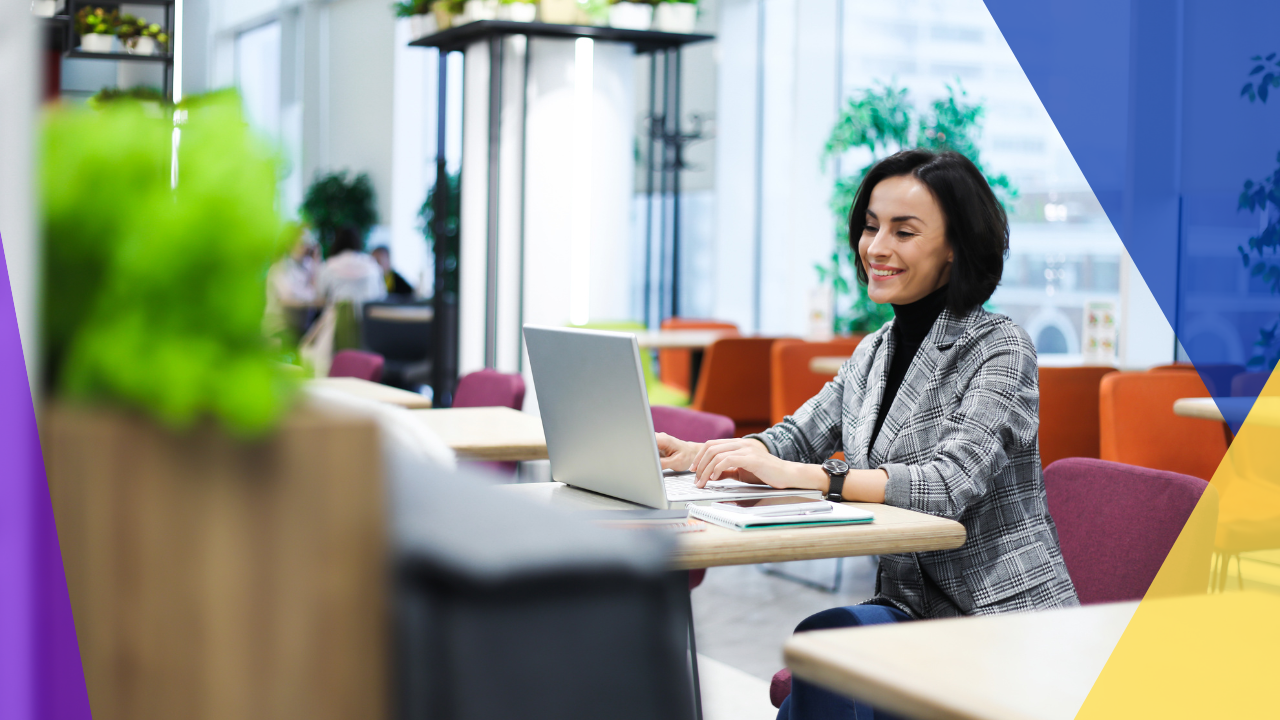 Although outsourcing has a poor reputation, the stats point to an entirely different picture. Up to 84% of B2B marketers outsource their content creation activities—and for good reasons. Publishing consistent, solid content is no mean feat. In-house teams might do the job, but it becomes mandatory to outsource content writers when you need to scale.
Why outsource?
There are several reasons why you should enlist external content writers.
Free up time
Crafting content takes time and lots of it. When writing, you have to:
Research

Fact-check

Curate enticing work

Format

Check on grammar

Proofread

Edit
If you are busy or under a tight deadline, then following the mentioned writing steps can become a challenge. When you outsource content writers, you relieve the time pressure of creating content. You'll free up the time you need for editorial work and laying strategies for your business.
Work with domain experts
When you work in an industry that requires technical content, your best bet is hiring a technical writer. You might have industry knowledge but lack the expertise to write it cohesively. A writer fills that gap and ensures you deliver domain-informative articles. The same scenario occurs if you need to develop content spanning different niches.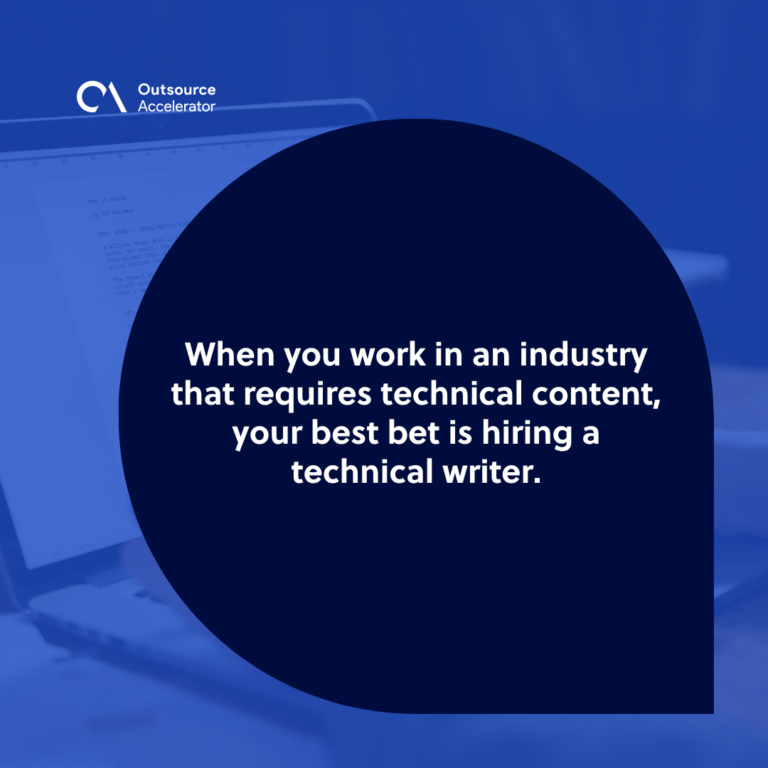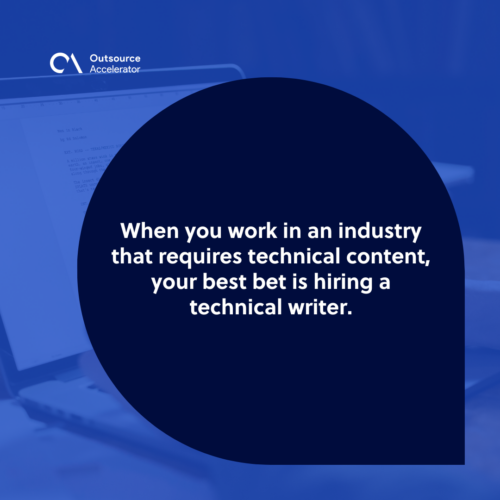 Generate diverse content
Different types of content require various writing styles. The format used to write white papers is different from that of product reviews or buyer guides. You'll generate diverse articles faster if you hire a content writer.
Scaling it up
You have to generate more content if you intend on taking your business to the next level and expanding. Scaling it up translates to delegating your content activities to external writers.
Lower costs
Having an in-house team that generates content on a full-time basis is great—but maintaining such a team borders on impossible. You'll have to fork out fixed salaries, benefits, pensions, and other work-related benefits.
If you outsource content writers, you only pay for the content, nothing more. When content demand is low, you can halt their services and hire them once the demand peaks.
How to outsource
Outsourcing companies like Staff Domain can help you produce exceptional content pieces in no time. These agencies can manage writing on your behalf, cutting back on your work.
On the other hand, hiring a freelance writing team allows you to assert control and micro-manage the content creation process. The potential downside here is that you'll actively be involved in searching and vetting for freelance writers.
Before you hire a content writer, you'll need a back-room team to manage content effectively. Some of the positions you should fill include:
An account or content manager

An editor

A quality control team

A publisher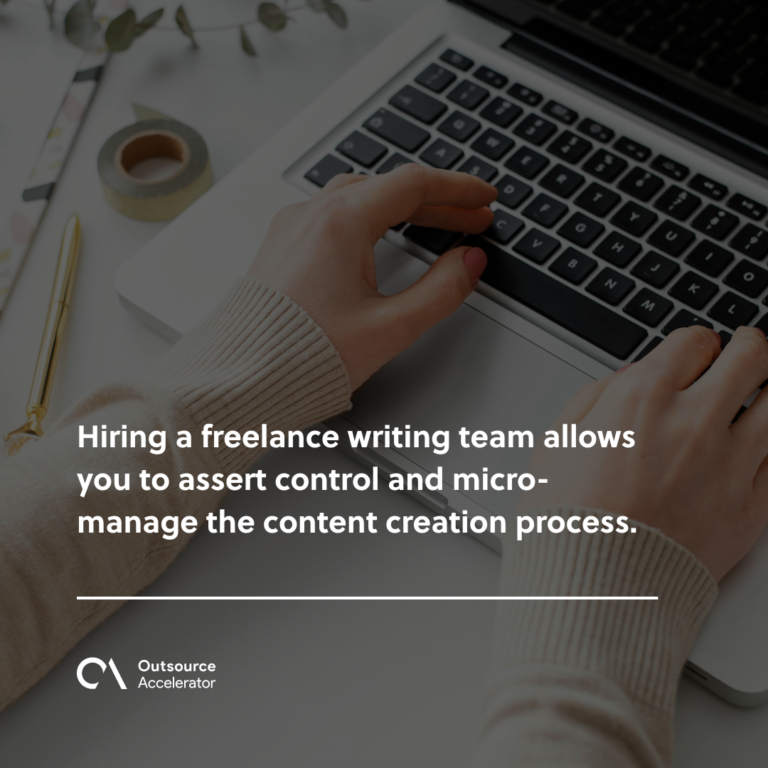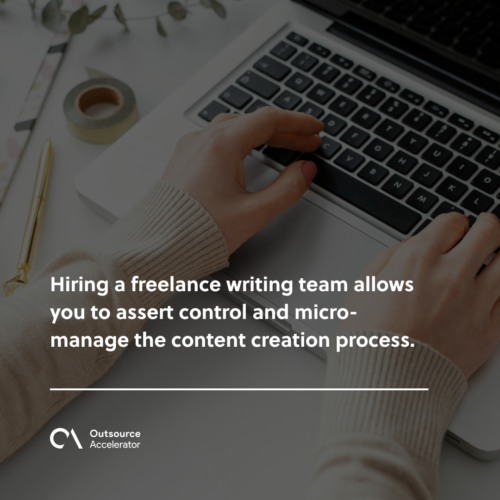 Decide on the type of writer
The type of writer you pick will likely be influenced by the content you need. Copywriters will be different from technical writers, while blog writers won't deliver the same content as journalists.
Copy and technical content also command a higher fee. You might be forced to spend extra on such professionals.
Before you settle on a content writer, ensure to check on:
Your budget

The domain expertise needed

The type and content's niche

The writer's experience

The writer's versatility

Turnaround time
Publish a clear and detailed job listing
Whether you pick a content agency or go the direct hire route, you have to publish detailed briefs. Some essential things to include are:
A title

Type of article

Summary of the content needs

Links to support research

Competitor's link

Keywords

A call to action (if needed)

Word count

Rate per word

A deadline
Content agencies will use your brief to assign a relevant writer. If you opt against an agency, you can list your writing gigs on job boards like ProBlogger.
Onboarding and testing your outsourcers
Before working with an outsourcer, you need to establish whether they're up to the task. To do so, request written samples of their work and have a look at them. If the samples meet your standards, proceed and initiate a writing test.
The test will allow you to gauge different aspects of the writer. It may take time to assess the tests, but it's a vital process you can't afford to sidestep. Check on the grammar, sentence structure, overall content layout, plagiarism, the tone, to name a few. Only go for writers who pass this test or show tremendous potential.
Of course, you also have to decide whether it's a paid test or not. The best contractors may not be willing to submit to an unpaid trial, so keep that in mind when deciding between the two.
Arm the writer with resources to succeed
After enlisting a freelance writer, you need to set them up for success. This is the most crucial step when you outsource a content writer. Share with them writing guides, SEO tutorials, the tone of your content, grammar usage, among other resources.
Outsourcing content writers requires patience. Don't expect to get the perfect group of writers in a go. However, with time, you'll unearth a worthy team capable of tackling your content needs. Alternatively, pick an outsourcing partner to do all the heavy lifting.
If you're looking to streamline the process of outsourcing writers for your business needs, Outsource Accelerator is happy to provide you with three free quotes, or you can browse our BPO directory to see over 700 outsourcing suppliers!