Top 20 lead generation companies in Los Angeles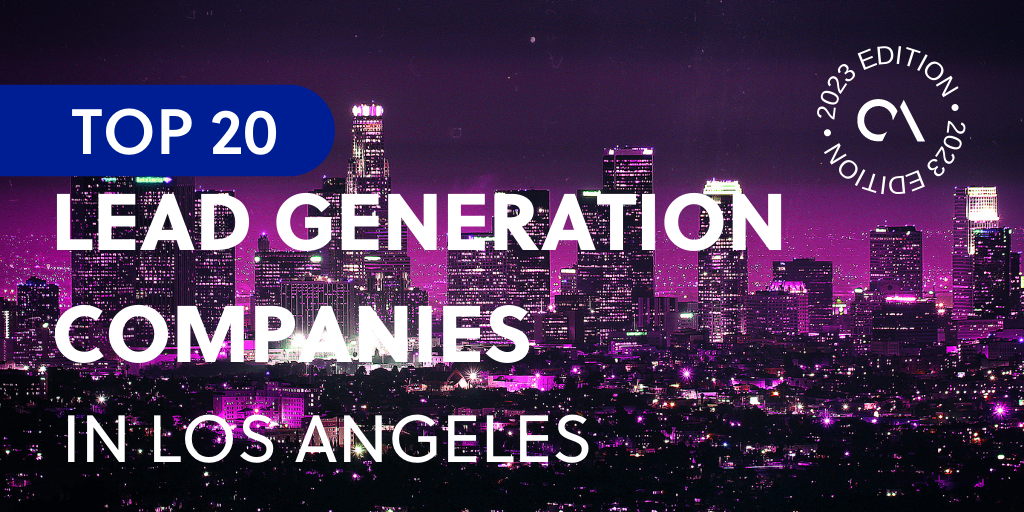 Advancements in technology have enabled the existence of multiple channels and platforms to do business. Businesses relied solely on calls and door-to-door business models before. But with the advent of digital solutions, business transactions have widened. 
The widening of platforms has created new opportunities for businesses to grow and, at the same time, generated another form of competition in securing more leads and converting them into sales. 
What are leads?
Leads are either a company or individuals who can potentially be loyal or paying customers. These leads would not have had the chance to come across and acquire the services of the company if not for a lead generation service provider. 
Lead generation companies are B2B third-service providers that businesses consult for a list of their databases. These databases can be sorted by industries, age, and area. 
Benefits of outsourcing lead generation services
Lead generation companies offer low-cost market information to businesses which they can use to generate more sales or exposure to a targeted audience.
Normally, creating a database requires extensive research, which costs a lot both in manpower and resources. Lead generation companies cut this through their extensive databases covering various industries and sectors. 
In addition, lead generation companies handle the appointment setting for these contacts.  Businesses normally would arrive at the pre-arranged time to discuss the specifics of the offer to the client.
Lastly, lead generation companies often provide insights that contain trends and patterns that are useful in making important decisions in designing the campaign or spiel for each customer. 
Top 20 lead generation companies in Los Angeles
Global outsourcing lists
Outsource Accelerator is the world's leading outsourcing marketplace and advisory. We list over 3,000 BPO firms located across the globe in our global directory, and we provide detailed information, price guides, and reviews.
Whether you're a solopreneur, SME owner, or corporate executive, we can help you find the most suitable outsourcing provider for your business.
Explore our outsourcing directory now. You may also check out our Top Lead Generation companies lists here:
Top 20 lead generation companies in Los Angeles
Below is a list of the best lead generation companies in Los Angeles. Most companies are B2B and offer appointment setting and lead generation at the same time. 
Cleverly is a B2B lead generation company focused on driving sales and traffic on LinkedIn. Every year it generates over 5,000 LinkedIn leads for its clients, which include Sony, Amazon, and Google. 
Promising LinkedIn as a revenue-driving platform, it has successfully generated $37.6M USD for all its clients. Through its time-tested collaborative process, it creates personalized pitches that resonate with the target audience of its partners.
Answering365 is a full-service call center company that works 24/7 for 365 days. It is a multi-year recipient of distinguished awards such as the ATSI Award of Excellence and CAM-X Award of Excellence. 
Devoted to the financial wellness of its clientele, it continues to broaden its industry reach, which currently includes SMEs, Real Estate, and Hospitals. All of its agents are bilingual and capable of conversing in English and Spanish.
HealthLead Plus is a B2B marketing agency established in 2004. For 18 years, it has supported businesses by providing professional staff, B2B telemarketing solutions, and appointment-setting services. 
A constant companion of many healthcare institutions, it has successfully closed deals through systematic planning and marketing.
Proud of its brainchild technology, PipelineCRM, DMA Central drives sales leads to various industries through the DMA experience. As a marketing hub, it combines digital, physical, and software solutions to ensure top visibility of campaigns.
From the commercial, healthcare, and education industries, DMA continues to expand the breadth of its reach to Finance and IT sectors. 
Taking pride in its organic and assisted lead generation capabilities, Koalifiedleads has mastered the art and science of lead nurturing and multi-channel marketing. 
Understanding the importance of building and maintaining rapport with clients, it consistently keeps in touch with its databases to ensure faster response and turnaround rate of leads. 
CallCentersNow is a call center company specializing in inbound and outbound services. From generating leads, appointment setting, and managing customized campaigns, it has carved its impact by driving the sales of the companies it caters to.
Founded in 1996, Optimal Fusion creates targeted solutions to sales needs using its Fuze360 software. Driven by results and quantifiable metrics of success, it generates leads through its trained marketers.
Despite its technological savviness, it ensures that the experience of its customers' target audience is worthwhile. Avoiding spiels and bots, it creates a good rapport assuring 100% conversion. 
Convoso is a proud partner of successful brands such as Bradley Lead group, Remodeling.com, and Colossus. It is a multi-awarded agency that received the Silver Stevie Award for Great Employer of 2021 and Bronze for the Stevie Award for Best Sales and Customer Service in the same year.
It also offers automated services to its clients through automated workflow solutions.
Zventus is a marketing company founded in 2016. As a trusted partner of the Fortune 500, it offers low-cost delivery business models that improve the turnaround time of its clients. 
The initial goal of Zeventus is to address the bottlenecks of outsourcing. As it expanded it included sales generation and marketing. 
With the help of technology and its expertise in business management processes, it generates valuable insights into boosting sales lead performance. 
Believing in the value of time, Telemarketing Power unleashes its power and creativity in successfully converting leads to actual sales. 
Driven by results and high targets since 2001, it has successfully catered to a billion calls. Sticking by its values of integrity and transparency, it does not over-promise anything to its clients. 
CallCenterLead is based in downtown Los Angeles. It is a small to medium-scale call center agency offering basic appointment setting, sales lead generation, and call center services.
It takes pride in the breadth and depth of its databases. It has per area and per industry contact lists which can be used for a limited number of times. It is TCPA compliant.
TriSource operates in various locations: one office is in the UK, one in Costa Rica, and one in Los Angeles. Expert both in back-office support and sales-driven services, it operates in omnichannel platforms.
It is devoted to its clients' best interests, it conducts internal auditing through TSI scorecards and real-time reporting which immediately addresses sales conversion bottlenecks.
Ansafone is a BPO company with 50 years of experience in the industry. It ensures the delivery of quality services to its clients by taking care of its employees. 
Embodying the 'people first' principle, the employees are extending this culture to their target audience. The company specializes in inbound and outbound services for the healthcare, education, and retail industries. 
BeyondCodes leverages self-learning technologies in generating sales leads and marketing solutions. By tracking patterns, it creates actionable insights that led to its 3,800 reports generated and 360 lead generation solutions offering. 
Adapting to the new normal, it employs its omnichannel approach in handling leads and ensuring that there are increased possibilities of conversion. 
Staying true to its name, Prove shows results through strategic and calculable business growth models. It is a B2B marketing agency that enables brands to maximize their reach.
Backed with superb business analytics and market research, it goes beyond the traditional persuasion framework and creates strategies that provide better insights for companies to act upon. 
IProspex is a telemarketing company trusted by HP, IBM, and Corrigo. It distinguishes itself from other lead generation companies with its cross-channel marketing automation. This enables IProspex to penetrate various online platforms with ease. 
As a master of social and digital marketing, it helps businesses to generate leads and sales across all platforms available. 
405 is an Ads Online Marketing company that is a certified partner by Google. Specializing in paid marketing channels, it generates leads through Google, Bing, and multiple social media platforms. 
405Ads operates in Calabasas, Santa Clarita, and Los Angeles
PearlLemonLeads is a lead generation company that promises six months of lead time for companies to experience a boom in their sales. With its extensive database, it can book up to 20 calls in a month. 
It is a trusted partner of Ascot, Mitsubishi, and GoDaddy.  It operates in Boston, Los Angeles, and New York.
Sio Digital is an AI-powered B2B marketing agency that leverages data-driven strategies for businesses to improve their ROIs. Banking on its predictive analytics, it forecasts the trajectory of maturity of leads and addresses bottlenecks, if any. 
Backed with results and data through the years, it has a track record of generating US$12M in just 12 months, with over 300% increase in traffic to a company's website. This is backed by smart web analytics and design. 
SagaReach specializes in pay-per-click marketing, SEO optimization, and lead generation services. It is an accredited partner of Google, Bing, and DesignRush.com, giving it a wide range of reach for ads to be featured. 
Dedicated in improving the experience of its clients, it has partnered with Conversion.ai, marketmuse, and majestic. All companies optimize and complement the services of SagaReach with its AI and digital solutions.