Top 15 lead generation companies in South Africa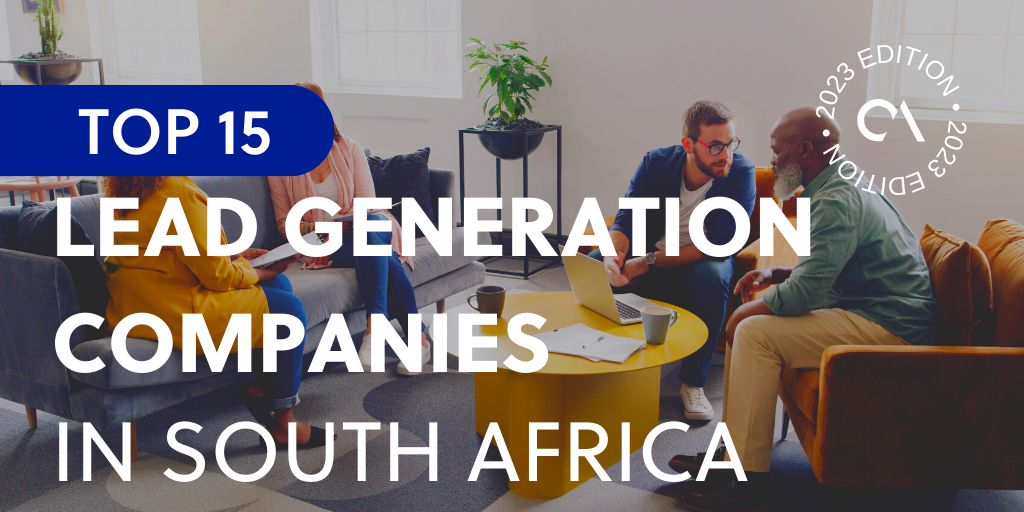 List of lead generation companies in South Africa
In business, lead generation has become a buzzword that every company in South Africa and worldwide should be familiar with. 
It's not just a fancy term; it's a fundamental aspect of business growth. 
But what exactly is lead generation? And why are companies worldwide looking to farm out services from premier lead generation companies in South Africa?
This article explores lead generation and why firms offshore lead generation to South Africa. We'll also break down 15 of the country's top lead generation companies.
What is lead generation?
Lead generation involves the process of discovering and nurturing prospective customers for your goods or services. 
It's the art of turning strangers into interested prospects and, eventually, into loyal customers. 
Think of it as sowing seeds in your business garden. These seeds are your leads, and they have the potential to grow into fruitful relationships.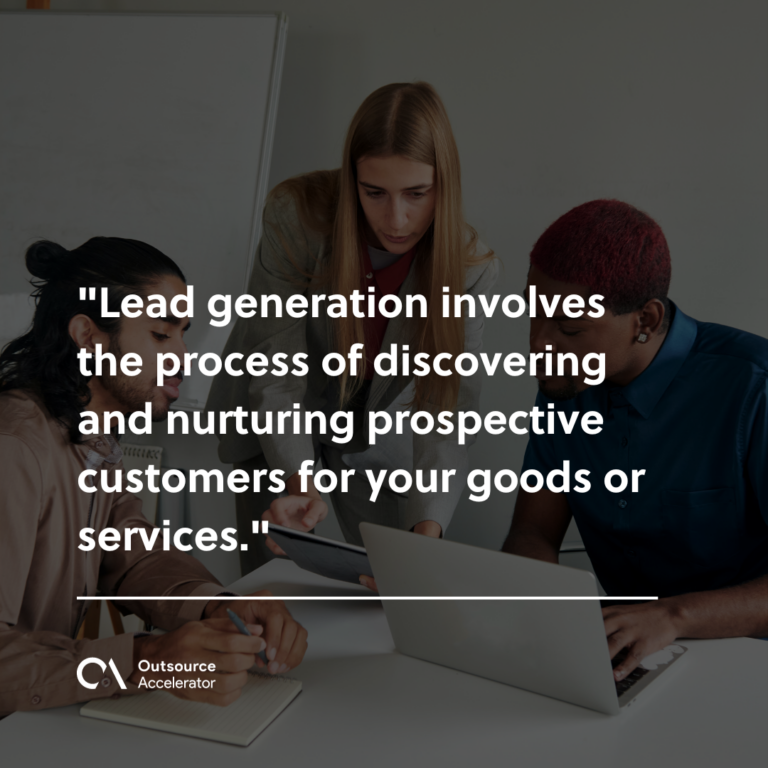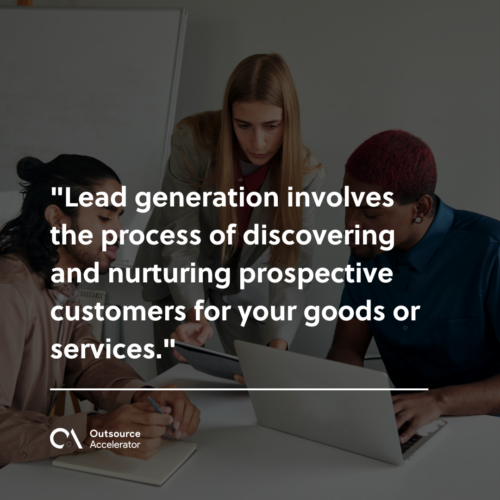 Why outsource lead generation to South Africa
Outsourcing lead generation to South Africa has become an increasingly popular choice for businesses worldwide. 
This decision is based on several compelling factors that make South Africa an attractive destination for lead generation services. 
Let's explore some of these key reasons:
Diverse market
South Africa's diverse market, blending cultures, languages, and consumer preferences, offers a valuable advantage for lead generation. 
Companies looking to expand globally can leverage South Africa as a gateway to multiple markets. Businesses can tap into a rich source of consumer insights from the country's diverse population, allowing them to adjust their strategies to reach a wider and more diverse audience.
English proficiency
One of the standout features of South Africa is its proficiency in the English language. English is widely spoken and understood, making it an ideal language for international business communications. 
You can expect clear and effective communication with your service providers when you outsource lead generation to South Africa. 
This linguistic advantage ensures that your messages are accurately conveyed, reducing the risk of misunderstandings and misinterpretations.

Skilled workforce
South Africa has a well-educated and skilled workforce readily adaptable to various tasks, including lead generation. 
Many South Africans are trained in marketing, sales, and customer relationship management, making them well-equipped to handle the intricacies of lead generation campaigns. 
Their expertise and professionalism can significantly contribute to the success of your lead-generation efforts.
Access to African markets
South Africa serves as a strategic gateway to the African continent. By offshoring lead generation to South Africa, businesses can gain valuable access to African markets, often characterized by untapped potential and emerging opportunities. 
This positioning allows companies to explore and expand their footprint in Africa, a continent with a rapidly growing consumer base and evolving business landscape.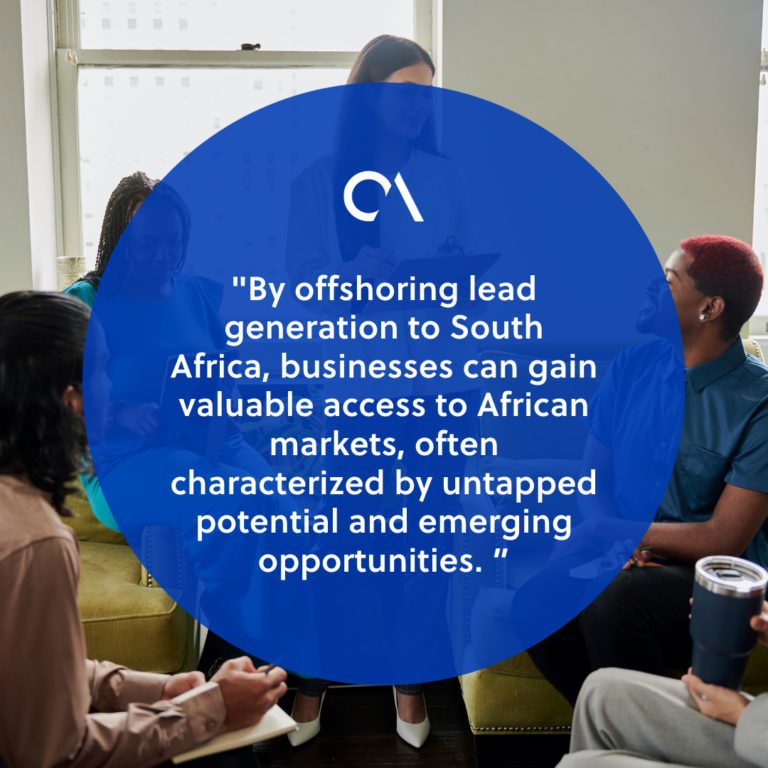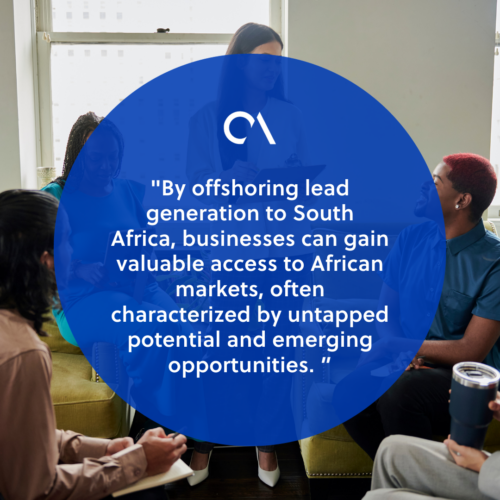 Top outsourcing global list
Outsource Accelerator is the world's leading outsourcing marketplace and advisory. We list over 3,000 BPO firms located across the globe in our global directory, and we provide detailed information, price guides, and reviews.

Whether you're a solopreneur, SME owner, or corporate executive, we can help you find the most suitable outsourcing provider for your business.
Explore our outsourcing directory now. You may also check out our Top lead generation companies lists per country here:

Top 15 lead generation companies in South Africa
Here we have the most popular lead generation companies in South Africa:
Persuade is a lead generation company based in South Africa specializing in services such as: 
Appointment setting

Lead generation

Market research

Account-based marketing

LinkedIn outreach

Sales outsourcing. 
The firm has been recognized as the best lead generation agency in South Africa and operates in 35 African countries.
Persuade prioritizes data privacy and compliance with local and international laws, ensuring the utmost care in handling client data.
Top Click Media is a digital marketing agency based in South Africa. This agency is a Google Premier Partner, which signifies its expertise and success in managing Google Ads campaigns. 
Top Click Media has over 15 years of experience. It has built a strong reputation for delivering measurable marketing campaigns that help businesses attract customers, convert leads, and grow their online presence.
The company's services include:
Google search ads

SEO

Google display ads

Google analytics

Google shopping

Google my business optimization

YouTube advertising

Social media marketing

Copywriting

Digital PR 
LeadsForAfrica is a digital marketing company specializing in lead generation for small and medium-sized businesses in Africa. 
The agency focuses on helping businesses attract and convert potential customers through online marketing strategies. 
The firm offers services such as:
Target market research

Campaign setup and management

Landing page management

Appointment setting

CRM setup

Online shop service

Web page functionality

Ad design 

Copywriting
LeadsForAfrica aims to understand the unique needs of its clients' businesses and tailor marketing campaigns to drive results and success.
Leadburst Digital is a lead generation and digital marketing company in South Africa. It offers services to healthcare professionals and property developers to help them minimize risk and maximize their marketing investments. 
The agency operates with a small but dedicated team that focuses on providing quality services and execution. 
Leadburst Digital aims to give more value than clients pay for, offering a pay-per-lead model to protect clients' interests and delivering consistent and concise service. 
Ruby Digital is a leading SEO and digital marketing agency based in Cape Town, South Africa. It specializes in helping businesses improve their online visibility, increase website traffic, and generate quality leads through effective search engine optimization techniques.
The organization provides an extensive array of services, which encompass:
SEO

Google analytics consulting

Google maps marketing

Link building

Pay-per-click advertising

Social media marketing

Web design and development

Content marketing

Email marketing, and more.
Ruby Digital has a team of experienced SEO professionals who work closely with clients to create tailored strategies that align with their business goals.
SearchKings™ Africa is a digital marketing agency specializing in:
Google Ads

SEO

WordPress websites

Pipedrive CRM services
The firm aims to help businesses generate more revenue by leveraging the power of Google Ads and Pipedrive to attract and convert customers consistently.
SearchKings™ Africa is recognized as a Google Premier Partner, indicating its expertise and accreditation from Google.
Syte is a digital marketing company based in Johannesburg, South Africa. 
The company was founded by individuals who initially started a coffee business called Aquaspresso. From there, they realized the importance of marketing and sales to grow a successful business.
This organization offers services in various areas of digital marketing, including:

Lead generation

E-commerce digital marketing

Sales management

Search engine optimization

LinkedIn, Facebook, YouTube marketing

Conversion optimization.



Inspiril Marketing Solutions provides personalized marketing programs to clients in South Africa. The firm offers a platform with various services tailored to meet clients' business needs and budgets. 
The company's services are:
Direct sales and marketing

Online marketing

Digital marketing

Social media marketing

Merchandising

Marketing training

Corporate identity

Branding and signage

SMS marketing

E-mail marketing

Database marketing

Lead generation.
Inspiril Marketing Solutions has branches in Pretoria, Gauteng, Mthatha Eastern Cape, and Durban KZN, South Africa.
Hangar49 is a B2B lead generation and demand generation company based in Brooklyn, New York. It has a global presence in cities like Cape Town, Dubai, Johannesburg, London, Los Angeles, New York, Tel Aviv, and Toronto. 
The company offers various services to help businesses start conversations, build pipelines, and grow market share:
LinkedIn outreach

Cold email outreach

Cold call outreach

Web advertising outreach

Sales outsourcing

Wales consulting 
The company mainly focuses on lead generation at scale by sourcing accurate and reliable prospect data using targeted personas. Its global client base comes from industries such as cloud solutions, crypto, edtech, fintech, SAAS, software, and telco.
Starbright is a digital innovation and creative excellence company based in Pretoria, South Africa. 
It aims to help businesses exceed their digital potential by crafting amazing brands, developing exceptional websites, and utilizing cutting-edge digital innovation to drive business growth.
Starbright offers various services, including: 
Graphic design

User experience (UX)

Web design

Web development

SEO content and copywriting

Custom development

Leadtrekker CRM

Google ads

Google workspace

Social media marketing
CubicICE has a team of innovative, creative design capabilities and a digital approach to deliver results and a competitive advantage for its clients. With their expertise in these areas, CubicICE aims to deliver measurable results and maximize return on investment for their clients.
CubicICE offers a wide range of services, including: 
B2B marketing

Digital marketing

Public relations

Graphic design

Web development

SEO (Search Engine Optimization)

Lead generation

Email marketing

Advertising

Event marketing
The firm also claims they are a leader in search engine marketing, a Google Partner SEO-certified company, and a member of the Interactive Advertising Bureau (IAB).

SEOPros has been in the digital marketing sector for over 13 years and employs 25 experienced staff. 
It aims to provide its clients with a results-driven approach to digital marketing, delivering sustainable and long-term results that help clients stay ahead of their competition. 
As an accredited Google partner, SEOPros uses Google's best practices to improve clients' online presence. 
It offers various services, including local 
SEO packages

Provincial SEO packages

National SEO packages

African SEO packages

Gobal SEO packages. 
SEOPros also provides clients professional website and graphic design, social media management, PR strategy development, video production, and auto lead generation.
Leads 2 Business is an online platform that delivers leads, tenders, and project information to businesses within the building, infrastructure, mining, and industrial sectors. 
It offers a comprehensive resource platform that assists businesses in making informed decisions and identifying new business prospects.
Additionally, Lead 2 Business offers insights into private construction projects, assisting firms in identifying new opportunities in the project development lifecycle. 
It also provides information on the contractors and professionals involved in the projects, estimated contract values, and contract award dates.
Shift ONE Digital is a leading full-service digital marketing agency based in Cape Town, South Africa. Founded in 2011 by Dylan Kohlstadt, the agency aims to bridge the gap between businesses and their customers through effective digital marketing strategies.
It provides an extensive selection of digital marketing services, which include:
Social media marketing

Content marketing

Influencer marketing

Email marketing

Paid advertising

Lead generation campaigns

LinkedIn management services and more
Shift ONE Digital utilizes cutting-edge marketing technology and a team of over 25 experienced professionals. It helps businesses increase their revenue and sales by building trust and brand awareness.
Open Circle Solutions is a full-service digital marketing agency based in South Africa with over 18 years of experience. It prides itself on providing scalable and user-friendly solutions that encourage organic long-term growth for businesses. 
This firm offers a wide range of digital marketing services, including:
SEO

Social media marketing

Lead generation

Website development

Ecommerce marketing, and more
Open Circle Solutions team specializes in creating dynamic and adaptable marketing strategies that can be adjusted based on market trends and consumer behavior. 
Further, the company has worked with companies of all sizes and has a proven track record of delivering results.
Boost your lead generation efforts today
Lead generation is the cornerstone of business growth, and South Africa offers a unique opportunity to supercharge your efforts. 
By having access to South Africa's top lead generation companies, you can significantly boost your business's growth. Don't miss out on the chance to tap into the expertise of these industry leaders.
But before you decide, here are a few key takeaways:
Customization is key

. Each company brings its own flavor to lead generation. Consider your business's unique needs and goals when choosing a partner.

Communication is vital

. South Africa's English proficiency ensures effective communication. Clear and concise interactions with potential customers can make or break a lead-generation campaign.

Think beyond borders

. South Africa's access to African markets opens doors to exponential growth. Think about the long-term potential and how it aligns with your business strategy.

Quality over quantity

. Some companies focus on high-value leads, while others offer a broader spectrum. Assess your priorities and choose accordingly.

Stay informed

. The lead generation landscape is dynamic. Keep an eye on trends and emerging technologies to stay ahead of the competition.
In the business world, seizing opportunities sets successful ventures apart. Offshoring lead generation to South Africa can be your ticket to unparalleled growth.