Outsourcing lead generation to increase sales
Deciding to outsource the lead generation and sales areas of your business is always a tough decision, and indeed one that should not be taken haphazardly. Because ultimately, outsourcing is about putting your trust in the hands of a third-party service provider to help you grow your company.
While there are risks to outsourcing, especially vital business aspects such as lead generation and sales, there are also many benefits that you can gain from it.
Thus, you need to learn more about these benefits to be confident about taking this path. Successful entrepreneurs know that for their business to grow, they need to take advantage of all available resources as long as it generates a positive bottom line.
Knowledge is the key to weighing the pros and cons of anything effectively.
Reasons why to outsource lead generation and sales
What is lead generation and sales?
Many business owners are hesitant to outsource because they think that it would be too intruding to their organization or that it might bring unnecessary expenses.
The truth is, in today's online world, you can enjoy reliable support without having to hire someone to stay in your office or treat them as a regular employee with all the perks and benefits. That is the beauty of outsourcing.
You hire someone to do the job for you, and your relationship can stay online. By outsourcing your lead generation services to SixEleven BPO, you can save your business significant costs. Rather than hiring an expensive in-house team, SixEleven BPO offers quality services at a fraction of the cost.
Outsource or do it in-house?
Meanwhile, some of the drawbacks of keeping lead generation and sales processes in-house are the uncertainty of reaching your goals in this area of your business.
When you leave these functions to your existing employees, you take the risk of things being accomplished slowly or not getting done at all.
There are so many reasons for your employees to do things inefficiently, such as they want to concentrate more on their core competencies, they are not experts when it comes to sales and lead generation, they are out on vacation leave or holiday, or just plain laziness.
Outsourcing lead generation and sales
Outsourcing guarantees you results because you pay for what you want to achieve. Because you hired a BPO firm, this third-party service provider is obligated to produce results.
Not only will they gain a long-term relationship with you but also because you have a contract with them.
To help you better understand the benefits of outsourcing the lead generation and sales functions of your company, here are some more reasons why you should do so.
Cost savings
Outsourcing will save you manpower and training costs that you would have otherwise spent by keeping things in-house. Imagine having to hire a new lead generation and sales team.
If they become regular employees, then you will also have to shoulder the burden of extra taxes, additional employee bonuses, and added office space and equipment.
Outsourcing negates all these costs because a BPO company already has the equipment and infrastructure plus skilled and trained workers to do the work for you.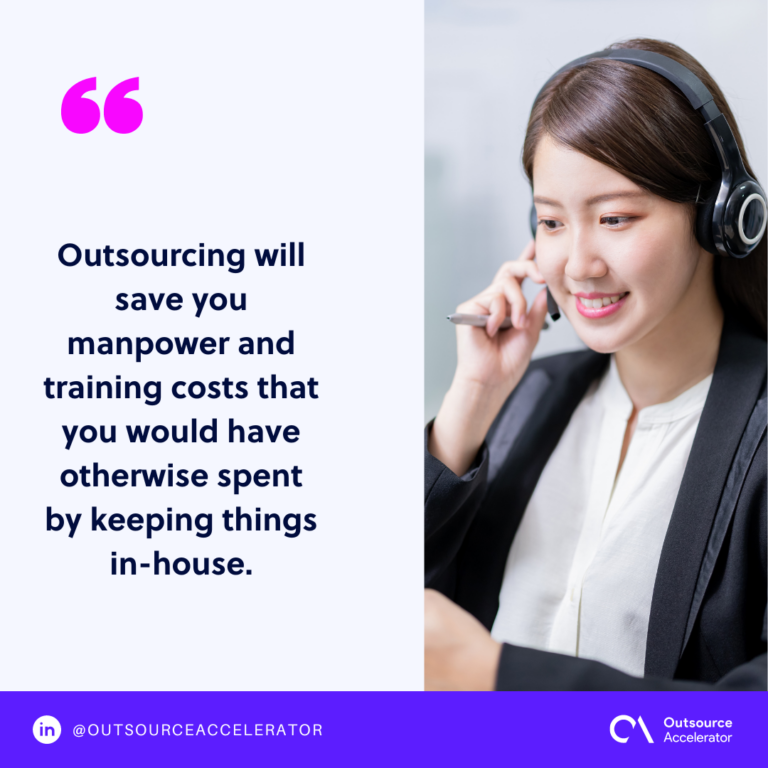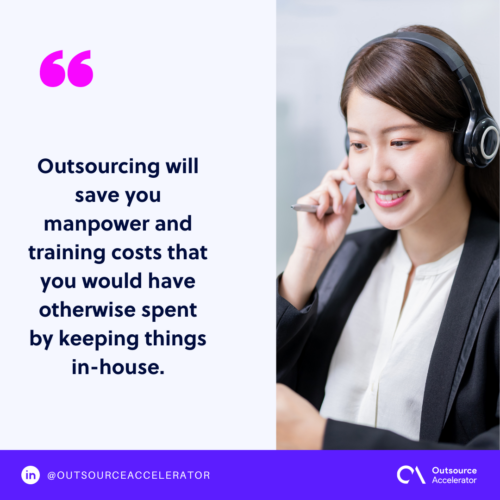 Expert Insight
As aforementioned, the right third-party service provider is already highly skilled and trained to accomplish the task.
Hiring a trusted BPO firm with a proven track record enables your business to have expert guidance from people who already know how to succeed. It would be daunting for your existing staff to utilize a new sales tool or software for the first time without training.
However, through outsourcing, your sales team would not only have the opportunity to focus on its primary work tasks, but they could also gradually learn the latest trends and technologies from your service provider for future reference.
Focus on getting deals done
Outsourcing your lead generation and sales activity will allow your in-house staff to concentrate more on closing deals and developing long-term relationships with existing customers.
With lead generation already out of their workload, your own sales team can now focus on market research and client satisfaction.
Moreover, your marketing team will also benefit as they can focus more on building a stronger brand presence in your niche instead of helping out in getting leads.
Advantages to outsourcing lead generation and sales
Up to 70% Savings
English Proficient
Confident and Pleasing
Expert Sales Process
Fast Lead Generation
Upselling Specialists
Closing Deals
Lead Developing
Appointment Setting
Experience Data Scraping
Affiliate Experts
Cold Calling
Strong Sales Cycles
Get a dedicated sales team that can take your sales operations to the next level through Peak Support! Partner with sales experts who can build up your sales pipeline while bringing in the new leads that you need.
Outsourced lead generation and sales jobs and roles
Telemarketing
Telemarketing is an important part of lead generation and sales as this step helps create customer interest in your products and services. This role involves identifying and cold-calling potential clients and customers, selecting their calls based on a predetermined database, directory, or listing.
A telemarketer motivates former and prospective customers to buy your products and employ your services by using a pre-composed dialogue that tells the buyer all essential information.
Upon completion of an order, a telemarketer records buyer information and back it up for future reference.
Aside from that, telemarketers can also answer inbound calls from customers asking for product specifications and service details.
Telesales
Telesales is quite similar to telemarketing when it comes to functions and work tasks.
However, the difference is that telesales is more focused on closing a deal with a buyer while telemarketing also includes promoting your company's brand and reaching out to potential customers.
A telesales representative also cold calls current and prospective buyers to offer your company's products and services using a pre-composed script.
Like in telemarketing, the calls are based on an encoded database. They also answer any questions by the buyer regarding the product or service being offered, until they persuade them to try it.
Before a call ends, telesales representatives should be able to secure buyer information for future reference.
Lead generation
As the name implies, this role is responsible for generating leads for your company. A lead generation specialist looks for, qualifies, and generates new leads to achieve the sales quotas, plans, and goals of your business.
This role performs extensive market research, conducting a frequent consumer needs analysis to determine how your product or service can help potential buyers.
Lead generation specialists also create lists of potential prospects to be used by telemarketers and telesales representatives. They also follow up on their generated leads, initiate communications with target customers, and monitor successful conversions.
A lead generation specialist collects all data necessary for customer database building, making sure that all communications between the company and its customers are recorded.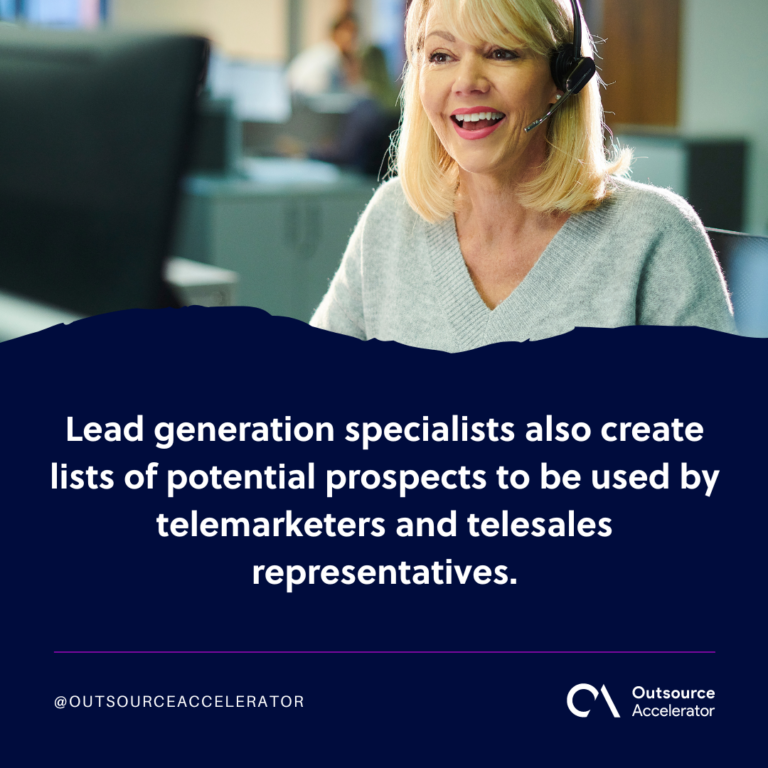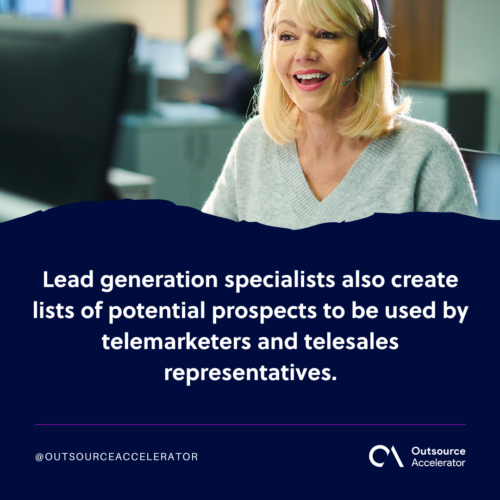 E-Commerce Sales
This role is important in helping your business achieve its sales objectives. An e-commerce sales representative is friendly, courteous, and knowledgeable about your company's products and services.
The role explains to buyers the different product features and the benefits they can get from it, and informs them of any sales or promotions as well.
E-commerce sales representatives welcome inbound buyers, helping them make the best purchasing decisions from your line of products and services. They utilize different channels of communication, including phone calls, live chats, video calls, SMS, and social media messaging.
E-commerce sales reps establish sound relationships with existing and new customers, making sure that they get what they want and leave satisfied whenever they interact with your company even online.
Affiliate Sales
Affiliate selling is the process of partnering with one or several companies that will promote your business' products and services for a commission.
Affiliate sales representatives are responsible for finding suitable business partners, making sure that they are trusted and relevant to your niche. They develop a plan on how to look for these potential partners and execute it as well.
An affiliate sales representative does a lot of market research, monitoring prospects, and enforcing your business' policies and procedures when it comes to affiliate marketing.
They accept, review, and recommend potential affiliates with final approval coming from you.
Lead Development
This role is responsible for developing leads for your company's sales and marketing team. A lead development representative identifies, develops, and qualifies both inbound and outbound customer interactions for opportunities to close deals.
They do this through extensive research and market trend discovery.
Lead development representatives sometimes act as the first contact of your company with customers. Thus, they should be able to explain the value of your products and services to new customers.
They guide customers on which product or service to choose to solve their problems accurately. Also part of their job is to research new, creative ways to generate leads through outbound approaches.
Appointment Setting
An appointment setter is responsible for reaching out to your business prospects and scheduling a sales call with them.
They do not necessarily close deals with a client but instead provide hype and excitement before a sales representative talks to the customer. Thus, appointment setters are also highly knowledgeable about your products and services.
Appointment setters primarily use phone calls and emails to contact potential customers. They record each interaction with a prospective client, collect them in a database with the customer information, and make a report about it.
Appointment setters may also organize in-house product demonstrations, private meetings with clients, and over-the-phone consultations.
Cold Calling
Cold calling is a type of telemarketing and direct marketing. And just like telemarketing, it is an important part of lead generation and sales.
Cold calling representatives are responsible for soliciting clients and customers to try your company's products or services. During calls, they introduce your company's products or services to a prospective buyer and help close a sale right then and there.
Like telemarketers, cold callers also follow a script or dialogue to initiate conversation and to ask frequently asked questions.
If a sale is not yet possible, cold callers may resort to setting up a follow-up phone call or even a personal meeting with the customer.
Upselling
Upselling is a sales tactic that involves persuading a buyer to make another related purchase to try and increase the total sale made.
For example, when you order a hamburger and fries in a fast food restaurant, the cashier may also offer you a sundae or pie for dessert. Another example is in a gas station when you are offered a car wash after gassing up.
Upselling representatives are expert in this kind of strategy as they are highly knowledgeable of your company's products and services.
They know which products or services are related, thus can offer another one immediately after closing a sale.
IT Support
The primary responsibility of IT support personnel when it comes to lead generation and sales is technical support for both computer hardware and software.
They make sure that all hardware equipment, including computers, phones, and mobile devices, are in top-notch condition for the sales representatives to successfully finish their tasks.
If the representative is physically not in the office, then the IT support personnel provides troubleshooting instructions via a phone call, video call, or live chat.
IT support also guides users in installing software to their computers, ensuring that everything runs as smoothly as possible.
This role is usually available 24/7.
Website management
Website management is an important part of lead generation and sales because your company needs to have an efficiently running website to attract and retain customers.
Website managers make sure that your website is user-friendly, easy to navigate, and provides a lot of value for existing and potential customers.
They are responsible for developing and maintaining the applications or software used in your website. They are also in charge of creative development, though they do not necessarily write web content or blogs for your site.
Website managers also ensure that all landing pages for your products and services are updated and that all links are working.
Social Media Management
Lead generation and sales utilize social media a lot. Thus, social media management is critical in keeping up with the latest trends and technologies.
A social media manager is responsible for creating plans, strategies, and goals when it comes to your company's social media marketing and advertising.
The role also helps promote your brand to the public, forming an online presence and reputation for your business. Also included in this role is the management of the content included in your company's social media accounts and responding to comments and chats from your audience.
A social media manager takes advantage of all available platforms to generate leads and sales for your business.