13 SEO best practices you need to try today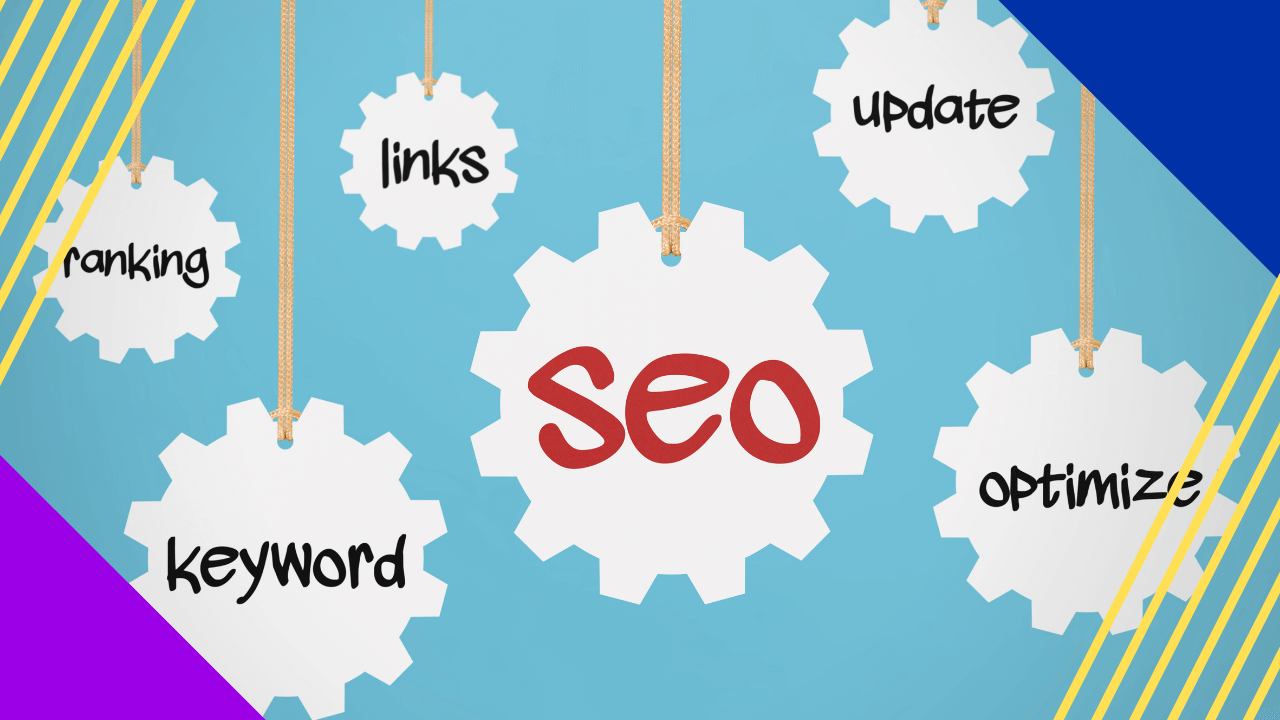 SEO remains to be one of the best ways to acquire organic traffic to your website. No matter how your website was marketed, search engines will still rank sites based on relevancy, organic traffic, and spam content.
This is one of the reasons why SEO best practices are continuously developed and regulated by businesses and individuals that use them regularly.
Without practicing SEO, web pages and sites have no chance of organically ranking high up on search engines. They would have to turn to SEM or social engine marketing to make their sites visible on the top of the search results.
SEO best practices you can try today
Defining SEO
SEO, otherwise known as search engine optimization, is the process of developing search engine-friendly content to increase the page's ability to rank higher than its competitors.
Specialists of search engine optimization are often writers and analysts who work on dozens and dozens of content in their careers. SEO best practices are what keeps their work relevant and marketable.
In search engine optimization, there are lots of things to consider when developing content that is aimed to outrank its competitors. There are technical sides to SEO, more than just developing content.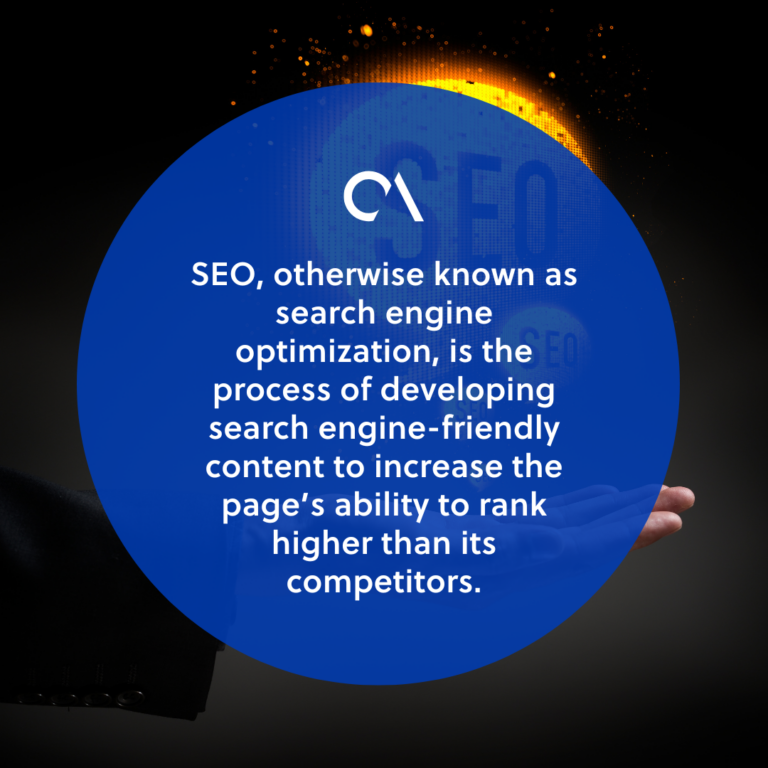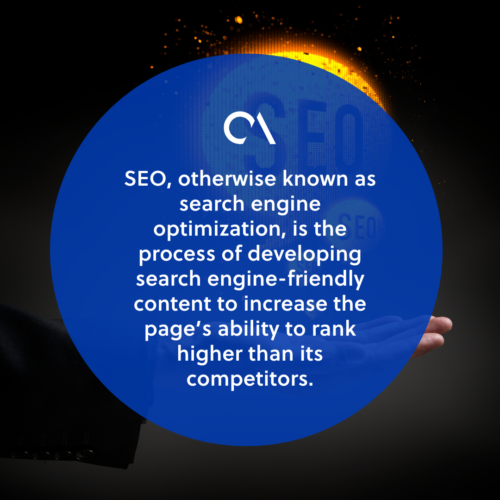 SEO vs SEM: What's the difference?
Search engine optimization and search engine marketing came from the same branch of marketing. But one main difference between them is that the latter focuses on making advertisements rather than creating content.
SEM content is counted towards SEO. But once a digital marketing company turns it into a search engine ad, it will be considered as an SEM campaign already.
But even then, SEM ads get traffic but are not as organic as SEO content. The traffic that SEM generates ultimately leads to valid prospects.
Why best practices exist
Best practices, as defined by most people, are procedures and processes that are proven to be most effective and efficient by those who are involved.
A little known fact about best practices is that it's not set in stone. It can be changed, developed, and even recounted if it's proven inefficient anymore.
It's important to remember that best practices can be changed for the better and that it's never permanent across the board or even across departments.
13 SEO best practices you can try today
#1 Making engaging content
Undoubtedly one of the most important SEO best practices out there is making engaging content. 
When starting as an SEO professional, you are taught that you have to put yourself in the shoes of the reader to create content that even you would want to read and interact with.
Engaging with the audience is more than just making media that goes viral. It's about making content that is relevant to the reader for months and years to come.
#2 Optimizing pages
By optimizing pages, search engines will have an easier time indexing and navigating your web pages for relevant links to push up the ranks.
This SEO best practice works best for every content type out there. From blog posts, landing pages, to even images and media. SEO specialists just have to utilize image alt text on media.
But when optimizing pages, SEO specialists need to be careful as keyword stuffing can ultimately lead to spam and the page falling down the ranks.
#3 Internal linking
Internal linking has its version of best practices but let's take a look at it from another perspective.
Like optimizing pages, internally linking past (but relevant) content to the current one will make it easier for search engines to index pages of a website. Thus, ranking multiple pages that are linked together.
#4 Utilizing keywords
Keywords are what we (as consumers) type into the search engine to look for certain products, services, and information. 
There are online mediums such as SEM Keyword Search, Ahrefs, and SmallSEOTools that help freelancers and SEO professionals find which keywords are popular for a certain trend.
They then take these keywords and stitch them to the content that they're developing so it would rank once the search engine acknowledges it.
By using the most relevant keywords, websites have higher chances of outranking their competitors over time.
Keywords tend to change over time as trends progress and shift over the course of days but there are tools that can help them keep track of relevant keywords and phrases.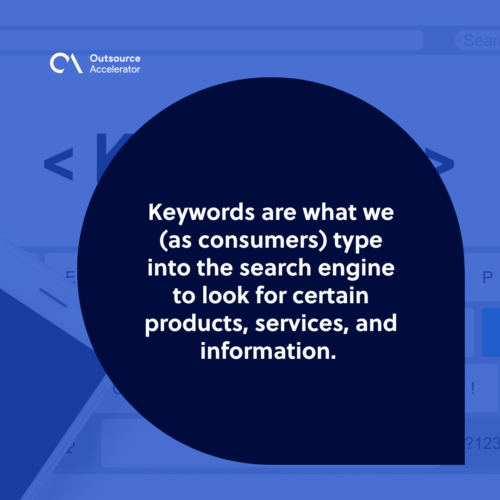 #5 Optimizing landing pages
Landing pages are optimized to get as many leads and attention as possible but is it truly engaging?
In SEO best practices, landing pages need to be as SEO-friendly as possible. To put it simply, it acts as the gateway to the main site. It has to be inviting and interactive—hit two birds with one stone.
Landing pages that are more interactive are much more likely to get leads and prospects over time.
#6 Avoiding over-stuffing
One of the mistakes that newbie SEO specialists make is keyword stuffing. Any SEO best practices don't promote this as a legitimate way of optimizing web pages. If anything, it harms the ranking ability of the affected pages.
When a search engine detects stuffing on a webpage, it labels it as spam and the page loses its ability to be ranked unless updated and fixed.
#7 Keeping your content reader-friendly
Unless the content (mostly written such as blog posts, articles, and guides) is written for industry professionals, there's no need for it to be overly technical.
Almost every casual reader out there wants to relate to the material they're reading. Reader-friendly content is an SEO best practice that won't change anytime soon.
#8 Measuring metrics
Measuring your output through the right metrics is part of every best practice memorandum out there, not just for SEO.
By doing so, SEO professionals can pinpoint areas of improvement and fortify the strong points of the content without any hassle.
Metrics are such an important part of any campaign that most companies have analysts on-site and on-call to assist the content development team.
#9 Using alt text for images
Circling back to best practice tip #2, using image alt text is helpful as it allows images to be searched via text.
For instance, if an image is used to visualize a hospital call center, and the alt-text has the words "hospital call center" in it, it will count towards the content's SEO friendliness ranking.
#10 Improving user site experience
User experience (UX) is important for any sector out there. It encompasses the general sections of usability, accessibility, and interactivity in a service or a product.
By improving a site's UX, it guarantees that there are minimal problems that hinder users from accessing and interacting with the SEO-optimized content.
#11 Utilizing SEO tools
SEO tools—even the free ones—have a purpose in making any content SEO-friendly. There's no reason why companies or freelancers should skimp on using these for their good.
It helps professionals be more accurate and aware of any shortcomings they have.
#12 Retargeting topics
Even industry newbies know that certain topics and trends come back around. 
Retargeting topics is an SEO best practice as it repurposes old content into something new, fresh, and relevant. Not only does it save time and effort for smaller teams, but it also makes internal linking even easier.
Rehashing content to be more relevant is acceptable as long as it's updated with the latest information or statistics.
#13 Formatting content
Headings and subheadings are one of the major reasons why content ranks high (or low) in search engines.
When SEO writers follow a mishmash format while writing an article, search engines will most likely skip it to look for another article with well-utilized headings.
Headings with the proper keywords have a higher chance of ranking than their under-utilized competitors. Most content developers are trained to come up with eye-catching headlines just for this reason.
Catchy headlines should have substance, but some have adopted click-baiting to generate more traffic. While it may work for some, most readers may think they've been "fooled" or "misled."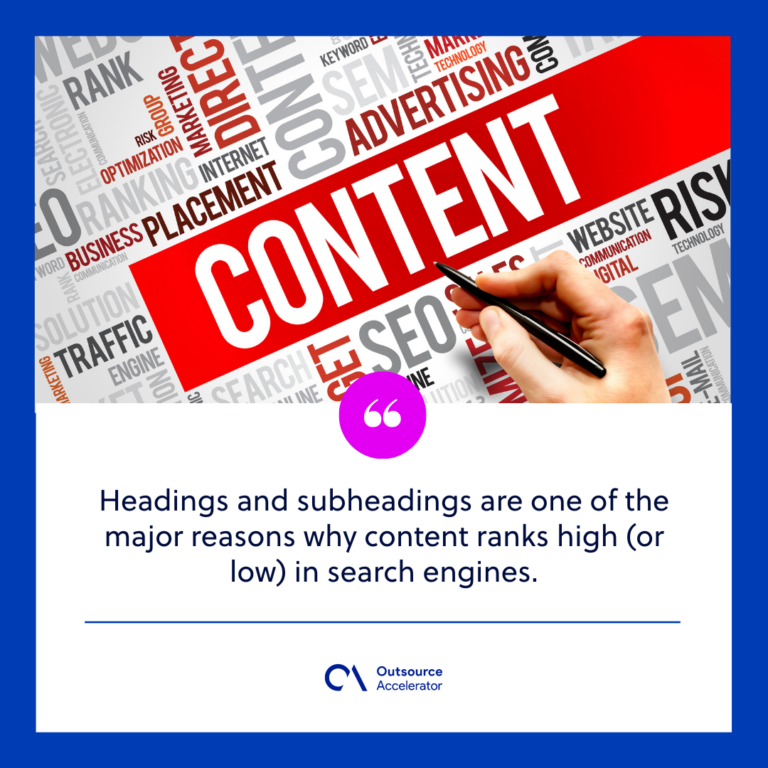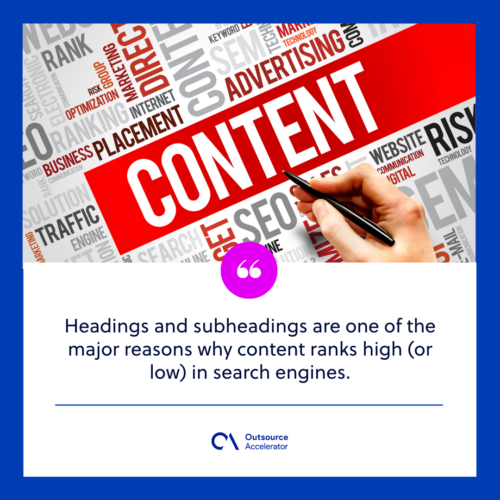 SEO best practices are the reason why sites rank
When following best practices, it's more likely that the content will be ranking higher than its competitors.
It may not happen overnight, but search engine optimization relies on delayed gratification and continuous development and learning. Some individuals and digital marketing companies do blackhat SEO activities but they are at risk of getting flagged by search engines as spam.
Another thing worth mentioning is that SEO best practices can be very fluid and flexible. They may even change depending on the circumstances in which the content is being developed.
But one thing is consistent, making relevant and enjoyable content for all to interact with and share. 
SEO companies have mastered the art of doing search engine optimization, that they have their own version of best practices.
Cloudstaff, one of the leading outsourcing companies for smarter outsourcing provides top-tier Content Writers who are experts in SEO. Besides SEO, Cloudstaff also offers a range of Creative and Marketing services that can be a perfect fit for your content needs!
Find out more about these featured services!