Cold calling services you can outsource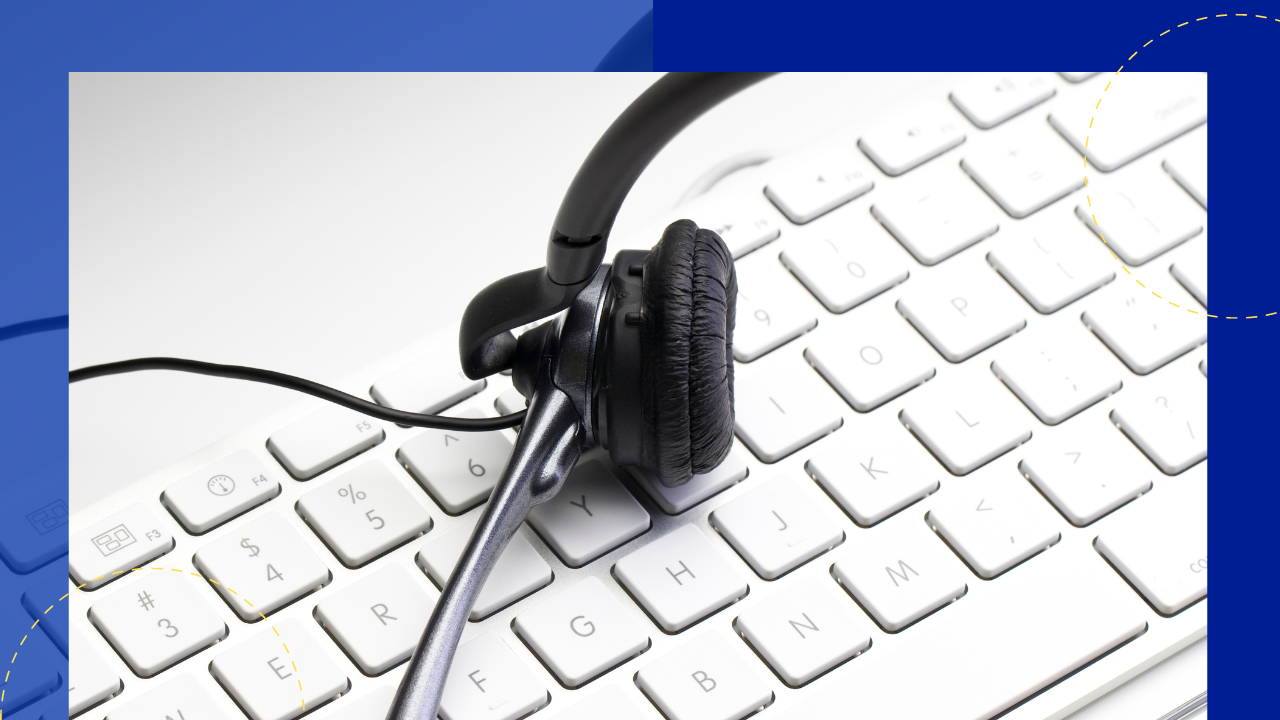 Outsourcing responsibilities to onshore, near-shore, and offshore service providers will allow you and your team to focus on the core departments of your business. Being able to focus on these areas means that you now have the freedom to grow your business organically.
Not to mention that outsourcing can help your business stay afloat during these hard times. By letting external agencies get the job done on behalf of your company, you're actually saving time and department resources. We're sure that you're all familiar with the saying "time is money."
As an entrepreneur, you have to prioritize your company's needs over superficial changes. Outsourcing your operations to external providers will not only cut your costs significantly. It will allow you to do some systematic changes over time.
Cold calling's role in a company's growth
What is outsourcing? It's the practice of offloading jobs and responsibilities to third-party business process outsourcing (BPO) companies.
Cold calling refers to the telesales practice of following up on a cold lead to close a sale. A cold lead usually involves information such as the name, contact details, and addresses) of a potential customer. 
Most, if not all, BPO agencies have a cold calling as a service to offer to potential clients with businesses that rely on this telemarketing strategy. Well-known organizations and even small-to-medium-sized enterprises (SMEs) are outsourcing their services to trusted agencies to cut costs. Allowing them to move freely between departments to promote internal growth.
Cold calling usually has a negative connotation but there are companies out there that are dedicated to taking the negativity out of this sales and marketing strategy.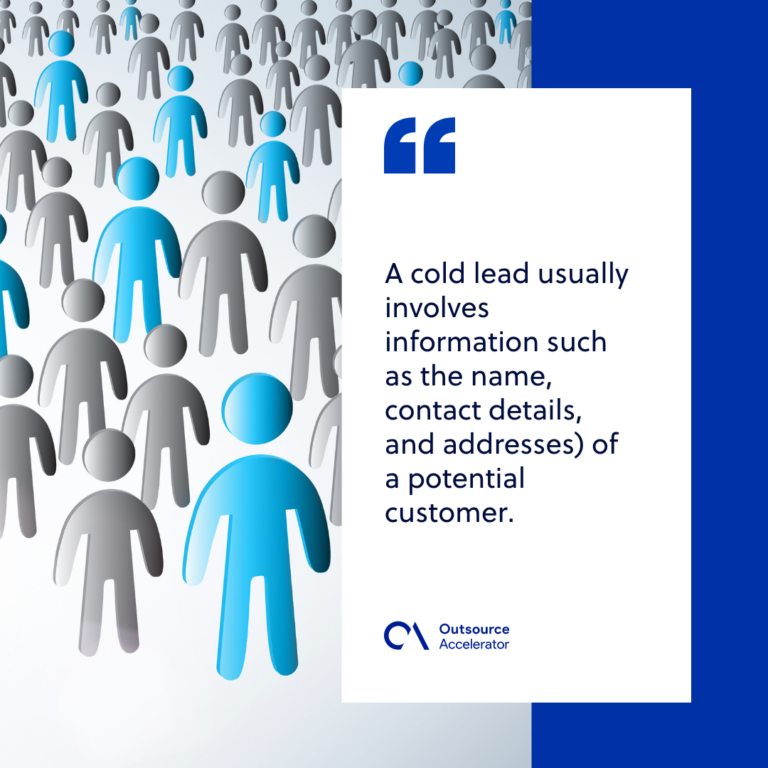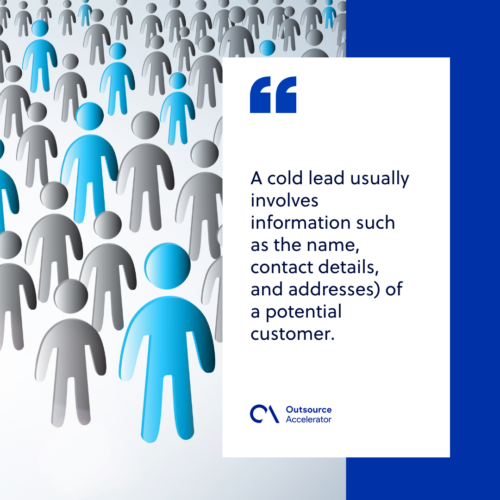 The role of a telemarketer
A telemarketer's job consists of four major responsibilities that serve as the backbone of their position in a company. However, not all telemarketing positions have the same job scope. Most of them get assigned extra responsibilities, usually administrative and clerical tasks, to support their daily operations. 
That being said, most departments in a company are inter-correlated with one another and are needed to cooperate to ensure a smoother workflow.
#1 Organize highly sensitive information from leads, both hot and cold. Update details regularly according to prospects' demands.
A telemarketer's job description usually includes 'organizational skills' and 'attention to detail'. The position requires prospective employees to be highly effective in handling vast amounts of information in a day. 
Although studies show that multitasking actually lowers an individual's productivity over time, telemarketers often have tasks overlap at the same time.
#2 Reach out to leads in a professional and approachable manner to close a sale, a deal, or just to conduct a quick poll over the phone.
Communication skills get to play with this responsibility. As a telemarketer, it's important to learn how to be concise when talking to consumers and clients over the phone. Brevity is a skill most prized in the cold calling industry.
When reaching out to your leads, make sure to have a system that prioritizes the most active ones, instead of connecting to inactive prospects that may lead you to waste time and effort.
#3 Complete the order form for successfully closed deals.
Turning an active lead into a sale is not an effortless task. Most of the time, you will spend your time nurturing these leads until they are ready to make a purchase. As a part of the telemarketing department, you will have to complete order forms for your clients to ensure a smooth deal. Attention to detail is key here, as is to any jobs that deal with sensitive information.
#4 Hit the departmental goals and keep track of their progress to attain Key Performance Indicators (KPIs)
Departmental goals are often based on the average of which agents can accomplish the goals within a specific time period. Most of the time, KPIs push the telemarketing department to exert the effort needed to promote growth in revenue.
It's a dead giveaway to the managerial team whether the department is accurately achieving goals within the prescribed period.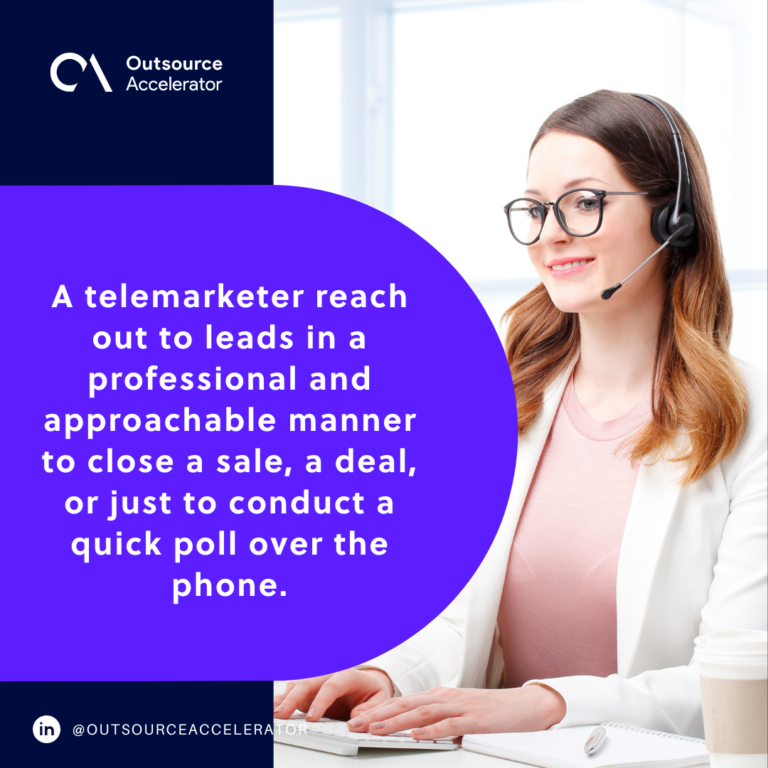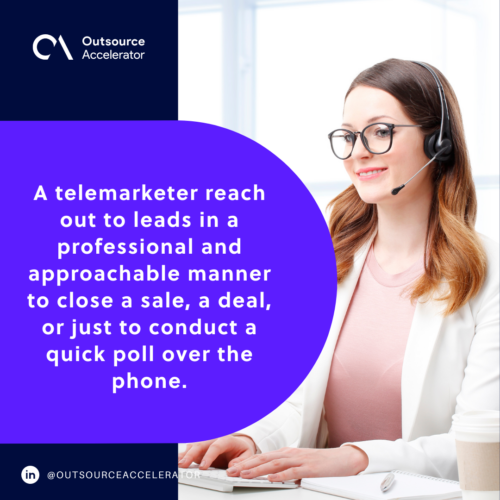 Cold calling services you can outsource
As mentioned above, cold calling services are prominent in the BPO industry. Not all companies can allocate physical resources such as workspaces to departments that they can easily outsource to the pioneers. It's one of the reasons why the BPO industry is thriving. Agencies give organizations the opportunity to expand their operations without physically advancing.
B2B Cold calling
Business to business cold calling refers to reaching out to different organizations and companies that telemarketers think will enjoy the services and the products that they offer. B2B cold calling is more than just blindly calling everyone on your prospect lists—it's more of the act of connecting with businesses that you're sure will benefit from the products and services that you're offering.
B2C Cold calling
Business to customer cold calling tactic is a well-known sales technique all over the world. It pertains to the practice of calling uninitiated customers. Telemarketers get them up to speed about their products and services—with the hopes of turning them into qualified leads to be nurtured.
Lead generation
Lead generation is the act of getting your prospects' data and information by means of landing pages, contact forms, e-mail subscriptions, and more. This position is often supported by the sales and marketing team and vice versa. The qualified leads are 'delivered' and handed off to the agents who will try to reach out to the prospects.
Why your business should outsource cold call services
Here are some reasons why your business should outsource cold call services:
Lowers costs of operation
In B2B cold calling, what matters to your consumers is a great sales experience, not the cost or quality of your goods. In-house sales teams are affordable for most companies but cold calling costs a lot of money and effort to hire and train new employees. 
It might also take up to a year for a new employee to contribute to your company's growth, and you will have to pay for this time. Outsourcing your cold calling services will save you time and money while also creating a seamless sales process.
It increases productivity
Outsourced telemarketing helps you to reduce the size of your team and free up internal resources. Cold calling services companies assist you in maintaining a world-class sales process 24/7. This allows you to concentrate more on the core of your business rather than managing it, which is a time-consuming task.
Improve accuracy
Throughout the process, the sales process outsourcing agency is dedicated to keeping you completely engaged and informed. They strive to provide cutting-edge technology and are committed to open lines of communication.
In addition, SPO agencies have well-established procedures that are suited to the demands of their clients. To provide the greatest possible results for its clients, the agency's management team must constantly develop and improve its techniques. 
Cold calling errors may be unpleasant, destabilize sales teams, and irritate your customers.
However, a reputable and dependable sales process outsourcing business is considerably less likely than your in-house employees to make a serious mistake.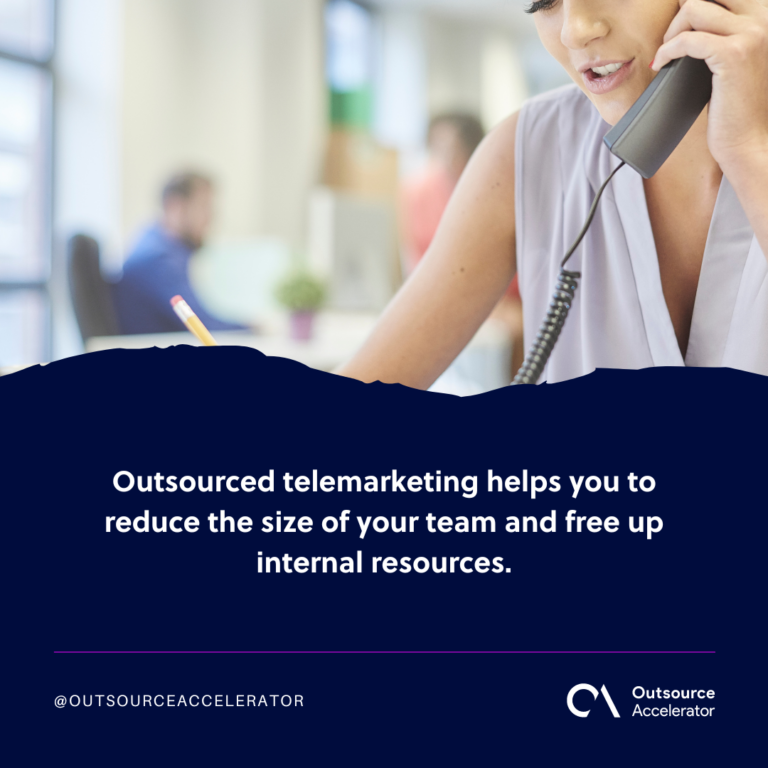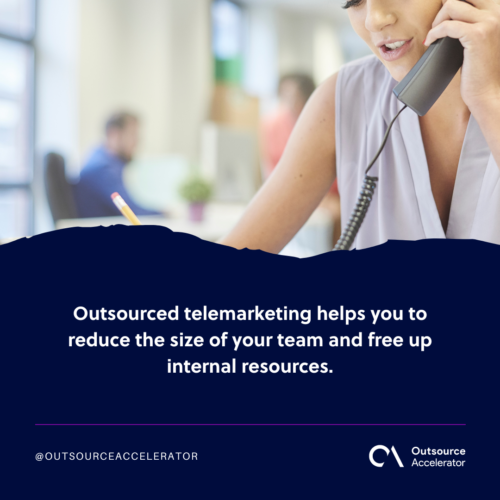 Why you should outsource to the Philippines
The Philippines is a melting pot of different cultures and backgrounds. Besides the country's booming economy—thanks to its talent pool that spans across a number of industries—it also offers low labor costs. Two perfect reasons why you should consider outsourcing your services to Philippine-based BPO companies.
Outsourcing in the Philippines is easier with Outsource Accelerator, a company that focuses on providing expert advice and unbiased opinion in regards to the top BPO companies. OA, as often stylized, is the industry's leading aggregator of external services that local and international BPO organizations offer.