BPO associations around the world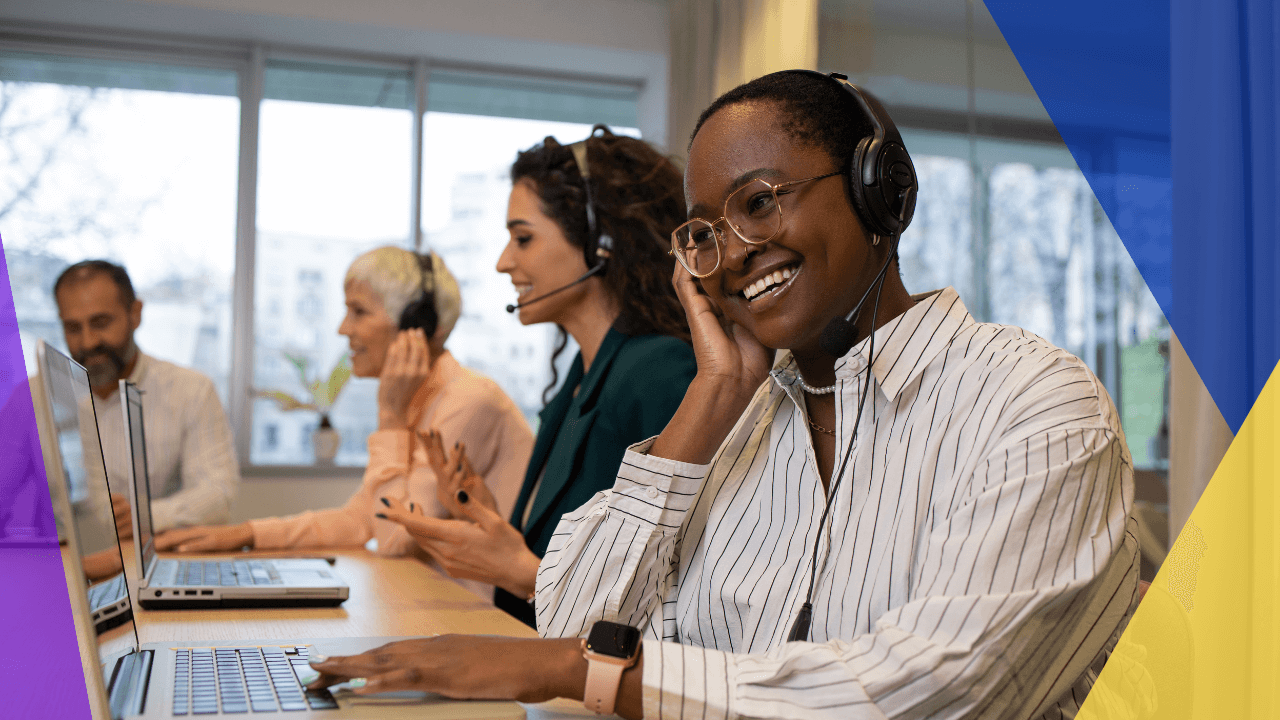 List of global BPO associations
The business process outsourcing (BPO) industry has become one of the world's largest markets.
Valued at USD 261.9 billion in 2022, experts estimate that the sector would grow at a compound annual growth rate (CAGR) of 9.4% from 2023 to 2030.
Looking at these figures, it isn't surprising that nations around the world have welcomed the sector with open arms.
The industry's contribution to countries' economic growth, especially during the height of the COVID-19 pandemic, helped cement its position as an important pillar of national economies.
Today, various BPO associations are active worldwide to help promote the sector's interests and protect the workers therein.
What is a BPO association?
BPO associations are organizations or industry groups that represent the interests of BPO companies and professionals. Their primary purpose is to:
BPO associations are often crucial in facilitating knowledge sharing and fostering collaboration among their members. They work to create a positive environment conducive to the growth of the BPO industry.
Like other industry groups, BPO associations can have varying degrees of scope. They can be regional, national, or even international organizations.
BPO associations typically work closely with other trade groups, government agencies, and industry stakeholders to advance the interests of the BPO industry as a whole.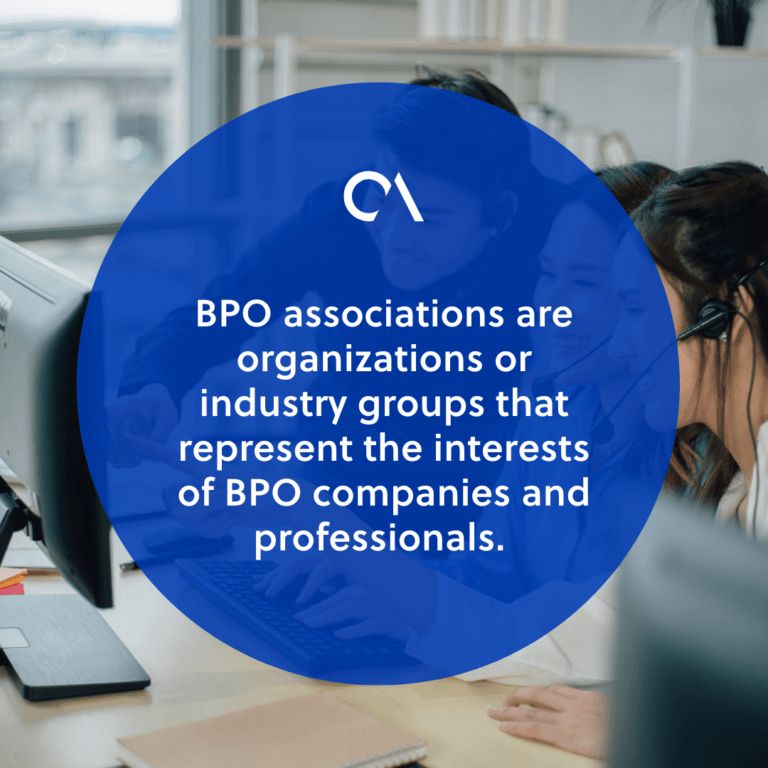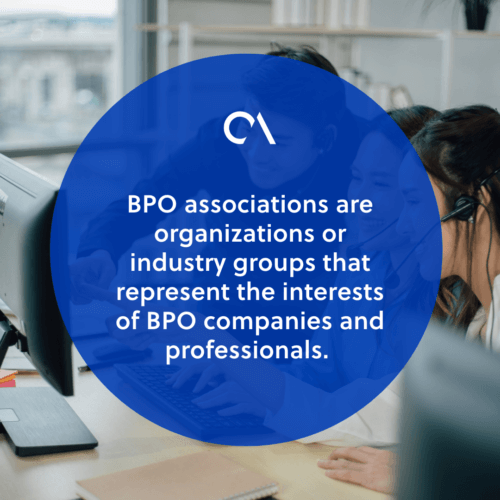 Functions and services of BPO associations
The functions and services offered by BPO associations can vary depending on their specific needs and their members' needs.
However, there are some common functions and services that all BPO associations offer their members, such as:
Advocacy
BPO associations act as a voice for their industry, representing the interests of BPO companies to policymakers, government bodies, and other stakeholders.
These groups advocate for regulations and policies that promote the growth and sustainability of the BPO sector.
Networking and collaboration
BPO associations create opportunities for their members to collaborate with one another. They may host industry events, such as conferences, webinars, and forums where BPO professionals can share insights and best practices.

Knowledge sharing and research
These organizations often research industry trends, market insights, and emerging technologies within the sector. They share this knowledge with their members, helping them stay informed and make strategic decisions.
Training and skill development
Many BPO associations offer training programs and workshops to enhance the skills and capabilities of BPO professionals. These training initiatives aim to improve the overall quality of services their member companies provide.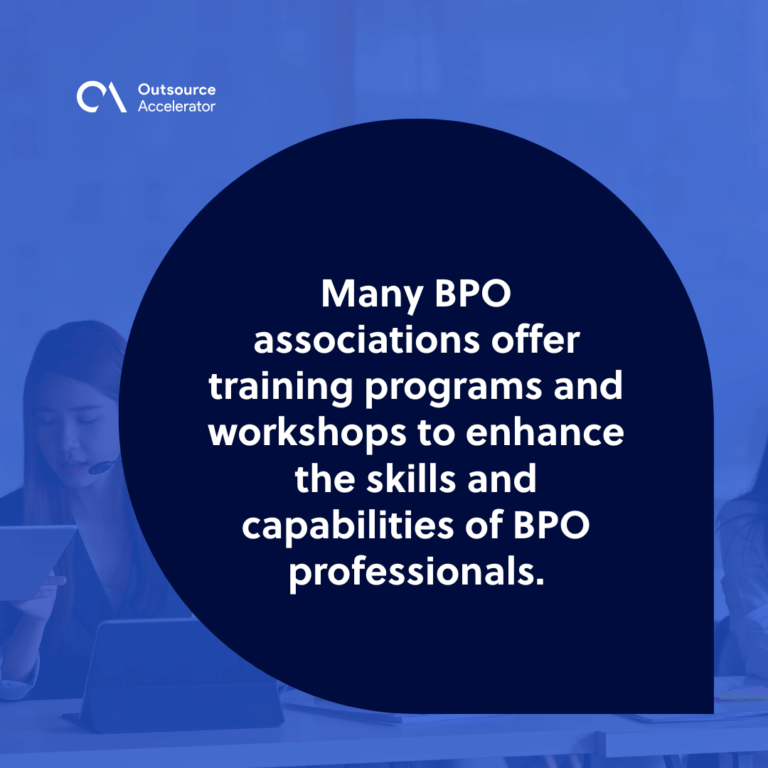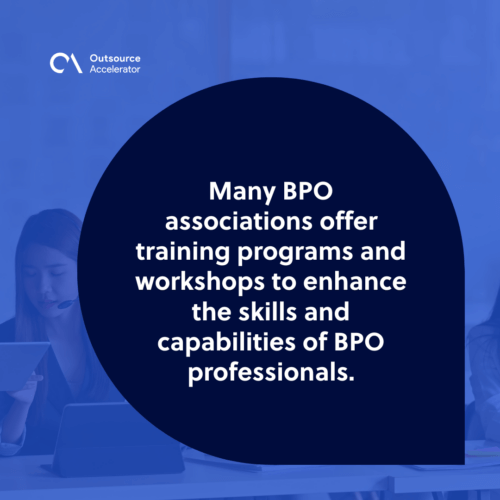 Setting standards and best practices
BPO associations may establish industry standards and best practices to ensure consistent service delivery across the sector. They may also develop certifications and accreditations to recognize companies that meet these standards.
Policy and regulatory guidance
BPO associations assist member companies in understanding and complying with relevant laws, regulations, and data protection requirements in the countries where they operate.
Public relations and branding
BPO organizations worldwide engage in public relations activities. They aim to promote the positive image of the BPO industry and highlight its contributions to the economy and job creation.
BPO associations around the world
Below are some of the recognized BPO associations from different countries worldwide.
Established in 2001, the Contact Center Association of the Philippines serves as the umbrella organization of the country's BPO industry. The organization has more than a hundred member companies located throughout the Philippines.
The CCAP's member companies account for over 70% of the country's revenue from the BPO sector.
This non-profit organization seeks to promote public awareness about the contact center industry. It facilitates an active exchange of knowledge and best practices among the Philippines' BPO companies.2. International Association of Outsourcing Professionals (IAOP)
The International Association of Outsourcing Professionals is an international BPO organization founded in 2005. 
It was established on the concept that an organization should not only represent those engaging in outsourcing but also define outsourcing as a profession in itself.
IAOP has recently announced the launch of four new centers of excellence: 
Digital technologies

SRO and impact sourcing

Collaborative supplier governance

Future of work
ASPIRE is Poland's first and most prominent BPO association, with a vital role in advancing the country's IT BPO sector.
The organization was established in 2008 after a collaboration between Sound Poland Business Link and Krakow's leading BPO and SSC companies.
One of ASPIRE's primary goals is to improve the perception and recognition of the outsourcing industry in Poland, similar to India's National Association of Software and Service Companies (NASSCOM).
BOA is a non-profit advisory organization and the Baltic region's sole specialized international trade organization (ITO) and business process outsourcing (BPO) trade association.
It works with small and medium-sized enterprises (SMEs) from different industries to provide full solutions and support to local and international clients throughout each firm establishment stage.
It aims to gain recognition from both government institutions and the business community as an effective tool in helping improve the competitiveness of the Baltic region's economy.

HOA was founded in 2004 by leading domestic and global corporations. It is situated in Hungary's Infopark Budapest, the country's premier business center.
HOA aims to help its members and the business services sector in Hungary by promoting sustainable and high-quality business services. It supports the country's economic development through technological innovations and collaborative human resource and automation activities.
HOA has signed a cooperation agreement with the Hungarian Central Statistical Office (KSH) to map the Hungarian service sector. This collaboration aims to establish a platform for information exchange and conduct analyses of the sector's characteristics and trends.
HIMAP is an organization dedicated to representing the Philippine Healthcare Information Management Services (HIMS) sector globally. It promotes the Philippines as a preferred outsourcing destination for this industry.
HIMAP started out as the Medical Transcription Industry Association of the Philippines, Inc. (MTIAPI) in 2003. It gradually evolved into the Healthcare Information Management Outsourcing Association of the Philippines (HIMOAP) before finally becoming the Healthcare Information Management Association of the Philippines.
The Information Technology and Business Process Association of the Philippines (IBPAP) is the country's central trade association representing the IT-BPM industry.
It promotes the country as an attractive destination for multinational companies and provides support and guidance to investors looking to establish operations in the Philippines.
The group works closely with sub-partner organizations focusing on particular IT-BPM industry sectors. These collaborations aim to drive growth and excellence in each sector.
Through its various programs, IBPAP supports the Philippines' IT-BPM industry's growth by:
Enhancing students' skills

Improving organizational performance

Prioritizing the health and working conditions of industry professionals



GSAJ is formerly known as the Business Process Industry Association of Jamaica. It is a non-profit organization representing the interests of Jamaica's ICT and outsourcing industries.
With over 70 member organizations, GSAJ aims to advocate for better policies and actions to enhance the country's competitiveness in the ICT-GSS sector.
The association collaborates with the Jamaican government and related industries to support the growth and development of the business process outsourcing sector.
It strives to position Jamaica as a leading English-speaking outsourcing destination and works to enhance the regulatory and operational environment.
Like IBPAP, the PSIA aims to enhance the competitiveness of the country's IT-BPM industry on a global scale and to develop local talent by partnering with educational institutions.
This non-profit organization has over 150 member businesses from the IT sector, ranging from small enterprises to multinational corporations.
The PSIA supports Philippine software startups through its SPRING.PH platform and focuses on enhancing the skills and capabilities of industry professionals. It keeps up to date with industry trends through constant surveys and studies.
CCAP is the Philippines' official industry body for the country's call centers. Since its inception in 2001, the CCAP has guided the Philippines' contact center industry. It has worked closely with the government to ensure a favorable business environment for the sector.
The group has over a hundred member organizations representing more than 70% of the call center industry in the Philippines.
CCAP focuses on expanding the country's talent supply through:
Skills training and certifications

Collaborating with educational bodies to improve curriculum

Promoting values formation and employee retention
Established in 2002, BPESA serves as South Africa's national trade association and networking body for the BPO sector. Its mission is to create jobs and attract additional investment by promoting the potential of the BPO industry internationally.
BPESA focuses on improving the skills base and establishing links with government bodies to implement growth policies.
The organization plays a key role in fostering the growth of South Africa's BPO industry. It helps promote skills development and knowledge sharing and connects members to corporate networks and organizations.
Global BPO Alliance stands as the pioneer in creating a worldwide BPO call center federation by uniting independent BPO providers from:
Its primary purpose is to serve as a strategic partner for companies seeking to expand globally.
GBA's mission is to ensure corporate users, regardless of their location or language preference, can confidently access BPO services at affordable rates for an extended period. 
Presently, GBA boasts 14 member companies as part of its alliance.
The Sri Lanka Association for Software and Services Companies (SLASSCOM) is the national organization that oversees the knowledge and innovation industry in Sri Lanka. 
Founded in 2008, SLASSCOM describes itself as an industry association. The organization represents the IT and Business Process Management industry (BPM) in Sri Lanka, covering both domestic and international work
Further, SLASSCOM acts as a catalyst of growth through the following activities: 
Facilitation of trade and business

Propagation of education and employment

Encouragement of research and innovation

Influencing a national policy framework of value to the industry
The Business Processes Outsourcing Association of Kenya (BPOAK) is an outsourcing association that offers outsourcing solutions to all sectors, while providing sustainable work opportunities to Kenyan professionals. 
The goal of BPOAK is for Kenya to become the top BPO destination in Africa. It seeks to work with pertinent stakeholders to improve the business climate for the industry's continued development.
The BPO Association of Kenya also wants to increase the sector's visibility and competitiveness on a national and international level.
BPOAK envisions the industry becoming a sustainable pillar of Kenya's economy by creating quality jobs for citizens.
The ICT Association of Jordan acts as the ICT industry's collective voice and advocates for its stakeholders. INTAJ aims to give its members the resources necessary to guarantee their continued development and growth.
The vision of INTAJ is for Jordan to leverage its key human capital advantage to become a significant regional ICT and ITES leader.
Established over 35 years ago, the Global Sourcing Association (GSA) serves as a voice for sourcing professionals and industry stakeholders.
It aims to create an optimistic future for businesses and the planet by promoting sustainable and ethical sourcing.
The Global Sourcing Association's vision is to redefine the role of sourcing in the global economy. They do this by fostering a fairer, more inclusive, and more balanced sourcing ecosystem.
GSA also provides professionals with the learning and development needed for success in the sector.
The Global Technology & Business Services Council is a vital facilitator in advancing the sector worldwide.
The council aims to enhance the industry's competitiveness and global impact by encouraging cooperation and knowledge-sharing among its members.
Members of the GTBSC include:
The Association of Business Service Leaders (ABSL)

Association for Innovation, Business Excellence, Services, and Technology (AIBEST)

ALES – Asociación Latinoamericana de Exportadores de Servicios

Business Process Enabling South Africa (BPESA)

Global Sourcing Association UK

International Association of Outsourcing Professionals (IAOP)

IT & Business Process Association Philippines

Information Technology Industry Development Agency (ITIDA)

IT Ukraine Association

National Association of Software and Services Companies (NASSCOM)

GBS Malaysia (Digital Global Business Services Council)

Sri Lanka Association of Software and Service Companies
The Association of Business Service Leaders (ABSL) is a leading organization in Poland that represents the interests of business services.
With over 240 major companies under its wing, ABSL plays a pivotal role in setting industry standards and growth directions. 
The Association for Innovation, Business Excellence, Services, and Technology (AIBEST)  is an independent industry organization formerly known as the Bulgarian Outsourcing Association.
Its primary objective is to position Bulgaria as a leading hub for knowledge-intensive products, services, and solutions.
It also aims to establish the country as a globally recognized and attractive destination for highly educated talent.
The Latin American Association for Services Exporters (ALES) is an organization promoting Latin America as an outsourcing destination.
Founded in 2008, the organization has been helping the region improve its position in the international sphere and achieve growth.
ALES operates as a platform for collaboration, knowledge exchange, and advocacy for the region. This allows its members to navigate challenges and seize opportunities in the services sector.
The organization has a vast membership of around 35 public and private institutions in 17 Latin American countries.
The Information Technology Industry Development Agency (ITIDA) is a partnership business based in Egypt.
The company is focused on enhancing the capabilities of local IT businesses in the country. It also attracts and supports international IT businesses, creating a qualified, long-lasting, and employable talent pool.
ITIDA is the Ministry of Communications and Information Technology's (MCIT) executive IT division. It's located at the center of a modern business environment at the Smart Village in Cairo, Egypt.
IT Ukraine Association is the largest national association of IT companies in Ukraine. It represents the collective interests of over 80,000 IT professionals in the country.
IT Ukraine Association fosters collaboration among businesses, the government, and international partners to advance Ukraine's IT industry. 
Working alongside members, IT clusters, and partners, the association safeguards business interests and enhances Ukraine's reputation as a leading technological nation.
The National Association of Software and Services Companies (NASSCOM) is an industry association representing the IT-BPM services industry in India.
It is committed to establishing India as a leader in technology founded on trust, technological advancements, and sustainability.
Since its inception in 1988, NASSCOM has been at the forefront of the industry's contribution to India's economy in terms of employment, infrastructure, and global visibility. It also boasts its achievement of transforming the industry into a global powerhouse.
Currently, NASSCOM has over 3,000 members, which constitute 90% of the sector's revenue.
Digital Global Business Services Council Malaysia (GBS Malaysia), formerly known as OM (f.k.a Outsourcing Malaysia), is a prominent Business Process Outsourcing (BPO) association in the country.
Established in 2006 and a leading industry organization, GBS Malaysia aims to support the growth and development of the outsourcing sector within the country.
GBS Malaysia fosters a conducive environment for businesses to position Malaysia as a competitive outsourcing destination on the global stage.
This BPO Association has over 600 member companies and works and focuses on Global Business Services (shared services and service providers).