Association of Business Service Leaders (ABSL)
Definition
What is the Association of Business Service Leaders (ABSL)?
The Association of Business Service Leaders (ABSL) is a leading organization in Poland that represents the interests of business services. With over 240 major companies under its wing, ABSL plays a pivotal role in setting industry standards and growth directions. 
The business services sector in Poland employs approximately 400,000 individuals, making it a significant contributor to the economy.
The organization's primary objective is cultivating a competitive and sustainable ecosystem that:
Generates new and valuable job opportunities

Fosters responsible business practices

Attracts investments
ABSL's primary mission revolves around unleashing the potential of the modern business services sector and ensuring its sustained growth in the country.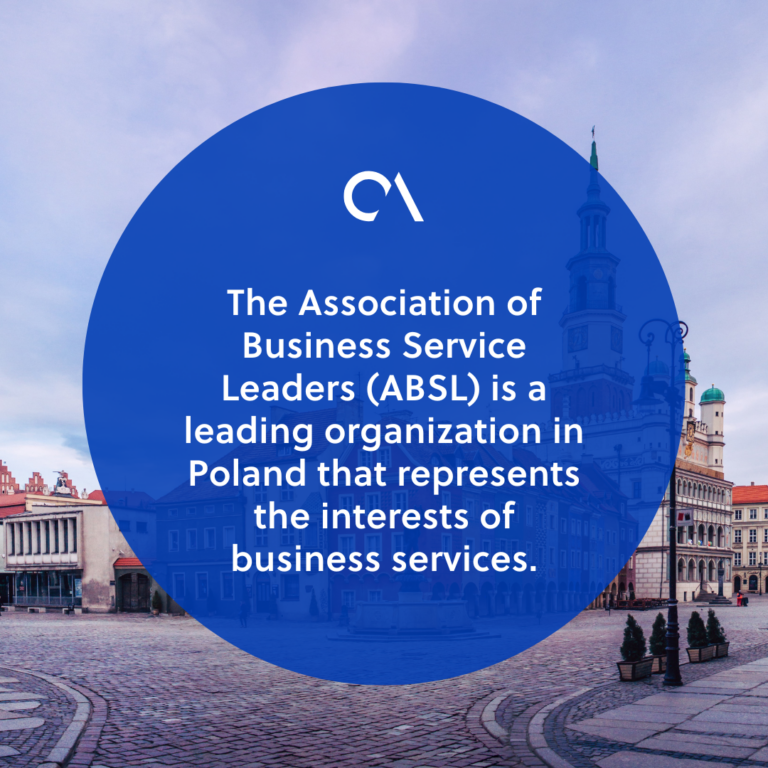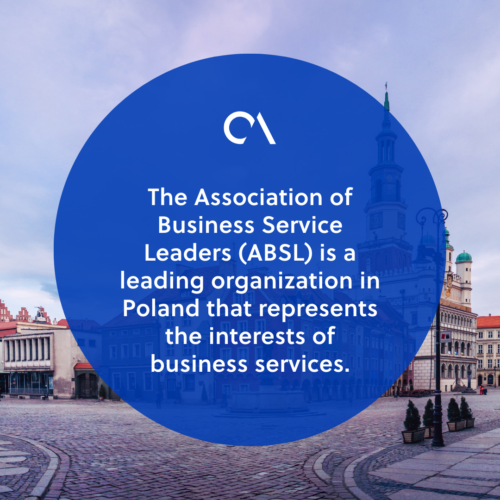 Brief overview of the Association of Business Service Leaders International
The Association of Business Service Leaders in Europe has sister organizations operating in several countries, including:
Albania

Bosnia  

Herzegovina

Czech Republic

Hungary

Moldova

Latvia

Poland

Romania

DACH (Austria, Germany, and Switzerland)
ABSL's international cooperation serves a vital purpose. It aims to inspire the community of companies within the sector to continuously pursue excellence while promoting sustained growth and fortifying the sector's standing in the region.
The business services sector in Europe is experiencing rapid growth, employing 1.5 million individuals across eight countries. 
This remarkable expansion is a result of robust international cooperation, enabling companies to learn from each other's experiences. In turn, they can effectively address the challenges faced by the industry. 
As the largest representative organization for the sector in the region, ABSL is committed to advocating for innovative solutions. It continues to support new investments, which will propel the industry to reach new heights of success.
ABSL framework: Pillars of activity
ABSL focuses on various interconnected fields to achieve concrete outcomes for professionals in the business services sector.
High-quality events and networking
ABSL organizes over 100 events throughout the year, catering to its member companies. 
These events include the Annual ABSL conference, eagerly anticipated as the premier business services sector gathering in the CEE Region. Notable events ABSL hosts are the ABSL Diamonds Awards, the ABSL Gala, and ABSL Talks.
Business and market intelligence
ABSL's business intelligence stands out with its comprehensive and influential reports crafted by the research team. These reports testify to the organization's dedication to delivering valuable insights. 
Survey respondents are given access to the latest findings from its local, national, and international internal studies.
Knowledge sharing
ABSL creates a distinctive environment for its member companies, fostering knowledge sharing securely and transparently. 
Through workshops, training sessions, and webinars, ABSL actively engages its members and partners. It provides a platform to showcase business cases, conduct benchmarking, and facilitate information exchange.
Talent development
ABSL serves as the representative for its members, advocating for their talent-related needs to stakeholders, authorities, schools, and universities in the sector. 
This organization actively shapes educational initiatives and promotes the sector among university students, high-school pupils, and individuals from abroad, particularly in Poland.
Public advocacy and sectoral representation
ABSL represents the sector's interests to government officials, policy-makers, and influential bodies in areas that directly impact its members, including:
Ssocial security contributions

Labor law
Furthermore, ABSL gives its members regular updates on legal and tax developments.
Brand and sector promotion
ABSL's media initiatives serve a twofold objective: 
Promoting the sector nationwide and locally

Amplifying the visibility of its members' brands
The organization's activities revolve around its publications, data dissemination, and strong advocacy for its members. It diligently works on cultivating and enhancing the sector's image and public perception in Poland.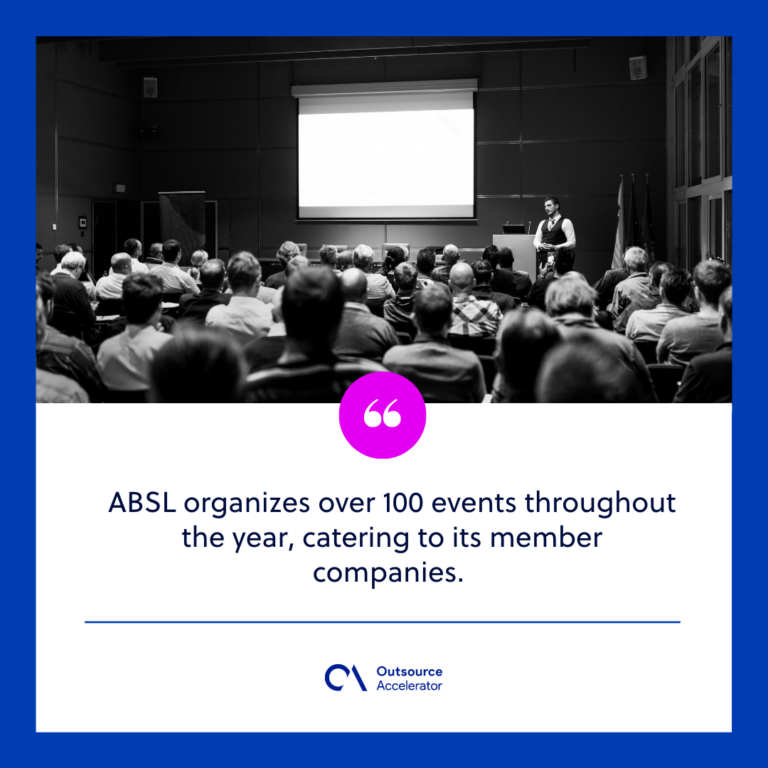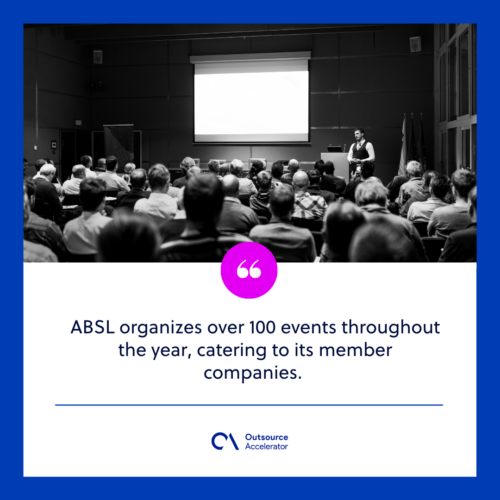 Benefits of being a member of ABSL
ABSL members are united by the vision of developing a competitive business services industry and creating an exemplary community. 
Becoming a member of this exceptional organization allows individuals to:
Thought leadership
Members can actively participate in the ABSL Annual Conference, International Conferences, and other exceptional events supported by ABSL. 
These gatherings provide a platform to hear from distinguished global economic and political thought leaders and discuss with high-achievers in the sector.
Access to industry insights and news
Members gain access to in-depth industry insights, credible data, and comprehensive reports published by ABSL's research experts. They are able to benefit from their top-tier business intelligence support. 
Network expansion
Members can attend ABSL events, which offer exceptional networking opportunities during conferences, chapter & club meetings, workshops, and working groups. 
ABSL organizes over 100 events annually for member companies, fostering a strong sense of community and facilitating more than 20 communities of practice.
Learn and improve your skills
Individuals can utilize their skills and knowledge to contribute to the community by becoming part of various ABSL projects and initiatives. 
These include ABSL Clubs such as Digital & Technology, Business Transformation, HR, and BFSI. ABSL also has local communities of practice centered around automation, transformation, talent, and branding. 
Furthermore, members can engage in training courses, webinars, and knowledge-sharing meetings.
Make an impact
Members are encouraged to express their opinions on industry-relevant topics through ABSL channels. 
They can actively participate in actions taken by ABSL, especially in areas crucial for the business services sector, such as:
Legislation

Education

Talent development

Investment climate
Brand visibility
Companies are invited to contribute to ABSL's vibrant community of 240+ companies and aspire to leadership roles. They can join and engage in various initiatives, projects, and events, which offer valuable opportunities to elevate their brand visibility. 
Who can become an ABSL Member?
The Association's membership is open to employers, encompassing individuals, and legal entities. 
It is also open for firms operating within shared services centers, business process outsourcing, IT outsourcing, and research & development ("SSC/BPO/ITO/R&D") in the Republic of Poland.