Outsourcing to Eastern Europe vs. Asia: Exploring the differences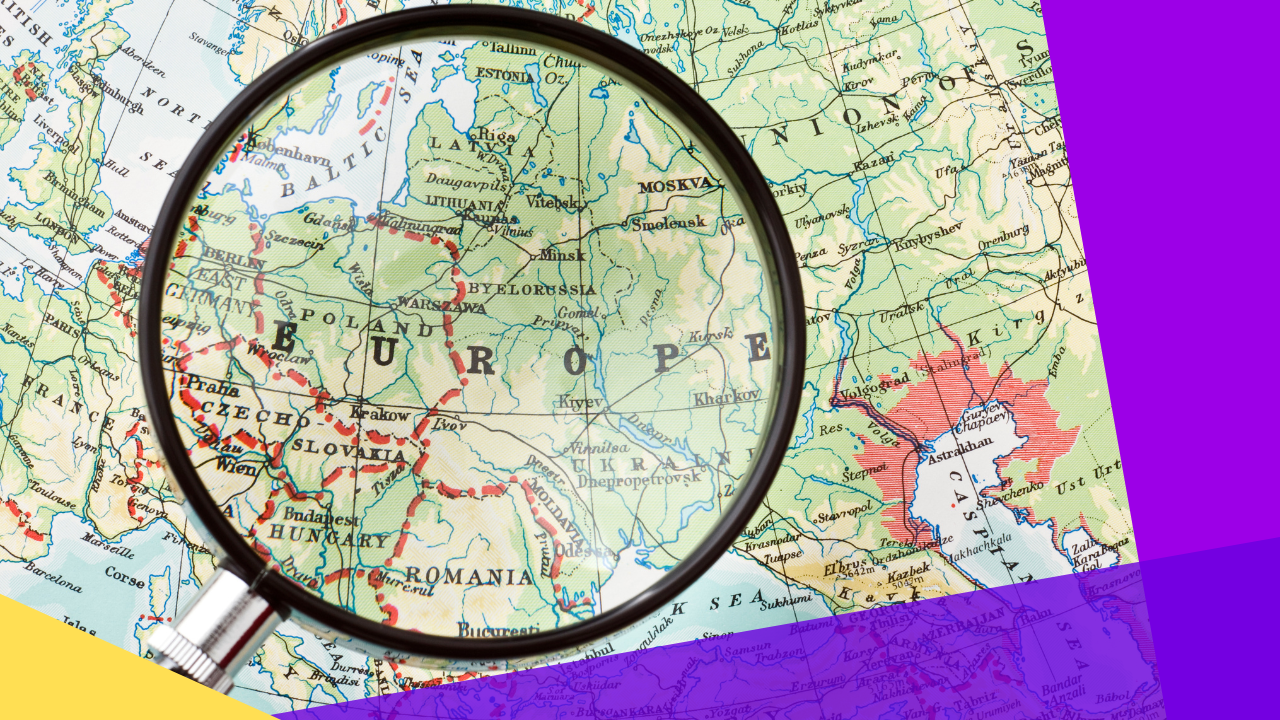 Businesses have started to outsource now. Sourcing from the outside is considered to be more cost-efficient without having to lower the quality of the work that can be given by employees.
It is more common for companies now to look for potential candidates overseas that can provide the services or create the goods that they will offer to their consumers.
Outsourcing allows business owners to focus on the other aspects of their company that they are good at. Repetitive tasks and IT projects can be delegated to professionals who know how to do these tasks properly.
Customers will continue to get high-quality services. They will still get the best quality of goods that they expect from the company. This is possible with the right business model that works for the company. It allows outsourcing to become that one thing that will catapult a business to the top.
Top outsourcing regions
A business that wants to make it to the top should consider outsourcing to Eastern Europe. But most business owners do not know where to begin. Companies can outsource from different continents and regions, which can be confusing.
Countries are competing so that they can maximize their resources. More people that are outsourced from their country means that more people from their country will have jobs. This can help the economy of the country thrive.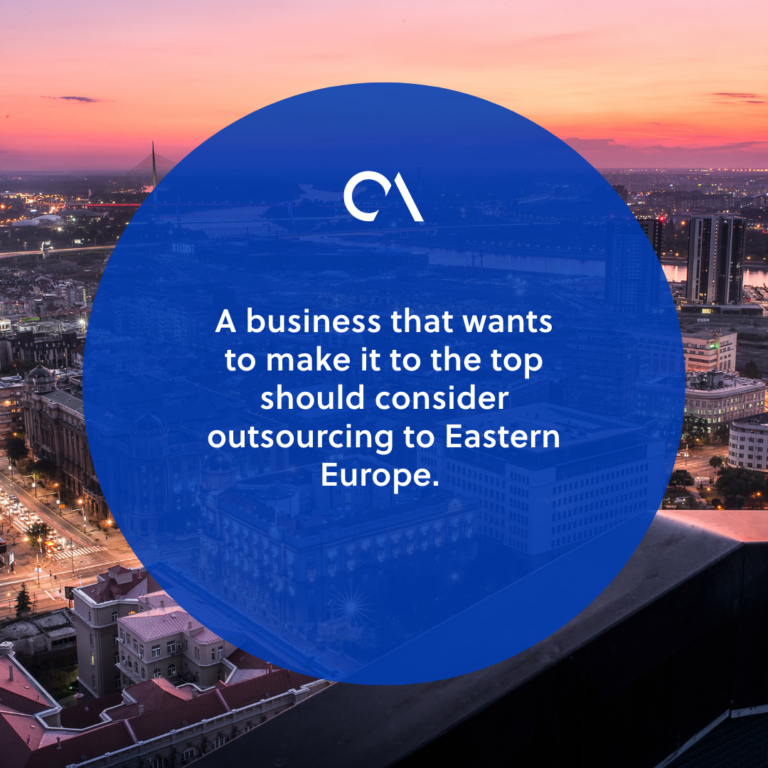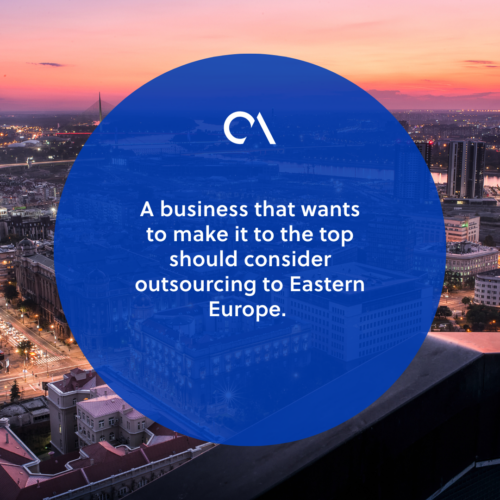 What to consider when outsourcing to Eastern Europe
The outsourcing regions will have some common factors that make them the best:
They have the right people with talents and skills that can compete with other employees from all over the world.
They can provide quality to the company and can be a delight to the company's work environment.
They are always open to innovation. They are always willing to come up with new ideas that will help them get one step ahead of their competitors.
Choosing from outsourcing destinations
Companies need to decide what they are looking for before they start looking. Some firms are searching for customer service outsourcing. They are going to fare better when they look at the outsourcing companies in the Philippines that will seemingly have an endless supply of high-quality talent.
Some companies are looking for people who can do coding and development. They can still choose to look at another Asian country like India for low-cost fees.
If they want better quality and fewer issues with the time zone difference, they can consider IT outsourcing to Eastern Europe instead.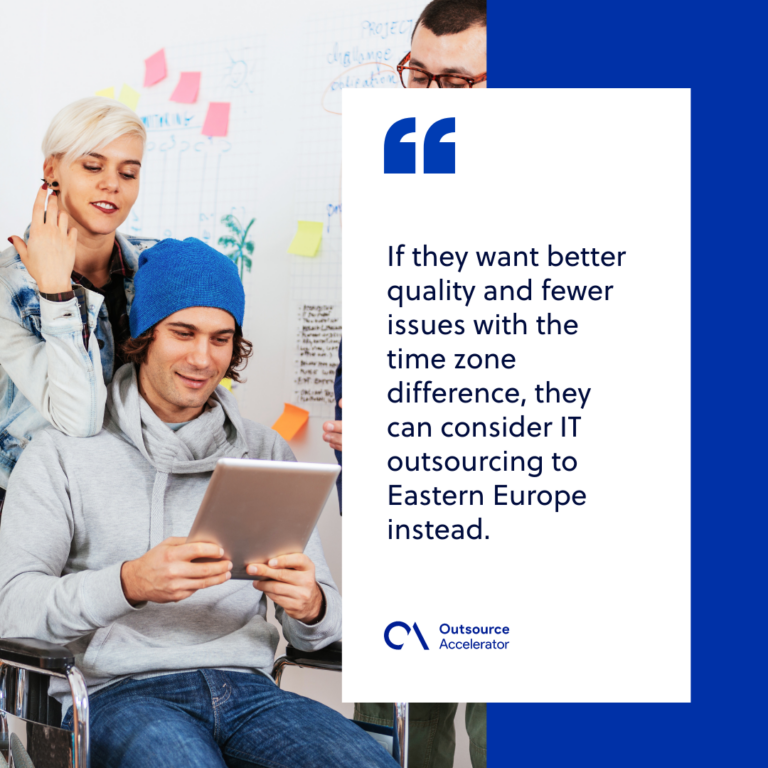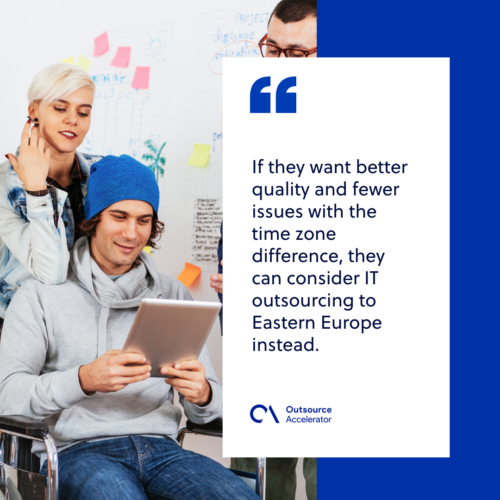 Top 8 outsourcing destinations in Eastern Europe
The economy is considered to be turbulent at present, but if there is one industry that will continue to thrive, it is the tech industry. All of the companies that are hoping to minimize the costs while producing the best goods and services can consider outsourcing to Eastern Europe.
The question is, where in Eastern Europe should people start searching?
1. Poland
This country is one of the top sources because of the high skills and talents of the working class there. They have hundreds of thousands of IT professionals that are willing to work for companies that are outsourcing.
This country also has the largest working population on this side of Europe. There are over 900 outsourcing companies that are available in Poland alone. It can be easier to find people to provide software development in Eastern Europe here.
2. Ukraine
This is one of the fastest-growing outsourcing destinations in Eastern Europe. There are over a thousand outsourcing companies that are willing to provide the help that companies need.
This is the most recommended country for start-up companies that want to find highly-skilled people without hefty costs.
3. Romania
Romania's location is one of the top reasons why this is chosen by companies from different parts of the world. They offer high-quality services that are very much needed by companies at the present time.
A lot of people in Romania can speak and understand English which is also a plus. There are about 250 outsourcing companies that are available here.
4. Hungary
Companies that are focused on coding do not have to look any further once they check out the number of available coders in Hungary.
There are more than 80,000 coders available, which means that the talent pool is vast. It may not have as many outsourcing companies as compared to the other countries on this list, but they are still worth checking.
5. Moldova
This is one of the countries that companies seem to sleep on when they are thinking of outsourcing. The vibrant talent pool of the county cannot be denied, especially since a lot of them aim to become specialists.
This is one of the top countries to check to look for people who specialize in certain skills.
6. Czech Republic
There are over 100,000 people who are working in the tech sector of the country, and they are open to outsourcing.
Some people are also open to outsourcing even if they specialize in different industries. Fresh graduates can be hired too for a lesser fee as compared to junior and senior professionals.
7. Bulgaria
This is one of the countries that should not be forgotten when it comes to company outsourcing. There are some specific cities where the employees may come from, but the vast options will make everything worthwhile.
8. Baltic Countries
The Baltic region can be considered one of the countries in Eastern Europe with a stable economy. This can make people from other countries a bit wary because they think that the cost of hiring employees from the country is higher.
The fees are not much different from other countries, plus employers can be assured of the high-quality services that can be provided by the potential employees.
Outsourcing to Eastern Europe vs. Asia: A comparison
Some companies would like to consider outsourcing from more than one continent. The more that they know what they are looking for, the easier it will be for them to decide where to start searching.
Understanding various details about outsourcing to Eastern Europe vs. Asia will help.
Refer to the table to find more details: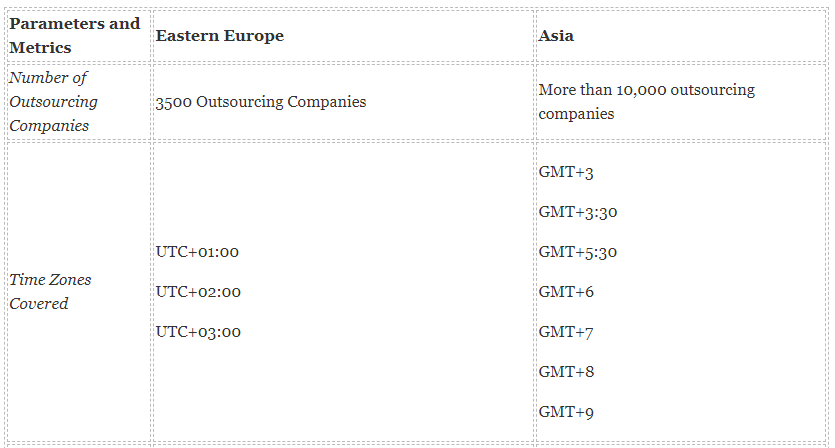 Outsourcing to Eastern Europe vs. Asia: In conclusion
Software outsourcing in Eastern Europe has become more in demand over the past years. It is best to outsource to Eastern Europe if the companies need people who can provide IT software development, payroll, and HR.
It is best to outsource to Asia when companies are looking for people who can provide back-office services, data transcription, and IT services. They are also good at providing customer service support and are especially essential for companies working in Asia too and looking to outsource to the same time zone.
Or on the other hand, for global companies to extend their time zone coverage with outsourced employees abroad.