Sri Lanka Association for Software and Services Companies (SLASSCOM)
Definition
What is SLASSCOM?
The Sri Lanka Association for Software and Services Companies (SLASSCOM) is the national organization that oversees the knowledge and innovation industry in Sri Lanka. 
SLASSCOM acts as a catalyst of growth through the following activities: 
Facilitation of trade and business

Propagation of education and employment

Encouragement of research and innovation

Influencing a national policy framework of value to the industry
Founded in 2008, SLASSCOM describes itself as an industry association. The organization represents the IT and Business Process Management industry (BPM) in Sri Lanka, covering both domestic and international work.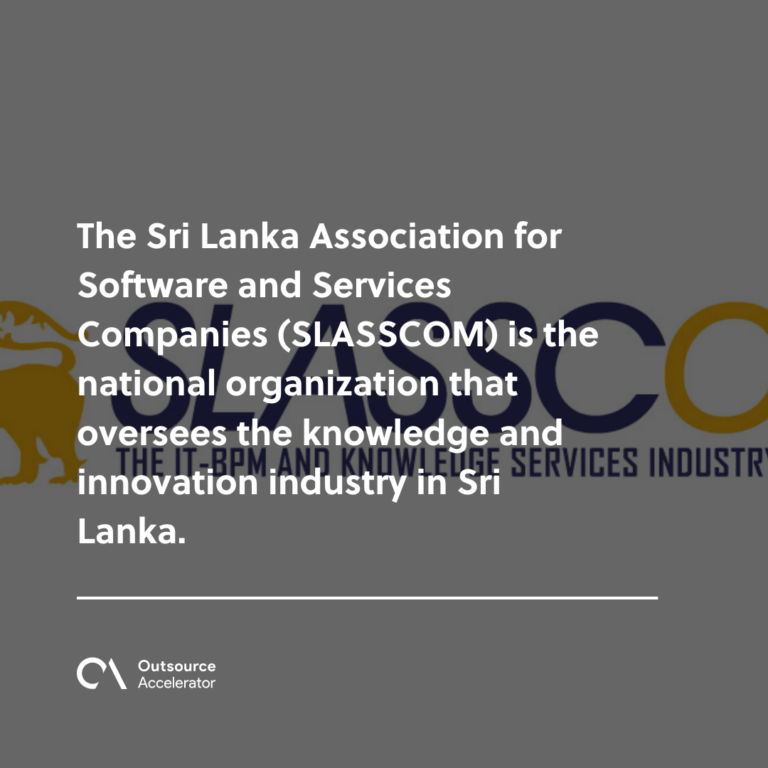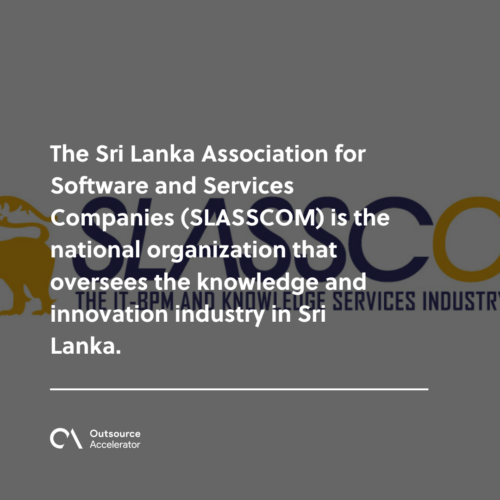 SLASSCOM currently lists over 420 member companies and employs a workforce of over 144,000. Of this workforce, around 37,000 are centered in the BPO-KPO industry, while the remaining 107,000 are focused in the tech space. 
The members are composed of all sizes, from startups to large corporations. All are homegrown and service both local and export markets. 
The association represents these companies in developing talent, policy matters, and business generation for Sri Lanka. 
SLASSCOM is currently chaired by Jehan Perinpanayagam, who will be taking the seat for the period of 2023-2024. With an impressive career in shared services, he will be replacing former Chairman Ashique Ali. 
Former Chairman Ashique Ali guested on the 448th episode of the Outsource Accelerator podcast, which you can read about here. 
SLASSCOM: Centers of Excellence
SLASSCOM prides itself on the following three centers of excellence: 
Product and Platform Council
This is an industry forum that unites experienced professionals skilled in creating and launching successful products and platforms. 
The council works toward building capability to enable Sri Lankan enterprises to create products that attract global demand. 
AI CoE
This initiative aims to position Sri Lanka as a key competency center for artificial intelligence in Asia. It will serve as a platform for AI advocates and help drive the agenda for the nation.
Cybersecurity CoE
SLASSCOM recognizes the global opportunity for cybersecurity. This platform has the purpose of raising Sri Lanka to a global cybersecurity hub and augmenting the IT-BPM industry goal to generate 5 billion USD in revenue by 2025. 
How SLASSCOM supports Sri Lanka's outsourcing sector
Sri Lanka's outsourcing industry is around 25 years old. SLASSCOM notes that the industry has a year-on-year growth of 13-14%, which accelerated during COVID and the widespread adoption of remote work. 
Within the last five years, SLASSCOM reports that the outsourcing industry has matured enough to receive government focus as a trust sector. Outsourcing contributes to 4.3% of the GDP. 
Sri Lanka is not known as a scale player, but more of a niche player. As a result, the country attracts mostly mid-tier companies that are looking for high-quality talent access at that level. 
Most commonly, clients come from the Scandinavian and Nordic regions of Europe, seeking 300 to 500- person setups. 
SLASSCOM plays to the Sri Lankan outsourcing industry's strengths, which primarily lie in finance and product engineering.

Sri Lanka has been producing a record number of UK-qualified accountants. On the BPO and KPO side, there is a very strong focus on financial research. 

Sri Lanka has a long heritage of product engineering. The country's low attrition rates lend itself very well to producing cohesive teams.    
SLASSCOM itself has five focus areas, also known as impact areas:
Global trade and investment
SLASSCOM aims to assist Sri Lanka in marketing the country effectively to global markets and creating successful business engagements. 
They plan to promote the Island of Ingenuity brand (a KPO collective), boost industry engagement, and strengthen stakeholder relationships.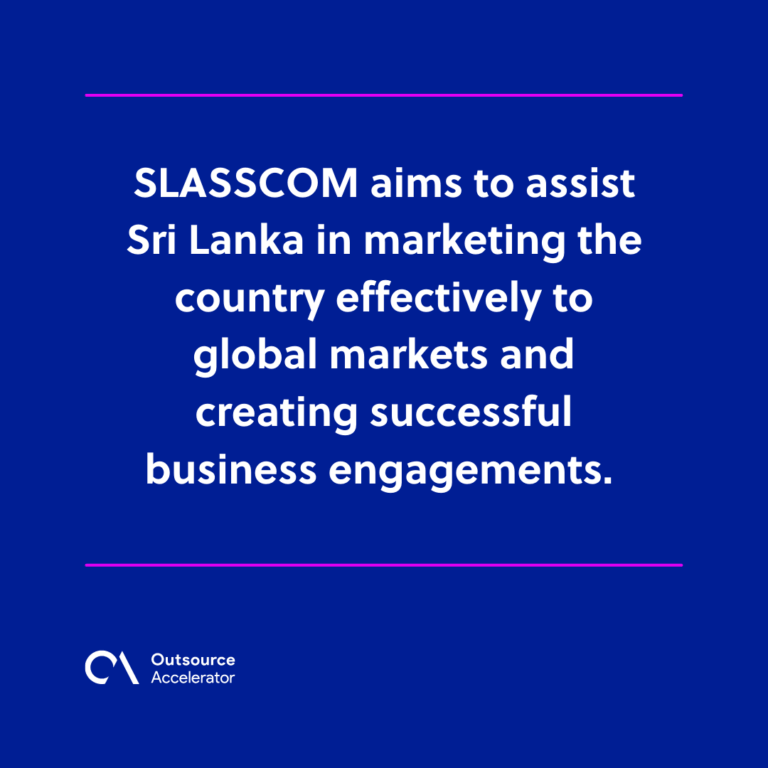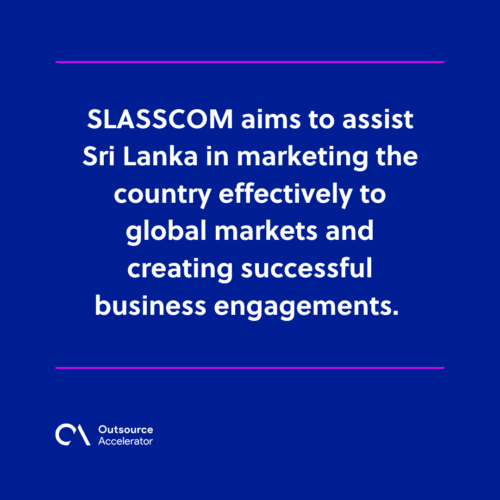 Talent development 
SLASSCOM's capacity forum intends to create alternative mechanisms while improving existing ones of talent inflow to the industry. 
SLASSCOM is also focused on developing regional IT hubs across the country and has a special initiative of championing and harnessing the potential of women "technopreneurs." 
Entrepreneurship and innovation
SLASSCOM's Entrepreneurship and Innovation forum is driven by four key strategies:

Fostering and nurturing startups for international success

Establishing a cohesive ecosystem to support startups 

Positioning Sri Lanka as a high-skilled technical hub

Transforming young innovators into outstanding entrepreneurs 
Environment, Social, and Governance (ESG)
SLASSCOM aims to address the "Code Red for Humanity" by developing an ESG strategy that will be a key influencer in prioritizing Sri Lanka in the global market. 
The goal is to position Sri Lanka as a sustainable IT-BPM provider that fuels industry growth while contributing to sustainable development. 
Policies
SLASSCOM initiates a Quality forum to develop enterprise quality. The forum pushes for the adoption of international quality, security, and governance standards.