Sri Lanka's Outsourcing Industry – with SLASSCOM's Chairman, Ashique Ali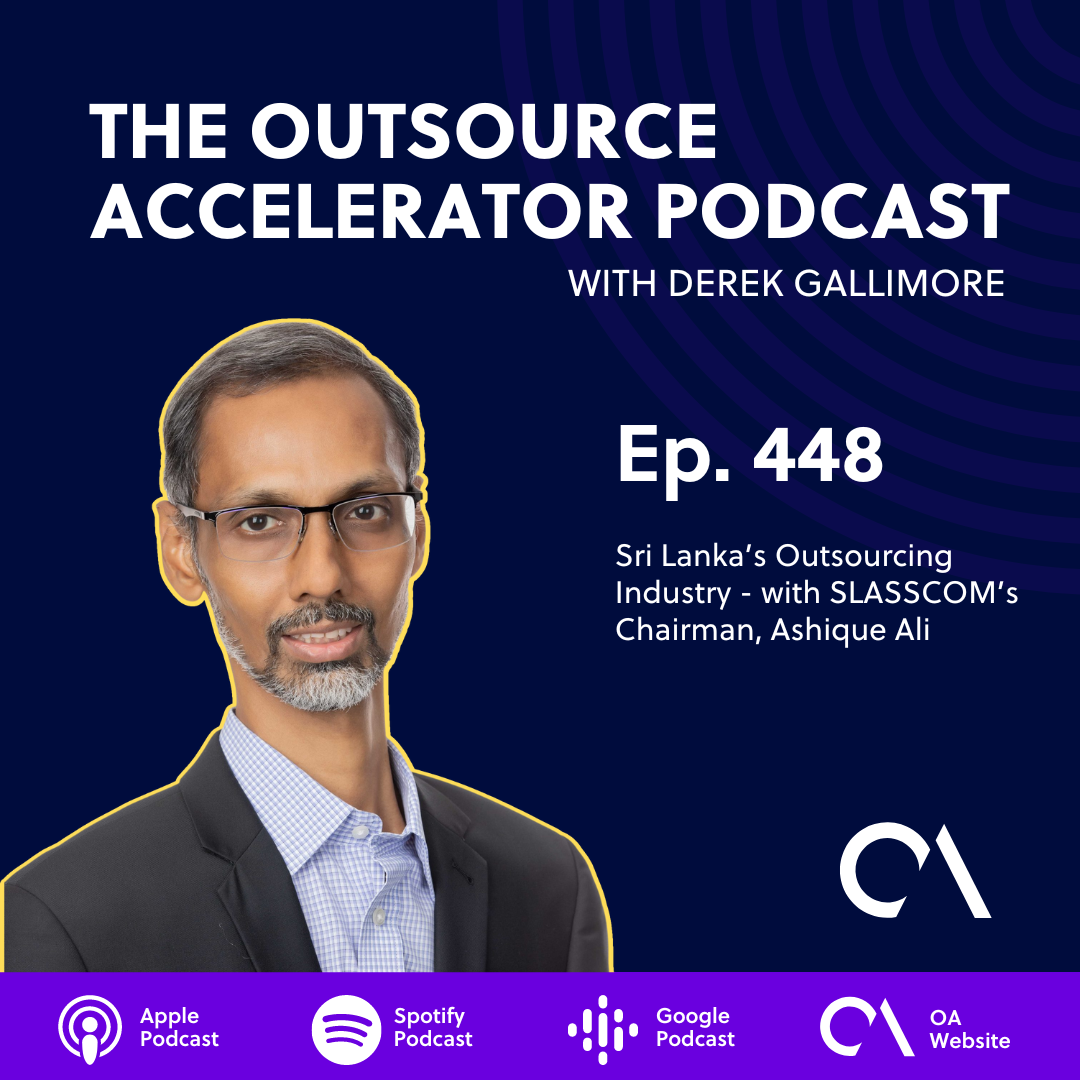 In this episode, Derek Gallimore talks with SLASSCOM chairman Ashique Ali to learn about the Sri Lankan outsourcing industry.
SLASSCOM, or the Sri Lanka Association for Software and Services Companies, has over 400 members and employs around 145,000 people.
Introducing SLASSCOM
The Sri Lanka Association for Software and Services Companies (SLASSCOM) is "an Industry Association representing the IT and BPM industry in Sri Lanka, both domestic work as well as those doing domestic work and exports."
The association has over 420 members and employs around 145,000 people. SLASSCOM plays a crucial role in developing talent, shaping policies, and generating business opportunities for the country.
As the current chairman, Ashique Ali leads a board of directors that executes strategies and programs in five key areas:
Global trade and investment

Talent development

Entrepreneurship and innovation

ESG (environmental, social, and governance)

Industry policies.
The board, along with a dedicated corporate office staffed by 25 individuals and an executive director, works towards implementing these initiatives.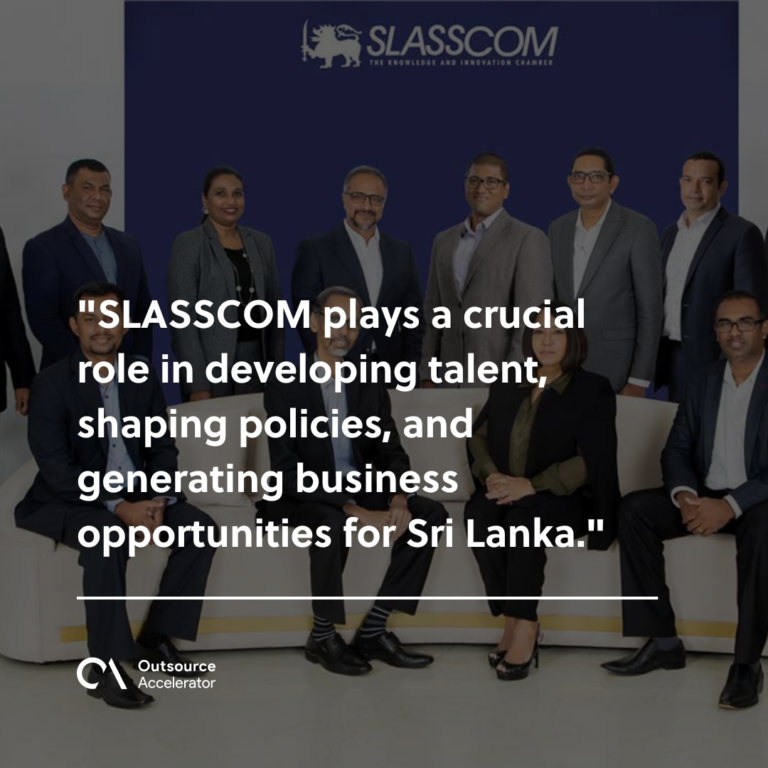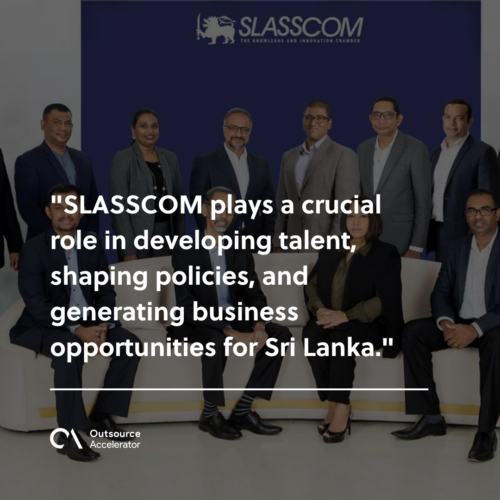 An overview of Sri Lanka's outsourcing industry
Per Ashique, the outsourcing industry in Sri Lanka has been growing at 13-14% year-on-year for the past decade.
This growth was further accelerated during the COVID-19 pandemic due to increased digitalization globally. Although there may be slight fluctuations and temporary lulls in the market, the demand for outsourcing services remains steady.
The SLASSCOM chairman acknowledged that the industry continues to trend upward but emphasized the importance of transformation. He mentioned that "companies are now looking for more solutions, co-creation, innovation, and automation."
The industry's response to these demands and complexities has been "a [combination] of both [being dragged along and pushing for innovation]."
Ashique explained that the outsourcing industry in Sri Lanka contributes around 4.3% to the GDP, considering domestic and export activities. According to the SLASSCOM chairman, the industry has gained more attention and government focus in recent years as it has matured as a trusted sector.
Previously, the country's large manufacturing base occupied a significant portion of the economy and employment.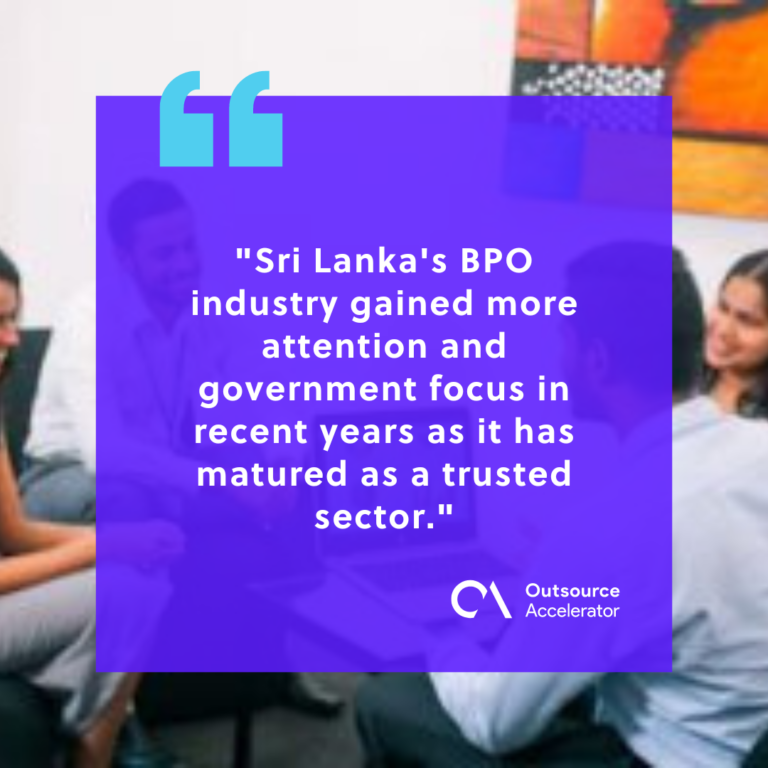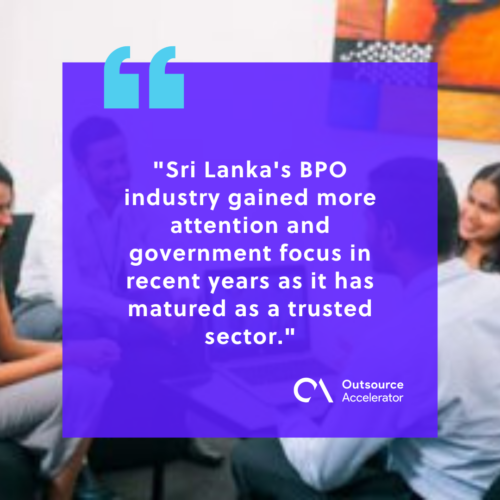 Niche areas outsourced in Sri Lanka
Per Ashique, Sri Lanka is "not a scale player… It is a more niche type of work player." The country attracts mid-tier companies seeking high-quality talent for specific types of work.
These companies often come from the Scandinavian and European regions and typically have setups of around 300 to 500 employees.
Sri Lanka has two highlights of its capabilities: product engineering and finance. 
Product engineering
Sri Lanka has a long heritage of product engineering due to low attrition rates and the ability to attract and retain talented individuals for extended periods.
Its cohesive and collaborative nature aligns well with the country's strengths.
Finance
The second area is finance, particularly in the BPO and KPO sectors.
Sri Lanka strongly focuses on finance and has produced many UK-qualified accountants. Ashique highlighted the research-oriented work like revenue cycle management in healthcare and emphasized the strength of Sri Lanka's finance talent pool.
Sri Lanka's market connections
The US is the largest market for Sri Lankan outsourcing, followed by the UK and Australia.
Regarding the market and trade connections, Ashique honored the historical ties between Sri Lanka and the UK due to British influence and membership in the Commonwealth.
However, in terms of revenue and headcount, the US remains the largest customer.
Ashique acknowledged the outsourcing industry's potential to create revenue and uplift people into the middle-income category. He emphasized the industry's ability to generate high-paying jobs, particularly for aspiring young individuals seeking education and stable employment.
The government has started giving more attention to the sector and is prioritizing investments in education and related initiatives.
The future of outsourcing in Sri Lanka
Ashique discussed how the recent economic hardships in Sri Lanka impacted the outsourcing industry.
According to him, the political and economic issues directly impacted people. However, the outsourcing industry was able to adapt and mitigate the impact in several ways. The government also provided priority fuel access and attractive loans to help companies.
The conversation then turned to how the outsourcing industry relies heavily on its people. 
Companies now focus more on the "employee well-being and work-life balance" of their employees. ESG compliance and certifications will reassure clients that employees are treated well.
Looking to the future, the SLASSCOM chairman projected more creative value creation will emerge. The nature of work may be very different in 15 to 20 years as the next generation will have a different view of what work means.
Ashique also projected that "AI will augment rather than replace workers in Sri Lanka" due to their complex work. For him, AI will likely change job roles, requiring the retraining of some workers.
Learn more about SLASSCOM through their website.