Global Sourcing Association (GSA)
Definition
What is the Global Sourcing Association?
The Global Sourcing Association (GSA) is a non-profit social enterprise that pursues positive changes in the technology and business services industry. 
Established over 35 years ago, the GSA serves as a voice for sourcing professionals and industry stakeholders.
It aims to create an optimistic future for businesses and the planet by promoting sustainable and ethical sourcing.
The Global Sourcing Association's vision is to redefine the role of sourcing in the global economy. They do this by fostering a fairer, more inclusive, and more balanced sourcing ecosystem.
GSA also provides professionals with the learning and development needed for success in the sector.
What does the Global Sourcing Association do?
The Global Sourcing Association actively supports the sourcing community by organizing events, conferences, and workshops. These meetings bring together experts, industry leaders, and stakeholders. 
The gatherings provide a conducive environment for knowledge exchange. They help members stay updated with the latest trends, technologies, and regulations in the sourcing landscape.
GSA offers valuable resources such as research papers, case studies, and whitepapers. These serve as informative guides to sourcing and outsourcing practices. 
These resources aid businesses in making informed decisions. As a result, they enhance their sourcing strategies and maximize the benefits of outsourcing arrangements.
Through its robust qualification programs, the Global Sourcing Association validates the skills and expertise of sourcing professionals.
These qualifications elevate individuals' credibility and contribute to the standardization and improvement of sourcing practices globally.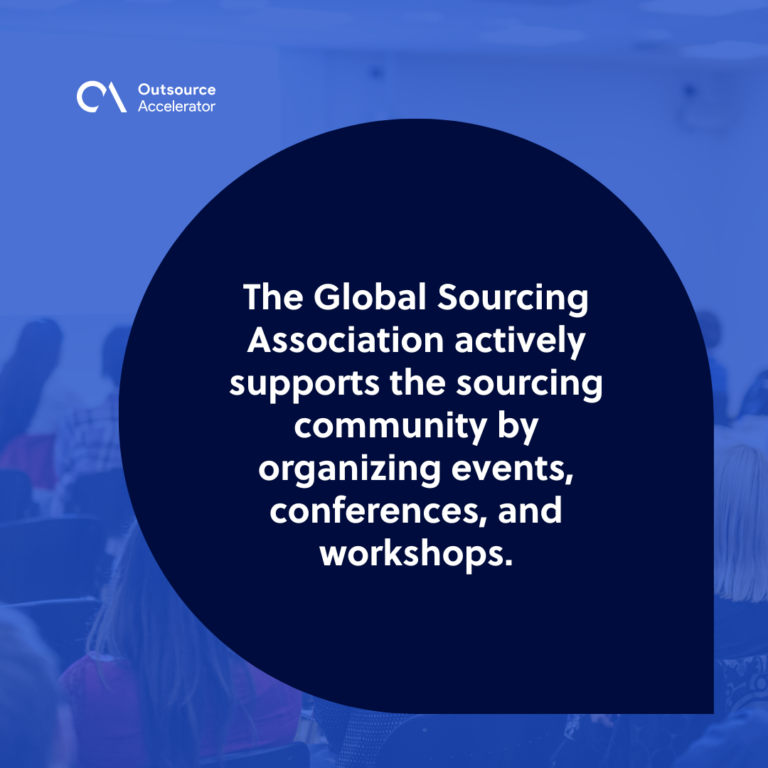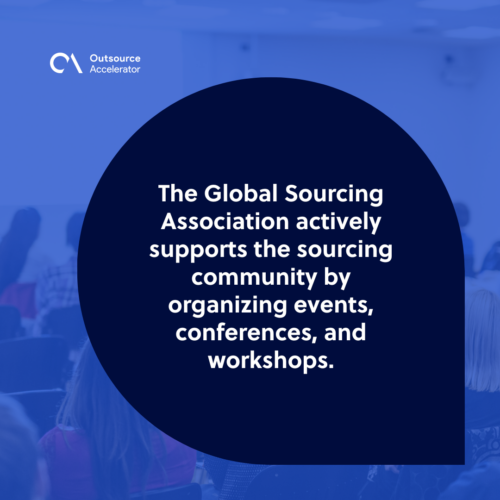 Benefits of being a Global Sourcing Association member
Becoming a member of the Global Sourcing Association comes with many benefits. 
Renowned industry experts
Firstly, members gain access to a vast network of industry peers, service providers, and potential clients. The association encourages collaboration and partnerships that can lead to valuable business opportunities.
Engaging workshops, conferences, and events
Members can participate in GSA's events and conferences. These events often feature renowned speakers and experts. They share valuable insights and lessons from experiences that can immensely benefit members' professional growth.
Cutting-edge research and report
The Global Sourcing Association provides exclusive access to cutting-edge research and reports.
These resources offer a deeper understanding of market trends, emerging technologies, and industry benchmarks. They allow businesses to stay ahead of the competition and make well-informed decisions.
Legal helpline
The enterprise also provides members with an expert legal helpline. Members have access to free 20-minute calls with the GSA's chosen legal team.
Furthermore, being associated with the Global Sourcing Association adds prestige and credibility to a company's brand. 
Members can display the GSA logo on their website and marketing materials. This signifies their commitment to excellence and adherence to industry best practices.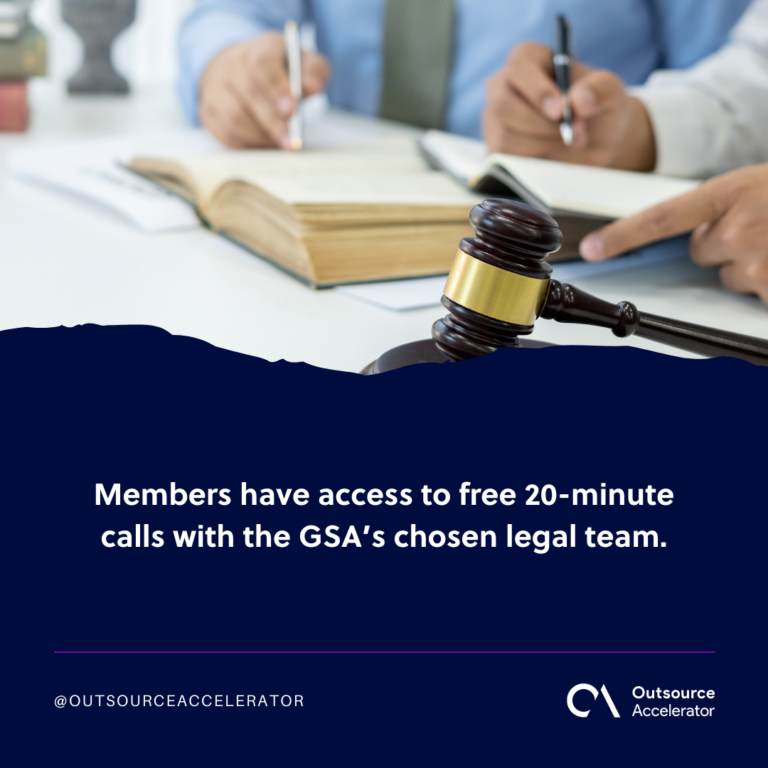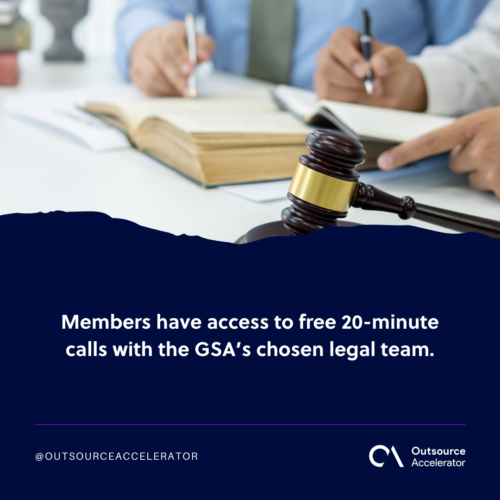 Getting recognition from the Global Sourcing Association
GSA awards organizations through industry-recognized standards, certifications, and accreditations. 
Through those programs, they readily acknowledge outstanding achievements and contributions in the sourcing sector.
One such initiative is the annual GSA Awards. It's where exceptional projects, innovations, and individuals are celebrated for their positive impact on the industry.
The awards are divided into three events; the GSA UK Awards, the Global Awards, and the Professional Awards.
Participating in the GSA Awards allows organizations and professionals to:

Showcase their accomplishments

Gain visibility

Earn the respect of peers within the sourcing community
Winning or being shortlisted for an award is a testament to the recipient's dedication to excellence and innovation in sourcing and outsourcing.
Another recognition is the GSA's Corporate Accreditation Programme. It is an ongoing campaign to professionalize the sourcing industry. 
This initiative provides a company with a much better picture of its outsourcing maturity. This is accomplished through the GSA's Global Sourcing Standard.
Getting accredited under this program means an organization is recognized for its competency. It assures customers and stakeholders they're in safe hands with the accredited company.