Outsourcing best practices for beginners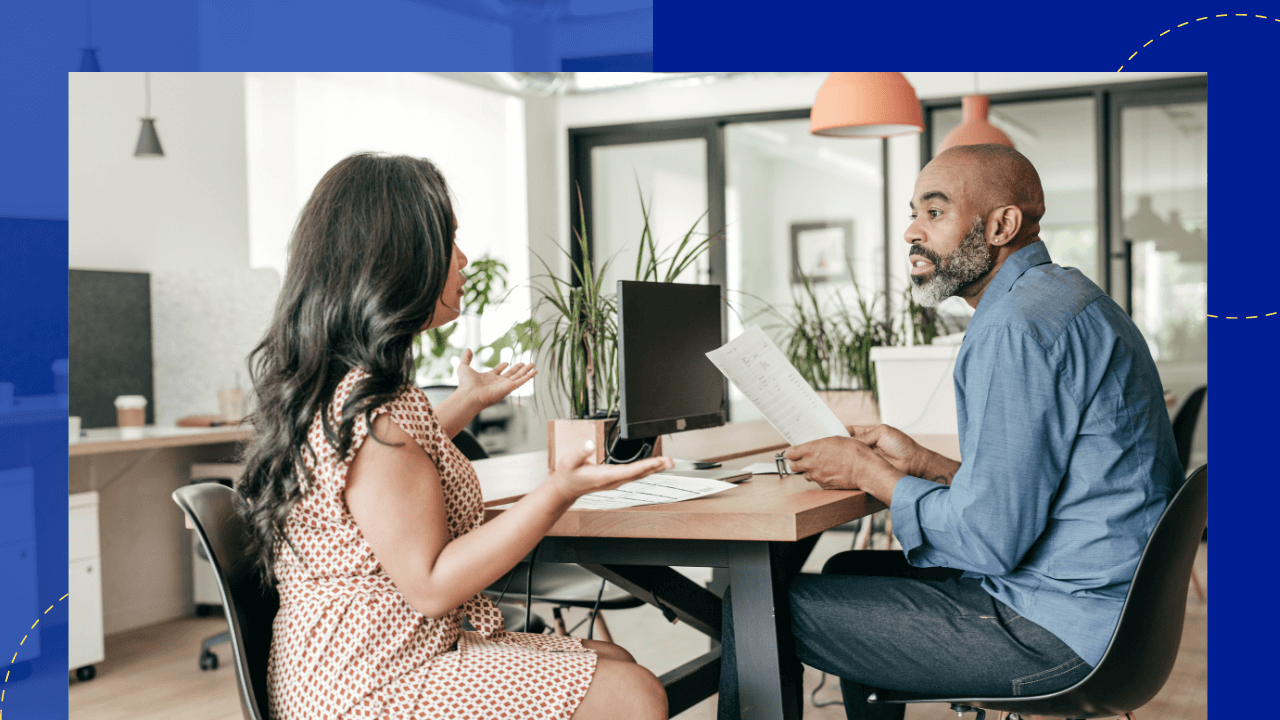 In the last few decades, outsourcing has become a well-established practice in the business world. Companies increasingly turn to third-party providers for everything from manufacturing to software development. 
Though exciting, this trend can also confuse those new to outsourcing. They're unsure where to start, what to look for in a partner, or how the process works. 
In the 433rd episode of the Outsource Accelerator podcast, Dean Pascoe, founder and president of Boomering, touches upon some outsourcing best practices to onboard his clients effectively. 
Pascoe notes their creation of "a training program, not only just for staff, but we went to the trouble of producing a training manual for clients as well." 
What is an outsourced virtual team? 
Outsourcing and virtual teams go hand-in-hand. Virtual teams consist of remote workers, and outsourcing is a method for companies to send work overseas where labor costs are lower. 
Virtual teams are becoming more common, especially for small businesses with no resources to hire full-time staff. When discussing outsourcing best practices, assembling a robust virtual team is also helpful for large companies needing specialized personnel. 
This type of organization has become more popular recently due to its low cost and flexibility for clients and employees. 
Why outsource virtual teams? 
As technology has advanced, so has the opportunity to work remotely while still being part of a team. This often allows companies to hire top talent internationally. 
By applying outsourcing best practices, businesses can reap the benefits of virtual teams. 
There are several reasons why companies choose to outsource their work:
You don't need to hire an entire department.

You can choose from specialists who will help you accomplish your goals without hiring them full-time.

You can work with people worldwide, giving you access to talent pools not available in your local area. 

Outsourcing lets you cut costs because you don't have the same overhead costs as hiring locally or in-house. 

Outsourcing lets you get more done in less time because you

can access multiple resources simultaneously.

 
Best practices when seeking an outsourcing partner
If it's your company's first time outsourcing, consider these outsourcing best practices.  
Go slow and understand
Taking on an outsourcing partner can feel overwhelming, especially if you've never done it before.  
The first outsourcing best practice is to know exactly what you want from a BPO partner. To get started, here are some questions that can guide you:
What kind of services does my business need? 

What industries does my business operate in? 

What type of business processes need to be streamlined? 
When choosing a partner, speed is important but not at the expense of quality or security. There's no need to rush through this process. 
Dean Pascoe reiterates this: "The best advice is go slow, understand who you're working with, and find the right partner for you. Don't jump in."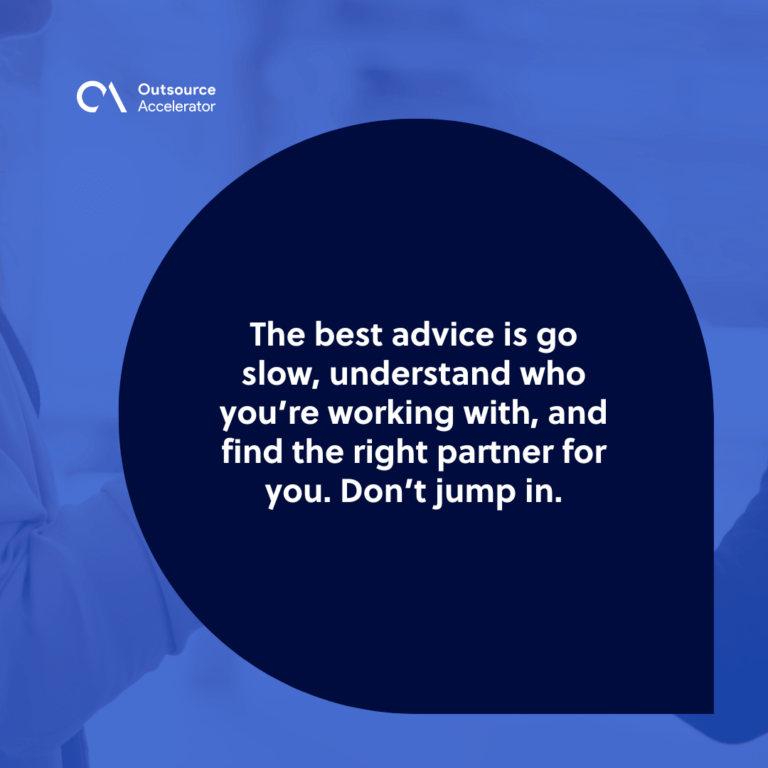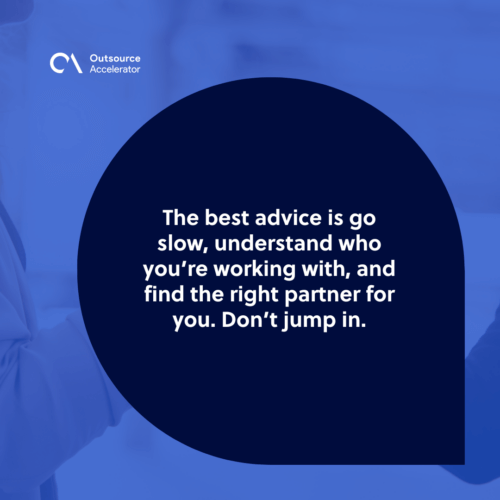 Work beyond freelancers
Dean notes that Boomering has "[picked] up a lot of customers that went down the freelancer route, and they were influenced by price to start with." 
If you're looking for someone to handle the process of outsourcing, freelancers are a good option for some parts of the job, but not the entire thing. 
The benefit of freelancers is they're great for handling tasks like data entry or transcription (sometimes more) because they're faster than regular employees and can work from anywhere. 
As Dean also says, freelancer rates can be more enticing than paying a full salary. 
However, they don't always have the necessary expertise or experience for more complex projects. 
Dean also brings up the uncertainty of working with individuals. "What [companies] don't realize is, let's say that if you hire a personal assistant to help you out, and you're busy working on projects, etc. If that person disappears, you're left in the dark, you've got no one to turn to, you got no one to pick up your data, etc.
This is where a BPO can help." 
Look for transparency
One of the most critical elements and outsourcing best practices is choosing a partner with transparency. You want to make sure your provider is upfront about their offerings, processes, and services. 
Transparency is an outsourcing best practice because it ensures both parties are on the same page.
As Dean puts it, "This is very, very basic knowledge… but I really believe that [companies] need to find somebody that's very transparent, will work with them and appreciate the level that each customer is at." 
Dean and Boomering understand that "everyone's experience with offshoring is at a different stage in the circle." 
He outlines their method of a "cradle to grave mentality," where "[Boomering] talks through [their client's] needs and goes through our business outsourcing blueprint, and map out their project or offshore team." 
"Whatever we sell, we've got to live by, and hence why we have no lock-in contracts. So we have to live up to our words of what they have to expect. And through that, transparency is key."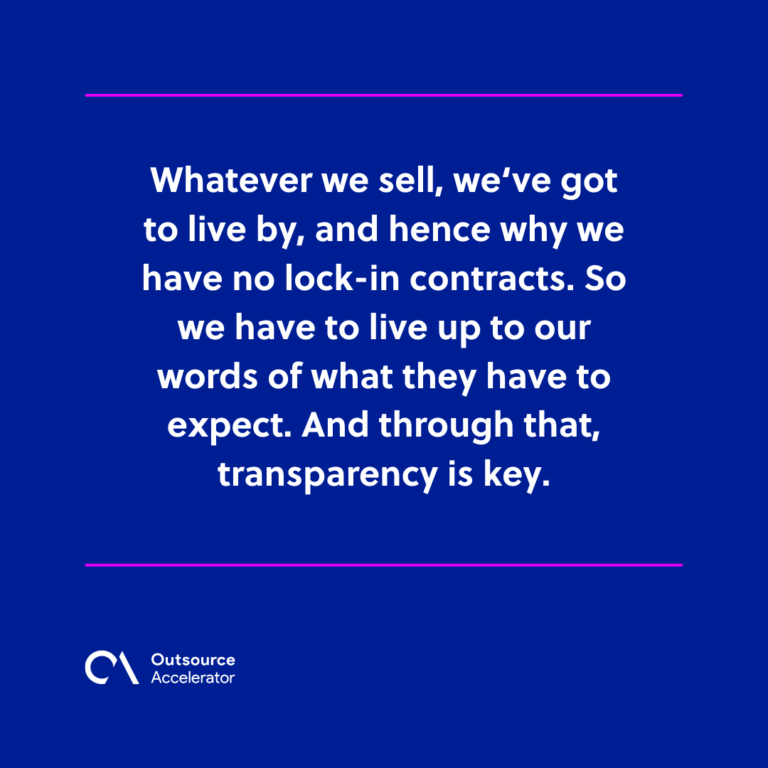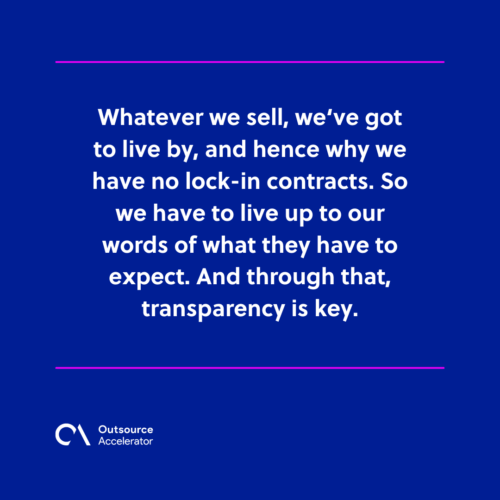 Understand cultural changes 
An essential outsourcing best practice is understanding the cultural differences between the countries you're outsourcing from. Many companies have found that each country comes with its own set of challenges. 
Cultural differences can make outsourcing challenging, especially when dealing with different languages or cultural norms. Organizations will need to review key areas like communication style, employee engagement, and customer service expectations. 
Partnering with a BPO avoids these problems. BPOs understand your business needs and have experience working with clients from various industries. 
For his part, Dean is happy to offer Boomering's services. He says, "a client really needs to understand cultural changes from Australia or America to a Philippine culture. And they well and truly need a partner that can guide them." 
Seek flexibility
Finally, for outsourcing best practices, seek a partner that's flexible enough to adjust their services as your company grows or changes its business model. This includes scaling up or down as needed.
Dean stresses this, saying, "this allowed our customers to scale down as much as they can scale up.
So in good times or bad times, or if people have a business that needs to be agile, having a BPO in their back pocket, or working with them and understanding them can really make a business more agile." 
The benefit of outsourcing through a BPO
Many companies outsource operations to BPOs because it makes good business sense. A well-managed BPO can provide the technology, infrastructure, and personnel necessary to support growth. 
It's not easy, but as Dean says, "it's not just a turnkey operation. The more you're involved, the better something turns out." 
"Having that right BPO behind you, we get to help you take a lot of that noise away. All those HR noises, all the IT, and finding the right staff in the Philippines is always key to the start of the success," he goes on. 
If you're interested in trying outsourcing, you can contact Dean Pascoe through his LinkedIn. 
Look up Boomering's official website and listen to episode 433 of the OA podcast here.