Is a career in the BPO industry right for you?
Last updated: April 29, 2021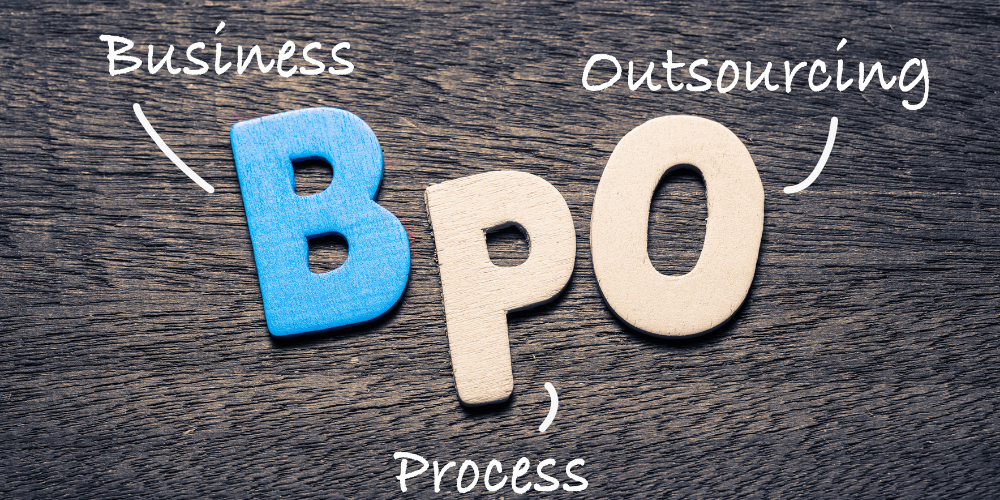 The BPO industry, also known as business process outsourcing, is booming. BPO careers are the highest in demand worldwide and are the second-highest career provider in Asian countries. 
More companies are starting to outsource administrative positions and tasks to BPO employees, expanding the industry. Outsourcing is ideal for small to medium businesses because it saves money on employing administrative roles.
If you've been considering starting a career in the BPO industry, you're not alone. With minimal qualifications for working in the BPO sector, it's a popular career choice for young adults and those who didn't have the option to pursue higher education. Before you embark on this career path, it's best to understand what a BPO sector career entails. 
What is the BPO industry?
When a company requires administrative and customer service employees, outsourcing those positions is common. While there are more types of outsourcing, these roles are the most popular. That's where the BPO industry and its employees come into play.
Business process outsourcing is when a business hires a third party to perform whatever tasks they need to be covered. Have you ever been on a website, and a live chat box appears on the side? The person you're chatting with is more than likely someone working in the BPO sector.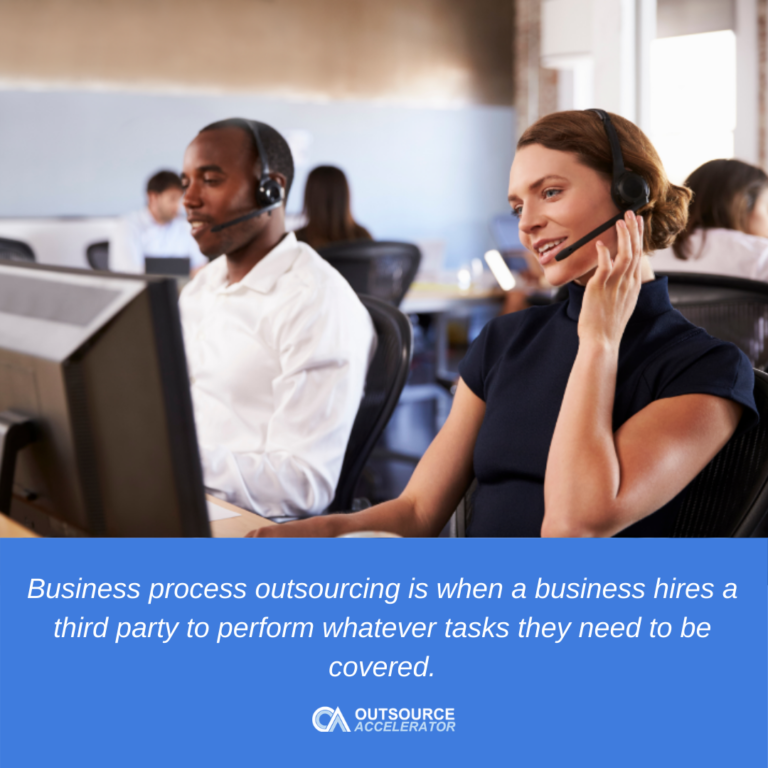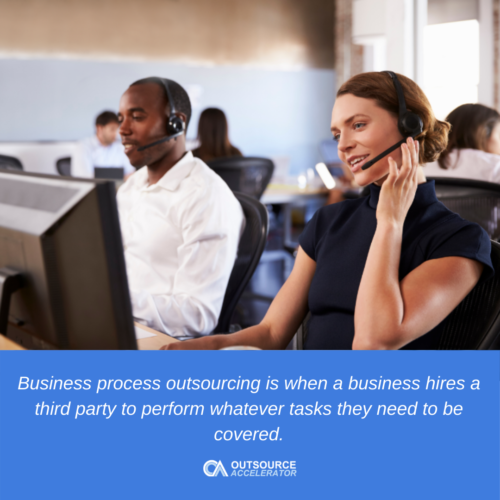 Why companies utilize BPO
For businesses, outsourcing for these roles is more cost-effective than hiring individuals to work within their office setting. They're not only saving money on paying these individuals directly, but they can have a smaller office space which will save them on monthly rent.
The BPO industry is popular in countries worldwide, and when businesses outsource to these BPO companies, they're helping create job opportunities for people. Depending on the company, having customer service representatives in various time zones can help ensure their customers are constantly receiving quality service.
How to know if a BPO career is for you
There are many reasons why a person might want to join the BPO industry. The qualifications for working in the BPO sector are minimal. This then makes an excellent opportunity for young adults who are ready to start a career, older adults who only had short-term jobs, or those looking for a career switch.
Anyone can excel in the BPO sector as long as you're proficient in English and have a good work ethic. Besides that, enjoying working with other people can also make you a great candidate.
Many BPOs operate in a call center type of office space, so not only will you be working with people in the company you're contracted to, but your coworkers and superiors on the floor to support you.
BPO services
What exactly would you be doing if you chose to follow a BPO career path? There are more industries and activities than you may think. Many BPO companies offer simple administrative tasks to customer service to human resources and IT. 
| | |
| --- | --- |
| Industries  | Activities |
| Call Center Services | Inbound and outbound calls, customer service, and email and technical support |
| E-commerce and retail websites | Order support and processing refunds |
| Healthcare | Claim processing and transcription services |
| Financial Services | Payroll, accounting, other financial services  |
| IT | Help desk services |
| Travel | Booking assistance and cancellations  |
| Education | Course information and processing fees |
Benefits of a BPO career path
When you're considering embarking on a new career path, you'll want to assess the benefits. Working in the BPO sector offers a variety, making it an attractive prospect.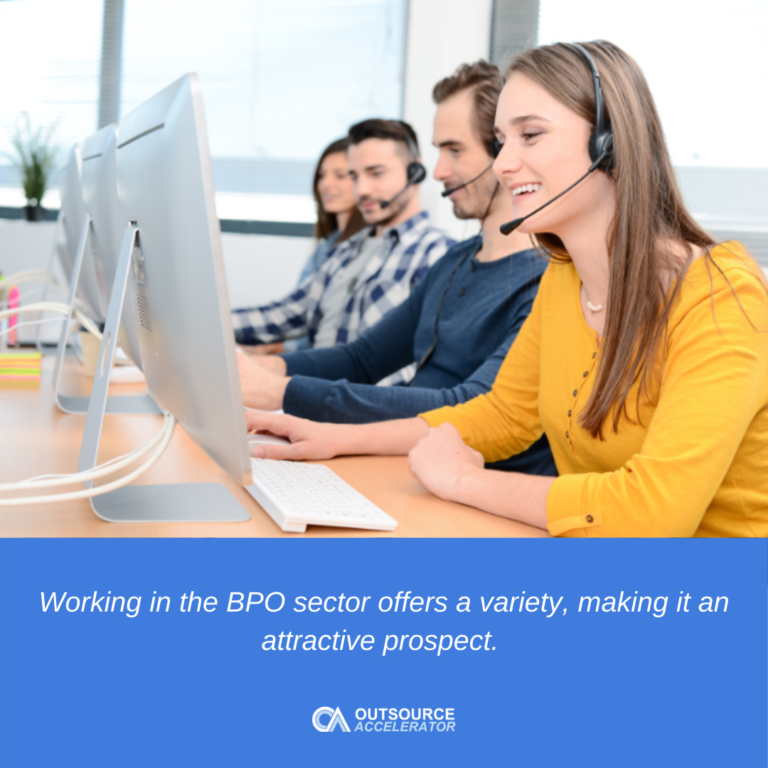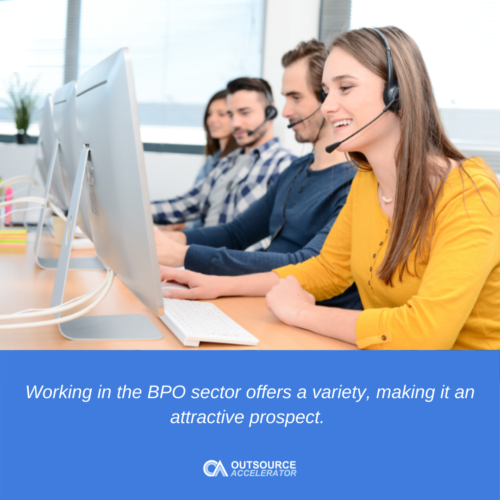 Fair pay
A common misconception surrounding BPO careers is that the pay is inadequate due to the fact the education requirements are minimal. Most BPO companies offer competitive pay for the industry because the demand for BPO services is rising. 
You can also expect bonuses like overtime, higher night rates, and holiday pay.
BPO Career growth
If you're thinking working as an entry-level employee in the BPO sector is the be-all-end-all, you'd be incorrect.
BPO companies are also growing corporations, and opportunities to rise in companies are there. Like most places of business, promoting internally is preferred. When the opportunities arise, you can progress into a supervisor role and potentially even further.
Healthcare and retirement benefits
When you're starting a career, having the health and retirement benefits that come with a full-time position is something you should consider. Retention rates tend to be higher when these benefits are provided. If health and retirement benefits are important to you, be sure to check with the company and see what they have to offer. 
Starting a new career can be intimidating if you don't know it's something you genuinely want to do. The BPO sector is a fast-growing industry where you can work for various companies performing different tasks. If you're looking for a career that allows you to engage with individuals and has career growth opportunities, the BPO industry might be the path for you.