10 benefits of outsourcing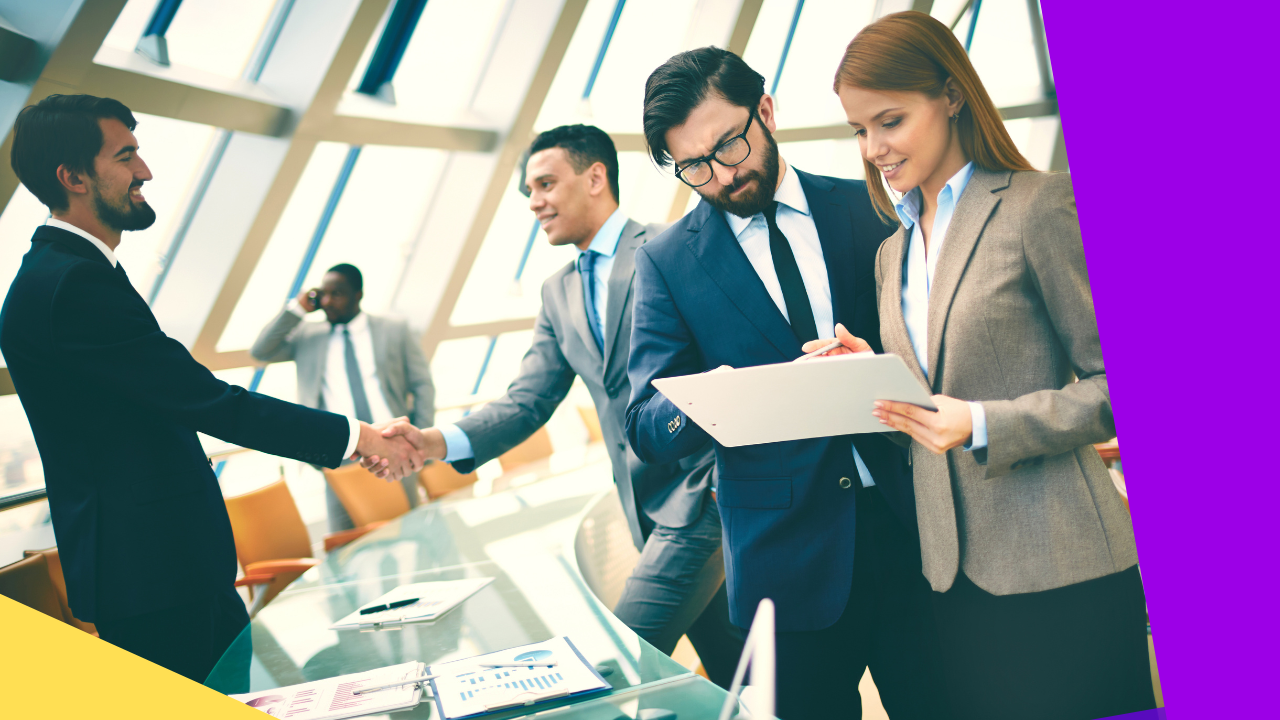 Since 1992, companies that offshored in the Philippines have been enjoying the benefits of outsourcing. Until now, small and huge companies trust the Philippines for their various outsourcing services. However, some start-ups and long-term entrepreneurs are not aware that outsourcing is one of the best business solutions.
Benefits from outsourcing
Some businesses hesitate to delegate some of their tasks to a third-party company overseas for outsourcing. They are afraid that the workers from the said outsourced firm would not entirely be able to understand their clients' needs. They believe this is a disadvantage to outsourcing.
Moreover, some individuals do not believe that outsourcing can be one of the best solutions for their business. The others are unwilling to provide a high initial payment for a contract.
However, they are missing how benefits from outsourcing can help in some of their business tasks and how outsourcing can help them and their clients immensely. Offshoring can help big companies, even start-ups, and solopreneurs, mainly to provide top-notch customer support or workforce in a cost-efficient way.
There are countless of benefits why outsourcing is among the most effective business solutions. Learn which of the following is an advantage of outsourcing that can help your enterprise.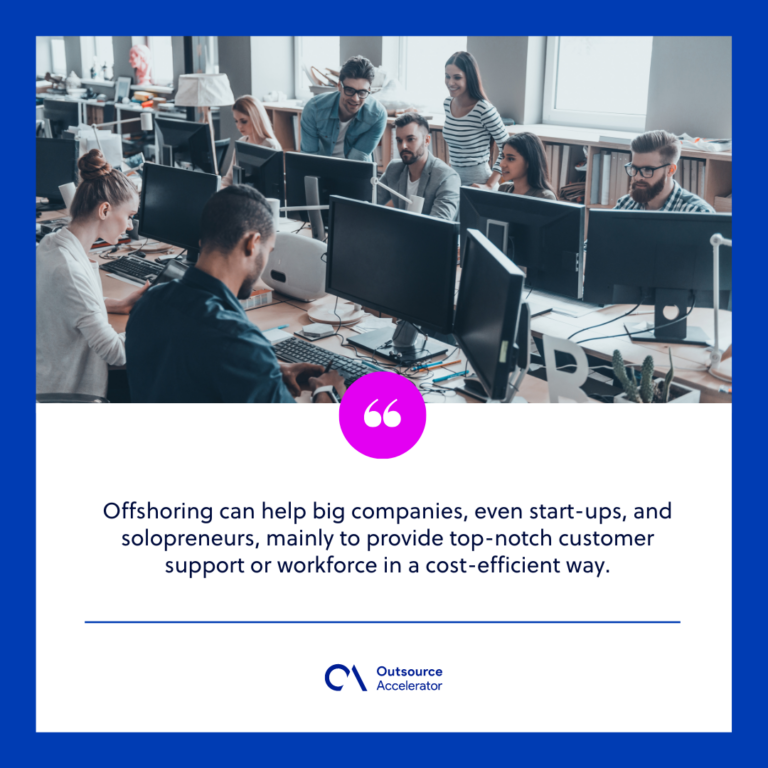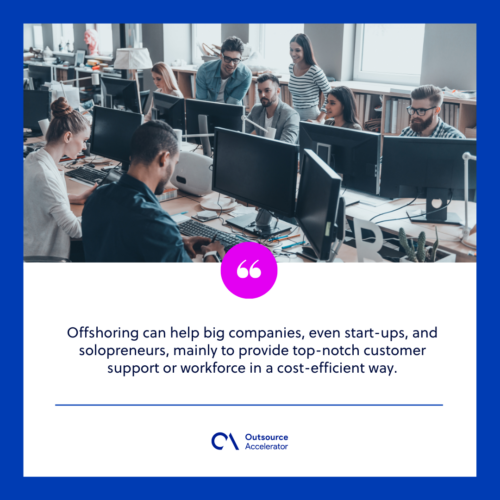 1. Cost efficient
When availing of an outsourcing service from the Philippines, you can save 80 percent on the workforce costs. The minimum wage of a worker in the Philippines is 512 pesos in the NCR region which is almost 9 dollars per day. A 30,000 pesos (PhP) salary is already considered an enormous amount in the country which can already improve the Filipinos' quality of living.
For this reason, you can expect that the use of external resources like electricity and technology does not cost as much as the ones in Australia, the UK, and the US.
2. Scalable solutions
Outsourcing for business in the Philippines is an excellent idea because it provides scalable solutions to meet the needs of their clients. Whether you are a solopreneur, an owner of a small-to-medium enterprise or belonging in a large corporation, outsourcing services can accommodate the needs of each kind.
3. Flexible and wide range of services
From information technology to customer support, the numerous outsourcing services in the Philippines can provide you with a lot of tasks to delegate. You can build a virtual staff that can work on various functions like research, marketing, customer support, and more. It means that you can concentrate on the core of your business better.
4. New-generation workers
Because of the frequent changes in trends and advancements in education and technology, the new generation of workers is the ideal workforce. They understand the changes in technology, and they see that working in a BPO industry provides them with better opportunities.
5. Domain expertise
Only a few have expertise when it comes to handling specific issues and processes. Outsourcing in the Philippines ensures that you have access to those who have the kind of knowledge your business needs, no matter what niche you belong to.
6. Skills diversification
Outsourcing companies in the Philippines offer a wide variety of services. It means that you can build a virtual team of professionals and experts that do various types of jobs to achieve your desired results. You can have a writer, animator, videographer, graphic artists, customer support, and sales agent in your team.
7. Round-the-clock operations
Even if you are sound asleep at night, your virtual workers in the other parts of the world work to get the job done for you.
8. Delegation of non-core processes
Delegation is crucial in the business to reduce your workload to let you focus on the essential areas of your business, like planning.
9. Strong government support
One of the fears as to why some businesses are wary of outsourcing overseas is due to the possibility that their business information will leak to their competitors. In the Philippines, the Data Privacy Act of 2012 protects the private information of individuals and the private sector. It mandates the BPO industry to protect its clients from a cybersecurity breach and the like.
Current Philippine President Rodrigo Duterte approved the Tax Reform for Acceleration and Inclusion (TRAIN) law. The law aims to remove the income tax from individuals who earn 250,000 pesos annually or less. It includes the ones who are working in the BPO industry, providing them a higher take-home pay. Thus, making BPO jobs more appealing to highly skilled individuals.
10. Established infrastructure
The IT infrastructure in the BPO industry companies has the top of the line equipment and technology that are comparable to Korea, Hong Kong, and Japan. They have the budget to invest in these kinds of equipment to serve their clients well.
Moreover, huge tech companies typically partner with outsourcing companies to provide networking solutions and expert data. The same goes for Internet providers that offer high-speed and secure fiber optic connection.
Benefits of outsourcing companies
When looking to outsource, the most important decision you'll have to make is finding a trusted BPO partner. Your BPO provider will take care of almost everything – your business requirements, recruiting and staffing needs, your legal obligations, as well as your facilities and equipment. Your outsourcing partner will be responsible for taking care of your business needs. They need to be extremely professional and reliable.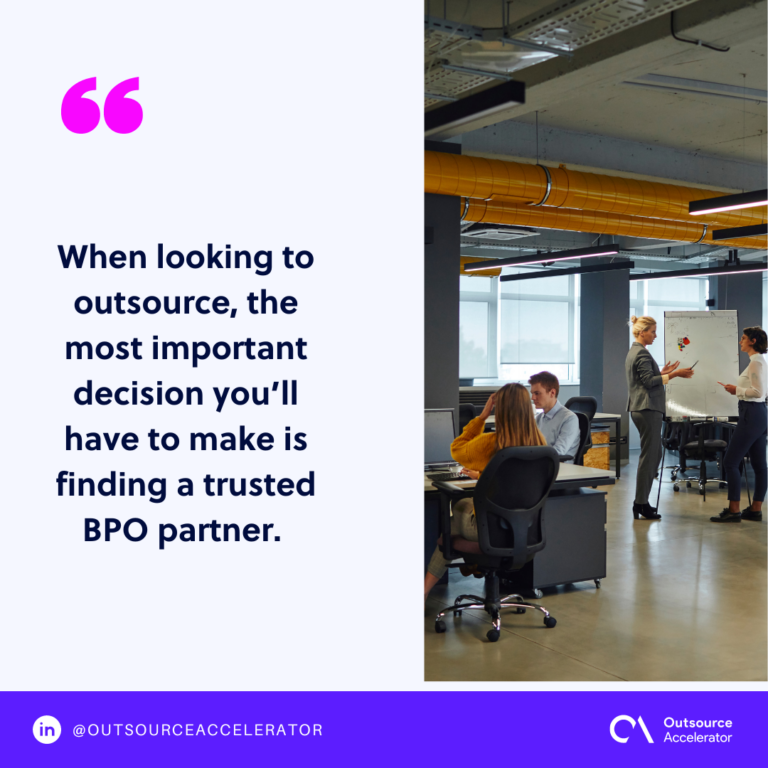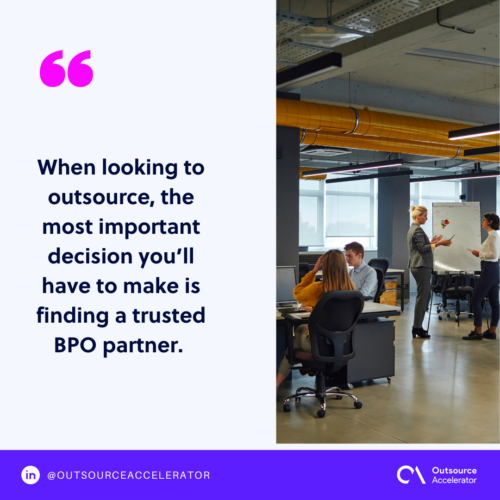 To further emphasize the importance of choosing the perfect outsourcing firm for you, here are other roles and benefits of a BPO company:
Put your organizational values and processes into streamlined day-to-day operations
Most companies start dipping their toes into delegating tasks to freelancers. They hire freelancers through freelance platforms and train their new team members from there. However, the problem with this setup is the relative lack of accountability. Freelancers don't have an office manager that can supervise their day-to-day activities. Because of this, some business owners worry that they may not be getting what they paid for.
This is where BPO firms enter the picture. These companies can serve as "mediators" or the bridge that connects the remote workers and the employers to each other. BPOs have the resources, facilities, leaders, and processes needed to provide remote workers with a conducive and supervised working environment.
Their services are especially beneficial to newer companies. They can help streamline newer companies' processes, and help incorporate their values as they delegate responsibilities to a remote team.
Take care of the hard tasks for you
It's hard to do outsourcing on your own.
First, you've got to create an account on online job platforms like Upwork and Freelancer.com. From there, you'll post a job opportunity and weed through the applicants to find the one with the right skills and experience. You'll conduct interviews, negotiate salaries, conduct the training, supervise and ask for regular updates, then check their output. It can be very time-consuming.
Through BPOs, companies can relay everything to their trusted outsourcing partner so they can focus on their core responsibilities. Other factors like taxes, pay raises, performance evaluations, and benefits can be taken care of by the outsourcing provider. Companies can get as involved as they want, but they can be assured that their remote teams will efficiently perform their duties. Also, they're assured that the employees' needs are all provided for.
Bring competitive advantages
Outsourcing providers are led by experienced experts in the industry. They know the ins and outs of the industry – the trends, the fads, and everything in between. Seeking the services of a BPO company can work wonders for your business. It brings a lot of competitive advantages that can boost your business in more ways than one.
According to an interview with David Rizzo, the Asia Pacific President of Teleperformance, the Philippine BPO industry's market share has tripled globally since 2004. It was from 4 percent to 2014's 12.3 percent. The forecast for 2020 is that this percentage will increase to 19 percent, which is equivalent to worth 250 billion.
According to Travis Coates, the Managing Director of Teleperformance Philippines, as of 2018, the Philippines is among the leading global players in the BPO industry. The country is taking a step to widen its portfolio of services to provide for its clients.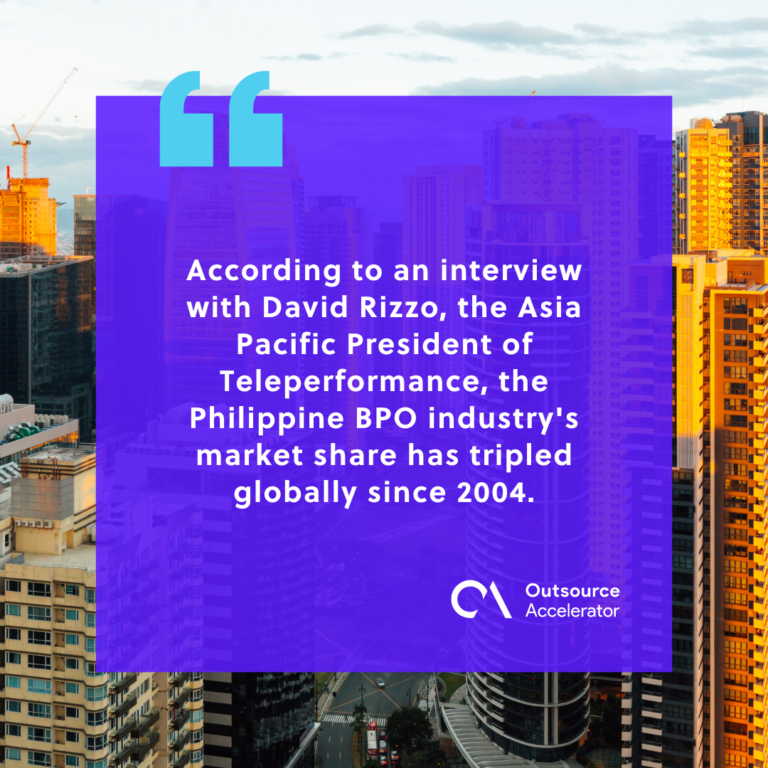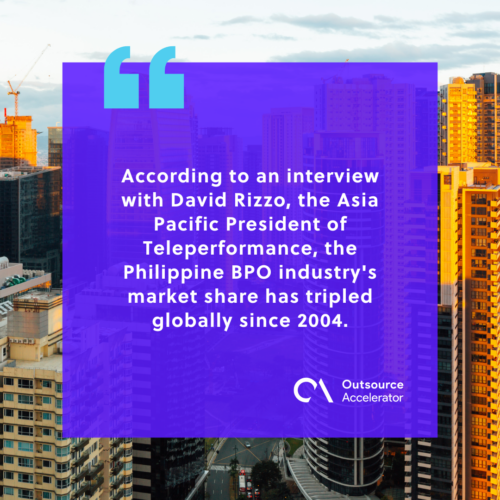 How to choose the right service provider
To enjoy the benefits of outsourcing, you must not assume that the deal is already done after signing up a contract to a third-party company overseas. You can maximize outsourcing to your advantage only if you can integrate and provide instructions, training, and business mapping to build a successful relationship with your customer. Choose the right provider to make sure that you have the right team to handle the job. Global outsourcing services providers like Everise can help you with your business needs.
Further, to learn more about outsourcing contact Outsource Accelerator for more information.