Why aren't more people outsourcing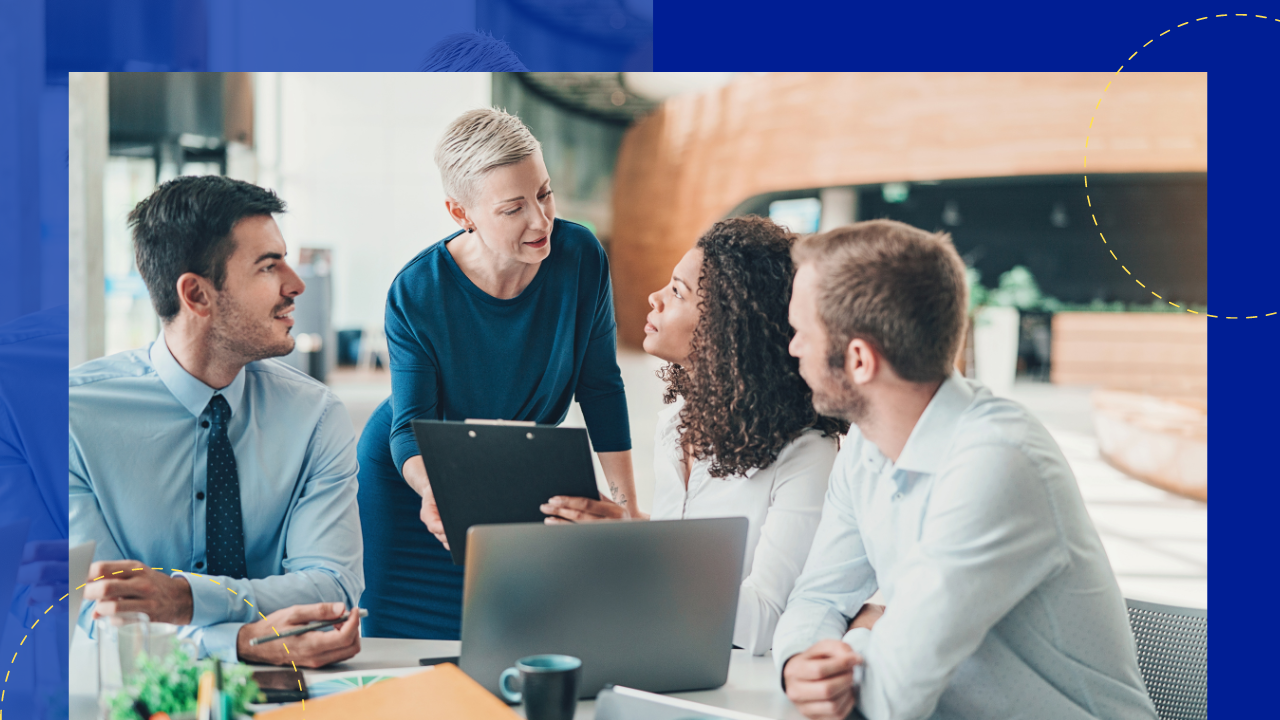 Outsourcing non-core business processes is one of the most effective strategies for streamlining or improving business operations at a low cost. Companies that outsource not only stand to save as much as 70% on staffing costs and overhead, they can also drive innovation and growth because they are able to devote their resources to more business-critical tasks.
Outsourcing has also become more accessible to smaller companies, when before it was only the big players that could afford such a tool. This is thanks to many factors, including huge strides in the proliferation and improvement of communications and information technology. The introduction of outsourcing and freelancing platforms such as Freelancer and Upwork has also contributed to making outsourcing mainstream.
Even so, only a few businesses have truly embraced outsourcing for the advantages it could bring them. Here are some of the reasons why.
1. Businesses might not be aware of outsourcing as a viable business option
One of the simplest reasons why outsourcing may not be as popular as it should be is that business owners, especially senior CEOs and managers, are not aware of outsourcing as a viable way to improve their business processes. They may not even know about outsourcing at all, or they may have been fed enough misleading information about it that they have long since dismissed it as an option or as a process that they should look into.
Why would there be such a knowledge or awareness gap, especially nowadays when anything can be looked up on the internet? A likely reason for this is the fact that until recently, there has neither been much information about outsourcing to begin with, nor has there been any long-standing reputable sources of outsourcing information. Without access to a convenient, one-stop shop for legitimate and reputable information, many business owners may hesitate about even looking into outsourcing.
Some business owners may even mistrust information on the internet inherently, either due to experience or simply because they are quite old fashioned and they prefer to seek the opinion of someone they trust. However, as outsourcing mainly takes place on the internet and involves entities from overseas, these business owners are having a difficult time looking for a BPO consultant or provider whom they can actually talk to in person.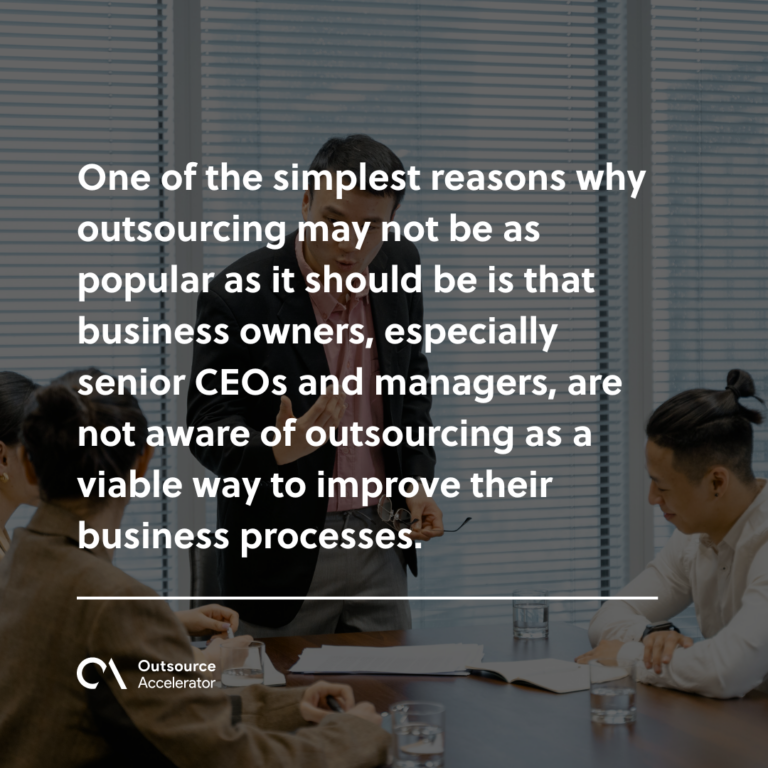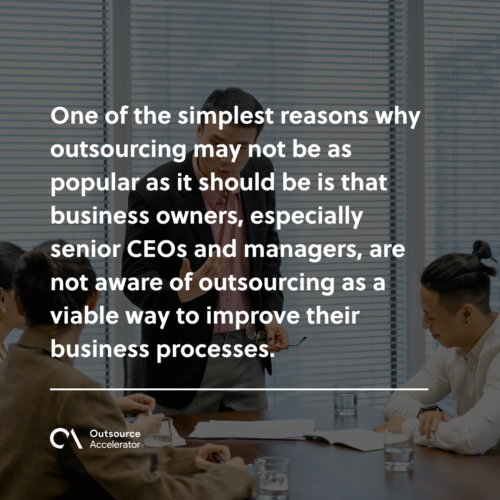 2. Business owners may get scared off by the high initial investment amount or long contract option
Let's say that the decision makers of the company are in fact aware of outsourcing, and despite the many myths, misconceptions, and misgivings surrounding this particular business tool, they still want to look into outsourcing as a business solution. They've done their research, they've consulted other companies who are taking advantage of outsourcing to improve their business practices and, after a long period of deliberation, they're finally ready to make a deal with a provider. What can go wrong here and prevent them from committing to a contract?
For one, they may get scared off by the initial investment needed to get into outsourcing. Business process outsourcing providers are aggressive and highly competitive in their rates and dealings, but that doesn't necessarily mean that they're going to offer their best rates to a company that's inexperienced in outsourcing. Like any other business, an outsourcing provider is out to get money, and you can be sure that they will start their quote with a high rate that's set for a long contract period—often up to 100,000 USD with a 2- or 3-year lock in period. Offers or counteroffers that involve anything less, in monetary amount or contract period, would most likely be turned down.
While big companies may have no problems accepting these terms, medium-sized enterprises and small startups may find themselves balking at such a high starting price and a long lock in period. They may then quickly abandon the idea altogether and simply go back to their traditional practices.
3. Businesses may find the cultural differences hard to deal with
Another potential obstacle is the fear of cultural differences, which can definitely add to the already lengthy list of difficulties that businesses need to overcome. Outsourcing introduces a foreign team to an already well-established workplace, and the cultural differences between the new team and the company can slow down business procedures and processes.
English fluency is another related concern, though it is not as prevalent today as it was back then because many countries that host BPO companies are strengthening their English language programs. In spite of this, messages between the company and the outsourced workforce can still get lost in translation due to cultural differences. For example, in the US, it's a common business practice to avoid honorifics, but it's less than polite to do the same in places where niceties are an ingrained part of communication. In some countries, staying silent during a discussion is seen as a sign that the person is listening intently, but it may have the exact opposite meaning in others. Failing to recognize these nuances can make communicating with an outsourced workforce a challenge.
It would do both parties a lot of good to treat each other's culture with respect and a bit of curiosity. At the same time, companies can also resort to an easier solution, which is to outsource some of their functions to a country that shares many cultural similarities with their own.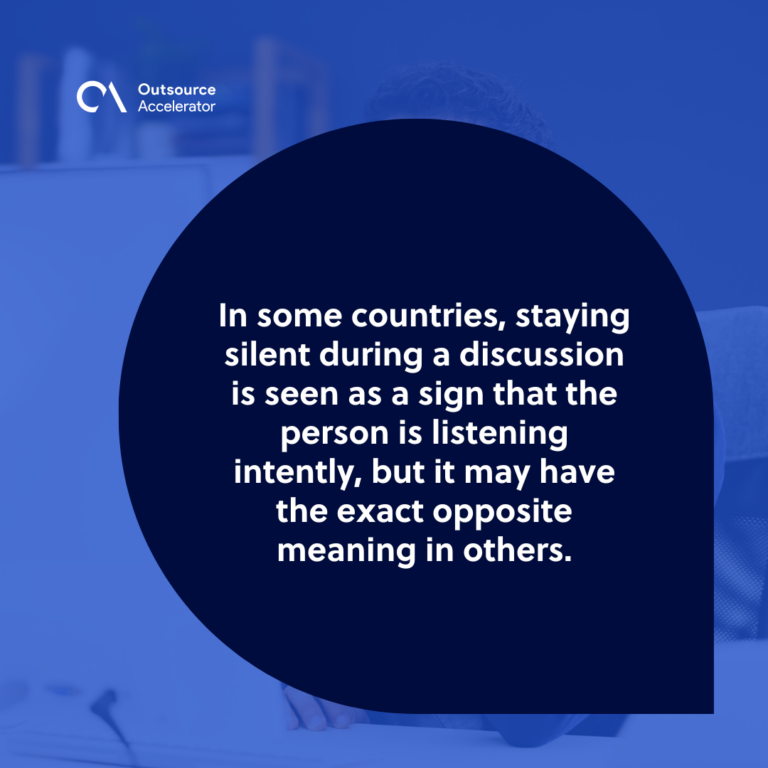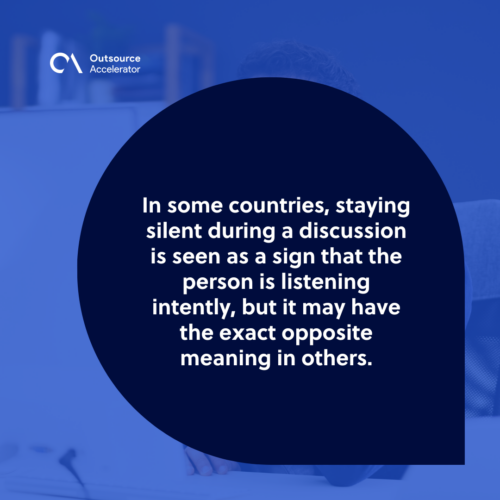 4. Business owners may just be too busy to consider it, or are too set in their ways
We also have to think about the possibility that business owners are simply too busy to truly consider taking up outsourcing. Many CEOs and managers in SMEs work long hours as they are responsible for overseeing the core functions of the company, ushering its growth, or setting it apart from its competitors. What they don't know is that outsourcing can help them achieve their goals without exhausting their resources. This option allows them to delegate non-core tasks to skilled workers for a minimal fee and focus their in-house manpower to functions and tasks that are crucial to running and growing the business.
5. The company may simply be too set in its ways to consider outsourcing
Finally, it's also possible that business owners and managers are too set in their ways to consider outsourcing. They firmly believe that the processes they've used and perfected throughout the years will keep them afloat and help them prosper even in today's hypercompetitive market. It's just like they say – if it ain't broke, don't fix it.
However, outsourcing is here to stay, and a lot of their competitor companies are making full use of its benefits. Through outsourcing, these competitors are able to save more, do more quality work, expand their customer base, and focus on improving their core processes and systems. In time, these benefits will allow them to get ahead in the game.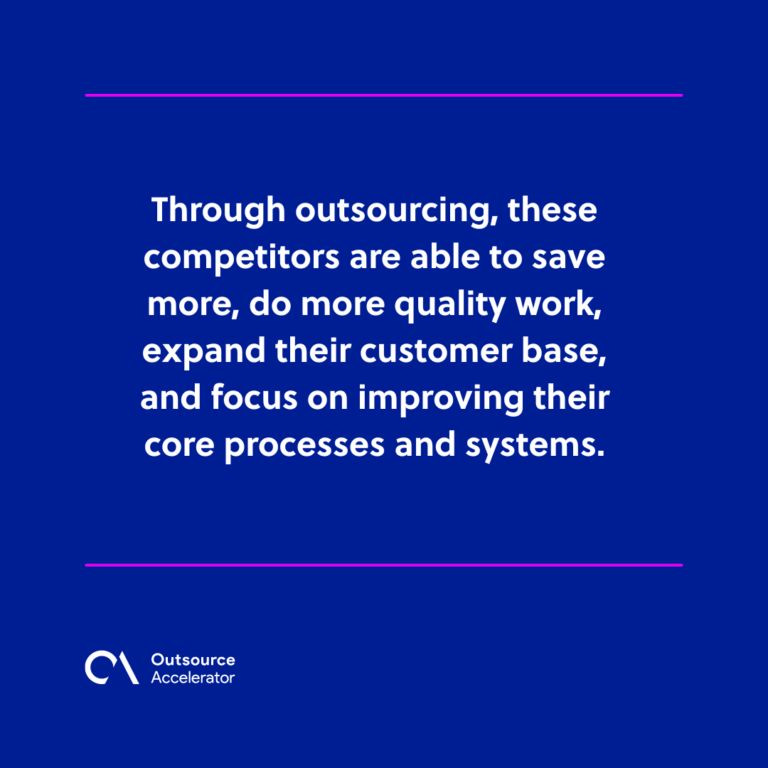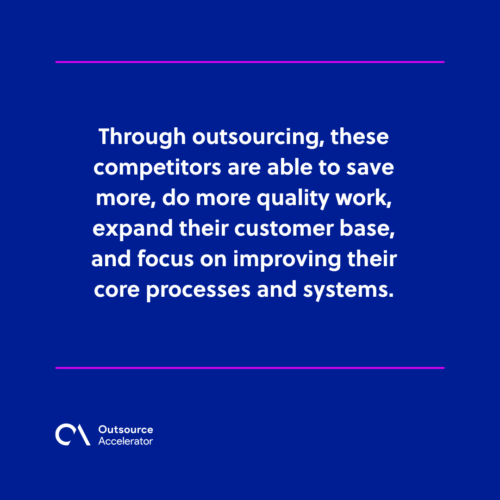 Conclusion
Outsourcing is the future. It's the silver bullet, the magic potion, the secret ingredient that can help turn a small startup into a stable and highly profitable enterprise. Many companies are taking advantage of it, but just as many – if not more – are ignoring its benefits and choosing to simply hack it on their own. What they don't realize is that the longer they ignore outsourcing as a viable business solution, the farther they'll be left behind by early adopters.
What can be done, then, to help a company avoid the above-listed obstacles? It all comes down to information. Business owners need to get in touch with the right people with the right information and resources that can help them become more aware of outsourcing and all that it entails. With that new awareness comes a drive to learn even more and consult with outsourcing experts in the field – experts and consultants that could get them in contact with legitimate and professional outsourcing companies that are focused not just on profit but also on excellence. In essence, providers that won't milk them dry on the first encounter and instead hash out a mutually-profitable contract with the business.
In that regard, we here at Outsource Accelerator are the right people for you. We'll cut through all of the marketing spin to teach you what you need to know about outsourcing and how it can help your business. We'll dispel all your misconceptions and fears, teaching you the ins and outs and getting you in touch with the best outsourcing providers in the business. With us by your side, you'll be able to take advantage of outsourcing the right way.