Top 20 coworking spaces in India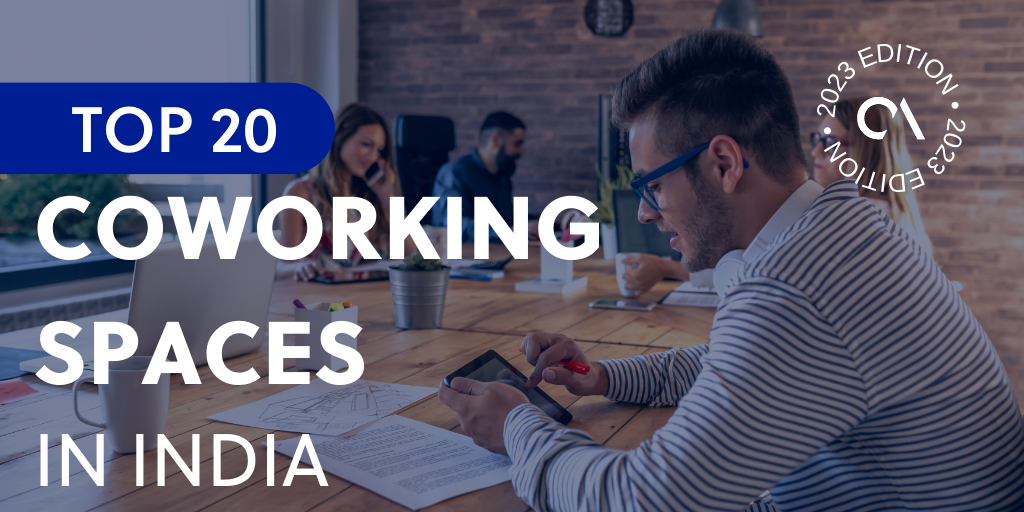 List of top coworking spaces in India
Top global outsourcing lists
Outsource Accelerator is the world's leading outsourcing marketplace and advisory. We list over 3,000 BPO firms located across the globe in our global directory, and we provide detailed information, price guides, and reviews.
Whether you're a solopreneur, SME owner, or corporate executive, we can help you find the most suitable outsourcing provider for your business.
Explore our outsourcing directory now. You may also check out our top coworking spaces lists here:
The traditional office structure is fast becoming a thing of the past. Options are numerous and flexible nowadays. Collaboration and community are being pushed as ideal. 
India is a rising market for startups and other businesses. Every year brings a fresh batch of not just new people into the workforce but also new ventures and enterprises. 
Everyone is aiming to grab a piece of the developing market, and this means a need for office space. 
Coworking in India 
India has become a global superpower rising to the top of every field in the international commercial industry. In recent years, the digital revolution has taken place in the country. Many startups and emerging enterprises have sprung up to share in the opportunity. 
The increase in the number of startups comes with increased demand for office space. Unfortunately, the prices and limitations imposed by India's real estate segment mean that only specific businesses can own their own office space. 
Coworking spaces and virtual offices offer a flexible option for those businesses looking for a place to set up their work. Coworking spaces here are also a good option for those that are testing new markets in India.   
Coworking spaces are major commercial entities in India, contributing to and cultivating the startup ecosystem and growing the gig economy. 
They've experienced quite the growth for the past couple of years, mainly due to their ability to relieve the stress of office setup. 
The trend is even growing outside of India's major cities. Outside Delhi, Bangalore, and Mumbai, various tier 2 cities, those developing their real estate market, are already taking part in the coworking space movement. 
How coworking spaces function 
Business owners are always looking for ways to reduce costs. Cost-effective options for business meetings, conducting interviews, or finding affordable places to work are difficult in a major city.
Coworking spaces are essentially a shared office facilities where smart professionals, freelancers, and startups can work collaboratively or independently. 
The space usually comes with features like Wi-Fi, communal printers and other machines, CCTV, and provisions like conference rooms and a cafeteria. 
In recent times we've learned that while working from home can be a viable option, it isn't always the most effective. 
Coworking spaces minimize distractions, increase networking possibilities, and ensure a much better work-life balance.  

Top global outsourcing lists 
Outsource Accelerator is the world's leading outsourcing marketplace and advisory. We list over 3,000 BPO firms located across the globe in our global directory, and we provide detailed information, price guides, and reviews.
Whether you're a solopreneur, SME owner, or corporate executive, we can help you find the most suitable outsourcing provider for your business.
Explore our outsourcing directory now. You may also check out our top coworking spaces lists here:
Top coworking spaces in India 
The best coworking spaces in India are listed below, all offering top-notch facilities and a vision to help your organization grow forward and upward. 
Locations: Pune, Noida, Mumbai, Hyderabad, Gurugram, Goa, Delhi, and Bengaluru
Pricing: INR 500 for a Day Pass, INR 3150 for Weekly Pass, varied location pricing for rental 
From a single modest space in Delhi, 91Springboard has now grown to 24 hubs in 9 cities, catering to as much as 18,000 members. Professionals and technocrats created this people-focused ecosystem to be the pioneer of coworking spaces in India.
Whether you're a freelancer, startup, or a large established organization, its transformational workspaces promise to make you prosper. It offers private and open spaces depending on its clients' needs and working styles.
A unique perk of membership of 91Springboard is that workers can avail of INR 20,000,000 worth of boosters as soon as they join. These include as many as 67 exclusive deals and free offers from the top service providers in the country, from cloud services to accommodation to food.     
Locations: Delhi, Mumbai, Hyderabad, Bangalore, Noida, Gurgaon, Chennai, Pune, Ahmedabad, and Indore
Pricing: Flexipass starts at INR 3999/mo, varied location pricing for rental
Innov8 is here to reinvent the Indian working space. Backed by Y Combinator, a startup accelerator company, Innov8 aspires to be the world's number 1 coworking workspaces provider.  
Its ergonomically designed workspaces are perfect to help you create and innovate. The company offers custom-made multifunctional services and solutions designed to help you scale up your business. 
There are added perks for members. Innov8 can provide professional services like health insurance, financial/ legal advisory, and business office registrations. Take advantage of lifestyle services like laundry and car care in the workspace. 
Locations: Bangalore, Hyderabad, Pune, Delhi, and Mumbai
Pricing: Day passes start at INR 450/day, varied location pricing for rental 
WeWork's inspiring workspaces help you to do your best work, whether you're setting up your business or growing your team. Even Fortune 500 companies utilize their services in a reimagined workplace to foster creativity and boost productivity. 
WeWork, based in New York, brings its global standard to all of its coworking spaces around the world. For more than a decade, it has been one of the largest providers of flexible workplace solutions, setting up over 800 branches globally with 40+ locations in India. 
Locations: Delhi, Bangalore, and Gurgaon
Pricing: INR 500/day for the Daily plan; INR 4000/12 days for the Commuter plan; INR 6000/month for the Flexible plan; INR 8000/month for the Dedicated plan
Investopad is a venture capital company that sources, filters, and identifies future startup leaders for its partners. Among their major programs is the field of coworking spaces to provide their members with access to resources and a like-minded community. 
The offices provided by Cowork by Investopad boast bright, spacious, and comfortable designs. They are based in three major corporate locations in India and are equipped with everything to build and grow a dynamic team.  
Being hosted by its parent company Investopad means that the latter's resources are also available. In particular is access to Crosstalk, a curated network of thought leaders, domain experts, and investors. 
Locations: Delhi, Gurgaon, Noida, Mumbai, Bengaluru, Hyderabad, Kolkata, Chennai, Pune, Chandigarh, Ahmedabad, Indore, and Bhubaneswar
Pricing: Virtual office starts at INR 1499/month, product plans start at INR 5500/6 months 
Founded in 2015, Awfis has grown from simply being a coworking network to a full tech-enabled workspace solutions platform. As India's largest office network, it provides products for work requirements that cater to large portions of the workforce, from freelancers to large corporations.  
Its focus on customer-centricity has made it a top workspace of choice for corporate India. Awfis creates an atmosphere where one can thrive everyday, alongside organizing hundreds of events, workshops, and experiences yearly for its members.   
Locations: Bangalore, Chennai, Delhi, Hyderabad, Indore, Jaipur, Kolkata, Mumbai, and Pune
Pricing: Pricing plans available upon request
Primarily a real estate company, Smartworks is India's leading Workspace as a service (WaaS) provider. It provides configured and tech-enabled workspaces that will boost productivity and push your business to its potential. 
Smartworks recognizes that today's workforce demands an office experience that fits alongside the latest technologies that cater to their requirements. All its coworking spaces are strategically located and even equipped with gaming zones and gym facilities.
Its state-of-the-art infrastructure includes quite a complete facility. Dedicated employee workstations, fully-equipped conference rooms, and efficient virtual offices are all part of the package. 
And for those who have moved beyond coworking spaces, Smartworks also provides workspace and office design and construction. 
Locations: Mumbai
Pricing: Pricing available upon request
Mumbai Coworking makes sure that its members sit back and relax while it provides office space for them. Nestled in one of the busiest cities in India, it has now become quite the hub for renting office space. 
Among its amenities are quirky and colorful offices, lightning-fast internet, a gaming room to relieve stress, and well-equipped conference rooms for everyone. Its space also allows networking and socializing with like-minded people. 
Unique to it is what they call their Moroccan Lounge. This special space serves as an experience and taste of Morocco within India and can even be booked for events.  
Locations: Gurgaon, Delhi, and Noida
Pricing: INR 26000 for virtual offices, INR 1500/hr for event space, INR 500 for meeting rooms, INR 350 for day access, INR 4500 for open seats, INR 6000/seat for private cabins, custom pricing for Enterprise plan
Spring House believes that the future of economics lies in collaborative and cooperative social spaces. As a social enterprise, it creates an environment that enables productivity, innovation, and networking. 
It is dedicated to providing a seamless workspace to enable business growth. With its coworking spaces, it seeks to celebrate the shared economy concept and rewrite traditional rules of entrepreneurship, creativity, and commerce. 
Locations: Bangalore, Hyderabad, Mumbai, Chennai, Pune, Noida, Gurgaon, Coimbatore, Jaipur, Madurai, and Kochi
Pricing: Pricing available upon request
IndiQube is known as India's preferred workspace partner. It offers a space for your office needs whether your organization is an enterprise, startup, offshore center, or even solopreneur. 
It is practically a universe of coworking spaces, services, and amenities, all designed to catapult your ideas into actions. Its rooms and virtual offices serve all your coworking requirements. 
IndiQube keeps employees' delight at its heart. Providing a unique "office in a box" experience, it leverages workspace design, interior build-out, and a host of B2B and B2C service technology. 
Locations: Bangalore
Pricing: Pricing available upon request
GoodWorks has the run of the place in Bangalore, with coworking spaces located at various key locations. Operating since 2017 and currently, with over 8000 seats, it has become a de-facto standard for Fortune 500, SMEs, and startups to avail excellent workspace. 
Its amenities include an event business lounge, a cafeteria staffed by excellent cooks, and ample parking space. Members can also access the GoodWorks HQ App, which allows them to manage bookings, food orders, and IT services. 
True to its name, GoodWorks has consistently received awards for its prestige in the coworking industry. Most recently, it was named the Coworking Brand of the Year at the Realty+ Co-Working Summit & Awards 2021.    
Locations: Bengaluru, Mumbai, Delhi, Chennai, Hyderabad, and Pune
Pricing: Day pass starts at INR 599, varied location pricing for rental
CoWrks is a workspace solutions provider with a combination of an offering of local depth and global expertise. All sizes of businesses are served to reimagine the unique potential of real estate for working. 
Its sites are vibrant workspaces that use natural light, ergonomic fittings, cutting-edge technology, and five-star hospitality. Despite being in major cities, they're designed with greenery in mind and an ambiance perfect for focus. 
Locations: Chennai, Hyderabad, Bangalore, and Mumbai
Pricing: Pricing available upon request
Workafella is described in multiple ways. An office workspace, a playground for minds, and a brand greenhouse are among them. All capture its mission to provide workspaces for fresh thinking, collaboration, and rising business. 
Members have access to furnished suites, professional reception services, training and meeting facilities, advanced IT systems, and recreational breakout areas.
Locations: Bangalore, Chennai, Hyderabad, and Pune
Pricing: Pricing available upon request
The Hive offers customized and flexible workspaces to its members, all in a Pan-Indian setting. It caters to bespoke needs, always updating to meet customer demands. 
It is strategically located amidst lifestyle hubs, premier hotels, restaurants, bars, and retail outlets. The Hive is true to its name as it ensures its members are at the center of the buzz. This ecosystem is excellent for a work-life balance. 
The Hive also values the community it creates, setting designated breakout places where members can collaborate and network. The entire workspace brims with new ideas.  
Locations: Gurgaon, Bangalore, Delhi, Noida, Hyderabad
Pricing: Pricing available upon request
InstaOffice is proclaimed as India's fastest-growing network of serviced offices and coworking spaces. While it customizes its different locations, it offers the same brand of excellence every time. 
Offering what it calls "happy officing," InstaOffice encourages people coming together as a community to open up new opportunities. It also regularly hosts community events to foster this network. 
Locations: Ahmedabad, Gurgaon, Delhi, Indore, Kochi, Lucknow, Mumbai, Noida, Trivandrum, and Vadodara
Pricing: Pricing available upon request 
Incuspaze has more than 30 locations across 10 major cities. It is one of India's leading office space providers. It caters to startups, SMEs, and large enterprises. 
An ambiance fitting for daily work and top-of-the-line infrastructure are characteristic of Incuspaze's workspaces. The result is maximum comfort and flexibility. 
Whether you choose to work in the open coworking space or in a private cabin, its amenities will ensure you have all you need. Each headquarter is fully managed and gives fine support. 
Locations: Mumbai
Pricing: INR 2750/mo for Flexi Desks, INR 7150/mo for Dedicated Desks, INR 6050/mo for Team Desks, INR 20,000/ mo for Private Cabins, INR 275/hr for Meeting Rooms, INR 600/hr for Event Spaces, INR 2000/mo for Virtual Offices
The Playce is a campus for startups, entrepreneurs, coders, designers, and freelancers to operate. Members can work, study, learn, teach, and meet interesting people. It also serves as an events place, with a calendar on its website for upcoming events. 
It is one of the most popular coworking spaces in Mumbai. The Playce has a unique community that is a blend of artists and thinkers. Hangout, workshop, and be inspired with the culture everyone brings. 
Locations: 160+ locations in 20 cities 
Pricing: Flexi Pass starts at INR 200/day
With more than 160 locations across 20 cities, myHQ offers the widest range of coworking spaces on this list. Find that a particular place isn't quite suited for you? Hop on over with your Flexi Pass to another branch. 
All its workspaces come equipped with the usual coworking amenities like high-speed Wi-Fi, office stationery, and printer usage. myHQ has got you covered. 
Alongside the more office setting working spaces, myHQ also hosts many work cafes, so you can slow down when you need to and recharge for another productive boost.   
Locations: Mumbai
Pricing: Individual and Team membership plans available on their website 
Ministry of New is a coworking space in Mumbai with the express purpose of being design-led. It is an ideal spot for creative independents and teams looking for an area to work in. 
The design-led philosophy shows clearly in its workspace architecture, displaying almost boutique like decor yet still offering essential office needs. And in line with the artistic lifestyle, it also curates culturally-relevant and immersive events.  
Location: Delhi
Pricing: INR 5500/mo
Empowerers was birthed by its founder seeking to create a networking space for many to participate in. He succeeded, and the community today propels its members to achieve personal success. 
Tailoring the right environment for your workspace, the strength of Empowerers really is in its network. Naming themselves a "real-time LinkedIn", the company even hosts radio podcasts to augment marketing and branding for its entrepreneurs. 
Locations: Bangalore
Pricing: INR 500/day for Day Pass, INR 5750/mo for Open Access, INR 7500/mo for Dedicated Desks, INR 10,000/seat for Private Offices, INR 7500/mo for Virtual Offices
The Hub is a community living and workspace nestled in Bangalore. In addition to the actual coworking space area, there are also community kitchens, game rooms, study rooms, and a beautiful rooftop terrace garden. 
It is also big on the community, regularly featuring its members in campaigns like "Creator Spotlight" and "Brand Spotlight." Through these, members can reach a much wider audience across the country.