Top 20 coworking spaces in East Asia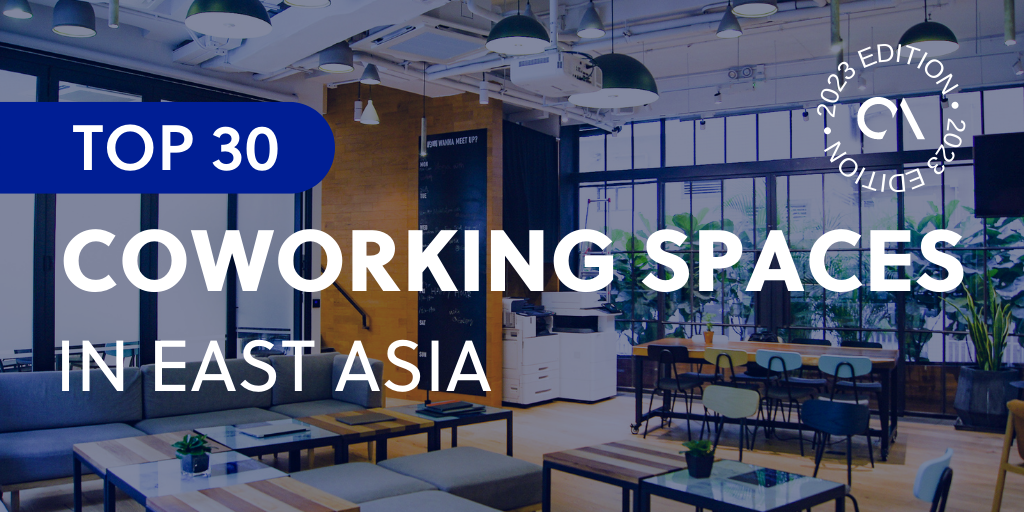 Remote work is indeed here to stay. Though, with the whole world opening up again, you won't expect them to work exclusively in their homes. This is where coworking spaces will once again pick up their pace.
Coworking spaces provide a great way to work remotely and interact with fellow entrepreneurs and remote workers to form a better community. 
East Asia, meanwhile, is in the hot seat for those looking to establish their startups since 2018. What better way to check your travel list and become a digital nomad than to check out this region! 
Here are some of the top coworking spaces in East Asia you should check out for your next trip.
Who uses coworking spaces?
Despite slowing down in 2020, a few coworking spaces remained open for corporate employees looking for an alternative way to work outside their homes. Provided by large enterprises, this move helped the coworking market get through the pandemic.
Though, corporate employees are not the only ones using coworking spaces. Some of its target demographics include the following.
Freelancers
Research from Deskmag indicated that freelancers account for around 41% of the workforce in a coworking space. Freelancers make use of hot-desking in these spaces to free them from distractions and interruptions they usually encounter when working from home.
Remote workers
Remote workers and hybrid workers even take advantage of working in these spaces, especially those near their homes. 
A study published in Harvard Business Review shows that remote workers thrive in coworking spaces. Some of the reasons for this include the chance to avoid office politics and prevent isolation on a work-from-home setup.
Startups and SMEs
Large companies started to create their own coworking spaces as a way to practice remote working within teams. Startups and small businesses, meanwhile, usually build their first teams in a rented coworking space to save on office expenses while they're starting.
Indeed, some of these spaces offer optimal connection, the use of equipment such as desktops and printers, and the use of a common pantry as a package included in their daily or monthly rentals.
BPOs
Lastly, small-scale outsourcing companies usually start operations in coworking space. They rent private offices complete with tools, equipment, and utilities that their small teams use to start working with their clients.
Some BPOs even offer seat leasing services through their coworking spaces worldwide.
List of top coworking spaces in East Asia
Top global outsourcing lists
Outsource Accelerator is the world's leading outsourcing marketplace and advisory. We list over 3,000 BPO firms located across the globe in our global directory, and we provide detailed information, price guides, and reviews.
Whether you're a solopreneur, SME owner, or corporate executive, we can help you find the most suitable outsourcing provider for your business.
Explore our outsourcing directory now. You may also check out our top coworking spaces lists here:
Top 20 coworking spaces in East Asia
For a decade now, Asia has been a hot seat for coworking hubs for freelancers, entrepreneurs, and corporate offices in the region. 
Most of these spaces sit in large cities and regions such as Seoul, Tokyo, Taipei, and Shanghai so you can experience working in the bustling districts in East Asia.
Whether you're a local employee tired of working from home or a traveler looking to render your work remotely, there's a coworking space fit for you. For starters, here are some of the top coworking spaces in the region.
Locations: China, Taiwan, Japan, South Korea
Pricing: Not available on the website
One of the leading coworking hubs in the world, WeWork provides flexible shared workspaces for startups, freelancers, and large enterprises. 
They design private offices and event venues that are fit for remote and blended work for teams around the world. Currently, they have offices in different regions in China, Taiwan, Japan, and South Korea.
Locations: China, Japan, South Korea, Taiwan
Pricing: Varies depending on the location
Regus is a world-renowned coworking hub with spaces in over 3,000 locations worldwide. They champion helping businesses "find the right way to work" by providing flexible offices, coworking areas, and virtual offices.
Regus can be found in hundreds of locations in China, Japan, South Korea, and Taiwan.
Locations: Japan, Taiwan, Hong Kong
Pricing: Varies depending on the location
Compared to the first two spaces in the list, the Hive is more concentrated in the Asian and Australian markets. It is boasted as the "widest and most recognized flexible workspace network" with over 20 spaces in Asia and Australia.
What's more, they even cater to remote workers, entrepreneurs, and even creatives looking for studios and private offices where they can work freely.
Locations: 
Impact HUB Tokyo – 2 Chome-11-3 Meguro, Meguro City, Tokyo 153-0063, Japan

Impact HUB Kyoto – 97 Kainokamicho, Kamigyo Ward, Kyoto, 602-8061, Japan

Impact HUB Taipei – No. 3號, Lane 265, Section 2, Heping E Rd, Da'an District, Taipei City, Taiwan 10667
Pricing: Not available
Impact HUB turns to a more purposeful, sustainable way of running flexible spaces. They aim to connect entrepreneurs, organizations, and individuals to work on a more "just and sustainable future."
Impact HUB runs on more than hundreds of locations in 50+ countries across the world. This includes offices in Tokyo and Kyoto in Japan and Taipei in Taiwan.
Locations: Taiwan, Japan, China, South Korea
Pricing: Not available on the website
The Executive Centre aims to "go beyond the traditional" way of work with their tailor-made solutions for their clients. They provide custom solutions to remote workers and businesses that are fit to help them boost their productivity and achieve success.
The Executive Centre's network expands through Asia and Australia with almost 100 offices in Hong Kong, China, Taiwan, Japan, and South Korea.
Locations: China, Hong Kong, Japan
Pricing: Varies depending on the location
Tagged as the "world's finest workplace solutions," SERVCORP provides flexible office solutions to traditional companies and startups alike. Amid the pandemic, they even managed to expand their network up to more than 150 locations in 22 countries worldwide.
SERVCORP offers coworking spaces, virtual offices, and private offices for small teams in different locations in Hong Kong, Taiwan, and China. 
7.
Agora
Space
Location: Panyu Road 1199, Building No. 8, Bunker, Xuhui District, Shanghai
Pricing: Starts at CNY 80 per person per day
Agora Space boasts of encouraging collaboration and boosting productivity for everyone looking for a flexible way to work. 
They provide coworking and coliving spaces for individuals. Private offices and event spaces, meanwhile, are available for startups and organizations looking to hold small teams and events in the area.
Not only that, Agora Space is known for holding vibrant community events and having the fastest connection in Shanghai.
Location: 18, Yeouidaebang-ro 51-gil, Yeongdeungpo-gu, Seoul, Republic of Korea
Pricing: Day pass costs ₩ 10,000 per day
Started as a small coworking space in 2014, Hive Arena is a coworking and coliving hub in Seoul known for its flexibility and welcoming ambiance to foreigners. 
They provide coworking spaces for individuals and small teams where they can connect with the locals in the nearby areas. Their notoriety helped them get noticed on Forbes and FastCompany as one of the best coworking spaces in Seoul.
Location: 16/F, Tower 5, The Gateway, Harbour City, Tsim Sha Tsui, Kowloon, Hong Kong
Pricing: Hotdesk starts at HK$ 32,000 per month
ATLASPACE takes pride in providing coworking and flexible office solutions "for all budgets." They offer a wide range of solutions from coworking spaces, private offices, and virtual offices at affordable rates per month.
Also, ATLASPACE has event spaces in China for everyone looking to hold conferences and meetings in the country.
Location: 20 Wangsimniro 2(i)-gil, Seongsu 1(il)-ga 1(il)-dong, Seongdong-gu, Seoul, South Korea
Pricing: Hot desk starts at ₩ 59,400 per month
As simple as it looks and sounds, Cafe Cow & Dog is neither a simple coffee shop nor a literal cow and dog. Its name means "co-work and do good." 
True to its name, Cow & Dog offers a relaxing and vibrant environment for coworking and connecting with individuals and entrepreneurs. Their main market includes organizations aiming to create social impact in their communities, such as non-profit organizations and social enterprises.
Location: B1F., No. 343, Changchun Rd., Songshan Dist., Taipei City 105, Taiwan
Pricing: Hot desk starts at NT$ 500 per day
Futureward is deemed as one of the largest coworking spaces in Taipei. Aside from hot desks and dedicated desks, they offer dedicated pods for individuals in need of private space while working.
Futureward is more than just a space. They also open their community to travelers and give them the chance to network and communicate with others.
Location: 28 Yuyuan E Rd, Jing'an District, Shanghai, China
Pricing: Not available on the website
Established in 2010, People Squared is the first and largest coworking space in China. They have more than 30 locations in six cities and serve thousands of startups in the country. 
Mainly, they effectively run tech hubs in Beijing and Shanghai. A proof of this is their partnership with Google for Entrepreneurs (now Google for Startups) which started in 2016.
Along with flexible spaces, People Squared also offers "an open platform with integral resources" for tech startups.
Locations: China, Japan
〒150-0041 Tokyo, Shibuya City, Jinnan, 1 Chome−20−13

〒604-8032 Kyoto, Nakagyo Ward, Yamazakicho, 235

5-2-18 The Lively博多福岡内, Fukuoka 810-0801

The Livelyホテル内, 1 Chome-5-11 Minamihonmachi, Chuo Ward, Osaka, 541-0054

〒106-0045 Tokyo, Minato City, Azabujuban, 1 Chome−5−23

川崎市川崎区砂子2-9-7 Slash Kawasaki 1皆, Kanagawa 210-0006

〒900-0032 Okinawa, Naha, Matsuyama, 2 Chome−3−11 Estinate
Pricing: Drop-in daily rates start at ¥2,000 per day; varies depending on the location
Unlike any other coworking space, .andwork lets its clients work in hotel lounges. Their spaces are found inside affiliated hotels such as The Millennials (Shibuya, Kyoto), The Lively (Fukuoka, Osaka, Tokyo), Slash (Kawasaki), and Estinate (Okinawa).
.andwork boasts in providing "a new working environment" competing with work from home, work-cafe, and usual coworking space setups. 
Location: 16th Floor-2, No. 2, Section 2, Taiwan Avenue, West District, Taichung City
Pricing: Not available on the website
Located in the heart of Taichung City, Monospace mostly caters to digital nomads and small teams. More than remote working, they believe in the "people-to-people communication" aspect of coworking.
Monospace ensures their clients that they can learn and communicate in a relaxed atmosphere while expanding their network further.
Location: 〒104-0061 Tokyo, Chuo City, Ginza, 3 Chome−7−6 Circles銀座 2F
Pricing: Price starts at ¥ 330 for 15 minutes
Think Lab can be a digital nomad's amazing finds in Japan. In collaboration with Starbucks, this coworking space is inside a Starbucks shop in Ginza and is designed to either solo-working through its pods or co-working through its open space setup.
Clients can rent a seat for a minimum of 15 minutes. However, they still have to order and pay for their favorite drink since it's not included in their package.
Location: 7th Fl, Taejung Bld, 578, Seolleung-ro, Gangnam-gu, Seoul, Korea, Seoul, South Korea
Pricing: Dedicated desk starts at ₩300,000 per month
GARAGE is located near Seonjeongneung station, making it accessible to freelancers and remote workers looking to work in the area. It boasts its skyscraper view, fast connection, and flexible contract terms for changing needs of a business.
Locations: China – Beijing, Shanghai, Guangzhou, Hangzhou, Nanjing, Suzhou, Wuhan, Chengdu, Tianjin, Hefei, Yancheng, Foshan, Chongqing, Guomao, yizhuang, Ciyun Temple, Chaoyangmen, Financial Street, Zhongguancun, Sanyuanqiao
Pricing: Dedicated desk starts at CNY 1500 per month; varies depending on the location
KR Space focuses more on the Chinese market. However, they continue to expand in the Asia-Pacific region with their aim to become one of the largest coworking spaces in Asia.
They run around 40 coworking centers in 12 cities. They cater to freelancers, remote workers, and startups aiming to build and scale their companies more flexibly.
Locations: Seoul – Gyodae, Seocho, Nonhyeon, Sinnonhyeon, Yeoksam Midtown, Teheran, Gangnam I, Gangnam II, Samseong I, Seolleung, Samseong II, Hongdae
Pricing: Not available on the website
FASTFIVE is one of the coworking spaces on the list that offers reasonable prices without deposit. 
This is also one of the spaces that offer 24/7 service and networking opportunities for companies and individuals to build a community within their spaces. They operate in 12 locations in Seoul.
Locations: 
Garage Central – 23/F, On Building, 162 Queen's Road Central, Central

Garage Sai Ying Pun – Shop 4-7, No. 158A Connaught Road West, Sai Ying Pun

Garage Sheung Wan – 25F & 26F, 2-12 Queen's Road West

Garage Wan Chai Lockheart – 2F Beverly House, 93-107 Lockheart Road

Garage Wan Chai Jaffe – 10/F – 15/F, Konnect, 303 Jaffe Road, Wan Chai
Pricing: Flexible seats start at HK$2,500 per pax per month
Operating in five countries in the Asia Pacific, Garage Society started and held five of its spaces in Hong Kong. They boast of having a community-centric approach focusing on "place, programs, and people" to create their unique culture.
One of their locations in Sai Ying Pun even provides pet-friendly spaces for workers with furry friends!
Location: No.1, Ln. 147, Sec. 4, Zhongxiao E. Rd., Taipei
Pricing: Hot desk starts at NT$ 400 per day
Lastly, Connect Lounge, also known as Connect, offers "a new way of working" by connecting workers in Taiwan regardless of ethnicity and industries.
Regular members can enjoy 24/7 service with free meeting rooms aside from their usual amenities. They also provide additional services such as business registration and bookkeeping services for enterprise clients.
Qualities of a good coworking space
Aside from the top coworking spaces listed above, you have a wide range of choices for spaces and establishments to consider if you want to have a change of environment. This includes coffee shops, a few restaurants, and other coworking spaces in your location. 
You might have different standards in choosing a good coworking space — whether it should be well-ventilated, affordable, or conducive for interactions. Usually, clients like you look for the following qualities in a coworking space.
Internet connection

. East Asia usually has good internet speed, making it conducive for remote work. If using international data is not an option for you, you can always go to coworking spaces to continue your work.

Ventilation

. Some people can't always function in a poorly-lit hotel room or bedroom. Coworking spaces offer well-ventilated, well-lit areas that help you boost your productivity better.

A welcoming environment

. Unless they exclusively cater to locals, coworking spaces also provide a welcoming environment for digital nomads and foreigners staying in a country. You won't have to feel isolated in your hotel with this!

Health guidelines

. Lastly, you won't want to catch COVID or any sickness in a coworking space in a foreign country. A good coworking space usually implements health guidelines you and your fellow workers should follow to ensure your health and safety.