Definition
What is seat leasing?
Seat leasing is an outsourcing business model where clients prefer to handle the recruitment, training, and management of their employees, without wanting to concern themselves about physical assets such as desks, computers, internet connections, and maintenance of facilities.
It is also the practice of leasing desk and office space from any outsourcing company who have already invested in the essential aspects of sourcing, implementing, and maintaining the physical infrastructure necessary for an online business.
This allows companies to quickly get offshore operations up and running while keeping a cost-efficient investment. In addition, most companies can also enjoy the security and other services — including maintenance — that come as part of their lease deals.
Seat leasing services
There are various methods of seat leasing in different countries. However, it usually involves offering customers two options: warm seat leasing or cold seat leasing.
For warm seat leasing, clients are given access to the more essential aspects of the service. This includes office seats, supplies, and work equipment, as well as additional staff to help keep the company's operation going.
Staff included in warm seat leasing usually do back-office management services. This includes virtual assistance and administration, human resources, accounting, marketing, or basic IT services.
Cold seat leasing, meanwhile, only includes office seats, tools, and equipment needed for a client's day-to-day operations. Companies that invest in this option usually have their staff or a small team of employees who are ready to occupy the office space.
Seat leasing in the Philippines
Seat leasing is arguably the most basic form of business process outsourcing, where only the IT and office infrastructure is delegated to a third-party service provider while the recruitment and management of the employees are done by the client directly.
The next level of outsourcing is staff leasing, where the BPO company is contracted to provide the staff needed by the business.
Outsource Accelerator's directory lists over 700+ outsourcing companies in the Philippines. All of these are carefully selected for innovation, expertise, and technology that will benefit our clients. We also provide you with guidance on the best seat leasing options you can get in the Philippines for your business.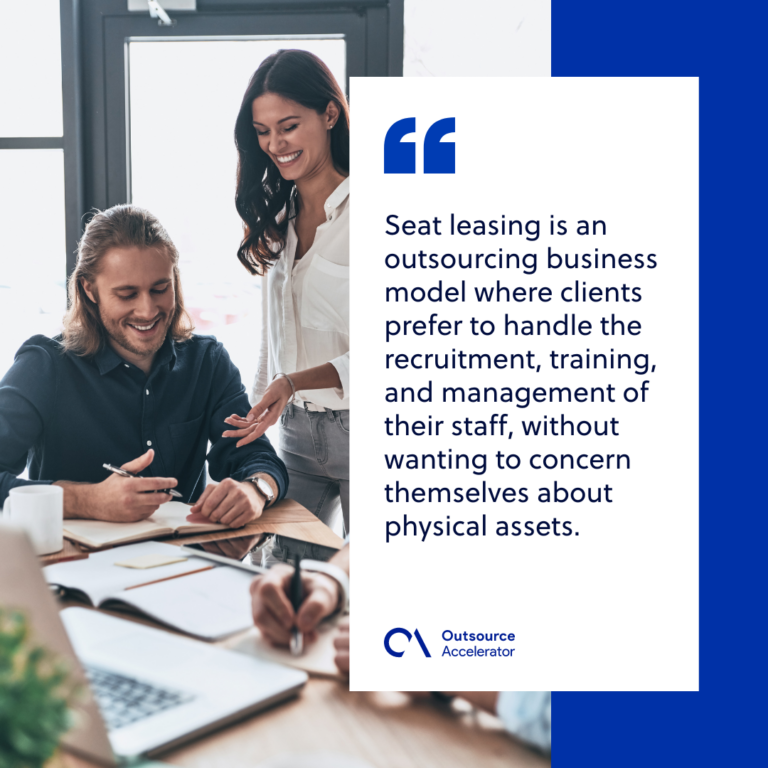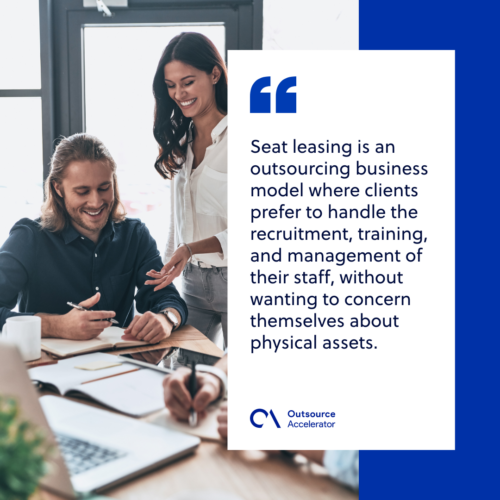 What are the benefits of BPO seat leasing?
There are several reasons why leasing a BPO seat is not only advantageous but also the best investment that a company can make. Here are several examples of them:
For startups and SMEs
Small businesses frequently have a difficult time getting a location for themselves due to landlords taking advantage of the scarcity of available spaces to rent thus, offering higher rental costs.
Seat leasing is beneficial for this type of business operation due to the following reasons:
Cost efficiency
The cost-efficiency of BPO seat leasing is beneficial to small and medium enterprises. A company's location is a valuable resource, especially in urban areas. With established companies willing to occupy any spaces for the continuation of their business operations, rental costs are continuously rising.
Seat leasing solves this dilemma for SMEs and start-ups. The monthly payment for seat leasing services is cheaper than renting traditional office space — one that is seen as a luxury for start-ups and small businesses.
Fully-furnished spaces
In addition to providing ready space for companies to make use of, seat leasing services come already fully furnished, sparing you the burden of having to finance your equipment.
Additionally, seat leasing services are easily customizable to perfectly suit the needs of a company and the industry that they belong to. You can also manage your seat leasing deals to reflect the overall brand of any organization.
Up-to-date equipment
Outsourcing providers have specialized office desks and workstations that are equipped with modern hardware and software to meet the customers' needs. Their computer networks also operate with advanced software that ensures the safety of your company's confidential data.
Moreover, any dedicated office space, hardware, or seat leasing equipment is designed to promote productivity and ease in doing business operations within a seat leasing facility.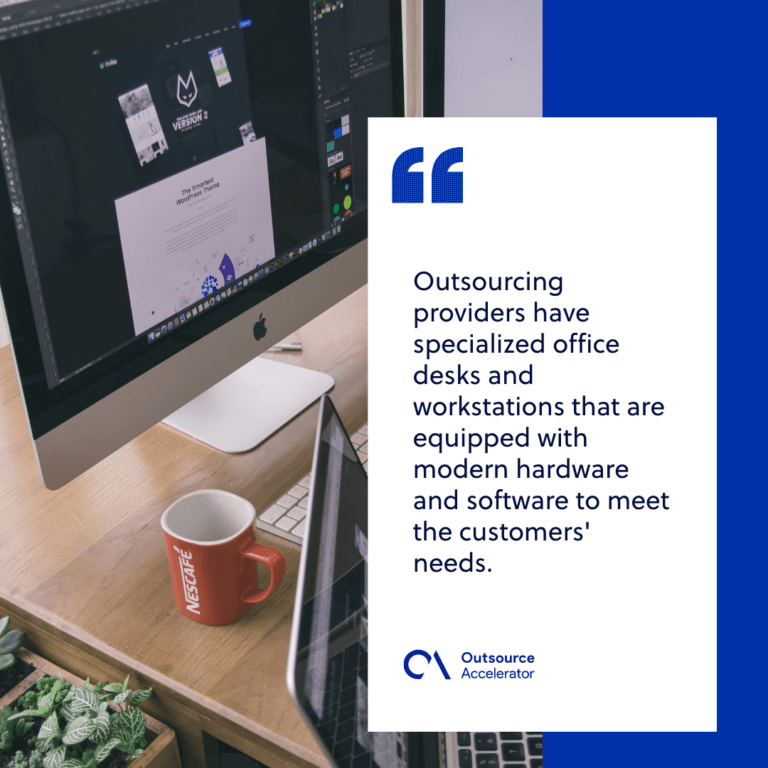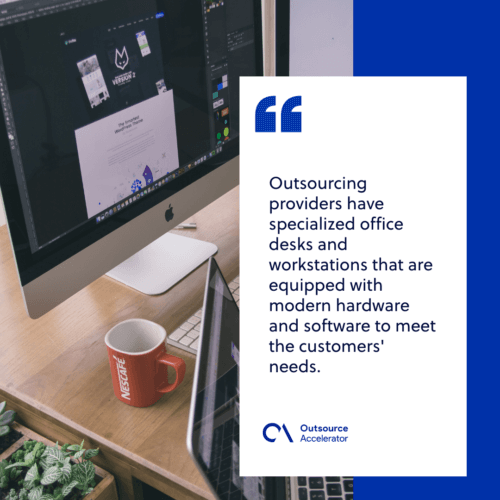 For established organizations
It may seem unlikely that established call center companies would need to seat lease office space outside of their own, but several BPO companies do.
Additional capacity
Even the largest BPO companies with entire buildings can find themselves in need of additional capacity to run their business. Several companies rotate their workspaces in shifts to give all employees their own desk space.
Through seat leasing, call centers can rent out a coworking space for their employees to bring their own devices and use the rental desk and internet connection.
High-ranking employees who have their company-issued laptops and might have to work longer hours will benefit from this arrangement.
Additional services
Another attractive feature of seat leasing is that it lets property owners and employers add additional services for the workers. Features like game rooms, vibrant meeting rooms, quality furniture, and the availability of pantries all cater to an employee's satisfaction in the workplace.
This helps promote the comfort, and therefore productivity and satisfaction of employees within a company.
Easily expand operations
Through seat leasing, big companies can scale their operations up or down, depending on the market demand. This means that they do not need to go through the hassle of finding another office space, renting it, and fitting it with the equipment needed for the job.
With seat leasing, companies only need to hire a seat leasing partner and immediately move the rest of their operations into the leased spaces.