Definition
What is seat leasing?
Seat leasing is an outsourcing business model where clients prefer to handle the recruitment, training, and management of their staff, without wanting to concern themselves about physical assets such as desks, computers, internet connections, and facilities.
It is also the practice of leasing desk space from BPO companies who have already invested in the sourcing, implementing, and maintaining the physical infrastructure necessary for online work. 
This allows companies to quickly get offshore operations up and running while reducing the initial cost of investment. In addition, companies can also enjoy the security and janitorial services that come as part of the seat lease package.
Seat leasing offers
Usually, a client is offered two options in availing of seat leasing services: warm seat leasing and cold seat leasing.
For warm seat leasing, clients can avail of office seats, supplies and equipment for work, and an additional staff to help keep their operation going. Staff included in seat leasing usually do back-office services such as virtual assistance and administration, human resources, accounting, or basic IT services.
Cold seat leasing, meanwhile, only includes office seats, tools, and equipment needed for their operation. Companies who avail this option usually have a staff or a small team already to occupy the office space.
Seat leasing in the Philippines
Seat leasing is arguably the most basic form of business process outsourcing, where only the IT and office infrastructure is outsourced and the staff is hired and managed by the client directly. 
The next level of outsourcing is staff leasing, where the BPO company is contracted to provide the staff needed by the business.
Outsource Accelerator's directory lists over 700+ outsourcing companies in the Philippines. All of these are carefully selected for innovation, expertise, and technology that will benefit our clients. We also provide you with guidance on the best seat leasing options you can get in the Philippines for your business.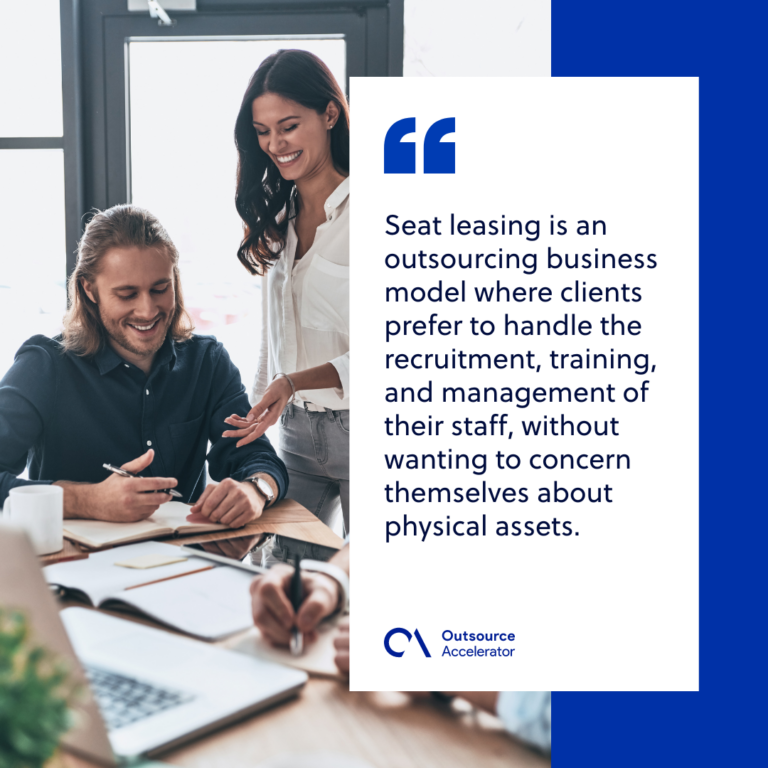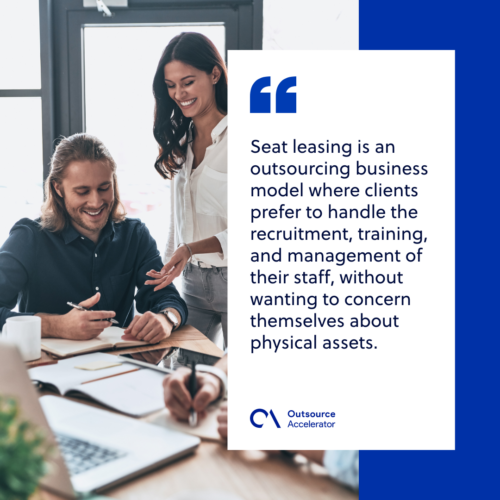 What are the benefits of BPO Seat Leasing?
There are several reasons why leasing a BPO seat is not only advantageous but also the best choice you can make for your organization.
For startups and SMEs
The cost-effectiveness of BPO seat leasing is beneficial to small and medium enterprises. Space is a valuable resource, especially in urban areas. Small businesses frequently have a difficult time getting one for themselves, not only because of the expensive rental costs but also because there may not be one available to rent in the first place.
In both cases, seat leasing is the best alternative for these instances. In addition to providing ready-to-use space for businesses, these often come completely furnished, saving you the cost of purchasing your own equipment.
Further, a seat lease agreement is usually less expensive than renting out a standard office space on a monthly basis. They're also adaptable to any organization's particular requirements.
For established organizations
It may seem unlikely that established call center companies would need to seat lease office space outside of their own, but several BPO companies do.
Like small and medium enterprises, space is always in high demand in the call center industry, and even the largest BPO companies with entire buildings can find themselves in need of additional capacity to run their business.
Further, call centers can rent out in a coworking space for their employees to bring their own devices and use the rental desk and internet connection.
High-ranking employees who have their own company-issued laptops and might have to work longer hours will benefit from this arrangement. Training can also be outsourced to other facilities, which will provide attendees with a controlled environment away from the stresses of the main workplace.