Top 12 coworking spaces in LA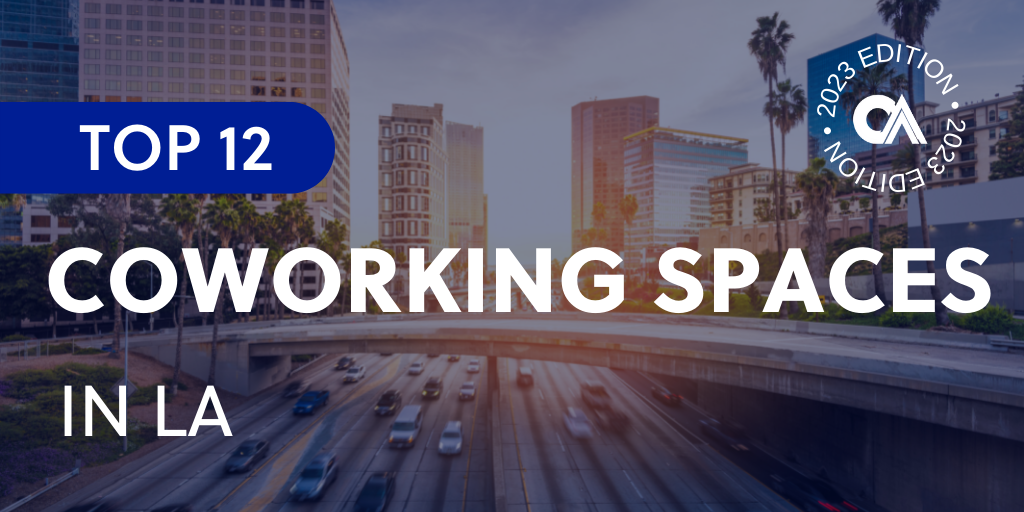 Coworking spaces have been increasingly popular as organizations fully adapt to more flexible work models. While there are still companies that prefer the traditional office setup, more and more are embracing either a hybrid or remote work arrangement. 
As per research by Gallup, in 2021 alone, 45% of the working population in the US are working remotely either part-time or full-time. 
Remote work means having the liberty to fulfill daily job functions anywhere. Hence, many professionals today prefer to complete their daily job tasks in coworking spaces. Indeed, coworking has vastly become a common practice for professionals, especially in larger cities like Los Angeles. 
It can be overwhelming to choose which coworking space in LA is best suited for your needs. Aside from being dubbed "the city of angels," Los Angeles boasts a plethora of coworking hubs to choose from. 
To help with your search, in this article, we have listed 12 of our top coworking spaces in LA.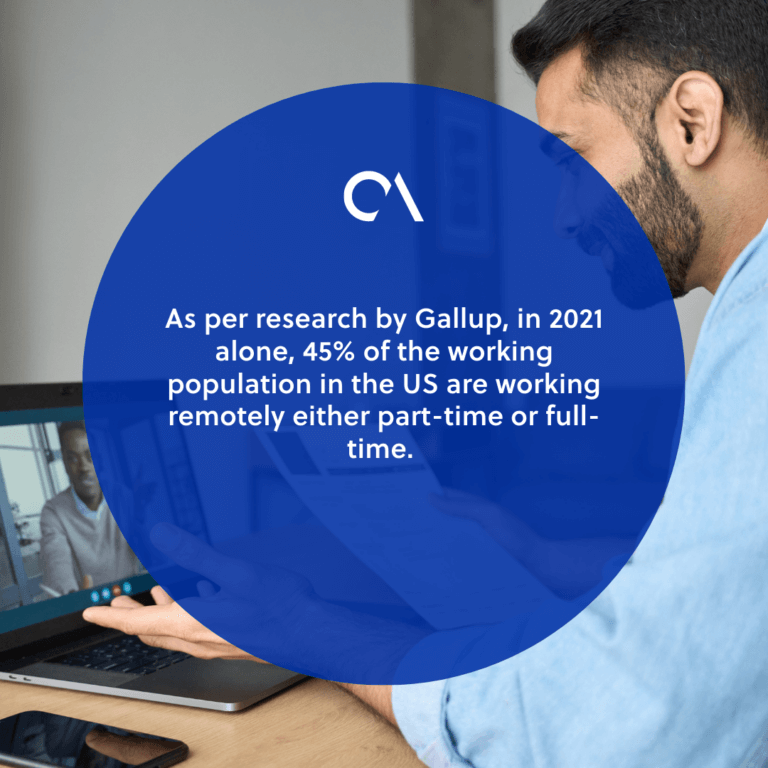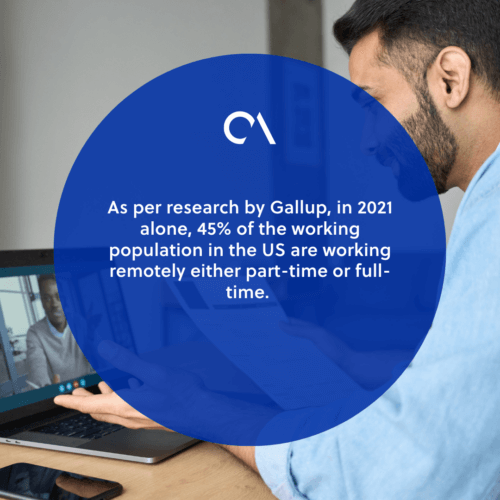 The state of employment in Los Angeles 
Besides having gorgeous beaches, fancy estates, and Hollywood, LA is also known for having a fast-paced and cutthroat job market. 
Los Angeles is loaded with the working class that is not in your typical 9-5 office work. Further, the city is also packed with freelancers and entrepreneurs dedicating all hours of their day to working. You may see them in either coffee shops or the top coworking spaces in LA.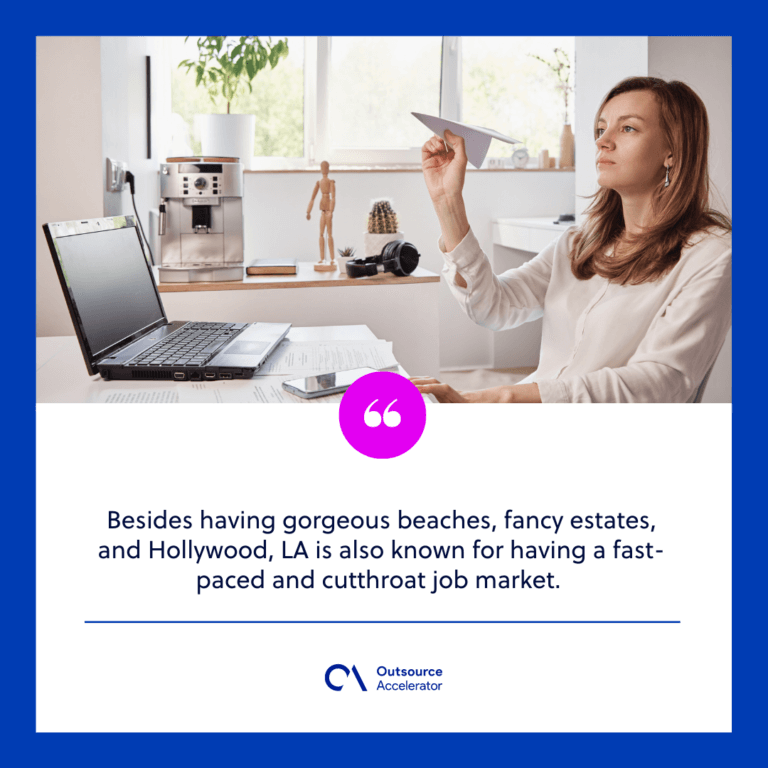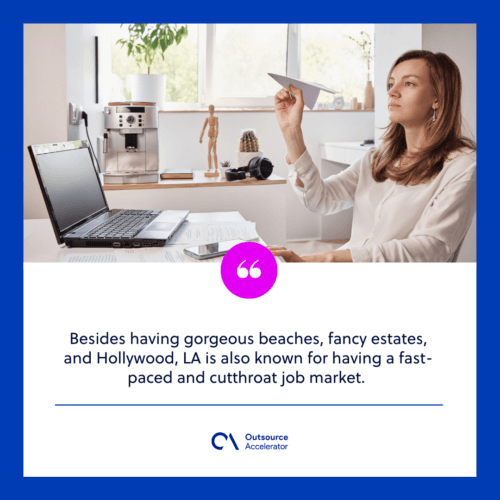 In-demand jobs in LA 
The entertainment industry has driven the growth of the media and technology sectors in LA. Included in ZIPPIA's list of the most common jobs in LA are 
Administrative assistant

Customer service representative 

Office assistant 

Sales associate 

Executive assistant 

Sales representative 

Graphic designer 

Operations manager 

Marketing manager 

Account manager 
A big part of today's entertainment industry is technology, from animations to other types of special effects you see in movies. The merging of the entertainment and tech industries led to LA as one of the vastly growing contenders for globally renowned tech hubs. 
Among the major technology corporations present in LA are Google, YouTube, Hulu, and Snap Inc. 
This explains why in 2018, LA was estimated to have over 140,000 tech employees, as per BootcampRankings. It was believed to have the third-largest pool of professionals in the tech industry out of the entire US.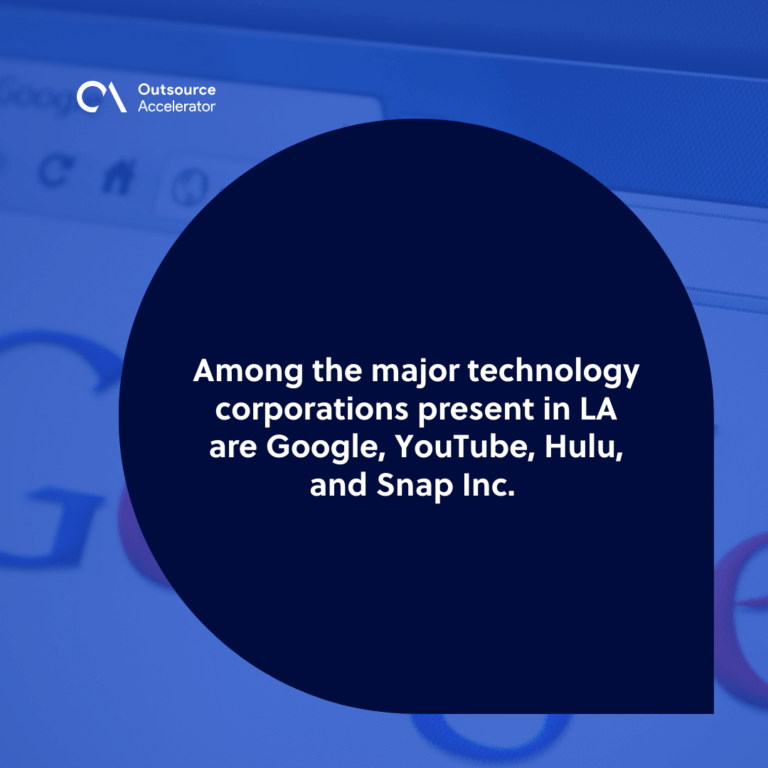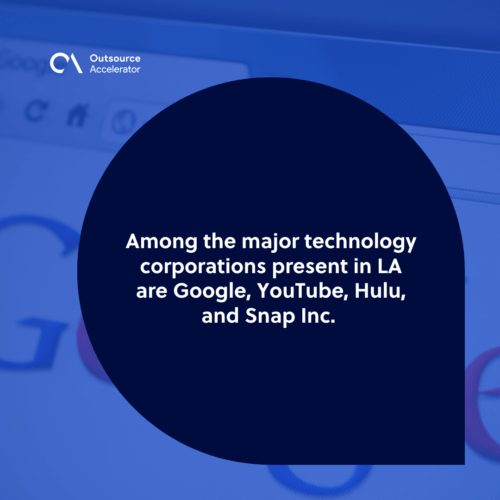 Average salaries in LA
Before you start looking for the top coworking spaces in LA, it is also important to have an idea of the top average salaries in the city. After all, you will need a job with a decent salary to be able to live comfortably in this expensive city: 
| | |
| --- | --- |
| Job title  | Average salary |
| Software engineer | $90,215 |
| Project manager  | $79,371 |
| Marketing manager | $66,940 |
| Operations manager | $66,240 |
| Executive assistant | $55,569 |
List of top coworking spaces in LA
Top global outsourcing lists
Outsource Accelerator is the world's leading outsourcing marketplace and advisory. We list over 3,000 BPO firms located across the globe in our global directory, and we provide detailed information, price guides, and reviews.
Whether you're a solopreneur, SME owner, or corporate executive, we can help you find the most suitable outsourcing provider for your business.
Explore our outsourcing directory now. You may also check out our top coworking spaces lists here:
Top 12 coworking spaces in LA 
Here we have outlined 12 of the top coworking spaces in LA: 
Location: Neuehouse Hollywood, 6121 Sunset Blvd, Los Angeles, CA 90028, United States
Rate: Starts at $650 monthly 
Key features: Free WiFi, noise-canceling headphones, cultural programs, reception services, screening rooms, meeting rooms, Linus bikes, happy hour services 
Aside from cozy workspaces with high ceilings and comfortable seats, Neuehouse Hollywood also has a bar, restaurant, and a rooftop cinema. It also hosts various events that are typically attended by famous personalities in the music, fashion, and technology industries. 
Location: 3800 Barham Blvd #105, Los Angeles, CA 90068, United States
Rate: Starts at $95/hour (non-members); $35/hour (members)
Key features: Free WiFi, printing, snacks, tea, coffee, parking, lockers, and 24/7 access for members
The Muse Rooms Coworking Space a boutique coworking space designed for productions, writers, entrepreneurs, or coders. 
For work teams, you have the option to rent out their unfurnished or fully furnished office spaces that can fit up to 12 people. You are allowed to design your own workroom when you opt for their unfurnished office space. 
Location: 1601 Vine St, Los Angeles, CA 90028, United States
Rate: Starts at $29 per day
Key features: High-speed WiFi, hands-free dispensers, phone booths, unique common areas, business-class printers, professional and social events
WeWork is a renowned coworking space with physical locations all over the globe. In LA, it has over 29 coworking spaces around Century City, Westside, Hollywood, Santa Monica, and Culver City. 
Aside from having your own dedicated workstation, WeWork also offers a flexible workspace solution for teams, such as a standard private office (up to 20 people), office suite (20-100 people), and full-floor offices (100+ people).
Location: 113 N San Vincente Blvd, Beverly Hills, Los Angeles, CA 90211, United States
Rate: Starts at $25 per day
Key features: Organic kitchen, massage services, yoga class, a podcast room, free coffee and tea, valet parking, meditation room, ping-pong, and football tables. 
Dots Space offers one-of-a-kind amenities that aim to continuously satisfy its members. It is among the top coworking spaces in LA perfect for innovators, entrepreneurs, and busy professionals. 
It also provides executive assistants, phone answering services, and virtual mailbox services, including advanced phone and SMS automation for CRM management.  
Locations: 1925 Century Park East, Los Angeles, CA 90067, United States
Rate: $851 monthly
Key features: Wellness room, concierge services, dining options, free coffee and breakfast, community events, unlimited color printing, mail, and packaging. 
Industrious has nine locations around LA – Century City, Hollywood, South Flour St, Pasadena, Downtown Glendale, Playa District, Westwood, Old Pasadena, and West Hollywood. This is one of the top coworking spaces in LA that can accommodate businesses from startups and SMEs to Fortune 500s. 
Location: 5877 Obama Blvd, Los Angeles, CA 90016, United States
Rate: Starts at $325 monthly 
Key features: Free coffee and kombucha, high-speed internet, dog-friendly, fully stocked kitchen, shower and lockers, lounge areas, and bike racks
Phase Two is an excellent location for remote workers who are looking for fresh ideas and expanding their network. It also offers top-of-the-line tech equipment like a high-end digital projector and a green screen studio for people in the creative field. 
Location: 9100 S. Sepulveda Blvd, Ste. 210, Los Angeles, CA 90045, United States
Rate: $20 for a day pass
Key features: Free coffee and energy drinks, happy hours, speedy wifi, kitchen, free printing, mentorship programs, membership discounts, easy parking, and referral networks
Since it is situated in LA International Airport, remote workers are able to entertain clients or do a bit of work before hopping on their flight destinations. LAX Coworking provides private workspaces, meeting rooms, and collaborative workstations. It also holds community events where people can mingle and grow their network. 
Location: 7080 Hollywood Blvd, PH, Los Angeles, CA 90028, United States
Rate: $35 for a day pass
Key features: High-speed WiFi, video game coves, massage rooms, free kombucha, high-end projector
Ignited Spaces has also made it to our top coworking spaces in LA as it is specially curated for working professionally in the creative media industry. 
It also provides spaces and equipment like a DI screening room, mixing stage, and Avid Bay. Ignited Spaces is just a few walks away from prestigious restaurants and bars around Hollywood Blvd. 
Location: 1763 N Gower St, Los Angeles, CA 90028, United States
Rate: $20 for a day pass
Key features: Free coffee, tea, and parking, high-speed internet, prayer rooms, meditation rooms, gallery space, private meeting space, conference room, kitchen
Ephiphany is another coworking space in LA intended for creatives, freelancers, artists, and entrepreneurs. What's more is that it is also open to students. 
It also has its own artist community wherein they regularly host events around the country. Some of its recent events include art exhibitions, book launches, writing groups, and retreats. 
Location: 8611 Washington Blvd, Culver City, Los Angeles, CA 90232, United States
Rate: Contact Procolo for prices
Key features: Free coffee and snacks, free trial day, private rooms, outdoor spaces, gourmet kitchen, and creative space 
Procolo is considered a coworking haven for freelance professionals, professionals, and working teams. Aside from its communal space, it also offers six unique suites for the working population, startups, and enterprises. 
Location: 845 S. Los Angeles St., Los Angeles, CA 90014, United States
Rate: $20 for a day pass
Key features: Free WiFi, beverages, printing services, kitchen facility, concierge, phone service, and security
The park is among the top coworking spaces in LA that is perfectly designed for experts in the fashion industry. It provides tools, equipment, and spaces that these professionals need. The park is also open to workers in the entertainment and tech sectors. 
Location: 8200 Wilshire Blvd Beverly Hills, Los Angeles, CA 90211, United States
Rate: Starts at $325 monthly
Key Features: Free premium beverages, fast WiFi, meditation room, free parking, ergonomic chairs, outdoor workspace, meeting rooms
Cross Campus is another boutique coworking space with two more locations in Old Pasadena and South Bay, LA. It also offers mentorships and events for workers who are aiming to expand their horizons and meet other professionals in various fields.