15 coworking spaces in Metro Manila if you're bored of working from home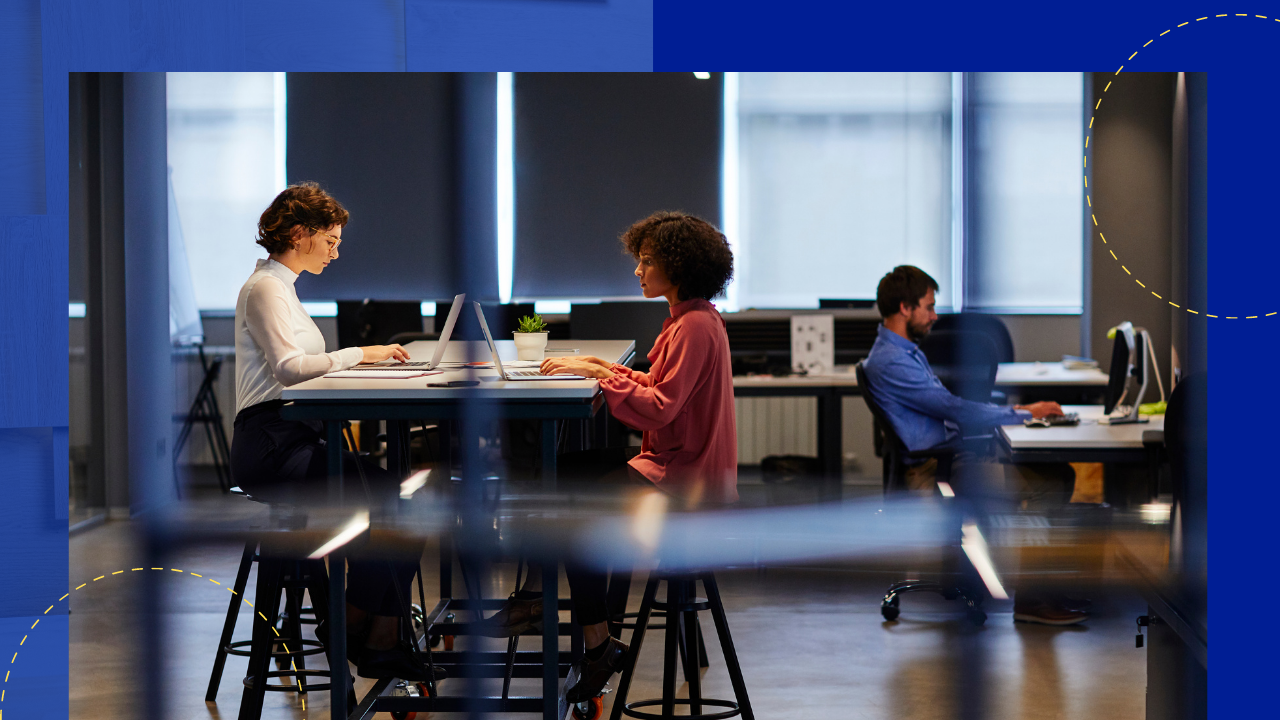 The working environment has a significant effect on your employees' wellness. A positive workspace can help them perform better, be more efficient, and contribute to the company's overall success.
Those who have gotten bored of working from home for years since the pandemic have turned to coworking spaces for a change of view.
After all, working in a shared office space is like chasing a unique opportunity and becoming a part of a diverse professional business community.
List of 15 coworking spaces in Metro Manila
If you're looking to work at a coworking space in the Philippines, here are your top 15 options:
What are coworking spaces?
Coworking spaces are places where employees from different firms share workspaces with each other. It is a working station for rent with complete amenities. Most of them provide remote workers with low-cost office space, tables, chairs, and high-speed internet access.
Coworking spaces fill the need of remote workers by providing comfortable workstations outside the comforts of their own homes. 
Coworking spaces are a perfect productive workspace for a diverse set of people who want to finish their jobs quietly at their dedicated desks. Every piece of equipment you'll need in your day-to-day job should be available in coworking spaces.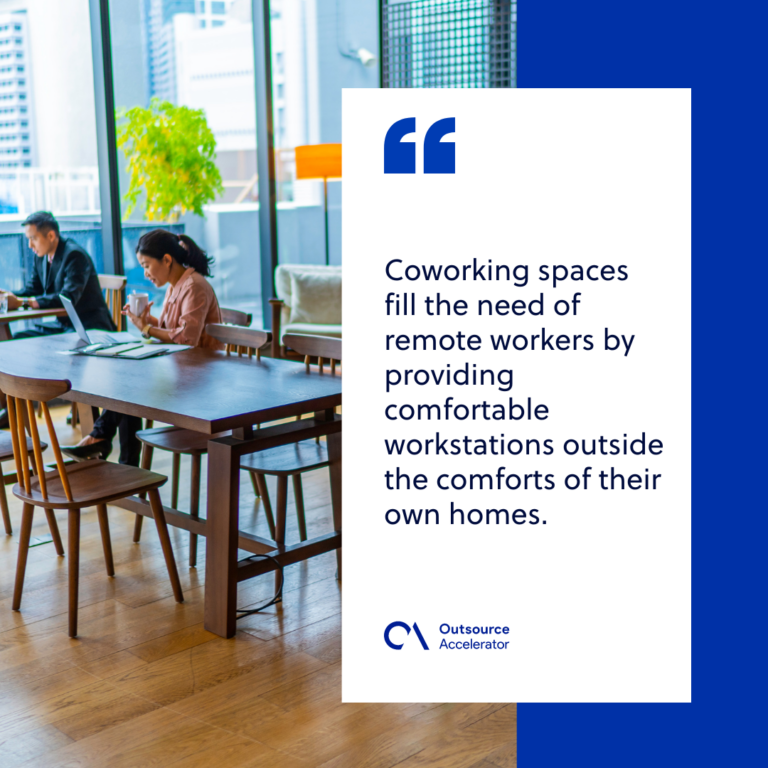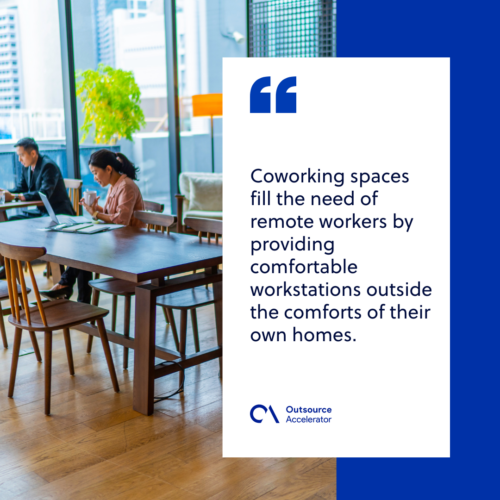 Why do employees thrive in coworking spaces?
Unlike the traditional office setup, coworking spaces attract employees because they encourage companionship, creativity, productivity, innovation, and even collaborative working. 
Employees in coworking spaces are more motivated, creative, satisfied, and enthusiastic about their jobs than those who have their own private office space.
Coworking spaces offer professionals an opportunity to encounter different people with various skill sets that can contribute to other community members.  Working in a coworking environment where helping each other is the norm may also provide a sense of purpose.
In addition, you won't need to worry about getting access to basic necessities that help workers thrive. Most coworking spaces that are found in Metro Manila offer the following amenities:
A desk space that you can avail daily, weekly, or monthly
Top-notch internet connectivity
Plugs and sockets for your laptops and other electronic devices
A quiet space where you can focus on your daily tasks
Unlimited supply of free coffee
Air Conditioned spaces
Storage/locker units for long-term renters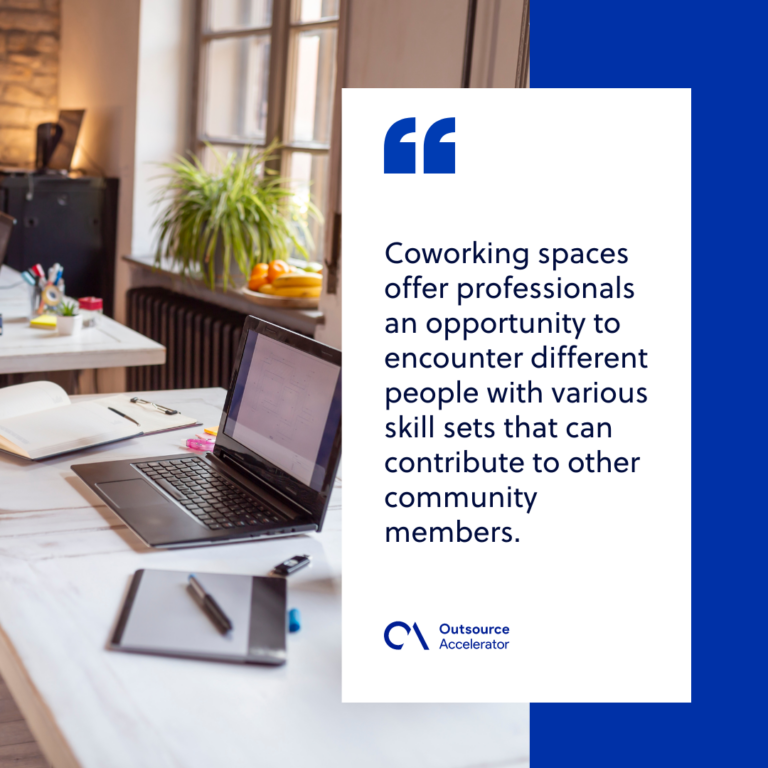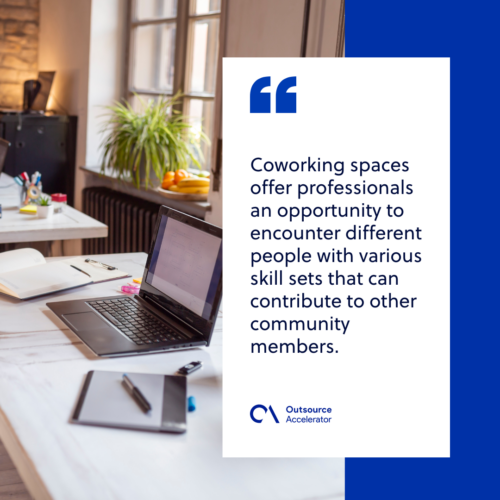 Top global outsourcing lists
Outsource Accelerator is the world's leading outsourcing marketplace and advisory. We list over 3,000 BPO firms located across the globe in our global directory, and we provide detailed information, price guides, and reviews.
Whether you're a solopreneur, SME owner, or corporate executive, we can help you find the most suitable outsourcing provider for your business.
Explore our outsourcing directory now. You may also check out our top coworking spaces lists here:
List of the best coworking spaces in Metro Manila, Philippines
Here are the top 15 coworking spaces available in the Philippines:
Location: UB 111 Paseo de Roxas, Legaspi Village, Makati City, Metro Manila
Pricing: As low as P300 daily
Acceler8 offers a strategic location and coworking space. Their workstations are friendly for startups, entrepreneurs, and freelancers.
The company's coworking space can be found in Legaspi Village, Makati City, which can accommodate 40 people and has a lively ambiance with inspirational phrases to motivate their customers.
Locations: Makati, Bonifacio Global City
Pricing: Not available
WeWork coworking space lounges are filled with different arts. They also provide sleek private offices and stylish collaborative rooms. Their branch in BGC takes up two full floors. They also offer memberships depending on the preference of their customers.
Locations: Makati, Mandaluyong
Pricing: Not available
Penbrothers has three sites in Manila and offers a variety of membership and space options. The goal of Penbrothers is to create high-quality workspaces for both guests and regular clients.
High-speed internet, unlimited coffee, a stocked pantry, conference rooms, printers, a receptionist, and membership privileges at local establishments are all available to members.
Locations: Makati, Bonifacio Global City, Pasig, Quezon City, El Nido, Alabang
Pricing: Rates for individual chairs start at P550 per day
Clock In has a welcoming environment meant for freelancers, professionals, and even startups. Clock In, located in BGC, provides hotdesks, meeting rooms, private offices, and more to individuals in need of a work environment.
Location: 3rd Floor Universal Re Building 106 Paseo de Roxas Street Legaspi VIllage 1229 Makati
Pricing: Starts at P550 per day
Cerebro Labs welcomes anyone who is looking for a place to study or work. The coworking space is also excellent for team collaborations. They offer comfortable and fully-equipped workstations.
Cerebro Labs is staffed by a full-time, multi-industry team of Silicon Valley-trained mentors. Members have perks and receive training and coaching from them. And the best thing about this coworking space is it provides free coffee, tea, and water.
Location: Warehouse 8-A, La Fuerza Plaza, 2241 Chino Roces Avenue, Makati City
Pricing: Starts at P350 per 8 hours
Warehouse Eight gives minimalistic plain interiors which is designed to help people think of fresh ideas. They have huge open spaces perfect for large workshops and even art shows.
Warehouse Eight also offers large spaces for private events. The coworking space is complete with a pantry for meetings over coffee or lunch.
Location: Sgt. Esguerra, Quezon City
Pricing: Rate per person is P300 daily
Racket Room Collective allows entrepreneurs to maximize their efforts, move on with their plans, and surround themselves with like-minded individuals. People can drive or take public transportation to get to the location from the main roads.
Racket Room Collective has 200 Mbps internet connections with a backup of 30 Mbps. In addition, pantry amenities including free coffee and water are available, and lockers for its members.
Location: North Penthouse, Marajo Tower 312 26th St. cor. Bonifacio Global City, 1634,
Price: Not available
Ignition venture studio is another drop-in anytime coworking space. You can rent a desk for the day or week, depending on your demand. Their coworking space has available seats from the modular tables, booths, or main living space, which is ideal for freelancers and telecommuters.
Ignition Venture Studio also provides office space, regulatory compliance, and bookkeeping. The company is led and supported by specialists in fields of law, digital marketing, real estate, finance, entrepreneurship, and the arts.
Location: 2/F F7 Building, 49 Scout Rallos Street, Quezon City
Price: Not available
Bull•ish created a workspace that encourages their visitors to be productive in whatever they are doing. This coworking space offers meeting rooms and private event rooms. They also have certain work plans depending on the needs of their customers.
They also have special services that other co-working spaces do not offer. For example, guests have access to a scanner and printer. Free-flowing brewed coffee is also available in workstations.
Guests who sign up for monthly work plans have locker access and can utilize Bull•ish's office address for professional communication. 
Location: Penthouse 1, One Corporate Center, Meralco Ave. corner Julia Vargas Ave., Ortigas Center, Pasig 1605
Price: Not available
Loft Coworking Space Manila has the look of a standard corporate environment mixed with unique wall patterns and trendy furniture that will make you feel relaxed. The metropolitan skyline may be seen from their conference rooms. 
Location: Unit 214-215, 2/f Commercenter Alabang Filinvest Corporate City, Muntinlupa Metro Manila
Price: Starting at P250 for 3 hours 
Launchpad Coworking features a welcoming environment and reliable internet for freelancers and students. The coworking space also welcomes community activities and seminars. 
Launchpad offers Launchpad Coworking Plus, which provides entrepreneurs with dependable business services and a virtual office address. Some of their features include a reception area, five private office spaces, one conference room, a kitchen pantry, and an outdoor area.
Location: 27 and 28 Floor, Tower 2, The Enterprise Centre, Makati 
Price: Not available
Regus's facilities include everything from day offices to meeting rooms to corporate lounges. These packages are designed with the purpose of helping entrepreneurs become more globally competitive and allowing them to focus on their core businesses. 
Location: 71 Scout Tobias Brgy South Triangle 1103 Quezon City
Price: As low as P350 daily
One of the goals of ZenPod Coworking Hub is to provide comfortable spaces to their exclusive members.  In addition to coworking spaces, they feature air-conditioned meeting rooms that can hold seven to 15 individuals.
Location: 9F M1 Tower, 141 H.V. Dela Costa, Salcedo Village, Makati
Price: Virtual office space starts at P1,200 good for 4 persons
Work Folk provides a coworking space ideal for freelancers, telecommuters, and students searching for a convenient open desk. They also offer memberships with perks like high-speed internet, business-grade printing, meeting room rentals, locker rentals, and unlimited water, coffee, and tea. 
The coworking space is also applicable to be an event venue for social and educational activities. Work Folk event space can accommodate about 50 persons and is available for rent every Saturday and Sunday. 
Location: 2/F Metrowalk Commercial Complex, Meralco Ave., Ugong, Pasig
Price: Rate starts at P103 per hour
Weremote aims to revolutionize how digital nomads and freelancers work by becoming a part of the coworking revolution. Some of their best amenities are free parking, a game area, and sleep rooms. They also offer open offices, co-working, and events venues. 
How much do coworking spaces typically cost?
Coworking spaces will always vary in cost. In the Philippines, there are coworking spaces that cost as low as P200 for 3 hours. The cost usually depends on the type of working station you choose and how long you will use it. 
Most coworking spaces also provide meeting rooms and event rooms which may cost a little higher than the typical space. If you're interested in a coworking space, make sure to book an ocular visit first so you can manage your expectations.