20 coworking spaces outside Metro Manila to help keep your creative juices flowing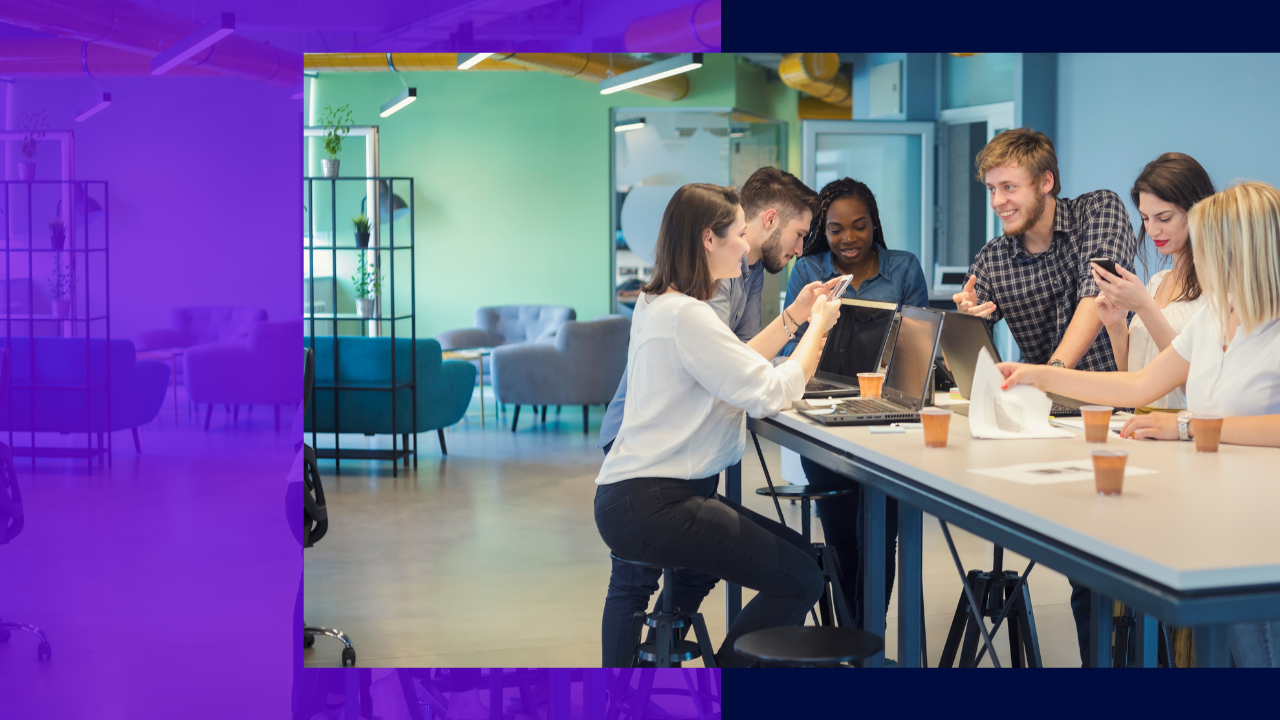 Coworking spaces are not your conventional office environment. Although it allows workers to focus on whatever tasks they have to accomplish on a given day, it is far more different from a regular office setup. 
For one, coworking spaces, also known as shared offices, offers flexibility. You also have the option to work from one coworking space to another. 
Coworking spaces typically operate as membership-based working spaces. It is where workers from various industries and expertise perform day-to-day work together in a communal and shared setup. 
Coworking spaces aren't exclusive only in the Metro. Even if you are a working professional based in the province, you may also break out of your comfort zone and enjoy the perks of doing your job in a coworking space. 
It's nice to get out of your usual work environment once in a while, meet new people, replenish your mind, and network with other professionals.
If you're looking for available coworking spaces in various provinces, you have come to the right place! Here we have compiled 20 coworking spaces outside Metro Manila to help you with your search. 
Which professionals use coworking spaces?
More and more professionals have been embracing working in shared spaces as it drives changes in the typical work culture. Even coworking spaces outside Metro Manila aren't only limited to digital nomads or gig economy workers.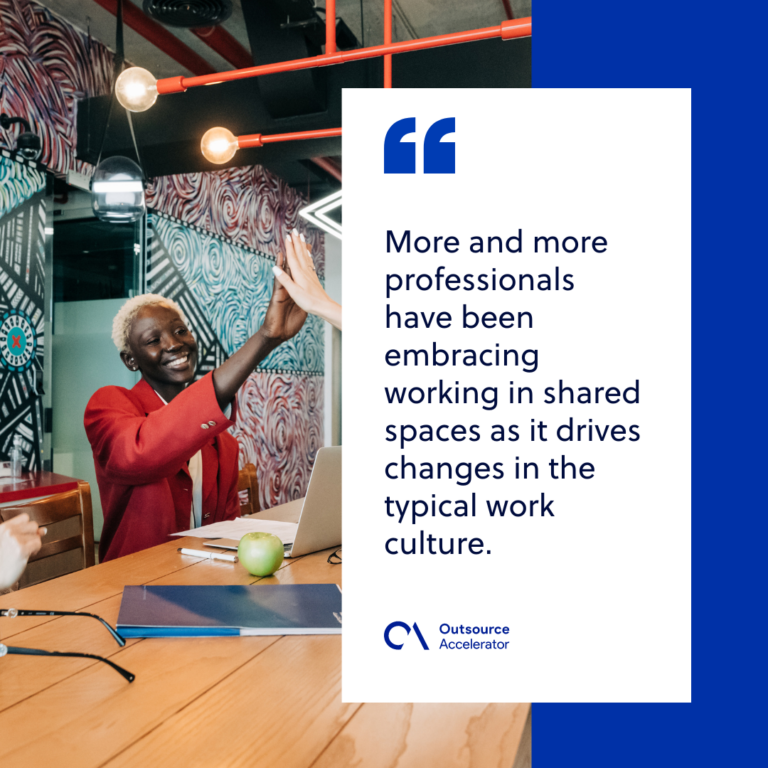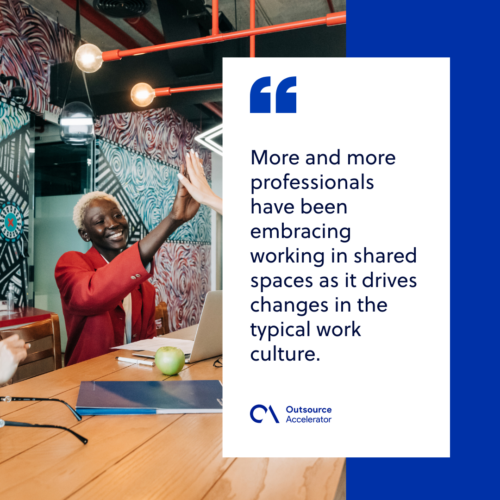 Coworking spaces has a very diverse realm that is also open to the following: 
Freelancers 
Freelancers usually lose some structure into their day-to-day lives as they work for different clients and companies. Sometimes they even work on tasks or projects from several clients all at once.  
Coworking spaces give freelancers a sense of stability, especially given the amount of work freedom they have. Further, it also gives them access to other technologies, a professional address, and also meeting rooms. 
Start-up teams 
Startups commonly have few team members. In most cases, they may not have the capacity to rent out an entire office space yet. 
Startups can leverage the use and flexibility of coworking spaces. On top of that, these shared offices, especially coworking spaces outside Metro Manila, are cheaper compared to traditional office leases. 
Large organizations
Large organizations have also been adapting the use of coworking spaces. In a 2016 article published in Bloomberg, it was stated that shared office spaces like WeWork are looking to attract more big corporations. 
According to the report, large organizations like Merck, General Electric, and KPMG have been utilizing WeWork's shared office spaces. KPMG, in fact, has rented out 75 desks and claims it gives them a strategic advantage.  
WFH professionals 
Most of the working population have been pretty much stuck working from home for almost two years now. COVID-19 has indeed altered businesses' working arrangements. 
Remote workers tend to do their daily jobs in longer hours compared to their office counterparts, which then leads to WFH burnout. On top of that, working in isolation may also result in depression, and can affect work performance. 
A change of scenery can uplift one's creativity. Working alongside like minds and well-driven professionals in shared office spaces can alleviate one's lonesome. 
How does hopping in coworking spaces benefit your daily work?
Whichever you fit in the above categories, know that working in coworking spaces outside Metro Manila can give you the following advantages: 
Network with other professionals
Among the greatest benefits of coworking spaces is, it gives you the opportunity to connect with other professionals. It allows you to widen your network in the business industry.
It also gives you the chance to cultivate relationships that may possibly turn into a new client, business, or a collaboration. 
Reduce isolation and loneliness
Working from home has been the entire business industry's response to cope with the global pandemic. Although everything is slowly coming back to normal, a lot of companies are looking to fully apply hybrid or remote work.
Working in the comforts of your room without any other human interaction can be grueling. Coworking spaces still give you that office feel. It allows you to have human interactions, letting you feel a sense of belonging.   
Greater productivity
Even coworking spaces outside Metro Manila are designed to enhance one's productivity. These are typically built to have natural lighting with moderate air temperature, relaxing music, to keep you energized and inspired. 
Bring structure to daily life 
Coworking spaces help you have a work-life balance. It gives structure to your daily grind. It provides you a place to go to every working day, and leave once you are finished for the day.  
Access to both private and shared spaces 
Coworking spaces also have bookable meeting rooms and private offices. It is a viable option for either individual professionals, remote teams, startups, and even big corporations.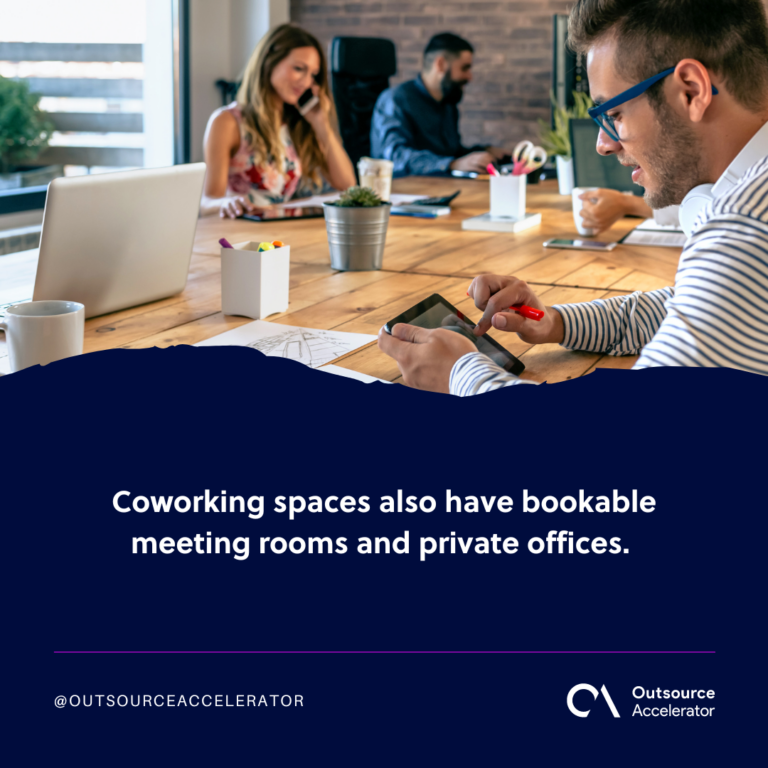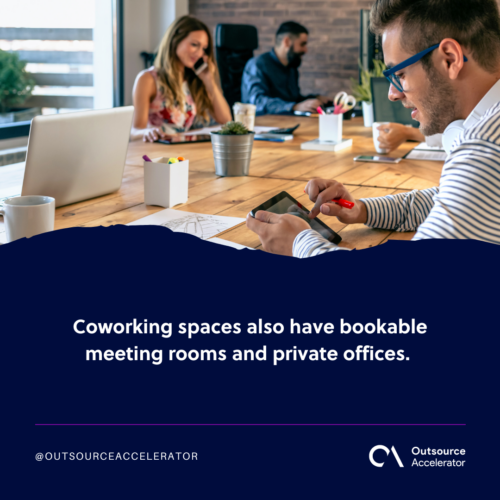 List of 20 coworking spaces outside Metro Manila 
Top global outsourcing lists
Outsource Accelerator is the world's leading outsourcing marketplace and advisory. We list over 3,000 BPO firms located across the globe in our global directory, and we provide detailed information, price guides, and reviews.
Whether you're a solopreneur, SME owner, or corporate executive, we can help you find the most suitable outsourcing provider for your business.
Explore our outsourcing directory now. You may also check out our top coworking spaces lists here:
20 outstanding coworking spaces outside Metro Manila 
Here we have the 20 coworking spaces outside Metro Manila for your to checkout: 
1. WeThrive Coworking Space (Cavite)
Location: 2/F Carolina Mall, Santa Rosa-Tagaytay Road, Silang, Cavite
Pricing: Starts at 200 php (3 hours)
Website: http://www.wethriveco.work/
WeThrive has very stylish, relaxed and laid back shared spaces that are perfect for creative minded professionals. It offers fast wifi, free parking, and other business services like printing and scanning.
It is also equipped with meeting and training rooms that are good for working teams and startups. 
2. Incub8 Space (Cavite)
Location: #9059 Centennial Road, Kawit, 4107 Cavite; Fynn Building Bacoor, Cavite
Pricing: Starts at 300 php/daily (open plan seating)
Website: https://www.incub8space.com/
Incub8 Space is perfect for freelancers and WFH employees with clients or employers from different time-zones.
This coworking space operates for 24 hours with great amenities like free coffee, parking space, scanner, printer, and other office equipment. 
Incub8 also has a conference room that can accommodate up to 12 people. It also provides workshops, mentorship programs, and several community events to help the working class expand their network. 
3. Nascent coworking and co-learning (Laguna)
Location: Bldg 6., Solenad 1, Lakeside Evozone, Nuvali, City of Santa Rosa, Laguna 4026
Pricing: Starts at 180 php/hourly
Website: https://nascentcoworking.wixsite.com/nascent
Nascent is situated in a very attractive location where cafes, restaurants and a shopping mall are just a few walks away. Besides students and the working class, it is also a go-to place for streamers and podcasters.
Nascent has dedicated studios with green screens, cameras, and other equipment needed for streaming and podcast recordings. 
4. Daily Grind Coffee Shop and Coworking Space (Laguna)
Location: G/F FilWeb Asia Bldg., Maharlika Dr., USPS, San Pedro City, Laguna
Pricing: Starts at 250 php (3 hours) 
Website: https://dailygrind.ph/coworking-space/
Besides a coworking space with free coffee, Daily Grind also has its full-fledged cafe! Workers have a wide option of drink selections and food just in one place. 
Daily grind offers flexible and affordable packages from flexible desk, dedicated desk, private office, and virtual office. They also have 2 conference rooms that can fit 10-20 persons. 
5. Cube Coworking Space (Laguna)
Location: 14 Pacita II Ave, San Pedro, Laguna
Pricing: Starts at 200 php (4 hours)
Website: https://www.facebook.com/cubecoworkingph
Cube Coworking Space offers a 10% discount for full-vaccinated professionals and students. It is open seven days a week from 8 am to 9 pm. 
Cube Coworking Space  provides amazing amenities like fast wifi (up to 200mbps), free parking, unlimited coffee, and unlimited snacks. It also has plug and play desks for both individuals and groups, including office-like backgrounds for virtual meetings. 
6. Calle Uno (Baguio)
Location:
3 Escoda Street, Corner Naguilian Road, Quezon Hill, Baguio, 2600 Benguet

Pricing:
Starts at 400 php/daily
Website: https://calleuno.ph/
Calle Uno is built in an old-fashioned heritage mansion from 1950, and is situated about 5 minutes away from every tourist attraction in Baguio. Calle Uno is also very close to different food stalls. 
Despite its vintage aesthetic and rustic wooden furnishings, it surprisingly has a good facility and fast speed wifi. Apart from coworking spaces, it also offers meeting rooms, even spaces, and private offices for various sizes. 
7. CollabSPACE (La Union)
Location: San Fernando City, La Union
Pricing: Starts at 500 php/daily
Website: https://www.facebook.com/CollabSpaceELYU/
CollabSpace is the first collaborative and coworking space based in San Fernando, La Union. It is strategically placed close to shopping malls, restaurants, schools, banks, and bayad centers. 
CollabSpace aims to be a safe haven for professionals from different walks of life. It is where they can share ideas, work, advocacies and even equipment as they go on with their daily work. It has a meeting space, shared desks, mini-events place, and a mini library. 
Workers do not need to leave the coworking space whenever they need to eat or have a quick coffee break as CollabSpace also has a small cafe. 
8. T-Hub Co-work & Cafe (Pampanga)
Location: #1226 1010 Bldg., MacArthur Highway, Angeles, Pampanga
Pricing: Starts at 150 php (3 hours)
Website: https://www.facebook.com/THub.Connect
T-Hub is another all-in-one coworking space and cafe with very affordable food and drinks. Students and professionals have the option to acquire a 3 hour pass, day pass, or a month pass.
T-Hub has a rustic-industrial touch with comfy chairs, fast-speed wifi, and tranquil ambience. 
9. WorkSpace45 (Pampanga)
Location:
Level 2, HotSpot Building, MacArthur Hwy, Angeles, 2009

Pricing:
Starts at 350/day pass
Website: http://workspace45.com/
WorkSpace45 has over 200 desks available for freelancers, startups, digital nomads, and WFH individuals. Besides its day pass, its packages include a weekly pass for 5 days and resident pass for 20 days. 
WorkSpace45 amenities are free wifi, lounge area, unlimited tea and coffee, printer, scanner, and a conference room. 
10. KMC Flexible Workspace (Cebu)
Location: 18th Floor, W Geonzon St, Cebu IT Park, Cebu City
Pricing: 5000 php/monthly
Website: https://kmc.solutions/
KMC is a BPO provider offering HR services and at the same time dynamic coworking spaces for individual professionals or teams. Aside from its Cebu office, it is also present in other parts of the country like Metro Manila, Iloilo, and Pampanga. 
KMC's amenities include 24/7 IT support, meeting rooms, conference rooms, private offices, and TGIF office treats. It also has a business lounge, a spacious pantry, and workplace wellness. 
11. The Company (Cebu)
Location:
Ground Floor, Building 4, JDN Square, P.Remedio Street, Mandaue City, 6014, Cebu

Pricing:
Starts at 400 php/daily
Website: https://thecompany.ph/
The Company is a multinational coworking space with 10 branches across the globe. The company can also be located in Japan, Vietnam, US, and Thailand. 
It offers a bunch of perks like ergonomic chairs, high-speed internet, free-flowing coffee, tea, or water, free parking, printer, photocopier, and scanner. It also provides free access to phone booths, several community events, and many more. 
12. Openmind Coworking Space (Cebu)
Location:
3rd Floor SPC Building, One Paseo Saturnino, Maria Luisa Road, Cebu City, 6000

Pricing:
Starts at 500 php/daily
Website: https://www.facebook.com/openminditpark/
Openmind Coworking Space operates for 24 hours. Aside from shared spaces and designated desks, it also has a private room that can accommodate up to 8 people. Openmind Coworking Space also provides lockers where people can store their valuables while they work for the day. 
13. Ctrl+Alt+Work (Albay)
Location:
2F RJV Commercial Building, Rizal Avenue, Old Albay District, Legazpi City, 4500 Albay
Pricing:
Starts at 50 php/hourly
Website: https://www.facebook.com/ctrlaltwork/
Ctrl+Alt+Work has a very affordable shared space that is open for both working professionals and students. Apart from its hourly rate, its package also includes a dedicated working space, and private spaces that can fit groups. 
14. Peninsvla Coworking Space / Cafe (Camarines Sur)
Location:
5 Peninsula St, Naga, Camarines Sur

Pricing:
Not available
Website: https://www.facebook.com/peninsvlacinememacafe/
Peninsvla (pronounced as "Peninsula") is a steakhouse cafe, coffee shop, and coworking space. Working individuals can conveniently perform their daily task as they dine, sip their coffee and relax for the day.
Peninsvla has a wide selection of scrumptious meals, high-internet speed, and tranquil vibe. 
15. ECOFFICE Coworking Space (Leyte)
Location:
#68 Real Street, Fatima Village, Tacloban City, 6500 Leyte

Pricing:
Starts at 250 php/day rate and 200 php/night rate
Website: https://www.facebook.com/ecoffice.ph
ECOFFICE is open for both students and the workers. However, they have different rates for students and professionals. 
Amenities include an in-house IT support, fiber wifi, free brewed coffee, and power outlets. ECOFFICE provides print copying, photo copying, and scanning services for a certain amount each page. 
16. Studify Coworking Station (Tarlac)
Location: 06 Rosal St, Tarlac City, 2300 Tarlac
Pricing:  Starts at 50 php/per hour
Website: https://www.facebook.com/studify.coworking
Studify Coworking Station, as its name suggests, caters to both the working population and students. Aside from shared spaces, it also has individual desks for people who want to have their own space. 
Studify Working Station also sells pastries like cupcakes and brownies, which are a perfect combination to their unlimited coffee! 
17. Think Space Co-working and Study Lounge (Palawan)
Location: PPRV+F3H, Barangay San Miguel, Puerto Princesa, Palawan
Pricing: Not available
Website: https://www.facebook.com/TSCoworking/
Think Space offers a number of perks to both students and workers. This includes free coffee, charging outlets, free use of the kitchen, free wifi (50mbps), and a napping area. Individuals also have the option to acquire shared spaces and private desks.
Access to its conference room is available upon request. 
18. CLOCK IN (Palawan)
Location: Lio Tourism Estate, Palawan, El Nido, 5313
Pricing: Starts at 357 php/daily
Website: https://www.clock-in.com.ph/locations/lio
CLOCK IN has available coworking seats, private rooms, meeting rooms, and event space with varied prices. Aside from its palawan located, it also has several other offices around the Philippines. 
CLOCK IN is stationed near hotels, restaurants, and residential areas. Its featured amenities also include a sports hub, food halls, and conference rooms that are available upon booking.  
19. HERO LAB (Bohol)
Location: Purok 6 Poblacion Union, Dauis, 6339 Bohol
Pricing: Starts at 350 php/ hourly
Website: https://herofoundry.org/laboratory/
HERO LAB is open from 10 am until 6 pm, Mondays to Saturdays. Creators of HERO LAB also offer business, marketing, and sales training in their startup incubator environment. 
Its daily rate is at 1000 php and 3000 php for the weekly rate. Individuals may also rent out the entire space for meetings, podcast recordings, or video tapings at a varied price.  
20. D' Courtyard Technology Hub (Bohol)
Location: 0287 Carlos P. Garcia East Avenue, Tagbilaran City, 6300 Bohol
Pricing: Not available
Website: https://www.facebook.com/courtyardtechhub/
Besides being a friendly coworking space, D' Courtyard Technology Hub also provides training and crash courses for various specializations. It also hosts different community events for free to help working individuals connect with other professionals. 
Is there any requirement for working in coworking spaces? 
There is no necessary requirement to avail of these coworking spaces outside Metro Manila if you are residing within the specific province.
However, for workers that are coming from Metro Manila or other provinces, you may be required to present a COVID-19 test result before you can book.
You may also check out our lists of coworking spaces located in Metro Manila.