Why some employees would rather quit than give up remote work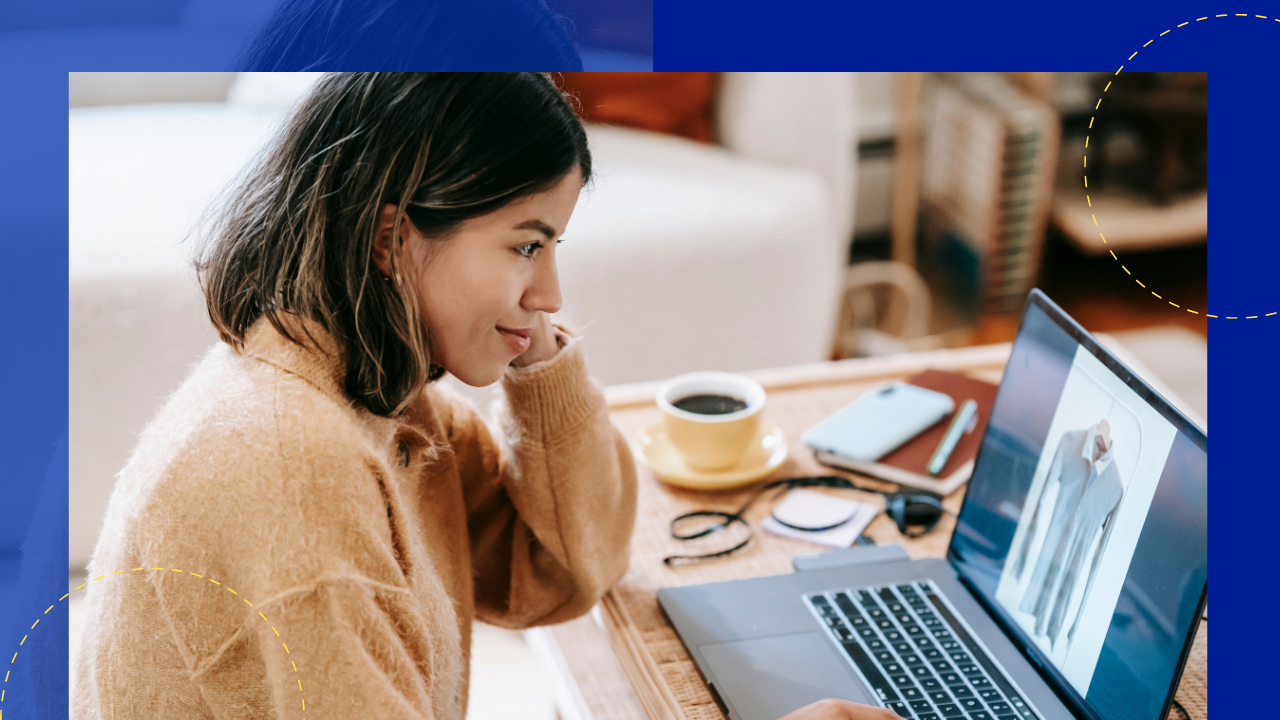 Why some employees would rather quit than give up remote work
The successful transition to remote working last year has reimagined how corporate work gets done. Thanks to the efficiency of remote work, businesses operations were able to continue despite strict lockdowns and social distancing measures.
Because of this, not everyone is excited to go back to the way things were pre-pandemic. Some employees have decided to quit their jobs rather than go back to the office. Unsurprisingly, their decisions have good reasons.
Remote work definition
Remote work, also known as telecommuting, is a working model where an employee works from a place other than the company's headquarters. This gives professionals a choice to work outside a traditional office environment. 
There are a variety of remote working arrangements in any industry. It may take place temporarily or permanently, partially or full-time, and occasionally or continuously. 
Hiring a remote staff, instead of in-house employees, allows companies access to a wide talent pool of skilled people across the world. Additionally, it helps business leaders save on operational costs without sacrificing the quality of work.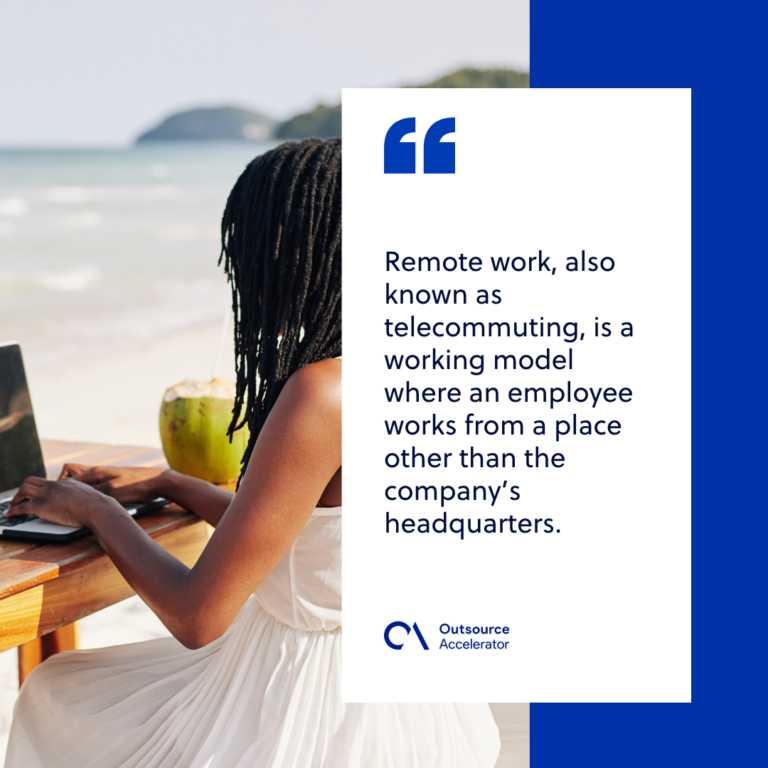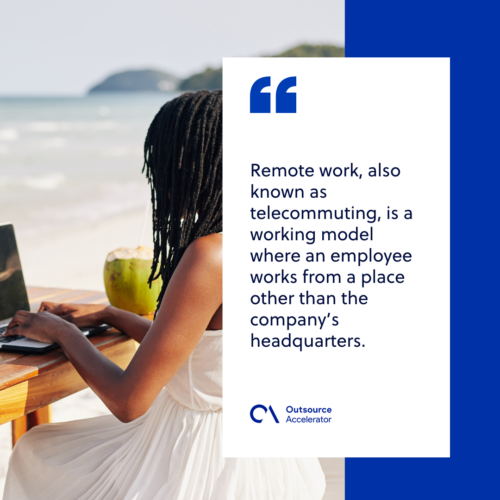 The impact of the pandemic on remote working
Remote working is not a new concept in the business world. However, it took off last year due to the COVID-19 pandemic. Companies have to adapt to the situation and work from their homes instead of going to their offices.
As the world slowly recovers and industries can open again, employers are finding it difficult to entice their workforce to go back to their business centers. 
FlexJobs' recent survey has shown that 58% of remote employees are ready to find new jobs if their current organizations discontinue remote working. 
The benefits of work-from-home (WFH) arrangements are so compelling that people are choosing this over a salary raise. This has led to industry planning to adapt to the new normal of remote work.
This newly-popularized work model has become an edge for companies over their competitors who prefer working on-site. Organizations have also accepted that much of their workforce will be virtual for the foreseeable future. 
PwC's survey, with nearly 700 CEOs, revealed that the majority of business leaders (78%) have welcomed the corporate shift and are expecting remote collaboration to stay post-pandemic.
Reasons why employees prefer working remotely
There are several reasons why people like working remotely rather than commuting to their offices every day. Aside from the obvious health and safety reasons, employees are seen to be more productive and happier with this arrangement. 
Here is a breakdown of a few other causes why remote work is popular for industry workers today.
Improved work-life balance
Staying at home for the past year had the majority of employees explore several hobbies. These newfound recreational activities gave remote employees an outlet that helps them feel less stressed and pressured.
Moreover, in the Philippines, working remotely means that employees don't need to get stuck in traffic whenever they commute to and from their offices. It helps them save valuable time and makes them feel more at peace and appreciative of their current working conditions.
A remote working arrangement also makes people more likely to stay loyal to their companies for a long period of time.
These diversions improved the work-life balance of WFH employees compared to their in-office counterparts. Because they are relaxed, they feel happier and healthier and feel more engaged in their tasks during office hours.
Increased productivity
Remote workers can easily filter out distractions in the places where they do their work. Due to this, they are more focused on their tasks and their productivity tends to improve. 
Additionally, the opportunity to work from home can bring a new mindset to employees. They are motivated to deliver their best and do their work perfectly to keep the work arrangement that they have come to love.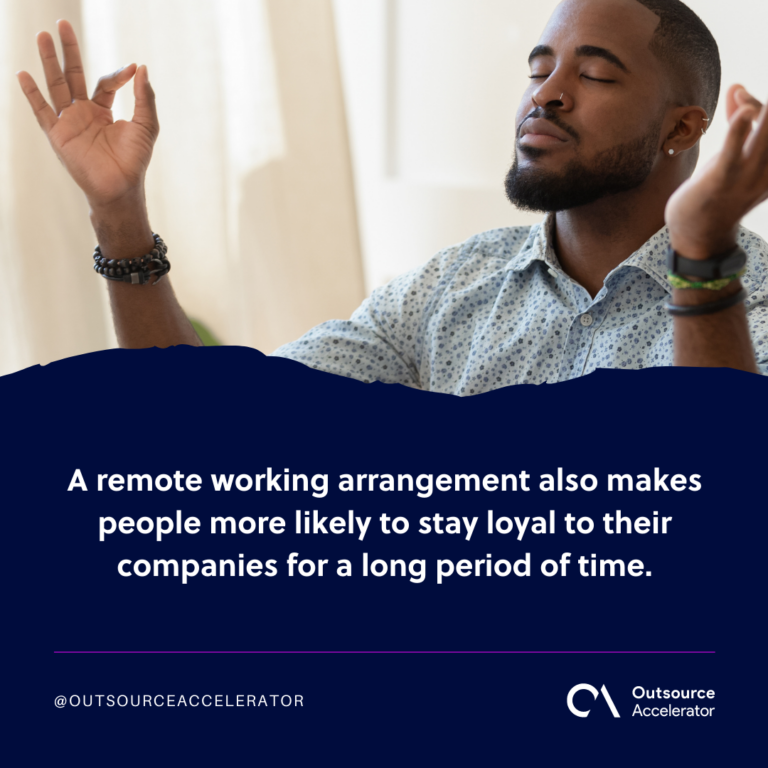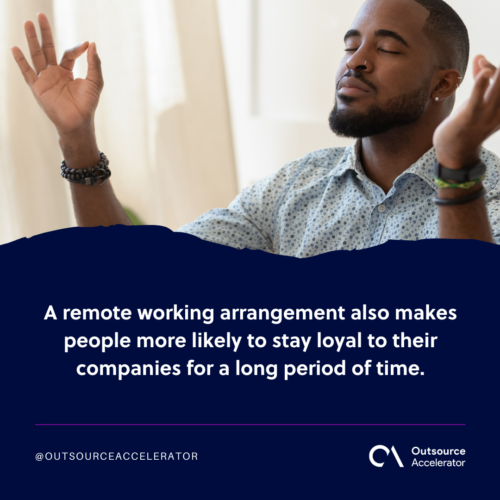 Flexibility
The majority of people find flexibility in remote working. Working from home allows them to take mindful breaks as needed, unlike the traditional office set-up that is mostly made up of a rigid schedule. 
Telecommuting has given workers a choice to balance their work, family, and well-being. When it is not within their office hours, remote employees can do the things that matter to them outside of the office.
Cost savings
Working from home can help employees save money on their transportation and food. Since they are working from the comforts of their homes, they don't have to pay extra for things that they need to buy on a normal office day. 
Remote employees are also great for a company's expenses. If operations are fully distributed to everyone remotely, businesses can save on operational costs such as rent, electricity, and office equipment, among others.
Working from home is necessary right now due to the pandemic. However, as restrictions ease and offices start to open in the future, the dream of working remotely without going back to pre-pandemic working models can motivate employees to continue doing their jobs effectively.
Introducing Remote Staff
Working with dedicated remote staff is so much easier and healthier these days. If you are interested in making the transition but have no idea where to start, you can hire an outsourcing partner to help your company. 
Remote Staff has been providing entrepreneurs with their remote employees since 2007. They help match businesses with highly skilled and talented professionals from the Philippines to help in their everyday operations.
With their proven recruitment method to identify remote workers with behavioral qualities to be a successful independent location worker they ensure a dedicated remote team that would help your business thrive in the global market.
Visit Remote Staff's website now and let them help you build your remote team.