Top 30 coworking spaces in Europe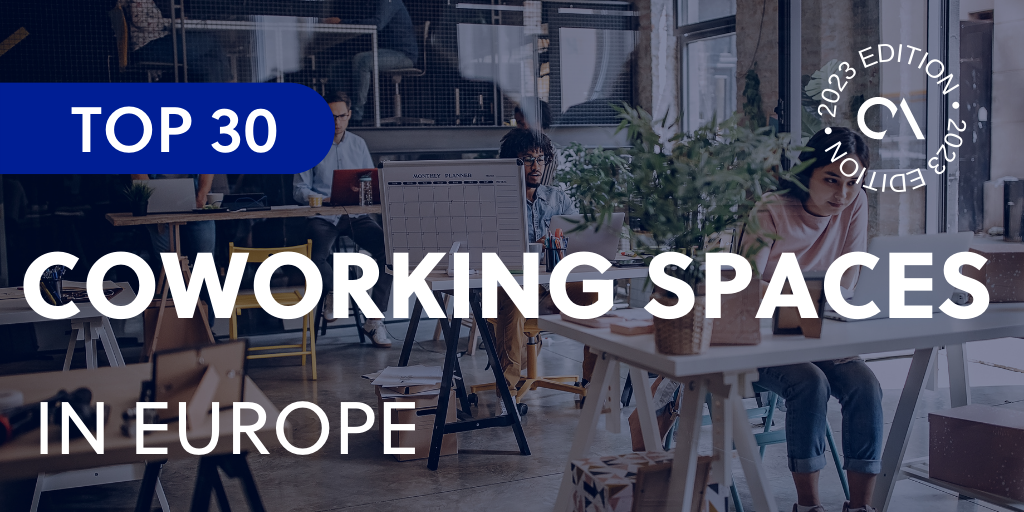 Coworking spaces are becoming more and more commonplace. The COVID-19 pandemic is one reason for accelerating the practice of remote work. But it's also a result of the greater conversation of freedom and the actual nature of work. 
If you've only ever worked in a traditional office setting, a coworking space can be a refreshing new place to try out. 
Unsurprisingly, professionals globally have now taken to the practice. Europe especially provides calm, light, stimulating atmospheres to work in.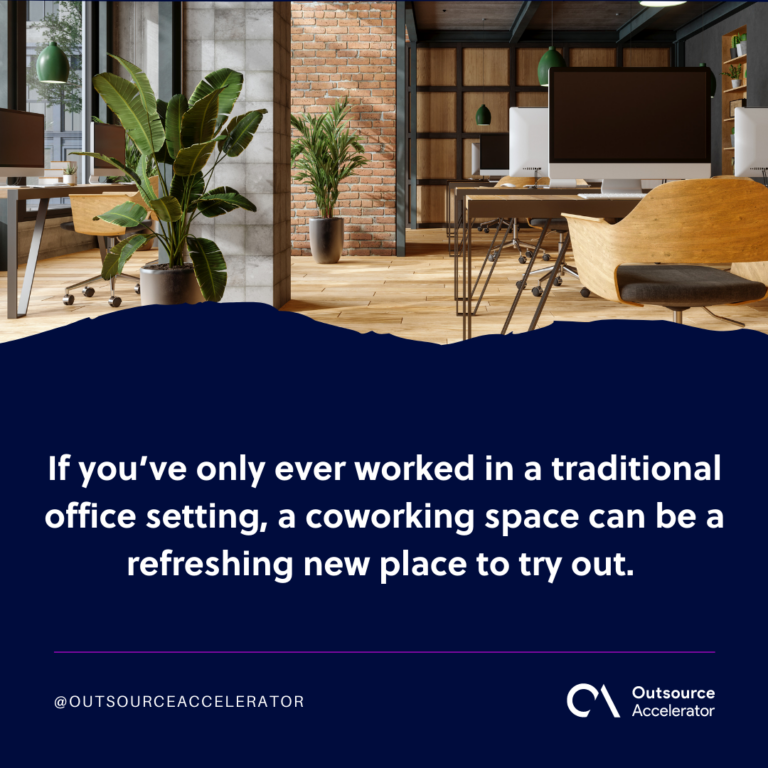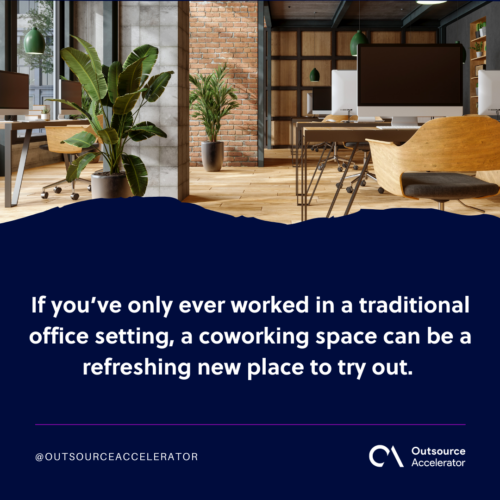 The rise of coworking in Europe
Coworking isn't just about finding a spot to do your work. The emotional core of it is about finding connection and productivity. With a professional coworking space, you gain all the amenities of a regular office while paying much less. 
And since the space is shared with others, there are plenty of collaboration opportunities. The communities of artists, entrepreneurs, freelancers, innovators, and more are frequent users of coworking spaces. 
The best coworking spaces grant the comfort of a café combined with the capability of an office. It all adds up to a great work-life balance. 
Worldwide coworking spaces are expected to be more than 40,000 by 2024. Europe is one where the growth will be felt most, having gained a reputation as a definitive location for those wishing to work from anywhere. 
In the last the 5 years, cities like Athens, Valencia, and Porto (among others) have ranked as the fastest-growing destinations for remote workers. 
Europe is a good spot for coworking spaces due to the connectivity, infrastructure, climate, and diverse places to explore.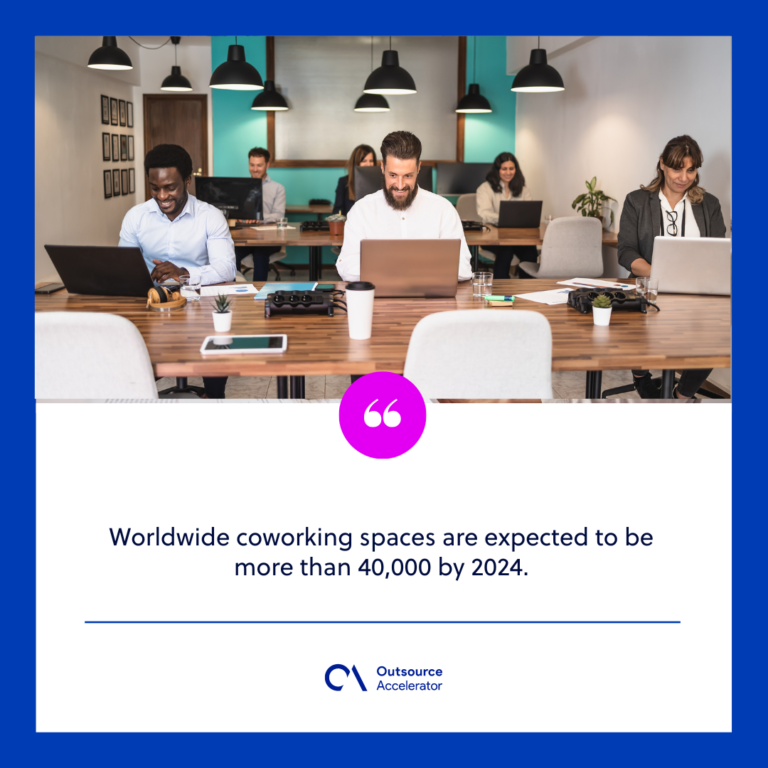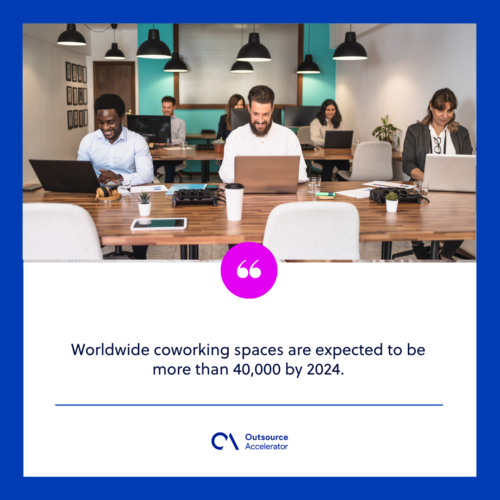 List of top coworking spaces in Europe
Top global outsourcing lists 
Outsource Accelerator is the world's leading outsourcing marketplace and advisory. We list over 3,000 BPO firms located across the globe in our global directory, and we provide detailed information, price guides, and reviews.
Whether you're a solopreneur, SME owner, or corporate executive, we can help you find the most suitable outsourcing provider for your business.
Explore our outsourcing directory now. You may also check out our top coworking spaces lists here:
Top 30 coworking spaces in Europe
There are currently more than 2500 coworking spaces all across Europe. We've outlined 30 of what we feel are the best below.
Location: Budapest, Hungary
KAPTÁR is located in the heart of the city and is frequently awarded as the best coworking space in Budapest. 
Touting itself as the hub of free-spirited and innovative people, this coworking space has a full service of professional amenities, including a kitchen. 
KAPTÁR also uniquely hosts events, such as professional workshops and Friday evening sessions. Community life is the foundation of what they do.  
Locations: Amsterdam, Netherlands; Berlin, Germany; Bucharest, Romania; Duesseldorf, Germany; Frankfurt, Germany; Hamburg, Germany; London, England; Munich, Germany
One of the most beautiful coworking spaces on this list, Mindspace prides itself on its boutique design and leading expertise. They offer coworking spaces of many sizes, from even a single desk to an entire private office. 
They comb cities to find wonderful buildings to transform into part of their coworking space business, which they then dub the Mindspace Experience. 
Promoting collaboration, working at Mindspace feels like you've entered an elite club of entrepreneurs and freelancers.   
Location: Amsterdam, Netherlands; Eindhoven, Netherlands
For those wanting a more natural setting while they work, BounceSpace has that for you. Its slogan states, "no one's ever had a great idea sitting fixed at a desk." This coworking space has its own farm for workers to take a step back and breathe in the fresh air. 
If that wasn't enough, one could even book a ride on the Chateauroux, a private ship with its own professional amenities. Working at BounceSpace almost feels like a vacation to the countryside. 
Locations: London, England; Lisbon, Portugal
Second Home is a beautiful coworking space that gives you a break from the London cityscape. Its large spaces and creative architecture make it attractive to anyone who has grown out of working trapped in a traditional office. 
This coworking space is very friendly to startups and freelancers. It supports job creation philosophies, and you can even get involved in the charities they support.  
Locations: Amsterdam, Netherlands; Den Haag, Netherlands; Rotterdam, Netherlands; Utrecht, Netherlands; Dusseldorf, Germany; Frankfurt, Germany; Brussels, Belgium; Zaventem, Belgium
Choose your own state-of-the-art environment in Tribes coworking spaces. You can choose a fully equipped office space, private room, or even a lounge area for virtual work. 
Tribes' coworking space gets its name from the idea of nomad tribes all over the world. In the same vein, it supports modern business nomads who take their workplaces where they go. 
Locations: Mokrin, Serbia
Styled the "House of Ideas", Mokrin House puts work-life balance at the forefront with its coworking space. The place itself is a lovely modern spot in a fairly rural area. 
Its coworking space is divided into two levels – one supporting more professional office work, and the other a space for more artistic freelancers. 
They also offer many activities to do after work hours such as movie nights, bike rides, and swimming. 
Locations: Prague, Czech Republic
As one of the concepts of the organization Paralelni Polis, Paper Hub is a coworking space suitable for those looking for a trustworthy and flexible environment to work in. Amenities include a cafe, a lecture hall, and a recording studio. 
Paper Hub is very heavy on new technology, with the group being up close and personal with main themes of decentralization, internet freedom, and crypto-technology.  
Locations: Over 100 cities in 60+ countries; Austria and Germany contain the most offices in Europe
Impact Hub is one of the largest coworking space companies on this list. It takes actions to design better businesses and impactful solutions for a healthier future. 
This coworking space regularly creates programs for social change, and encourage collaboration among their many offices. 
ImpactHub connects smaller entrepreneurs and innovators to larger organizations, investors, and the public sector. They come together in their professional locations and brainstorm inventive ideas. 
Locations: Over 700 locations; London, England and Paris, France contain a majority of the offices in Europe
It is also one of the largest coworking space organizations. The number of locations allows you to select the WeWork space closest to you and get down to business. They have solutions for groups of any size, from individual desks to private office headquarters. 
WeWork is a favorite of Fortune 500 companies, and this coworking space heavily emphasizes entrepreneurship as one of its core tenets.
Location: London, England
Nestled in the diverse district of Fitzrovia in London, Mortimer House is a six-story art deco building that is one of the most hospitable coworking spaces on this list. Its fully furnished rooms and workspaces will make you feel like you're in a high-class library. 
Mortimer House is also an events place and serves its own delicious menu. Additionally, a fully equipped gym and studio offer well-being to its members. 
Locations: Global locations, including the United Kingdom, Belgium, France, Germany, and Turkey
Servcorp offers its members a wide variety of working environments, even allowing coworking right at their bar. Many of its spaces are also outfitted with sound booths, so privacy is a major plus. 
Servcorp allows its members to use the coworking space's address as their own official business address. With a community of over 60,000 workers called "Imagineers," collaboration for projects is also a bonus. 
Location: Bucharest, Romania
Commons Unirii is a coworking space in a historic building in Bucharest. It is placed in a convenient location right near major transport lines. Comfort is a priority here, with a fireside lounge and large communal spaces. 
Due to Bucharest becoming a top destination for coworking spaces, Commons Unirii is a choice spot. It sets itself apart with its beautiful spaces designed with productivity in mind.  
Location: Berlin, Germany
It's better to work together, and Weserland brings together a large community of programmers, authors, artists, filmmakers, and startups in its coworking space. 
It has all the amenities of a proper office, with equipment, kitchen space, and strong Internet access. 
Locations: Global locations, with 200+ offices in Europe
Spaces fills its coworking spaces with forward thinkers and their ideas. They have a free-spirited vibe to its areas, with programs of professional events and hospitality services. 
The community built by this coworking space is its large selling point. An international network of creatives is never a bad thing, and with its club-like locations in Europe especially, productivity thrives.  
Locations: 3000 locations worldwide, including over 30 countries in Europe
Regus owns thousands of locations worldwide. From a single desk to an entire building, it covers the needs of any business size. 
Regus creates friendly working environments and is part of a global collective that champions hybrid work, especially in this new normal. 
Locations: Multiple locations in Italy, Spain, Austria, Ireland, Denmark, France, and Lithuania
Purely a European network, Talent Garden gives you not only the perfect workspace but also the opportunity to conspire with over 4500 like-minded entrepreneurs and businesses. 
Talent Garden pushes connecting and accelerating the digital and tech communities in their cities. Members frequently meet up with each other in the relaxing coworking spaces. 
Enjoy special mentorship programs where you can learn onsite or from the comfort of digital space.  
Location: Baku, Azerbaijan
The Office coworking space is located just on the edge of Eastern Europe. It gathers independent people in a common workplace to share values, talents, and synergy. 
It aims to create dynamic workspaces, and its existing location brings just that. The Office  even includes a meditation room for when you need to slow down, and a game room to get you in that excited mood to tackle your workload. 
Location: Lisbon, Portugal
Frequently voted as one of the best coworking spaces in recent years, Avila Spaces makes you feel right at home in its tranquil rooms. The Avila Community that it has formed has also hosted social events to push the idea forward even more. 
This coworking space also enterprises new technology. Its myOffice app has been recognized as the world's first virtual office app, and its app Avila Connect allows businesses to stay connected in real time. 
Location: Brussels, Belgium
Factory Forty boasts a literally open working space. It is designed in such a way that plenty of natural light comes in and the claustrophobic setting of a traditional office is done away with. It's a true ecosystem. 
Although there aren't that many private rooms, Factory Forty gives a familial setting, and interaction is encouraged to stimulate ideas. 
Locations: Amsterdam, Netherlands; Berlin, Germany; Dublin, Ireland; London, England; Paris, France
Knotel is a global enterprise that tailors workspaces to the needs of companies of different sizes. It is also one of the businesses that has embraced working in a digital age, providing coworking spaces for remote work. 
With its technological tools, one can easily track office capacity and usage. It also allows you to manage a flexible team easily. 
Location: Malta
Set on the gorgeous island of Malta, the SC Campus offers coliving and coworking spaces to help stressed workers accomplish their goals. The spot can also act as a retreat place for companies wanting to scale back for a while. 
The coworking space still brings plenty of amenities despite being far from the hustle culture of major cities. Its unique atmosphere works well for energizing and refreshing employees. 
Location: Barcelona, Spain
OneCoWork offers stunning coworking spaces and excellent services in the heart of Barcelona. Dedicated desks and private storage also sweeten the deal, adding a personalized touch to your workplace. 
An important concern to OneCoWork today is environmental support, and the company ensures its facilities emit a low carbon footprint. 
Location: Athens, Greece
Stone Soup is named after the folk story that teaches the importance of generosity and hospitality. It welcomes its members with flexible workspaces and friendly connections. 
This coworking space has a diverse community of agents ready to collaborate with anyone. 
Stone Soup organizes monthly meet-ups where members can interact with key players in the Athens tech and entrepreneurial industry. 
Location: Bristol, England
Raw Space began as a mission to bring together local businesses and artists. It now offers a coworking space of its own to house similarly-minded creatives. 
At Raw Space, it values the power and benefits of social working. It's the community that empowers this coworking space. You don't just get a desk, you also get a network of talented freelancers.   
Location: Canary Islands, Spain
The most internationally recognized coworking and coliving space in Gran Canaria, CoworkingC provides great comfort and a relaxed atmosphere. Because it's such an intimate setting, the community is tight-knit and comfortable. 
Location: Montenegro
True to its name, Playworking allows its visitors to engage in deep work, and enjoy the recreational amenities that the island of Montenegro offers. Inspired by the beauty of the island, Playworking is a coworking space where good vibes flourish.
It's an excellent haven for professionals wanting to balance productivity with a healthy and dynamic lifestyle. There are private offices with equipment, adventurous activities and sports all year round. 
Locations: Brussels, Belgium; Luxembourg
Silversquare is touted as the most exciting square meters in town. It proclaims coworking spaces as not just clever ways to maximize office space, but also agents of change. WIth remote work thriving, there is a social change incoming. 
The business was made by entrepreneurs to serve their fellow entrepreneurs. Each office space is designed based on experience and personal needs. The locations are art spaces, yet still efficient for work.  
Location: Rome, Italy
As a coworking space, Millepiani brings communication, public relations, and promotions to the Roman community. This creates a skilled network of coworkers. While one still works independently, a shared platform is appreciated by all. 
Its workspaces have all the usual equipment, and the community keeps active with the space's own blog. 
Location: Munich, Germany
A rare "green" coworking space, Velvet Space members profit from a comfortable yet stylish environment. A peaceful atmosphere in its urban working oasis allows you to get things done while enjoying the local sights. 
Velvet Space creates a vibrant place where ideas come alive, and purposefully makes steps toward a greener society for coworkers.   
Location: Barcelona and Madrid, Spain
Cloudworks has beautiful coworking spaces in the dreamy locale of Spain. With a selection of event rooftops, meeting rooms, and workshop spaces, Clouworks accommodates its spaces to your needs.