Definition
What is coworking?
Coworking is used to describe a working arrangement wherein staff work independently or collaboratively using shared offices. In a coworking environment, individuals generally aren't working on the same project unlike in a typical office workspace where they're employed by the same company.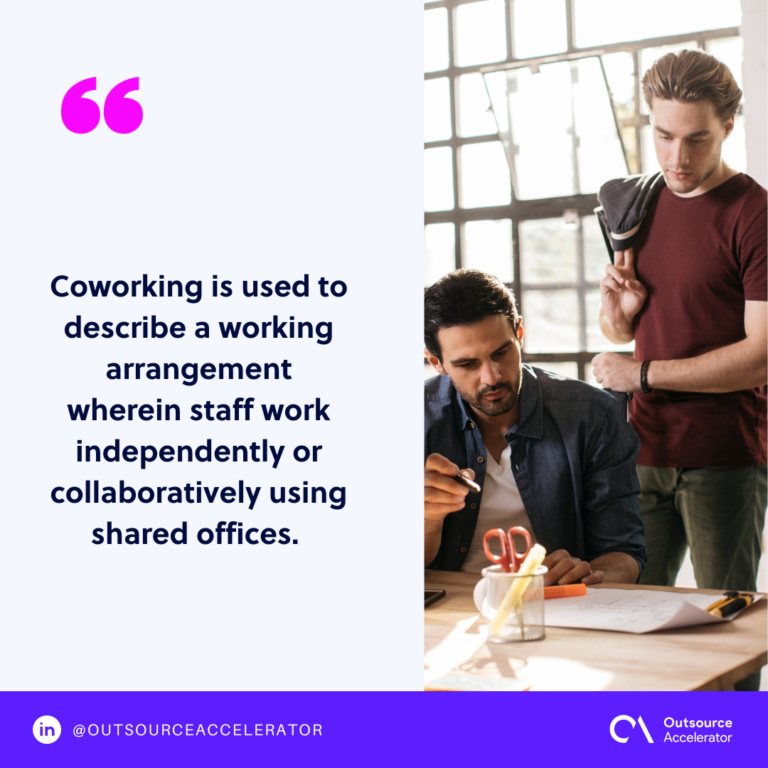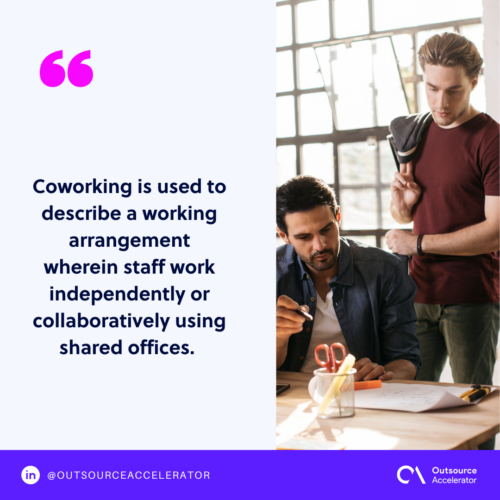 What is a coworking space?
A coworking space is an environment designed to accommodate individuals from various companies who are either telecommuting or remote working. It is considered a collaborative workplace. 
It has the same amenities as a corporate environment; however, you don't have to sign a long-term lease, which can be a financial risk for your company.
Coworking hubs usually attract freelancers, self-employed, startups, and small teams since they provide affordable office space. They offer refuge and isolation from bustling offices and crowded coffee shops. 
Who uses coworking spaces?
Here are the occupants or the individuals who are most likely to use coworking spaces:
Freelancers
For freelancers, coworking spaces provide the freedom to choose your working hours while avoiding crowded places and having a reliable internet connection.
Coworking spaces are ideal for freelancers, individuals who would otherwise be forced to work at home or in a coffee shop.
Startups
The flexibility of coworking spaces is also appealing to startups. It does not have the excessive fees and commitments that typical office leases do.
These coworking spaces may also help entrepreneurs connect and meet potential co-founders for their businesses.
Small businesses
Small companies that don't want to spend too much for a typical lease have moved to coworking spaces. Since there are some initial expenses and the coworking membership covers most of the amenities a business needs daily, it is no surprise that small businesses now are the majority of customers of coworking spaces.
Enterprises 
Multinational companies have also collaborated with coworking firms to meet their workplace requirements. These hubs increase their employees' productivity and also create networking opportunities with people outside the organization.
These businesses either book coworking spaces that can be customized, or reserve exclusive spaces in a coworking hub.
What are the types of coworking spaces? 
Coworking spaces come in various sizes and forms. When looking for places, there are various factors to consider, such as facilities and the working environment.
Here are the different types of coworking spaces that you need to know as you look for one that can accommodate your team.
Open workspaces 
An open workspace is what comes to people's minds when thinking of a coworking space. Hot desks or dedicated workstations are available in these workspaces, and members from various companies use common areas. 
Individuals who use an open workspace can talk casually. The well-lit and minimally obstructed environment encourages networking and an innovative, cooperative spirit.
Private workspace 
Private workspaces are the direct opposite of open workspaces. They can be an office or even a customized room designed exclusively for big groups.
A private workspace can be shared by the members of a company.
Vertical-specific workspace
This type of coworking space is designed for members who work in the same industry. There are spaces designed particularly for creative professionals, and they can work together under one roof. A vertical-specific workspace includes a mix of private and open workspaces. 
Incubators
The goal of incubators or venture capital spaces is to support businesses by providing them with the resources they require to grow. Some incubators provide lower costs in return and, in return, require a portion of the company's equity.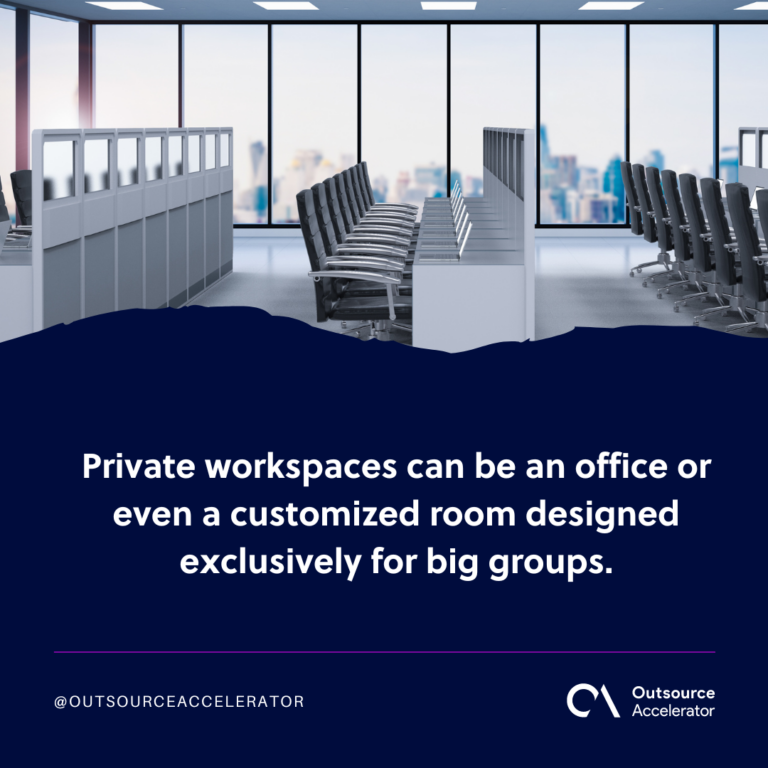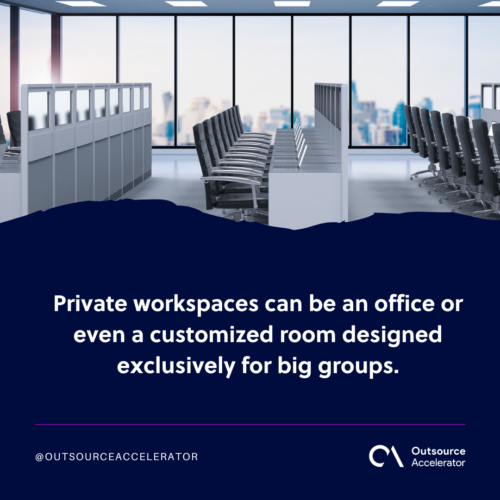 What are the benefits of coworking spaces?
Freelancers and business professionals are taking advantage of using coworking spaces. If you're still undecided to be part of the community, here are some significant benefits of coworking spaces.
Separating work from personal life
Being in a coworking space can help you work at ease without interruption, making it easier to focus and disconnect. It can be a solution for freelancers or full-time employees who are prone to procrastination.
Cutting costs and gaining flexibility 
Renting a coworking space for an entire month is likely to be less expensive and flexible than renting a private office. You are not trapped in a long-term lease in case you decide to travel and work internationally from your laptop for several months. 
Coworking offers better options for smaller businesses since hubs provide package deals to corporates and small teams. 
Building a relationship in the community 
When you're busy, especially if you work remotely, it's difficult to socialize. When you're at a coworking space, there's a high possibility that everyone you meet has similar interests and goals in life. 
It is a great opportunity to make new business connections or friends and become part of a professional community.