Virtual office: Everything you need to know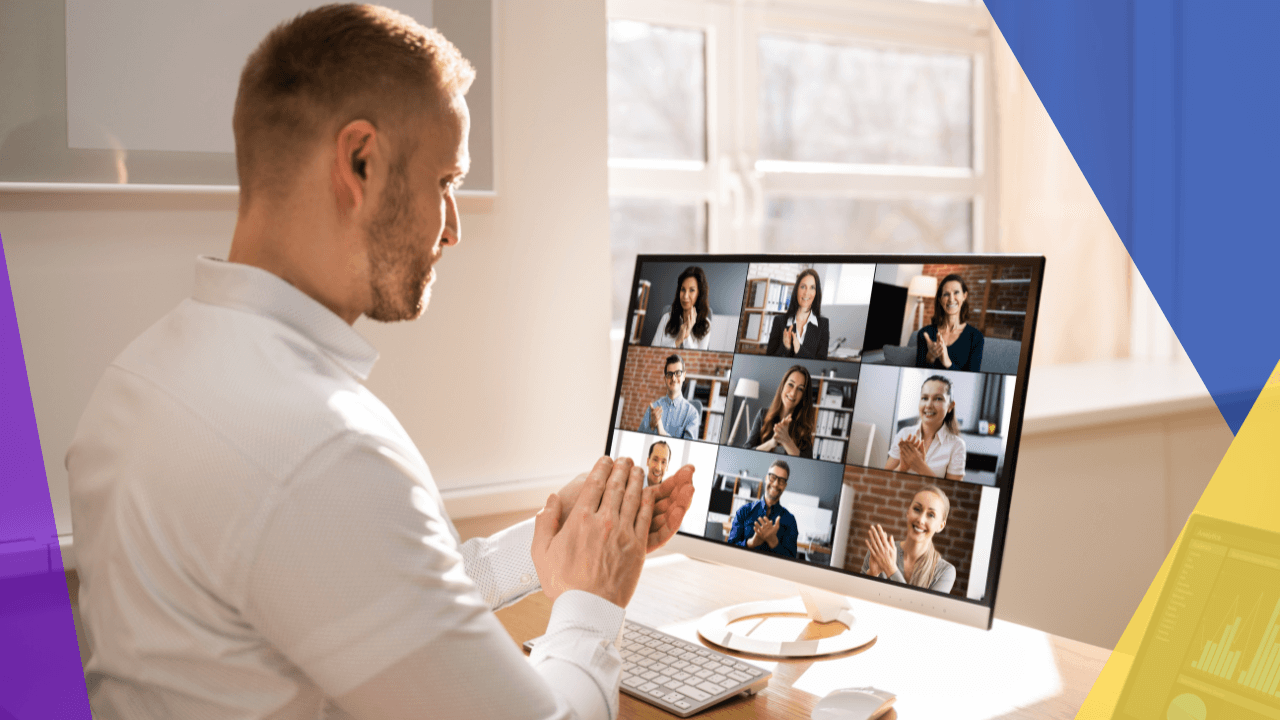 Since remote work has become the norm, businesses have been figuring out workplace strategies that enable them to have a unique blend of working.
The COVID-19 pandemic made business owners realize they need to consider other options for out-of-office work. 
With this, having a virtual office is a great choice for both business owners and employees. The increasing popularity of virtual offices translates that it is one of the ideal business solutions for modern working. 
In this article, we'll guide you through the concept of a virtual office and how it works. We'll also discuss the elements of using one and the key benefits of a virtual office that can help businesses succeed.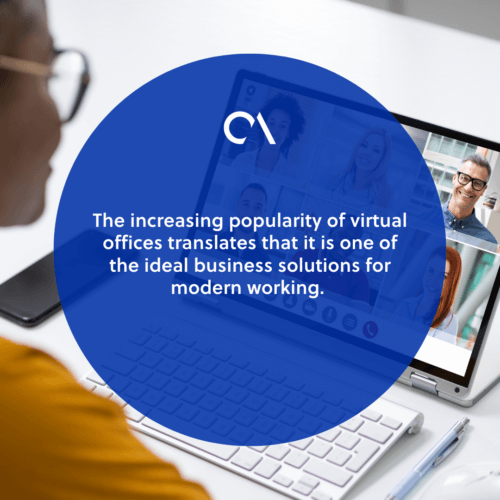 What is a virtual office? 
The virtual office concept came from Ralph Gregory when he founded "The Virtual Office, Inc."  in 1994. It is a broad term that describes a service that allows businesses to operate remotely. It provides business owners with commercial property without a dedicated physical office space. 
Virtual office offers a professional business address, receptionist services, or even access to conference rooms – all perks for businesses to maintain their professional image in the market without the expense of renting an office space. 
How virtual office works
Along with the popularity of web-based IT services or computing technologies, a virtual office can function as a unit using advanced technology for communication. The software, applications, and video conferencing tools are available for employees to:

Work on a project 

Provide services to customers

Keep in touch with each other. 
This flexibility allows small businesses or start-ups to establish teams in strategic and high-profile locations while enjoying cost efficiency. 
Elements of a virtual office 
With the advent of wireless technology and the internet, some businesses choose to operate and prepare to perform their daily tasks without needing a physical office.  
Below are some of the few elements of a virtual office that are worth considering for business. 
Registered business address 
Virtual offices offer recognized addresses within a reputable area code that are used in mailing, marketing, and other official purposes related to business. 
This business address is crucial for a virtual office as it impacts the legitimacy, credibility, and trust of the clients. 
Remote receptionist services 
Similar to a professional physical business, virtual offices have receptionists that manage phone calls, arrange appointments, and mail processing. 
Receptionists may help the company's brand image to be less virtual for customers. Thus, it helps legitimize a particular business. 
Virtual assistants, like those hired through DOXA, can fulfill a similar role.
Call handling services
Virtual office has a dedicated business number with a local area code. This number is essential for a cloud-based phone system to answer and forward calls, extensions, and others. 
These phone lines will help customers not be hesitant when calling the firm's number, which will boost the company's credibility.

Digital mail service 
Some virtual offices have digital mail handling services for collecting, scanning, disposing, and forwarding an email, and it can send to someone electronically. 
Conference room
Virtual office with a conference room comes off professionally for business and is used for professional meetings. These facilities are reserved in advance by employees for meetings or events. 
Workspace 
Some virtual offices have a physical workspace just like in a traditional office. This workspace has meeting rooms, private offices, and pieces of office equipment which can be a great asset for company events. 
How can a virtual office benefit your business? 
From cost efficiency to employee productivity, virtual office significantly offers few advantages for business. 
Here is a breakdown of some of the benefits of a virtual office. 
Low cost 
One of the reasons why companies tend to set up virtual offices is because it offers more cost-effectiveness than a traditional office. This allows businesses to focus more on the most important investment. 
Virtual office is a great solution to lower business costs such as office equipment, expenses for maintenance and utilities, and other associated costs of a traditional office.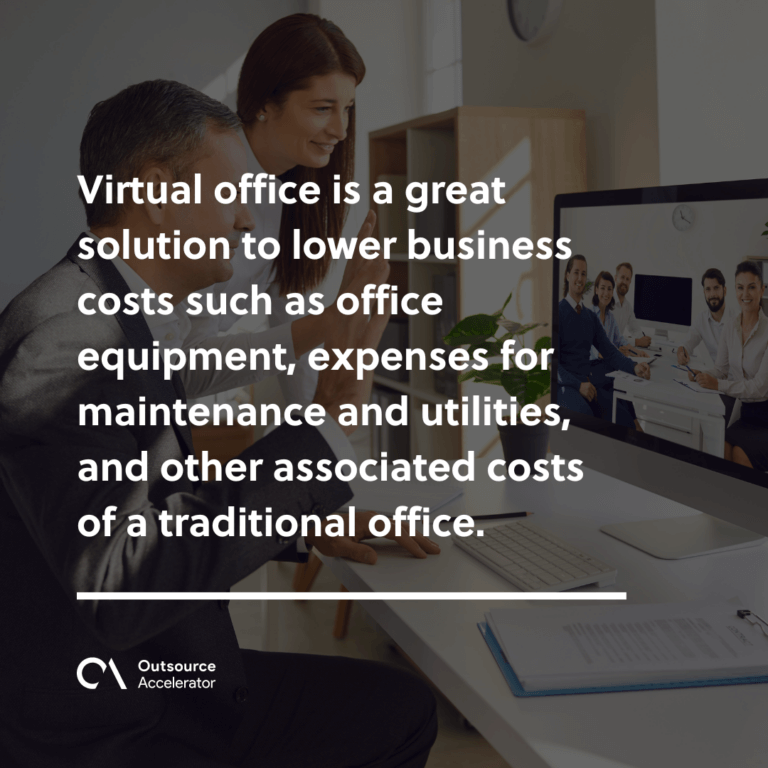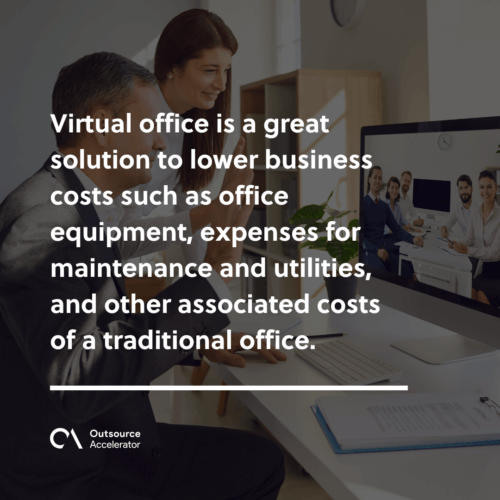 Convenience
In a virtual office setup, businesses allow them to run their operations wherever and whenever the employee wants. 
All they need is an internet connection for communication and collaboration tools in order to completely establish a remote business virtual office. 
Front-desk support 
Virtual office offers front-desk support for businesses to focus on the core business. Mundane and time-consuming tasks such as handling phone calls or managing posts are backed up through virtual office solutions. 
Professional image and legitimacy 
Office space and contact details are big factors in establishing a professional image for small businesses and startups. 
Virtual office offers businesses a professional image and legitimacy to stay on track in the market as it attracts and creates a positive impression on clients. 
Better productivity
Some statistics reveal that remote work increases employee productivity. For instance, a Stanford study found that remote work increases productivity among 16,000 employees by 13% over the course of nine months. 
Work from home can help employees significantly save money on the commute. Ultimately, it gives them a work-life balance that empowers them to do their job better. 
Set up a virtual office today 
Virtual office is an on-demand workspace solution for businesses. It offers a lot of benefits, which is why many business owners opt to set up their own virtual space. 
On top of that, virtual offices allow internal and external communication and business processes to be performed without needing a physical office. This is an excellent solution for making businesses run easier. 
Take a step forward in your business, and consider the benefits of a virtual office mentioned above.