Top 10 collaboration tools in 2023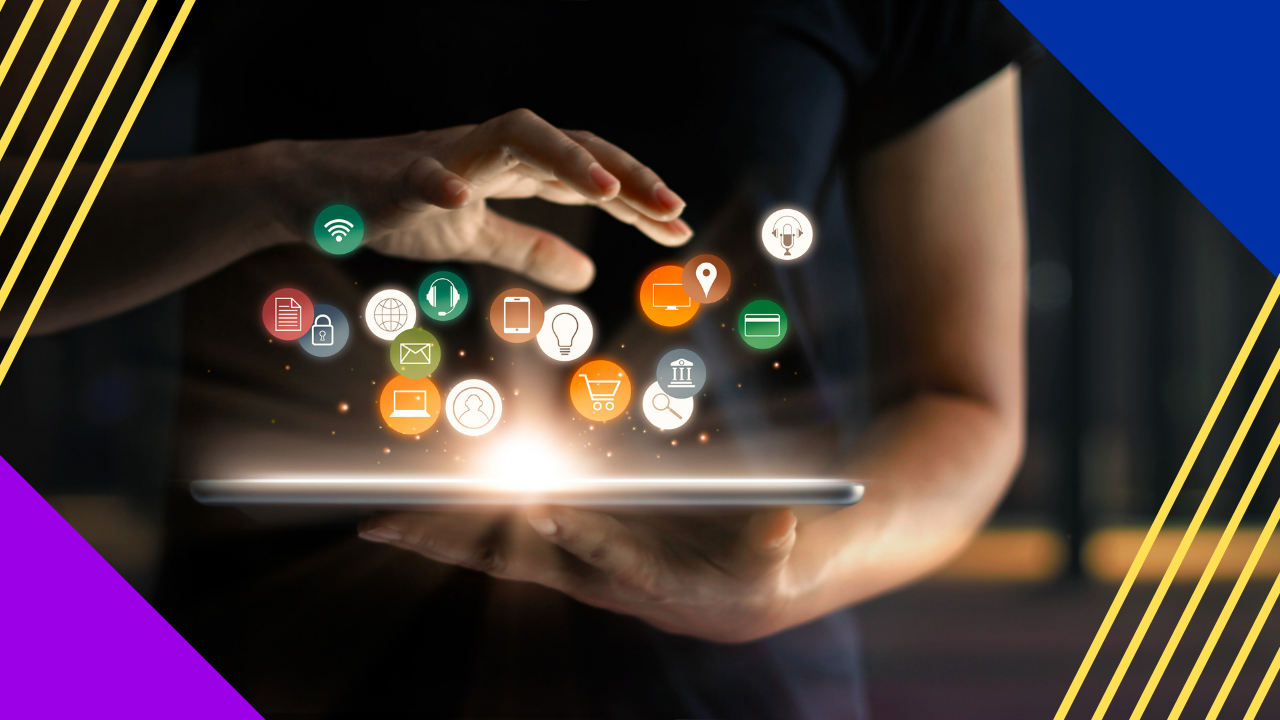 Top 10 collaboration tools in 2023
The market right now is saturated with cloud collaboration tools that aim to maximize productivity and efficiency in the workplace.
In most cases, these software tools and applications play their role to the fullest—but what truly matters is how the employees work with them. Even the most effective cloud collaboration tool won't be able to get the job done if not used properly.
That said, it's not wrong to implement these into everyone's workflow. What matters the most is that they are used correctly.
What are cloud collaboration tools?
These tools refer to the apps and software that professionals use to maximize productivity while working. One of the main properties of cloud collaboration tools is that they are synchronized and easily accessible online.
Employees and authorized users can access documents, files, projects, and messages anytime and anywhere, as long as they're connected to the internet.
There are many reasons most remote teams can do amazing things and accomplish milestones while apart. But cloud collaboration tools play a role in keeping them connected, despite varying geographical distances and time zones.
These platforms reintroduce a sense of community and teamwork in the remote environment, which are important in maintaining a productive workplace.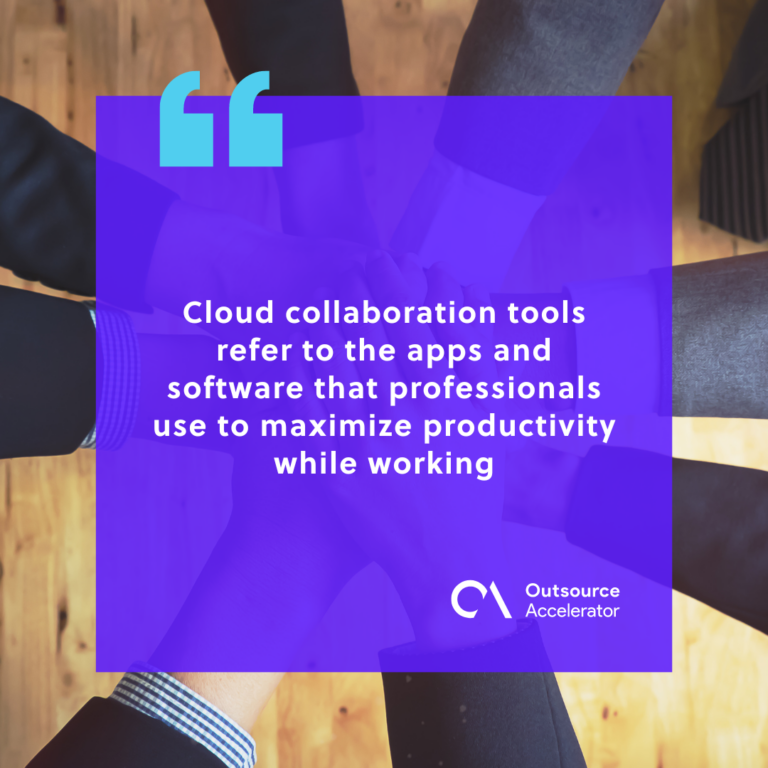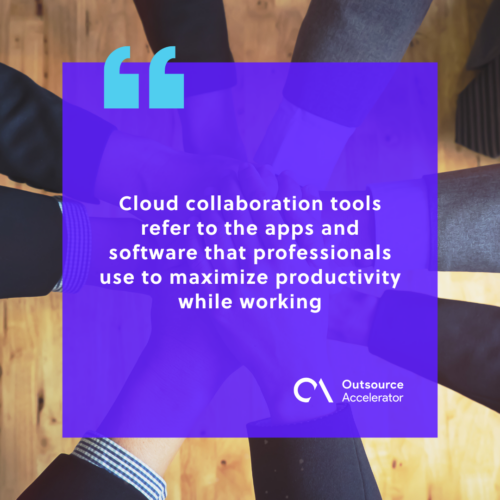 How cloud collaboration tools can maximize productivity
As mentioned, these tools increase productivity and maintain teamwork among remote staff. To an extent, these also introduce responsibility and accountability in the workplace.
With most cloud collaboration tools, one of the biggest advantages is the transparency amongst the tasks and how projects will be done on time.
These apps function in a workplace that's been healthy from the start, only amplifying the things that have worked for the team. That said, some teams may have problems that should be addressed, and introducing a software solution may or may not solve these issues.
Maximizing productivity can mean different things to different people. While some think that multitasking is the way to get things done, some might opt for focusing on one task at a time.
These platforms, no matter what one's productivity style is like, can cater to users day in and day out.
Characteristics of the right cloud collaboration software
There is the right platform for every organization, team, and department out there. Some cloud collaboration tools may fit one team and not others. It's a matter of trial and error when it comes to integrating new apps within a company.
However, there are some things that team leaders need to consider before choosing a tool to try on.
Compatibility with the team
It may seem subtle, but team dynamics play a big role in choosing the right app. Some teams may work with a 100% collaborative environment, while others work better with a combination of transparent project management and some autonomy.
By identifying the style and needs of your team, you can choose which of the cloud collaboration tools available in the market suits your business.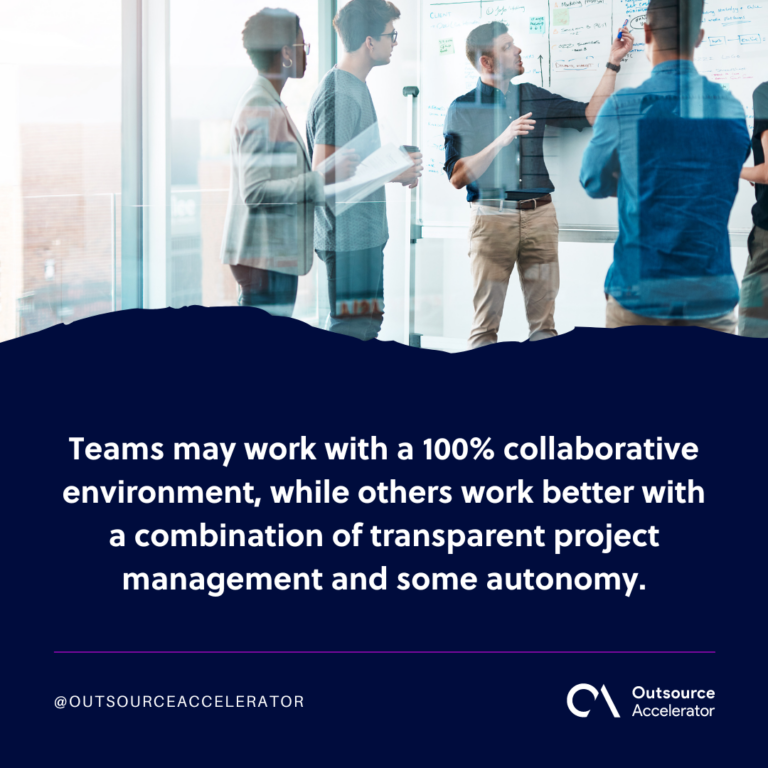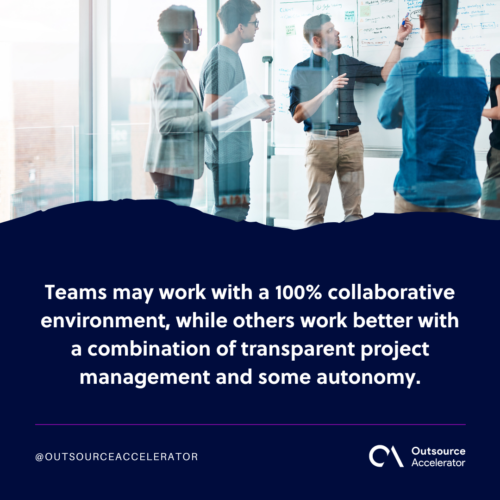 User-friendliness
It's important that these applications and software are as easy to navigate as possible.
One of the most important aspects of user-friendly software is its ability to be easily accessible through multiple platforms. From Android and iOS to Windows and Mac, its user interface should run seamlessly.Flexibility and scalability
In a company where growth is inevitable, the ability to add more (or less) user profiles should be easy. End-users should be able to add themselves to common or departmental projects and see their progress without accidentally manipulating the results.
Moreover, with so many people using the system simultaneously daily, the software should be able to adjust to the team's needs in a snap.
Cost-effectiveness
Enterprise-grade cloud collaboration tools are often marketed with a hefty price tag. 
Whether you have a strict budget or are willing to pay for extra features, it's important that your teams are able to maximize the features available in the cloud collaboration tool.
10 best cloud collaborations tools on the market
The online collaboration apps listed below are some of the best available tools on the market. Like any other software, these come with their own set of advantages and disadvantages.
One prime example of an online collaboration application is Google Workspace. From Docs and Sheets to Drive, Meet, and Calendar, Google's online office suite has it all. 
Everyone on the team with a Gmail account can access these web applications for free. However, added features are available for companies in Google Workspace's business plans, starting at USD 4.20 per user monthly. 
Like Google Workspace, Microsoft 365 is an online collaborative application that allows departments to move seamlessly from one project to another. 
Compared to its competitor, Microsoft 365 doesn't allow for simultaneous collaboration, but file sharing is 100% possible with this platform.
Skype has been a household name for many years now, and just before the rise of remote working, Microsoft has pushed for Skype for Business. It is an enterprise-grade version of their free video-calling platform.
As a powerful and popular remote collaboration app, Slack definitely has it all. 
From the ability to create multiple channels and add members without any hitches to its real-time and instant messaging facility, Slack can manage remote teams and a distributed workforce.
While Flock isn't as popular as its counterparts, it's a multi-platform communication tool that allows users to talk, share files, and integrate external applications into the Flock system.
Just like Slack paired with Asana or Trello, this multiperson collaboration app comes with a project management environment right inside the app itself.
This platform is a popular project management tool that offers so much more—it has APIs for external applications, customer relationship management databases, and app integrations.
Developers of the platform tout it as the ultimate work hub. Introducing these add-ons and integrations makes Monday.com a great cloud collaboration tool.
Speaking of project management, Asana is one of the most popular platforms for introducing a cloud-based system to manage several projects at the same time.
Depending on the user, the UI can be customized and only show the active project they're working on—allowing them to focus on one thing at a time.
Like Asana, Trello is another project management tool that enables its user base to be completely transparent as to the progress of projects. This introduces one of the most important factors in the workplace: accountability.
It's safe to say that getting organized with a team isn't as easy as it sounds, given that we all have different commitments, communication concepts, and styles.
But with apps like Notion, teamwork is just a little bit easier and more manageable. Notion is a great tool for instilling collaborative ideals into professional employees. 
Podio is one of the flexible and customizable cloud collaboration tools that allow a team to create, share and collaborate on projects in an organized way. 
With Podio, a team can easily manage tasks, schedule meetings, track progress, share files, and much more. These features are combined with a user-friendly interface. 
In addition, this tool centralizes many aspects of a business in one place, which is the perfect platform for small businesses and organizations with simple requirements.
Cloud collaboration tools are future-proof.
The way the digital world is evolving, there's no other way but forward. Cloud collaboration tools, being fully digital and online, are sure to move along with this progress.
These tools have been proven to be relevant, especially after the pandemic hit in 2020. Whether your teams are in-house or remote, digital collaboration tools are a necessity to maintain communication, collaboration, and productivity