8 Communication concepts to apply in your remote team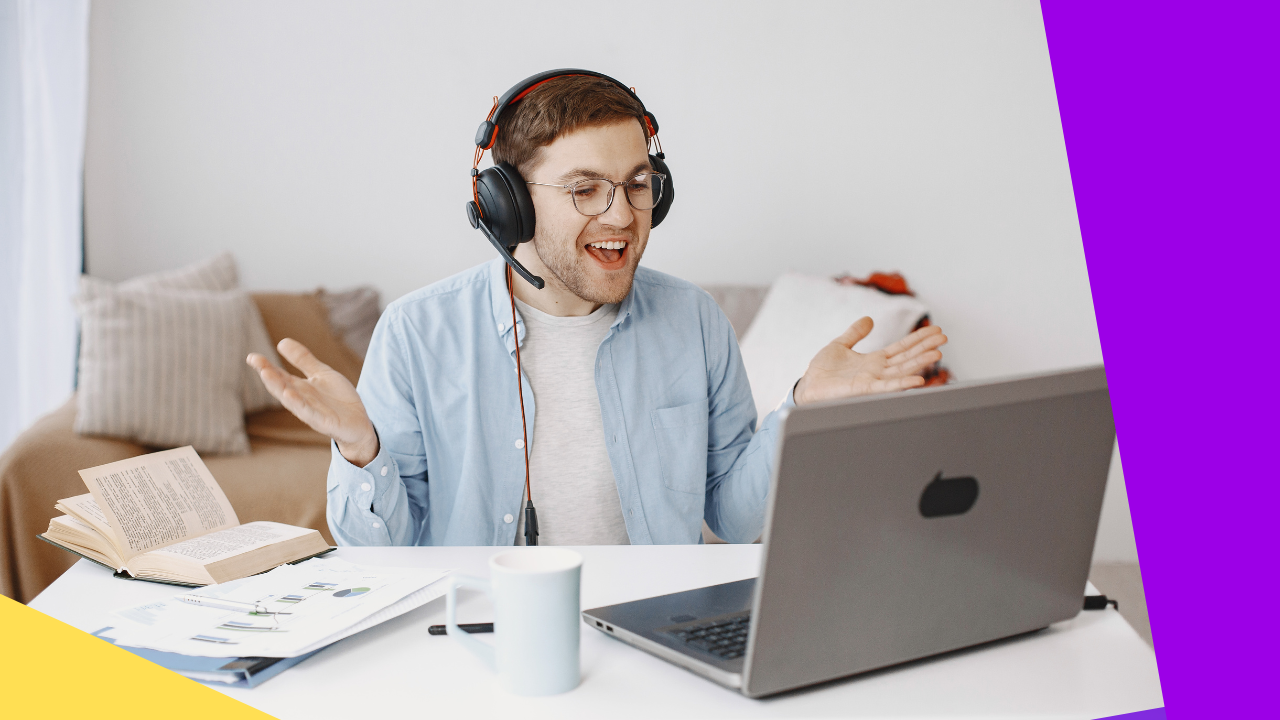 Communication is at the center of every business aspect. It helps keep internal processes going by reaching out to different departments in every function, such as following up payments and bills.
More so, effective communication is the key to working with remote and outsourced teams successfully. Clients that reach out their expectations and goals better to their remote teams can expect a better outcome with their project.
This is why both companies and remote teams need to understand certain communication concepts that can help them connect better. 
Learn about the basic communication concepts in this article.
Understanding communication concepts
Communication styles can differ from person to person in any platform they use. An effective communicator adjusts their strategies according to the situation and platform they are in. 
In customer support, for instance, agents must adapt their tone, wording, and intonation to see fit when reaching out and answering customer calls. Call centers and outsourcing companies usually train their teams with powerful communication concepts to use when facing their clients.
How good communication helps you
Communication helps us reach out our feelings to our friends, family, and coworkers in different ways. Effective communication, meanwhile, sends out our message clearly without the receiver misinterpreting it.
Effective communication helps in every work aspect, from doing tasks efficiently to maintaining progress in a project. 
A McKinsey report states that well-connected teams can increase their work productivity by 20-25%. CMSWire, meanwhile, states that 97% of employees believe that communication affects daily task efficiency.
Further, remote teams work successfully through good communication practices. This is why it's important for them to consider the tools and modes of communication in place so their employees won't feel isolated or left out with their companies.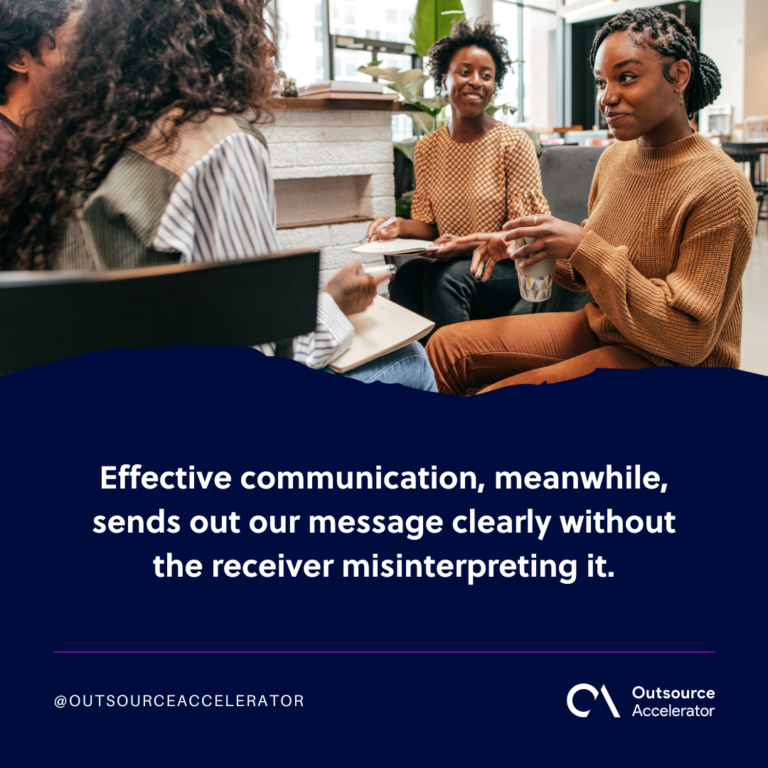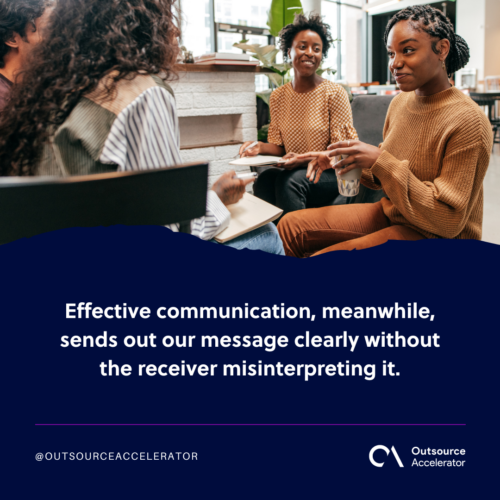 Eight communication concepts to live by
Spring Arbor University lists out the eight basic communication concepts that could help in identifying and building insights on how a remote team can reach out effectively.
Senders and receivers
Communication is primarily composed of a sender and a receiver.
The sender, known as the communicator, refers to someone initiating a message. The receiver or audience, meanwhile, receives it to process and create a response.
Sending and receiving a message can occur in many forms. It can be: 
Dynamic, such as a professor lecturing their students; or 

Fixed, such as a team leader sending orders and tasks to their teammates.
Message
The message is the concept or idea that the sender attempts to communicate to the receiver. 
The sender's message can be interpreted in different forms, aside from words. Thus, the iceberg principle can apply to the way a sender communicates their message.
What is the iceberg principle?
Albert Mehrabian first formed the concept of nonverbal communication in a face-to-face setup. 
He believes that effective face-to-face communication consists of three elements: nonverbal behavior (such as body language and facial expression), tone of voice, and the literal meaning of a word.
Mehrabian's studies implied that communication consists of "more than 90% about how you say something than what you say."
The famous writer Ernest Hemingway adopted this concept in the Iceberg Principle. This concept states that words are only the "tip of the iceberg" – underneath it lies the sender's thoughts, feelings, and subconscious mindsets.
Code
In communication theory, a code refers to the system used to formulate a message. 
According to Message Processing: The Science of Creating Understanding, codification, or the aspects that "make something operate as a code", has several essentials.
Codes have syntax

. This means that codes are organized to a certain degree. When something is highly codified, the brain automatically processes it and simplifies them to get the message.

The receivers' stimuli have common structures

. When the audience receives a highly codified message, the stimuli "can take different forms" in different media systems, as long as it retains a key structure.
Channel
Once a message is formatted in code, the sender then transmits it through a channel. One of the most basic channels of communication is the human voice.
Channels of communication are divided into three categories: verbal, written, and nonverbal. In verbal form, the sender sends their message to the audience through speaking. The audience then decodes the message they have received.
Verbal communication mostly occurs through in-person talks and inbound/outbound calls. Written communication, meanwhile, involves sending messages in the form of writing, such as emails, letters, and even articles.
Nonverbal communication involves gestures and movements that can add more meaning to what the sender wants to say. It is explained by the iceberg principle, as mentioned earlier.
Medium
As defined by Spring Arbor University, "if a channel is the means of transmission, then the medium is the means of communication."
Compared to channels, mediums are messages in certain specific forms. For instance, online advertisements, television shows, and articles are considered mediums. The internet and television, meanwhile, are considered channels.
Different mediums create an impact on the message it communicates, as indicated in theorist Marshall McLuhan's maxim, "The medium is the message."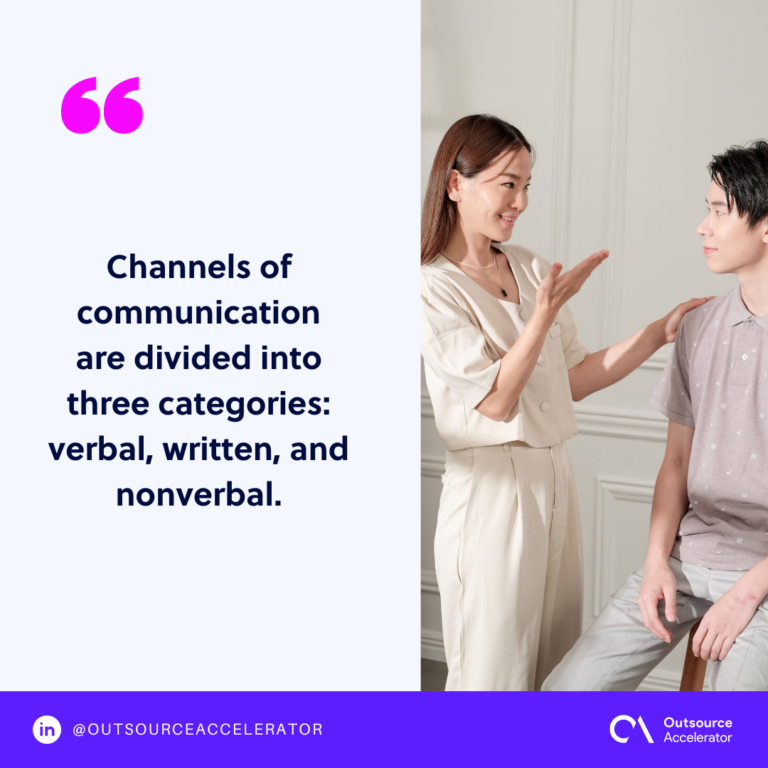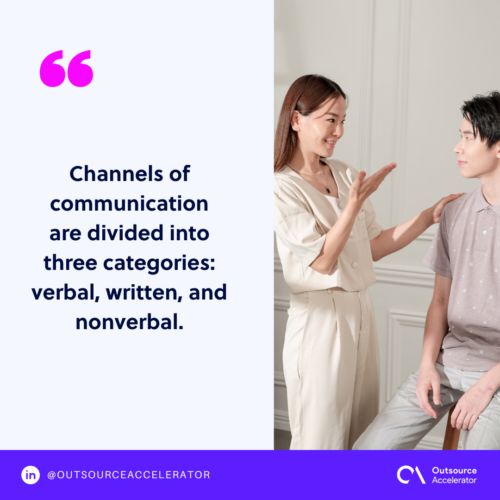 Noise
Noise can occur in both literal and figurative forms in communication. Though, it has a singular function: Noise interrupts or distorts the way the audience interprets a message, regardless of its channel or medium.
There are four types of noise that affect communication:
Physical noise 
This is an external stimulus that distracts the audience from receiving the message properly. This includes background music and acknowledging another speaker outside the conversation.
Environmental noise
Though almost the same concept as physical noise, environmental noise refers to natural factors that interrupt a conversation. Some examples are rain, thunder, and barking dogs.
Psychological noise 
Psychological noise can create barriers through an audience's psychological thinking or preconceived notions. Stereotypes, biases, and assumptions can blindly impact a delivered message. 
Semantic noise
Lastly, semantic noise is mostly caused by the sender. This occurs when the communicator uses technical or grammatically complex language that the audience does not understand. 
A perfect example of this is the use of jargon and technical terms found in a specific field, such as in engineering.
Environment
In communication, the context of the environment lies where the conversation takes place. Environment influences how a message is sent and received. 
Several factors are considered depending on the environment the sender and audience are in. For instance, some conversations or discussions cannot take place in a certain environment due to the message's sensitivity and appropriateness.