Top 20 US call answering service companies to boost your productivity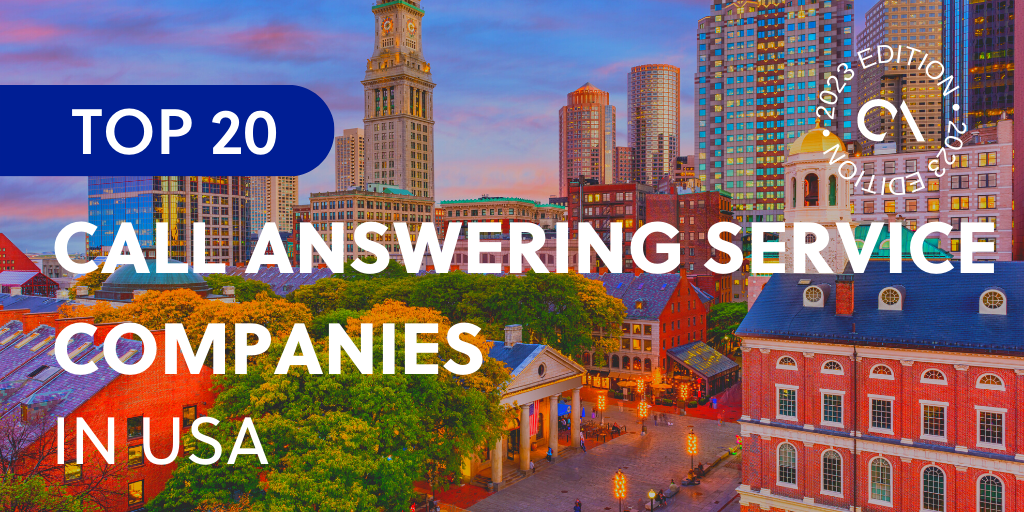 Customer satisfaction should always be at the forefront of your business goals. You must carve out every possible advantage to stay in your industry. Not all businesses get a second shot to make a great impression. 
One challenge that you may face in the long run is managing the sheer volume of calls received daily. Missed calls are costly because an unanswered call could have been and potential lead or business opportunity. 
Stop losing customers and opportunities because of missed calls. These top US call answering service companies ensure they answer every incoming call and handle each as an extension of your in-house team. 
List of top US call answering service companies
Impact of an effective answering service on your business
If you were to define the term "answering service" in the past, it would be a third-party company answering phone calls to help businesses.
Today, these answering services companies serve a much greater purpose. They are not for answering phones anymore; they are about communication. 
Aside from taking messages and dispatching calls, an answering service is a tool that can help your customer service to be stronger and more productive.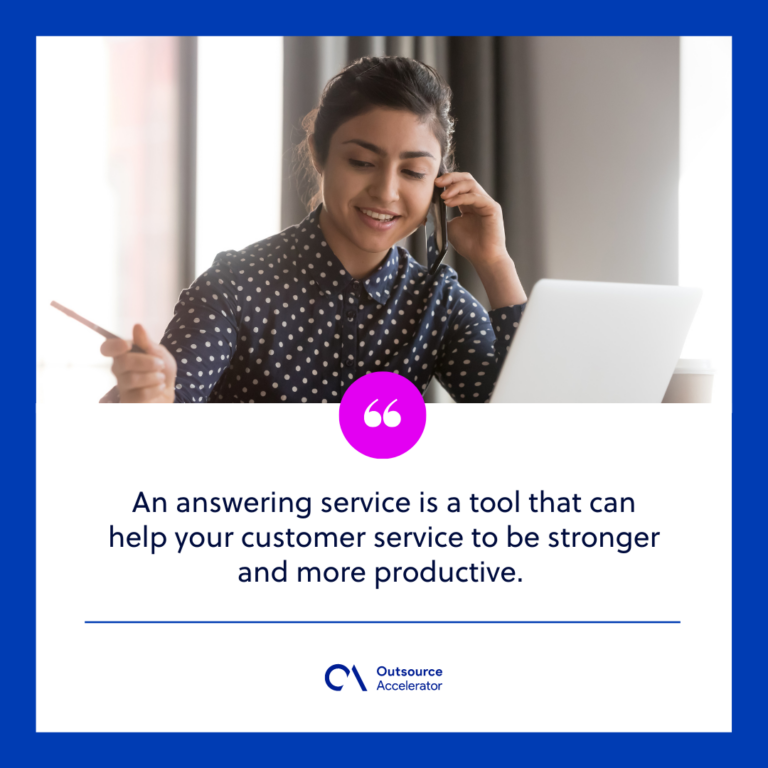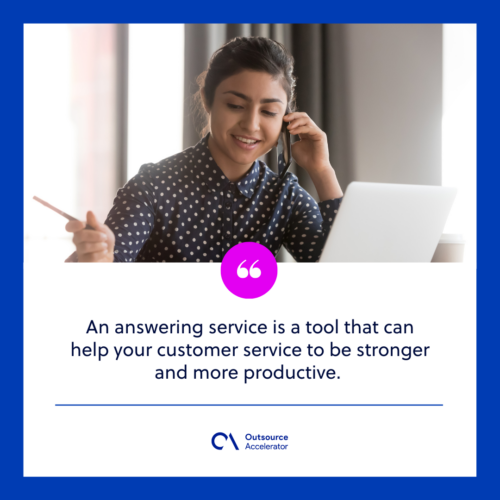 Top global outsourcing lists
Outsource Accelerator is the world's outsourcing marketplace and advisory. We list over 3,000 BPO firms located across the globe in our global directory, and we provide detailed information, price guides, and reviews.
Whether you're a solopreneur, SME owner, or corporate executive, we can help you find the most suitable outsourcing provider for your business. Explore our outsourcing directory now. 
You may also check out our lists of top call answering service companies per country here:
List of top call answering service companies in the US
You might struggle to juggle working on administrative tasks, answering client inquiries, and growing your business.
With these top call-answering service companies in the US, your challenges can become a distant memory.  
If your business receives high customer inquiries, then AnswerConnect might be your call-answering service company. Its people-powered services include inbound and outbound call center services, live call answering, live chat support, and appointment scheduling. 
AnswerConnect has a unique video calling platform called Teleport. It works like Zoom, where you can talk to your customers face-to-face.
Moreover, AnswerConnect made service tracking easier. It has an online portal to check messages, view reports, and replay calls. 
Go Answer is about empowering businesses to scale with the help of its 24/7 answering and web chat services. 
When a phone call comes in, Go Answer's answering service specialists are ready to handle questions, appointment scheduling, and concerns around the clock. They can answer in English or Spanish, so you can say goodbye to language barriers. 
Aside from its unbeatable services, Go Answer understands how empathy can go a long way. The company ensures that its call answering services are not machines and robots; instead, a human voice that can empathize with customers.  
You must never miss out-of-hours calls or inquiries. That is why you need ReceptionHQ's virtual reception services.  
ReceptionHQ understands that every business is unique. This is why the company provides customized solutions that fit your business needs.
The company's business solutions include live call answering, automated messaging, corporate solutions, virtual addresses, and virtual inbound numbers. 
Moreover, ReceptionHQ provides professional appointment scheduling using its MyDiary plan. The company's agents will fill your calendar with quality seller appointments instead of appointment blocks on tire-kickers.  
RingCentral is a cloud-based communications service that goes beyond the dial tone.
Its audio conferencing solutions and cloud-based phone and video system allow customers to network better. This system is easy to set up, and the call and video are high-quality. 
During non-business hours, you can assist your customers with RingCentral's multifaceted approach to customer support. You can send or receive messages and calls across multiple devices. However, RingCentral's communications solutions go beyond live call answering. 
What sets RingCentral apart is its interactive voice response (IVR) system. It allows you to automate the phone answering process and connect the caller to an individual or a department.  
The roots of Specialty Answering Service (Saso) go back to 1985 as a small startup service in Philadelphia.
It empowers small businesses with its affordable call-answering service. Saso has 300 employees who are always ready to pick up calls on your behalf. 
Saso's mission is to help fast-growing businesses close deals and provide live customer support anytime. Its specialists deliver phone answering, call center, lead generation, and virtual receptionist services. 
Moreover, this company has an online portal or app where you can check your messages and review calls, allowing you to get better insights into customer engagement. 
Answerforce works with franchises, small businesses, and other service industry professionals across different sectors.
Regardless of your business hours, this company can be the change you need to grow your business faster. 
Regarding human services, AnswerForce provides 24/7 live answering, appointment setting, after-hours answering, bilingual answering, call center solutions, and virtual receptionists. 
Aside from these core services, AnswerForce has a cloud-based tech toolkit. These include good reporting tools to review the number of answered calls, call recordings, and remaining minutes left.
It also shows the highest call volume time, days, and more through the desktop and mobile app interface. 
Say hello to more sales with HelloSells. This lead-capture service company is perfect for businesses that want to improve lead generation. Its specialists capture leads that come from multiple channels. 
HelloSells' services walk you through the sales funnel. With its customizable solutions, sales tech integrations, and appointment-booking software, you will never miss an opportunity.  
Moreover, HellosSells offer an answering service that caters to your business 24/7. It means your customers get the support they deserve for questions or issues.
The company's agents answer the call, qualify the leads, and book an appointment in your calendar. 
Ooma is worth a shot if you are a small business owner. Getting started with this company is as easy as ABC. Aside from its affordability, you will get more than 50 features that can streamline your business communication infrastructure. 
Ooma packed its affordable office phone system with an automated answering system, which directs the callers to an individual or specific department.
This feature ensures that missed calls are not a thing since there will always be someone to respond to customer queries. 
You can customize Ooma's communication solutions, so do not settle for a cookie-cutter approach. The company's features include video conferencing, free toll numbers, low international calling rates, HD calling, and free local phone numbers. 
Ruby is an award-winning company that delivers unparalleled experience combined with superpowered technology.
Technology cannot replace people but take Ruby's service up a notch. Your business can grow and thrive with Ruby's 24/7 live call answering, integrated live website chat, and multichannel experience. 
Moreover, Ruby's mobile application allows you to take voicemail messages and forward the calls to virtual representatives.
Other platform features include call holding, call routing, appointment scheduling, lead capture, real-time usage alerts and voicemail transcriptions, and third-party integrations. 
PATLive has been in business since 1990. Since then, this company has delivered 24/7 customer services that helped its partners scale and grow. 
PATLive's receptionists serve as an extension of your business. They will provide services that will leave an impression on each call. You can customize the call flow or how receptionists answer the calls since you're in full control from "hello" to "goodbye."
PCMSI, or Professional Communications Messaging Service, Inc, has served thousands of customers for over 60 years. It specializes in several industries, including real estate, healthcare, service business, information technology, etc. 
You can customize PMCSI's call answering service. If you want them to forward the calls to you or notify you about important calls, they will create a detailed call protocol for you
Its highly trained telephone answering service operators can modify your services to ensure your business never miss any calls.  
Abby Connect has AI-assisted human receptionists who can represent your business right. They combine the company's technology and expertise to deliver unparalleled efficiency and excellence. 
Abby Connect also makes meaningful conversations and connections with customers. Its live chat support service helps website visitors then convert them into paying customers. 
Abby Connect has a mobile application called AbbyGO. It allows you to check conversations, provide updates to the team, and manage your Abby Connect account.
Other features include:
Sending and receiving SMS messages,

Updating account payment methods, and 

Checking current usage and receptionist minutes. 
You must show your customers that your value their time. If your in-house team feels overwhelmed by the high volume of calls, VoiceNation's bilingual virtual receptionists know what to do. They are available to answer calls and handle live chat support all day and all night. 
VoiceNation is a live receptionist service with live chat support and call forwarding. It provides a platform for small businesses to address customer needs while providing exceptional customer service.  
Immediate resolution is in the palm of your hands with VoiceNation. The standout features of VoiceNation are unlimited long-distance calling, instant activation, free call patching, and custom call scripting.  
Vonage is another cloud-based communication provider that helps small and medium-sized businesses.
This company existed before the VoIP (Voice over Internet Protocol) industry did. Until now, Vonage has stayed relevant even with the changing market.  
Vonage has a custom phone menu equipped with an intuitive IVR. It ensures no calls get unanswered, whether during a holiday or after work hours. Moreover, its AI-based assistant and call routing capabilities allow you to receive a call even if there are no agents present.  
You might have heard of SignMore if you are in the real estate industry. This company has property-focused agents who understand how the industry work.
Aside from that, they can work around the clock and ensure you never miss an opportunity because of missed calls. 
Signmore comes with a video tour. With one click, it connects buyers and sellers wherever they are. Moreover, its mobile application allows you to manage and stay on top of your business. It shows real-time message notifications, call recordings, and qualified leads.  
With SignMore, you can sign more deals and build stronger relationships with clients. 
How your business handles calls say a lot about you. Davinci Virtual can add a professional and friendly voice when customers call. 
The company has an automated answering service that works on virtual office services. Its live phone answering services provides a free local, toll-free number.
The backend support is also available, including call screening and forwarding, voicemail setup and management, faxing services, and advanced call routing. 
Moreover, Davinci Virtual allows callers to reach you anywhere. It is possible because of the virtual phone locating service called "Find Me Follow Me." 
Answerhero knows how challenging it is to run a business. It is why the company wants to lend a helping hand even by answering calls. AnswerHero sends all the caller information and action via email, fax, text, or secure message. 
AnswerHero has highly trained staff who can handle your accounts professionally, relay urgent messages, and set appointments.
Moreover, they can cover all the bases even after business hours. These live virtual receptionists are bilingual; nothing will get lost in translation. 
The following is part of AnswerHero's plans: urgent call answering, call routing, message taking, lead capture, disaster recovery solutions, and appointment setting.
Being one of its partners guarantees that you would not feel like your business is running you. 
Moneypenny is a parent company of Voicenation, but the two institutions work independently. 
Moneypenny's phone answering service includes scripts and free-flow conversation. Partnering with this company gives you access to world-leading communication technology and cherry-picked people without breaking the bank.
However, Moneypenny does relationships and does not solely rely on scripts. 
Moneypenny maintains its systems, ensuring they function seamlessly. Its features include instant caller recognition, sales call blocking, VIP flagging, and integration. Moneypenny can transfer calls to Microsoft Teams and send transcription via email or text. 
If you want to build rapport from the first hello, Answering Service Care is what you need.
With its 24/7 professional answering service and live agents, you have much to gain. However, they bring much more to the table besides handling incoming calls.
For instance, Answering Service Care's team can help callers schedule, reschedule, and cancel appointments.
The other features include call recording, on-call calendar, CRM integrations, disaster recovery, spam blocker, and email monitoring.
Last on the list is another live call answering company for real estate investors, Call Porter.   
This company wants you to buy and sell properties without being glued to your phone and dealing with angry sellers. Call Porter is ready to handle your inbound calls so you can focus on core matters, including investing, closing deals, and growing your business. 
Call Porter ensures that language barriers are not an issue since they only hire and train English-fluent US residents. The scripts and systems work exclusively for real estate businesses and investors. 
Start profiting from call answering services!
Accessibility can make or break your company. Businesses turn to professional call-answering services to save resources while improving responsiveness. You can treat these companies as an extension of your business. 
Do not sleep on these services! If you want to stay on top of the competition, exceptional customer service is the not-so-secret sauce of every successful brand.