Ultimate guide to IVR call center: its benefits, processes, and nature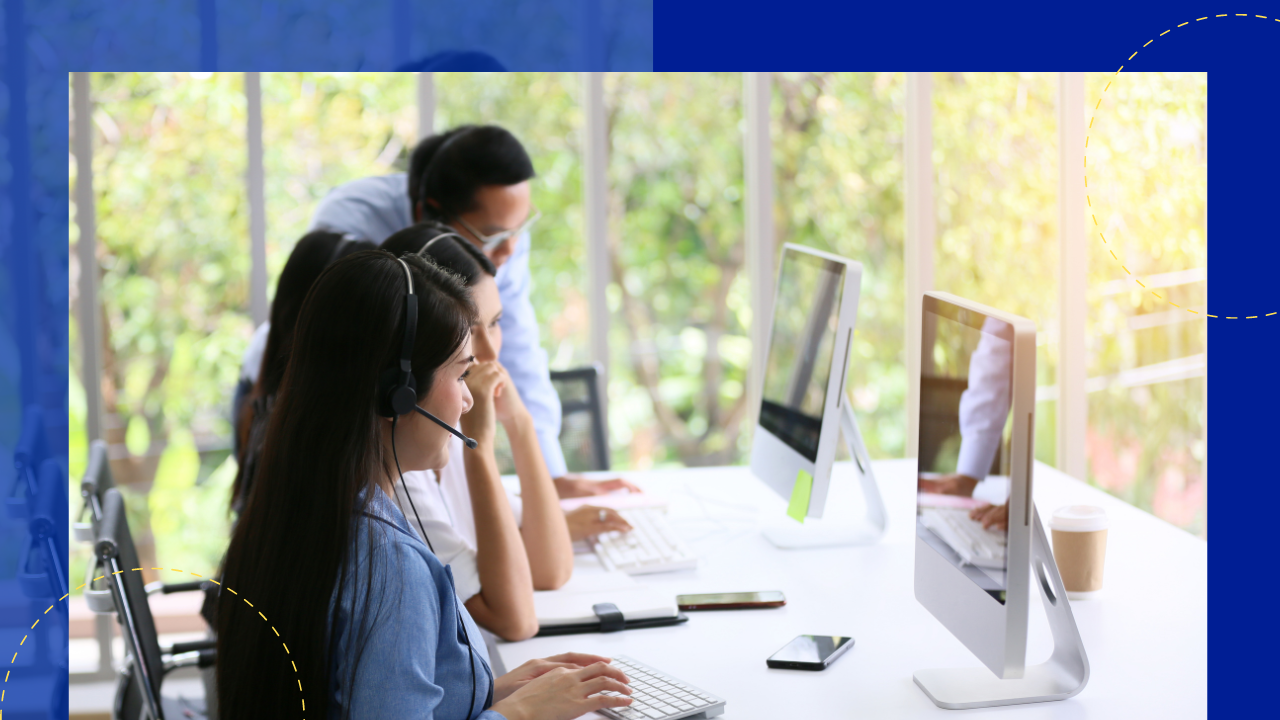 In any call center company, ensuring that all queries and customer concerns are handled is crucial. It goes beyond brand promise and more into understanding the trends and patterns experienced by end-users. 
To ensure that the whole operations and systems are functioning, call center companies implement a variety of customer service technologies aimed at managing thousands of calls in a day. 
One of these technologies is the IVR system. It is the most cost-effective way to manage the deluge of calls and redirect the clients to the most qualified personnel for their concerns. 
Learn more about IVRs in a call center, how the system works, and its benefits in this article.
What is an IVR call center?
An interactive voice response (IVR) is an automated system used by companies and call centers to manage incoming calls. 
The system serves as a receptionist, which provides different options for end-users to follow to receive the help they need. 
The IVR call center system empowers the users to be more self-reliant by finding the answers to frequently asked questions on the company's website or reverting to message support for matters which are not urgent. 
The main advantage of IVR in a call center is it maximizes the capabilities and time of employees. Agents can perform high-level tasks aside from working on calls and answering basic inquiries. 
Using IVR in a call center also enhances customer experience with the fast and reliable service it provides to its callers. They then save a lot of time as they do not need to wait long in line or expect a callback.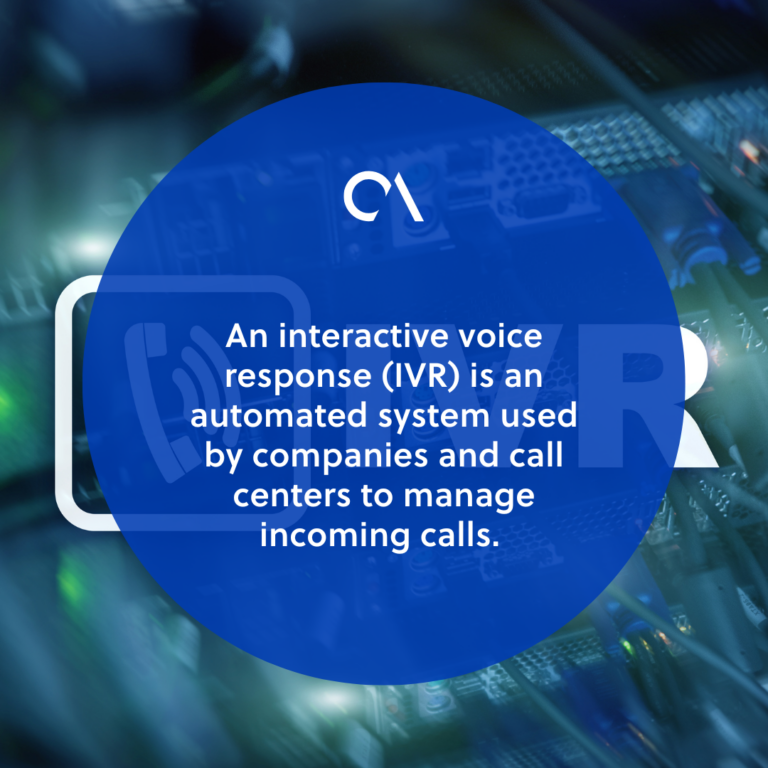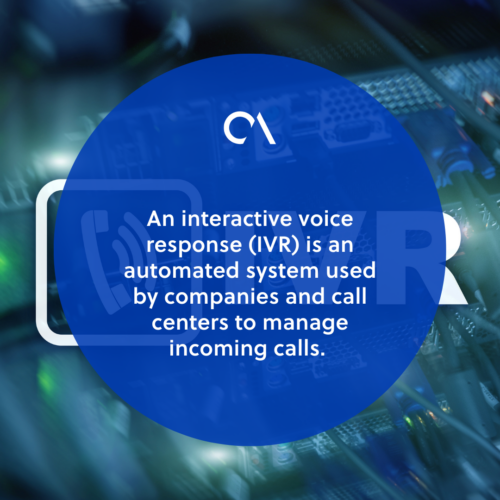 What is IVR in a call center for?
Essentially, the IVR call center promises first-contact resolution of concerns by maximizing the time and effort of agents. 
Instead of focusing on high quota performance, it will be directed to the quality resolution of concerns and technical issues requiring advanced expertise.
Apart from this, IVR in a call center has other functions, such as the following: 
Handling simple concerns

. IVRs can be used to answer basic concerns such as account inquiry and site navigation.

Lowering costs

. Fewer agents are needed to address thousands of redundant concerns. 

Directing callers to the right department

. IVRs can be used to redirect callers to appropriate departments. 

Reducing waiting time

. Clients are given the option for a callback to avoid wait time. 

Improving call management

. Customers are encouraged to switch to live chat support instead of talking to agents for simple concerns. 

Gathering information

. Customer details are collected for the agents to process the concerns on their end without live calls.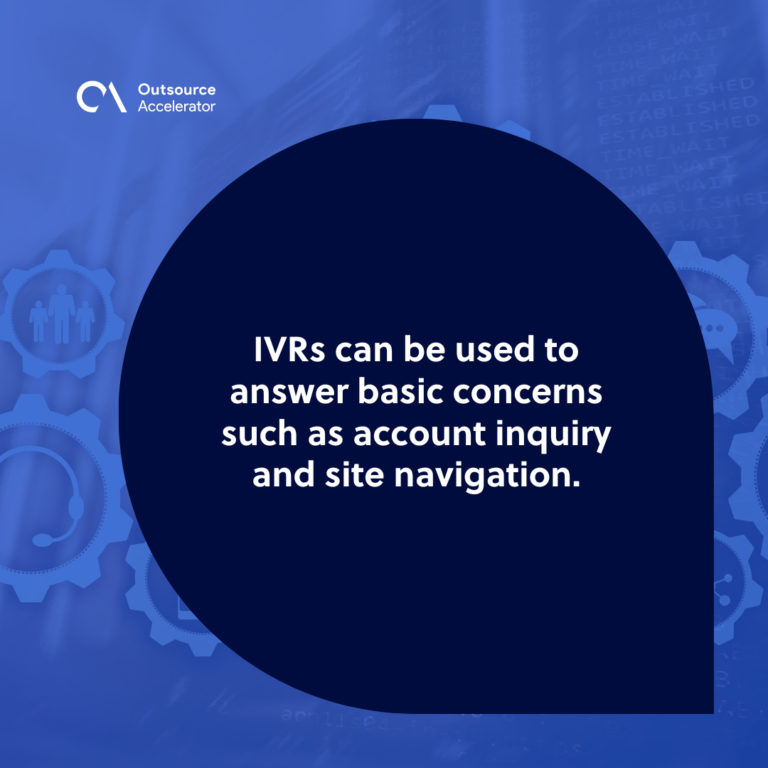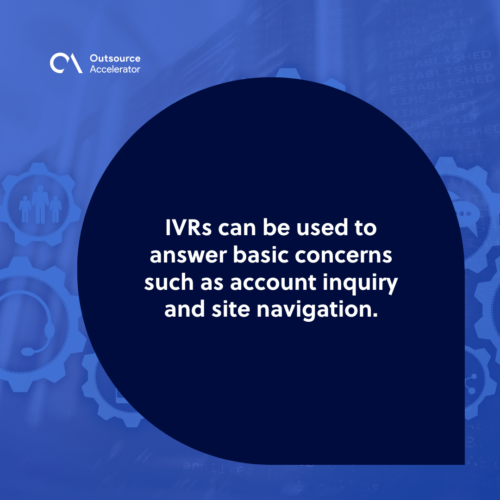 How does the IVR call center work?
The IVR system receives the call and presents various options to the customer. The caller will then select an option through the keypad of their phone or telephone. 
The IVR will ask for additional information and will process it depending on the selection given. After which, the IVR system will process the call by routing the caller to the appropriate department or scheduling a callback.
In cases of advanced IVR systems, additional features include:
Mute and hold,

Warm transfer,

Conferencing,

Call recording, and

Tailor-fitted greetings. 
Benefits of IVR call center
There are various benefits that IVRs in a call center offers. This includes the following: 
Better time management
Part of good customer service is the prompt resolution of issues. A faster and shorter handling time period can improve this. 
IVRs enable agents to provide assistance in a smarter and more efficient way. They do not need to spend most of their time on simple tasks but create more value by assisting with complex issues. 
Especially for call center companies, the IVR system can be programmed to accommodate calls by:
Splitting the calls into a different types of categories and groups;

Assigning agents to these formed groups in which they will resolve the problems; 

Providing pre-recorded FAQs; 

Scheduling callbacks in the event that agents are preoccupied with other calls; and

Rerouting calls through a ticketing system.  
This reduces the hold and waits time, enabling both agents and callers to spend their time on productive things. 
Higher first-contact resolutions
Clients do not want circuitous processes and unresolved queries. As much as possible, they look forward to prompt calls from the first agent they encounter. 
Warm transfers between departments irritate them as it entails more hold time for them. The IVR system removes this by directing the callers to the appropriate agent right away.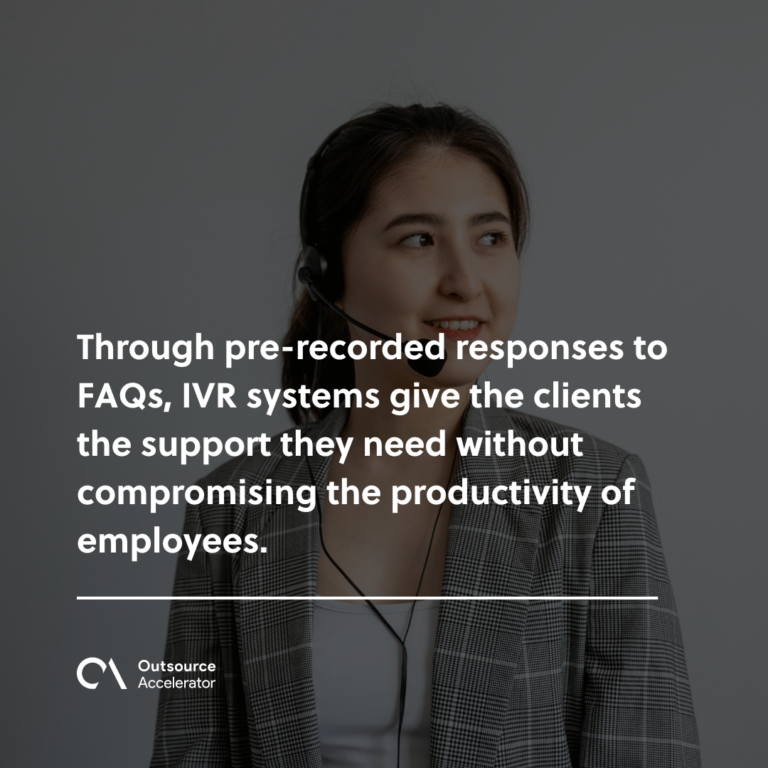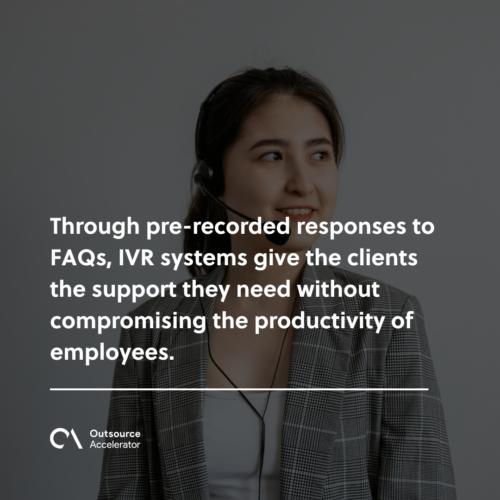 24/7 support
With clients all over the world, having 24/7 customer service is becoming in demand and necessary. 
This proves better customer service which clients value and look for. The good thing about an IVR system is that it supports 24/7 customer support. 
Through pre-recorded responses to FAQs, IVR systems give the clients the support they need without compromising the productivity of employees. This is especially applicable to companies that cannot provide 24/7 support. 
This system comes in handy during the holiday season, product launching, emergencies, and other situations in that employees cannot answer the call personally. 
IVR in a call center: a game changer in customer support
IVR call center sets the customer service capabilities and expectations a bit higher. It goes beyond faster resolution of issues, but it is more in increasing the capability of the company to scale. 
With this reliable technology at hand, companies can be with and for their customers all the time. They can get more reliable data on the common concerns through the ticketing system and in turn create programs or projects aimed at resolving frequent concerns.