Why is live chat necessary to your customer service?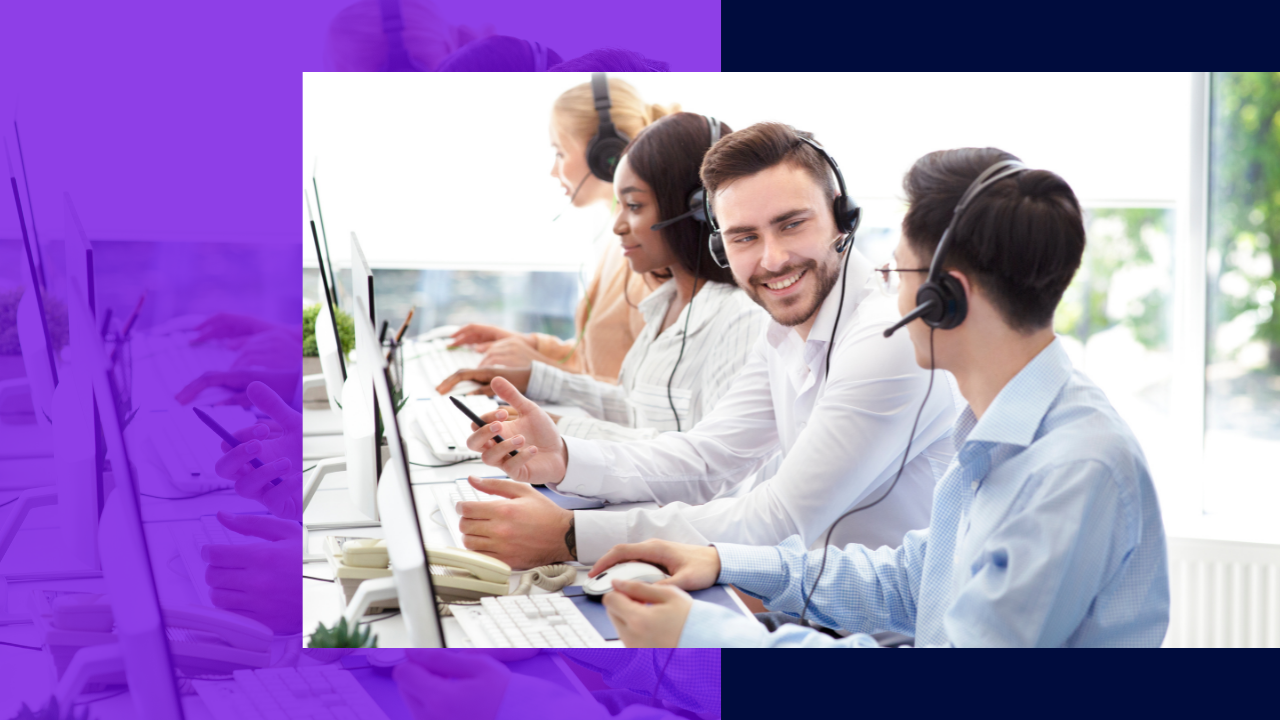 A lot of businesses these days spiral down mainly because of poor customer service. This shows how customer service creates a huge impact on how consumers will view your brand. 
Today's tech-driven world is centered around convenience. In terms of customer service, it is a must for businesses to have as many communication channels as possible. 
One great thing about technology and the internet is that brands can leverage it to boost and streamline their processes, particularly customer service. 
According to research, the use of smartphones and the internet has made people more demanding and impatient. That said, it is important that customers have the means to access your customer service directly and in real time through the internet.
Through the use of live chat in your customer service, you will be able to cater to your customer needs immediately. It has also been a preferred communication channel of most consumers these days. 
Live chat software: definition and common features 
Live chat software is a type of technology that promotes instant messaging for organizations to utilize in communicating with their customers. 
Your customer service agents will be able to engage with consumers in real time and have asynchronous conversations. Real-time chat software can be integrated with your website, your company's mobile application, social media channels, and text messaging.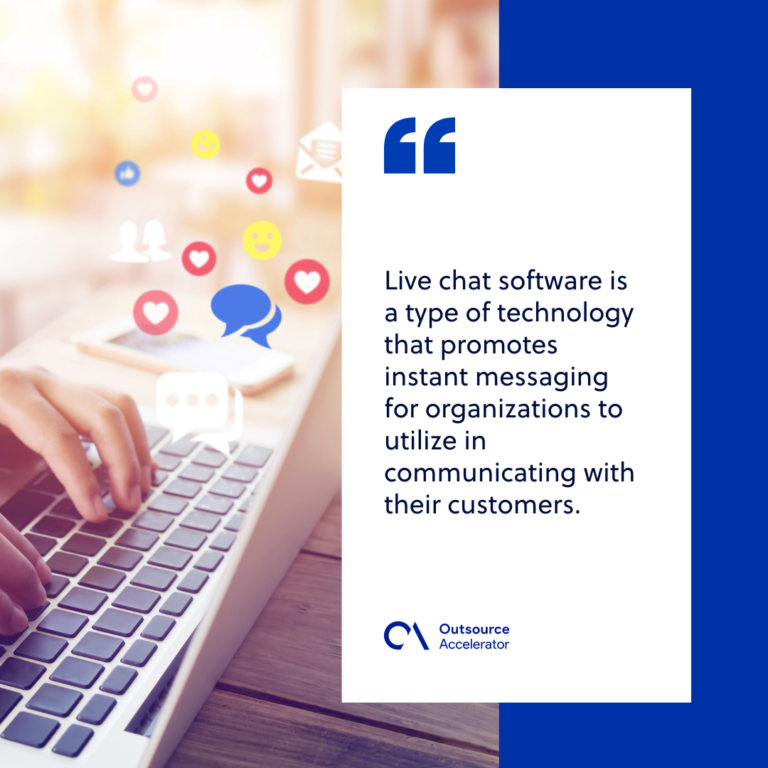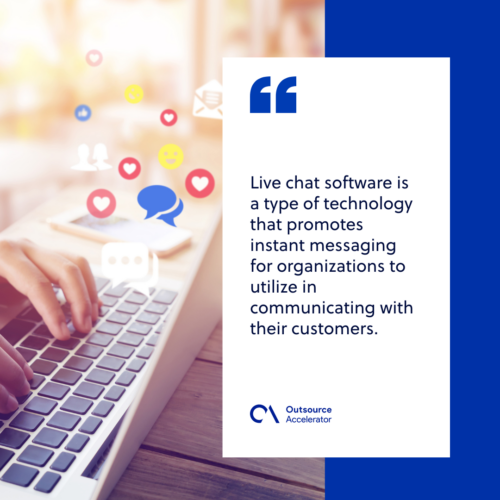 Common features of live chat software 
Live chat software lets you provide a rich customer experience (CX) that will have a direct impact on your overall customer satisfaction. It has various features that can be easily scalable and automated. 
A live chat software usually encompasses the following features: 
Chatbots
Chatbots enable you to communicate with your customers using a live chat, even if you don't have an available agent. 
However, chatbots can only handle simple and repetitive customer inquiries. For more complex requests during a live chat, customers will then be redirected to your agents. 
This will help your customer service teams to attend to more customer requests more efficiently. 
Smart triggers
Smart triggers, also known as proactive chat, let your agents initiate real-time chats whenever someone visits your website. 
You also have the option to set up proactive chats to facilitate your customers' checkout process.  
Performance metrics and KPIs 
Live chat software can also provide you with valuable insights that can uncover important information concerning your KPIs and metrics. 
As for your KPIs, this may include data on your first response time (FRT), customer satisfaction score (CSAT), or average wait time. 
Powerful advantages of live chat to your customer service 
The advantages of live chat software to your organization go beyond providing your customer with a quicker and more convenient CX. 
Below we have five powerful benefits of integrating live chat into your customer service: 
Supports customer acquisition and onboarding 
Live chat lets you build trust and confidence with your prospects and new customers. 
As reported by Forrester, customers that engage with brands via online chat are 2.8 times more likely to make a transaction than those who do not. 
Boosts your customer's support experience 
One of the main reasons why customers opt to use live chat is that they can get their inquiries answered instantly. 
Live chat support is way better than sending an email request to support teams. It is a perfect way for customers to reach out to your brand especially if they have problems that need urgent solutions. 
This is mainly why online chat support commonly has the highest customer satisfaction ratings as compared to other communication platforms. 
Enhances your customer service team's productivity 
Unlike taking calls or answering email requests, agents can cater to several customers all at the same time with online chat. Live chat, in general, can help enhance your customer service team's effectiveness and productivity.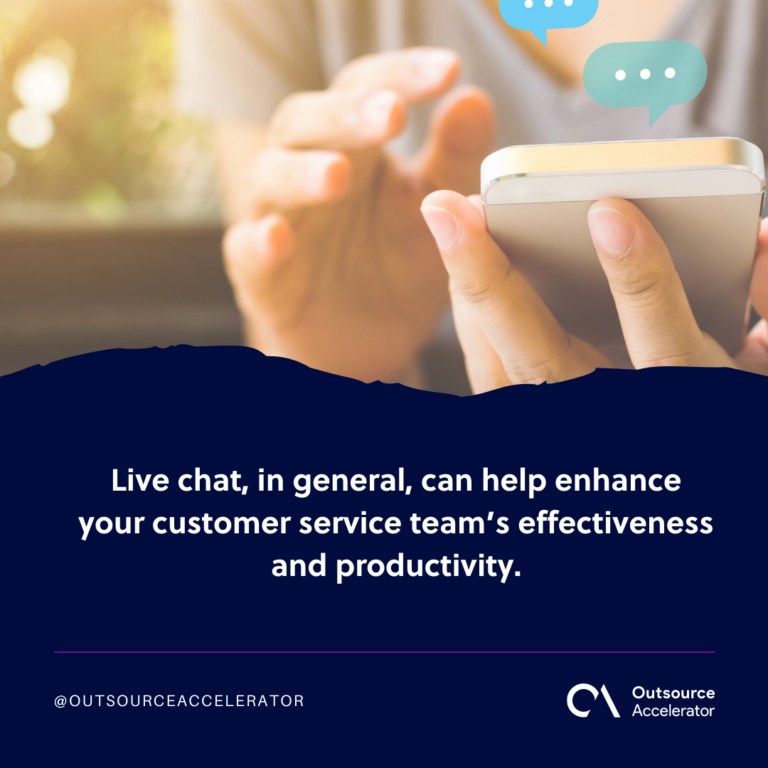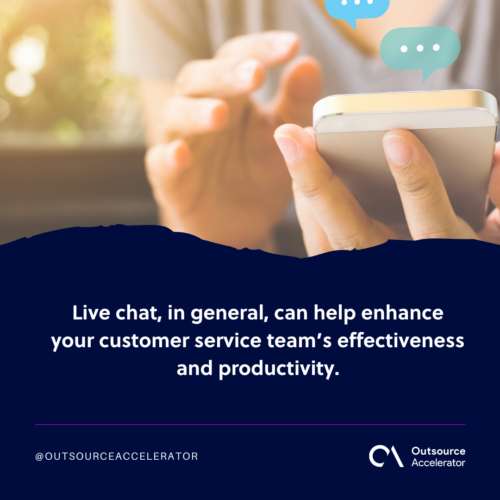 Allows you to offer 24/7 customer service support
Live chat software can be made available for any selection of hours you prefer, even for 24 hours. 
Being able to provide customer service and support 24/7, you can be sure that no customer concern will not go unheard. More so, more and more of your customers will feel that they are well taken care of.
Strengthens customer engagement 
Live chat support lets you build and maintain a good relationship with your leads, repeat, and loyal customers. It also lets your agents connect with as many customers as they can in a day. 
As you enhance your customer engagement, it also increases your chances of making a good and lasting impression. 
While live chat software may have several features, it is best to choose a software that best suits your business requirements. 
Consider a live chat software that can readily handle not just your chat support but also your emails and other customer service channels. 
Or you also have the option to outsource your live chat support to the MVP Asia Pacific! Be able to provide 24/7 live chat support to your customers, provide the right and immediate support for your customers' needs!
Contact MVP Asia Pacific today to get started!