Why live chat outsourcing is a viable option for your business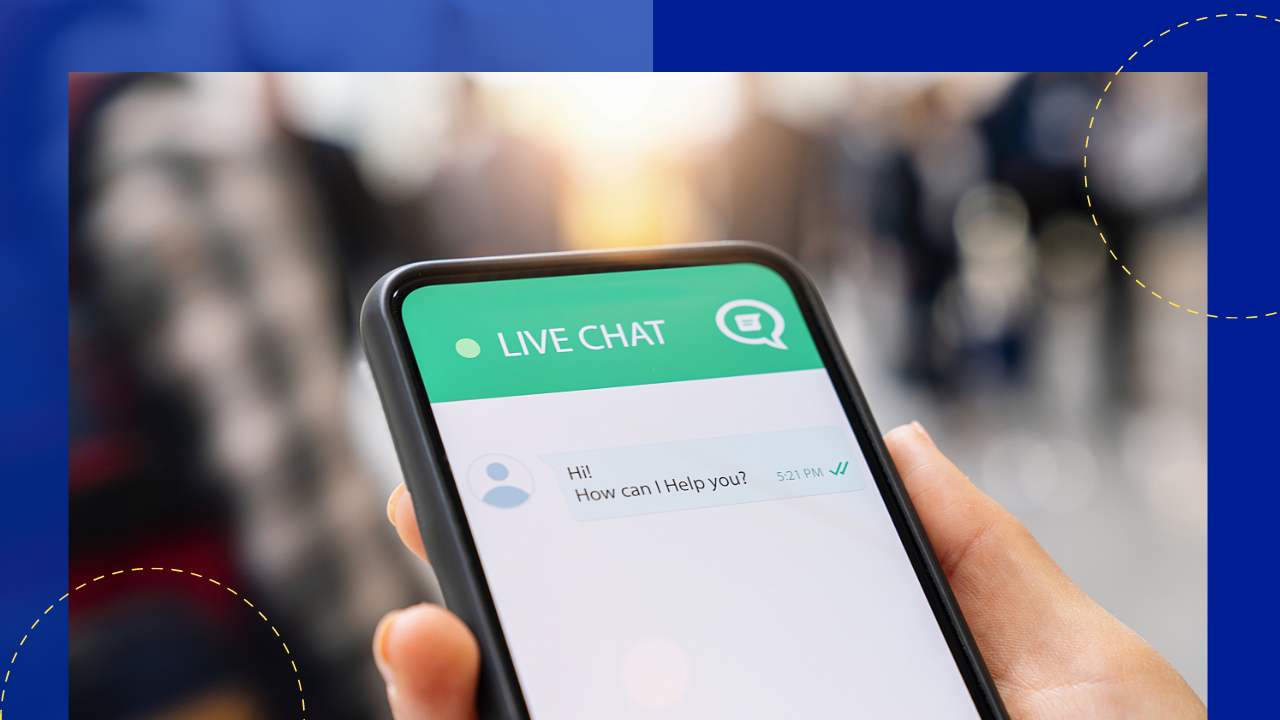 Businesses today have to be available on various communication channels to attend to customers' concerns and inquiries. 
Customers prefer to have quick and direct communications whenever they have questions regarding certain products or services. They most certainly do not want to wait long for your customer support to respond to email. The same goes for being put on hold whenever they call for customer support. 
This is where live chat outsourcing comes in.
The fundamentals of live chat outsourcing
Live chat outsourcing is the strategic method of contracting out your live chat function to a third-party provider. 
Providing live chat support to customers and prospects that visit your website improves your likelihood of securing a transaction. The latest statistics by Kayako prove this, with 79% of businesses experiencing the positive effects of live chat.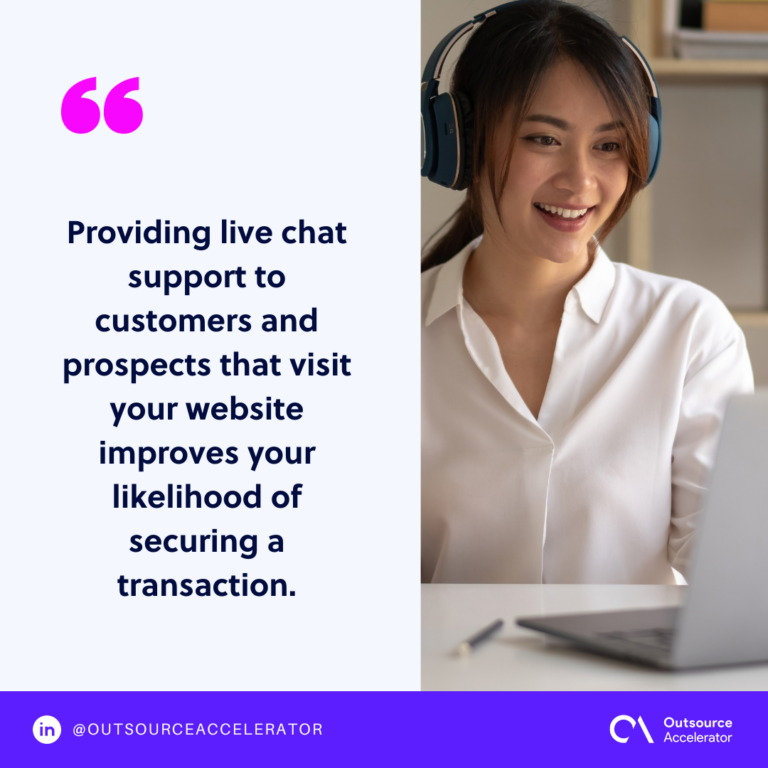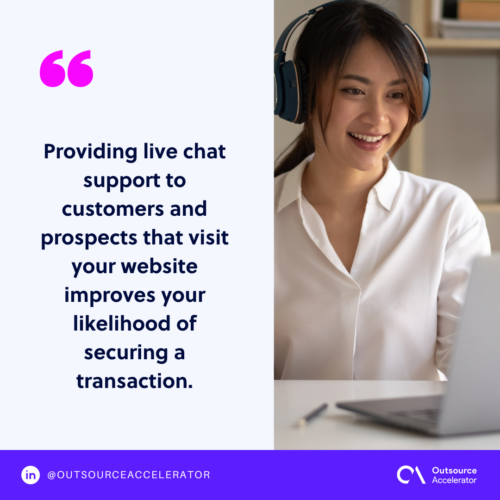 While you have the choice to hire your own in-house live chat support team, live chat outsourcing has been proven to be more effective through SixEleven BPO. This is especially true in terms of amping up your customer satisfaction and conversion rates. 
Your outsourced team will be responsible for answering your customers' inquiries, which includes handling multiple chat engagements. It is also their role to provide solutions to your customers' problems and concerns. 
It is vital that you choose an outsourcing provider that truly understands your business requirements. Outsourcing your live chat support with reputable BPO companies like SixEleven allows you to leverage highly-skilled and experienced agents while saving on costs.
Aside from customer support, SixEleven also offers a selection of outsourcing services for global companies in various industries.
4 exceptional perks of live chat outsourcing
The primary goal for live chat outsourcing is to offer immediate response and provide the most appropriate solution to customers. 
More importantly, it ensures a seamless experience for your customers. Apart from this, live chat outsourcing also has other amazing perks: 
Allows 24/7 live chat support services
There will always be people who browse through your website, even after hours. And, of course, these online shoppers will need to have their questions answered and problems solved. Or, they may simply need assistance for online transactions. 
Outsourcing your live chat support allows you to operate for extended hours — and in a lot of cases, even 24/7. This is possible when you offshore to a country with a different time zone. 
Being able to actively engage with your customers 24/7 increases your chances of building your customers' trust and loyalty. In turn, it also gives you bigger opportunities to close more sales and gain more profit.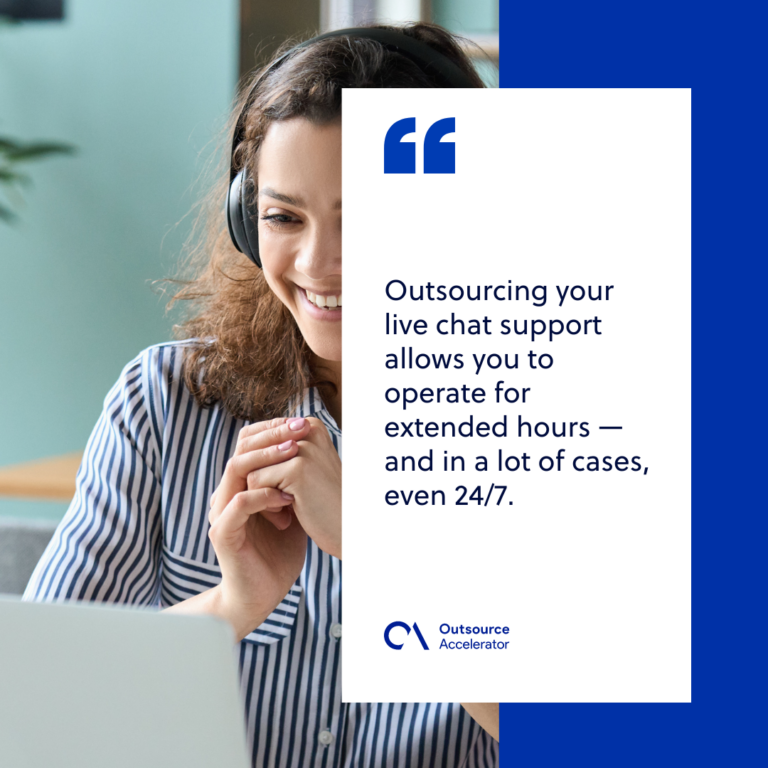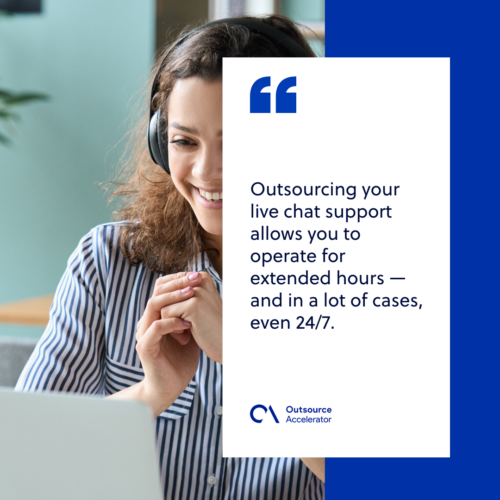 Optimizes conversion rate opportunities
Live chat outsourcing also means that you will be working with chat support experts with certified industry experience. These specialists carry out a professional attitude even when handling difficult customers. 
They know how to address different situations and offer the right solutions that can result in a higher conversion rate. It is better if your customers leave your website with a successful sales transaction rather than with feelings of confusion or annoyance.
Builds up CSAT with live chat support experts
Customers who can openly connect with your brand through live chat will be more satisfied with their overall customer experience. 
People who require live chat support may not always have the same predicament. Some may have product quality issues, account management concerns, or order-related problems. 
Outsourced live chat agents have the right skills and experience to tackle a variety of customer issues. When all your customers' concerns are handled successfully, you will see a massive increase not just in your customer satisfaction or CSAT score but also in your retention rate.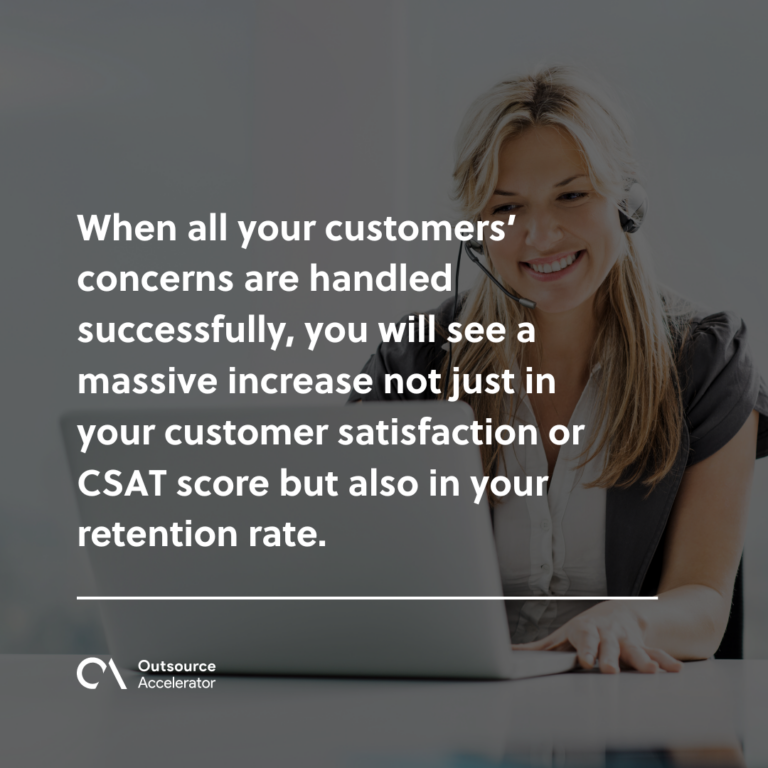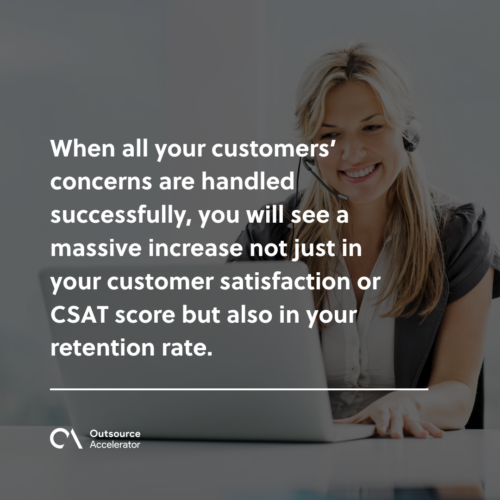 Boosts online reputation
In today's online world, a brand's reputation strongly depends on online reviews and social media. Confusion and the feeling of helplessness are usually the main triggers for consumers to leave a negative review on your website. 
To combat this, live chat outsourcing helps you proactively communicate with your customers. 
This lets your customers stay well-informed regarding your brand. Thus, they will also feel that they are in control of the situation. 
4 signs that you need live chat outsourcing to support your brand
Deciding whether to outsource your live chat process or not can be pretty daunting, especially if you're new to this practice. 
To help you make a decision, below we have outlined four indicators that your business needs to outsource live chat: 
Providing 24-hour support is unachievable 
A typical daily operation starts from 8 am to 5 pm. However, as we've pointed out, consumers will continue to visit your website at any time of the day, even after hours. 
Outsourcing companies have live chat support teams that work on a day shift, night shift, and even weekend shift. If you don't have a team that can attend to your customers for 24 hours, then this is one good reason to outsource your live chat support. 
Live chat outsourcing means that you will have a team of experts to cater to your customers even during odd hours. This also means that no customer will be left hanging, at the same time, no questions will be left unanswered. 
You lack funds to train live chat support teams 
Employing in-house live chat support agents requires continuous training to help them handle different situations more effectively. 
If you lack financial resources to provide regular training, it will inevitably impact your performance. As a result, your agents will not have the proper knowledge and understanding of how to handle challenging circumstances. 
Outsourcing providers like SPLACE ease this worry as the agents they deploy for your live chat support needs have undergone training and continue to do so. They also regularly go through evaluation and monitoring.
Having a stable infrastructure is a challenge
One of the main challenges, especially for startups or small businesses, is the lack of infrastructure. Not having enough office space and equipment can heavily impact your overall business performance. 
You may even have insufficient funds to purchase live chat software to equip your staff. The lack of suitable infrastructure is one major indicator that you need to invest in outsourcing. It helps you save on costs without having to compromise the quality of work. 
On top of that, live chat outsourcing vendors always stay up-to-date with the latest tools and software to help them offer top-of-the-line services.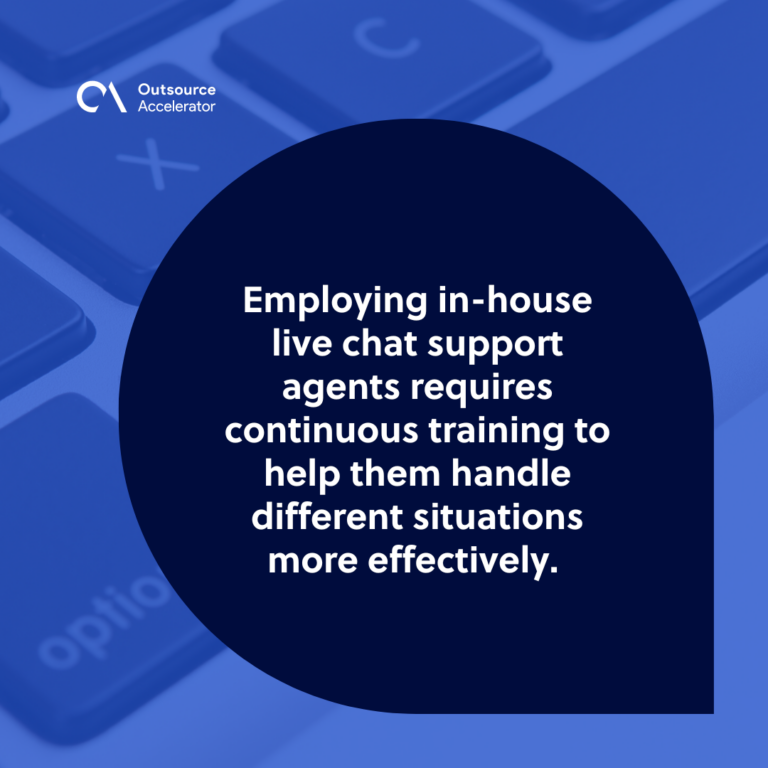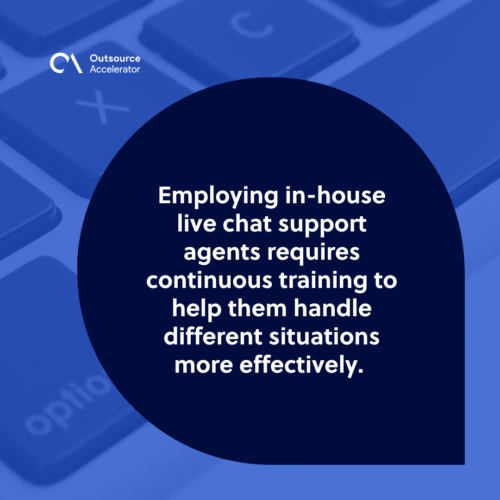 Your marketing and support teams can't work collaboratively
If your marketing and support teams can't work in sync, it will be tough for your organization to move forward. Especially if your live chat support doesn't grow as your business develops, it may only mean that they do not understand your brand well enough. 
When you outsource your live chat support, your outsourced staff will also familiarize themselves with your brand's voice. 
They may also work with your marketing team on how you can deliver a seamless experience from the top to the bottom of the funnel. 
What you should look for in a live chat outsourcing provider
Now that you're all set and ready to outsource, all you need to do is look for an outsourcing company that fits your business requirements. 
Here are a few pointers to consider when choosing your live chat outsourcing provider: 
Identify your infrastructure needs
Your infrastructure needs may vary according to the size of your company.
If you own a large corporation, determine whether your chosen BPO company has enough agents to manage numerous chats that come in simultaneously. 
On the other hand, if you run a startup or a small business, know how many live chat support agents your outsourcing vendor can assign to your company. 
You should also check whether they will only provide live chat support agents or also offer sales specialists to be included in the same service package. 
The above-mentioned can help you check whether your provider fits your infrastructure requirements. More so, it lets you gauge your live chat outsourcing needs. 
Check the industry experience 
Industry experience lets you identify the extent of capabilities your outsourcing provider can offer your business. It gives you a good picture of how they can manage your live chat support and handle challenging situations involved in customer service. 
Checking their background may also reveal how large or small their client base is, as well as the number of happy clients they've worked with. 
Determine the provider's live chat tools
Utilizing the right customer support tool ensures a positive customer journey. 
When you examine the live chat software of your chosen BPO company, you should also ask the following:  
Will the live chat support tool be included in your base package? 

What is the data capacity of the live chat tool?

Does the tool include a chatbot? Or will their live chat outsourcing services focus on human chat?
You may also ask your outsourcing partner about the metrics to assess your business performance with the live chat software. 
Check the scope of data security 
Of course, you also have to ensure the safety and security of both your customers' and your company's sensitive information. 
To ensure customer data security, go through your current legal obligations. Check whether you have any clauses regarding data security. What happens if your customers' information is leaked? What are the precautionary measures to avoid serious consequences? 
Once you have answered these questions, create a contract that will legally bind your chosen outsourcing company. 
Explore your live chat outsourcing options
If you still haven't found the right live chat outsourcing company, you can also browse our Guides page. We have lists of the top BPO companies from all over the world to help you out with your search!