Business chat etiquette: What you should and shouldn't do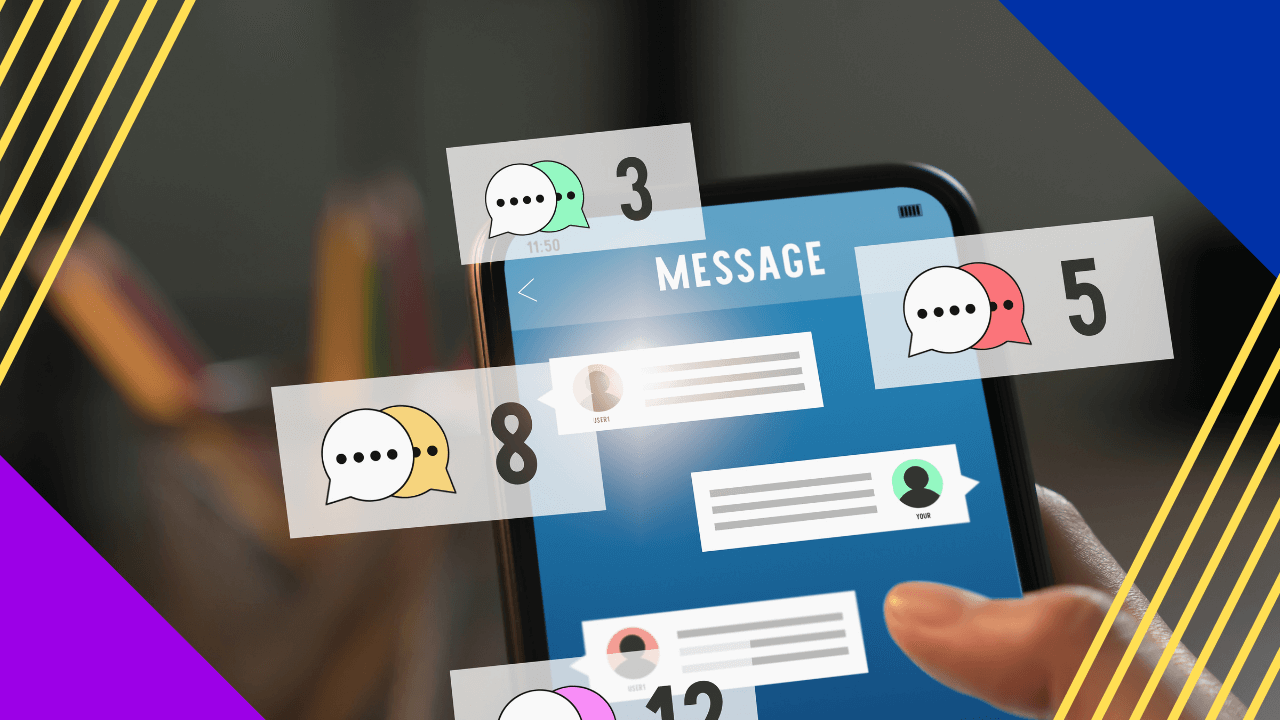 The events of recent years urged organizations around the world to use team collaboration and communication tools to stay connected.
These tools have become a necessity for businesses as they adapt to working from home, and live chat is one of the tools that teams utilize in a remote work environment.
GetApp's recent survey involving over 5,000 software buyers revealed the top two must-have remote working tools during the pandemic: 51% web conferencing and 25% chat messaging software.
Chat tools let you have instant and real-time conversations with your colleagues from other locations as you go on with your daily work. But while it has become a crucial tool for remote work, the responsibility has also become greater for observing the proper chat etiquette.
Relevance of chat etiquette in today's remote work environment 
Businesses today have become reliant on workplace collaboration tools to keep their employees efficient and productive while working from home.
But while instant messaging tools enable you to communicate with everyone in your team, they should be used with caution. Proper chat etiquette must be practiced at all times to help your organization get the most out of these tools.
Chat etiquette encompasses rules that, if followed correctly, let remote teams maximize the chat tools' overall effectiveness. More so, it reduces the possibility of creating tension, stress, and disruption in the virtual workplace.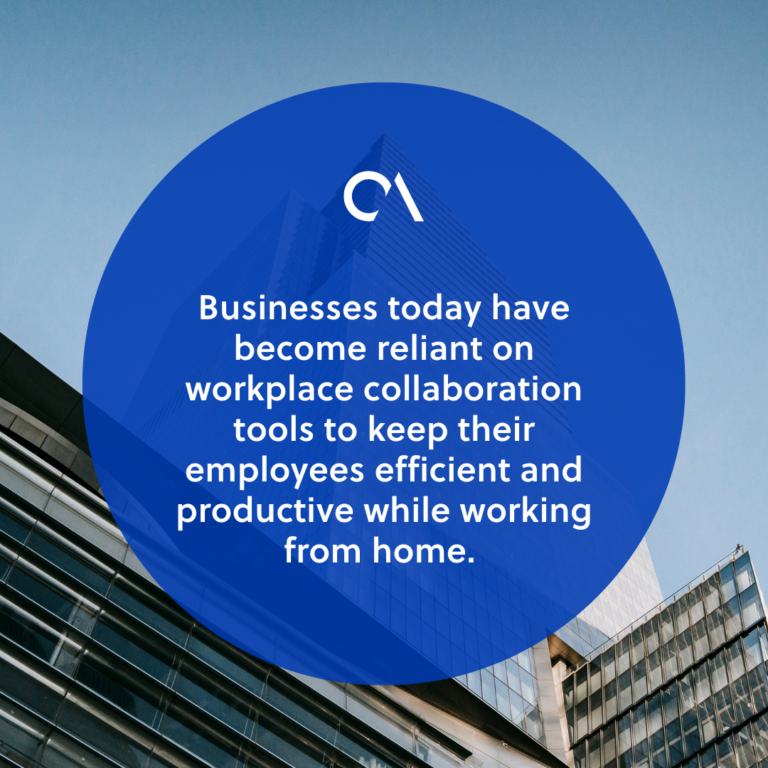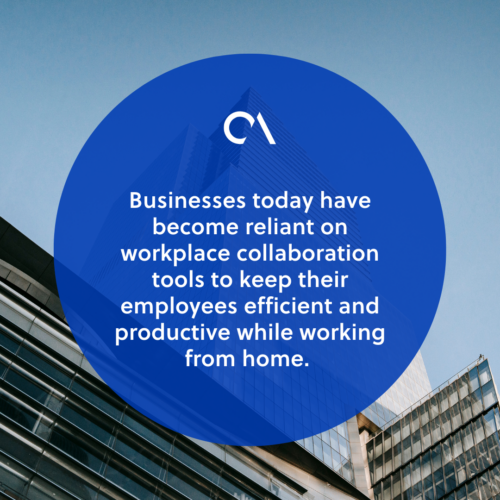 How can you deliver an exceptional customer service via live chat?
It is essential for establishing client loyalty and providing a great customer experience. Consumers who have a good experience with a company are more inclined to return and promote it to others.
Understanding your clients' wants and offering them the best possible service is the foundation of outstanding customer service.
This entails listening to their issues and responding to them promptly, and it also entails giving them helpful advice and answers to their concerns with a professional chat etiquette.
Once the support conversation has concluded, immediately submit a customer feedback or to obtain a rating on the service quality. This will allow your team to assess the effectiveness of the chat interactions.
Additionally, it is critical for your customer service team to have a customer service plan in place to provide exceptional customer service.
This should involve establishing clear customer service objectives, educating personnel on managing angry or frustrated customers, and giving consumers the resources they need to acquire the support they require.
It is also critical to remain current on customer service trends and technology. This will help you keep ahead of the competition and provide the finest service possible to your consumers.
12 live chat etiquette tips for healthier business communication 
Follow these 12 important chat etiquette tips to help you build a better, more productive, and harmonious remote workplace:
Tip 1: Always keep it simple 
Some staff often tend to overthink the way they should speak to other colleagues, whether they're of equal position or senior. In most cases, you may opt to use professional jargon in relaying your message.
However, it is always best to keep your messages simple so the recipient can easily understand what you are trying to say. It is also alright to use standard abbreviations or simple words.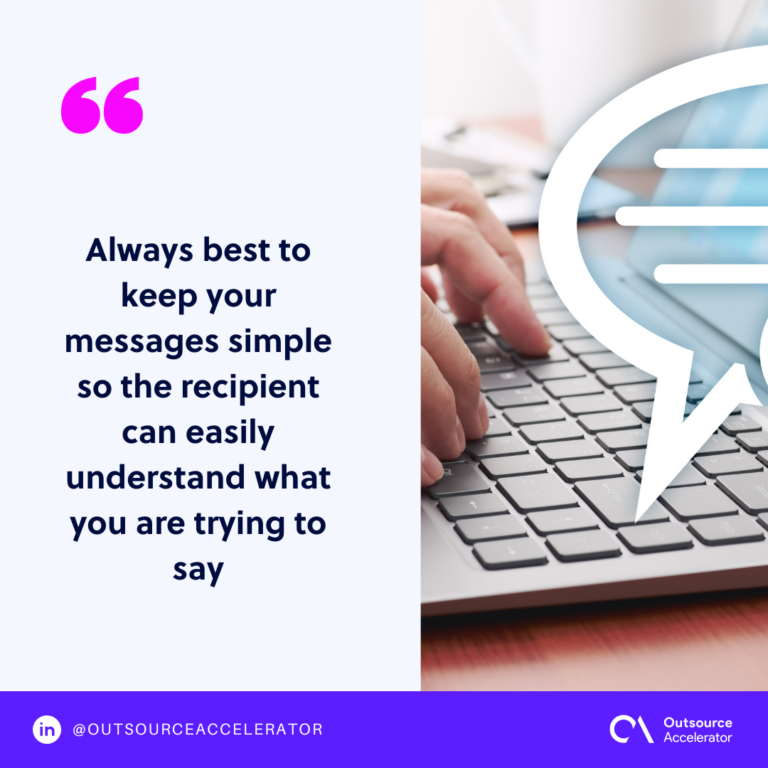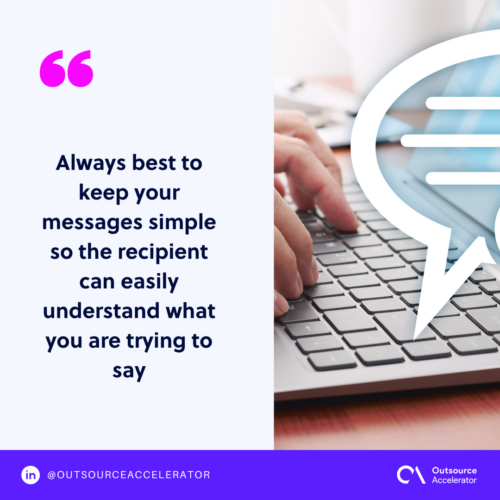 Tip 2: Do not keep them guessing 
When you communicate through a chat messaging tool, especially to workmates you don't know very well, avoid incomplete messages. Do not start a conversation with a single "Hi," or an emoji or GIF without context.
Not all your colleagues would have enough time and patience to try and figure out what's up. It will most likely create annoyance and disruption on their end, especially if they're busy with their tasks. Put it this way: nobody wants to be left guessing.
Tip 3: Be straightforward and clear
In connection with the previous rules, you have to be clear and straightforward as you start a chat conversation. It is always smart to add basic information about your intent, specifically what your message is about.
Another thing that you have to consider is that whoever you're chatting with most likely has plenty of work to attend to. Thus, that person may not immediately reply to you, and this is exactly why your message should be intentional.
Try to start a conversation by asking them if they have time to talk.
Tip 4: Send a single and consolidated message
A lot of people regard chat messaging as a spoken conversation in written form. As a result, chat messages usually end up like informal and relaxed talks.
Particularly if you are speaking with a colleague with whom you have a tight relationship, casual talks may mean a series of broken messages. This will cause distraction and disturbance to the person at the other end of the conversation.
A single, consolidated message is much more effective than sending over a string of texts. It will also help you get an immediate response from your workmate.
Tip 5: Respect the "do not disturb" status
A "do not disturb" status may mean that they are busy, in a meeting, on break, or not feeling well.
Just like when you encounter a closed door, you are required to knock first and not immediately barge in to ask questions. Remember that the same rule applies to proper chat etiquette.
Consider waiting for their status to change into "available" before sending an instant message. This chat etiquette tip also applies to work-related chats after working hours and during the weekend.
Unless it is an important or urgent matter, you may send an email instead and wait for them to respond.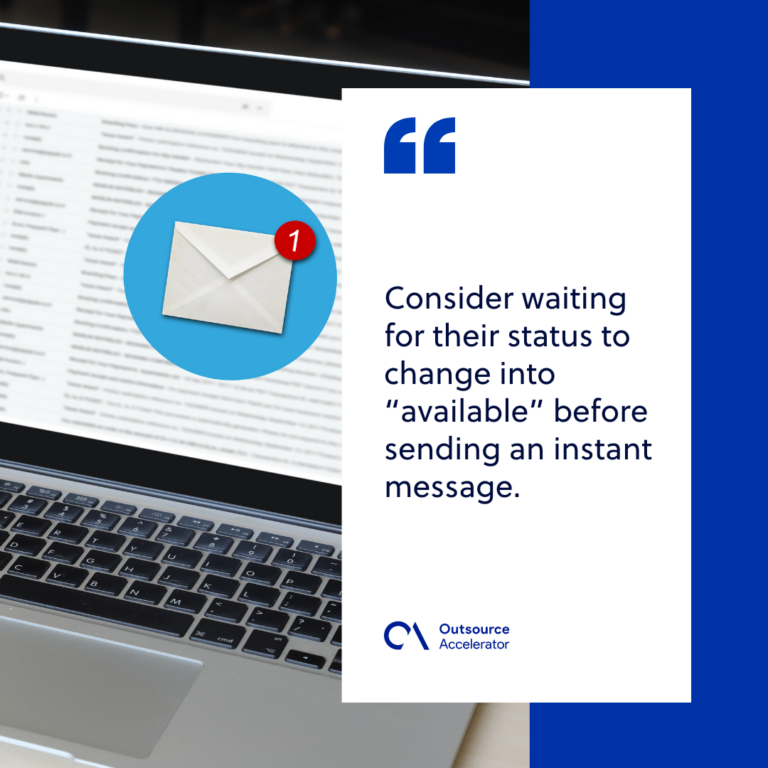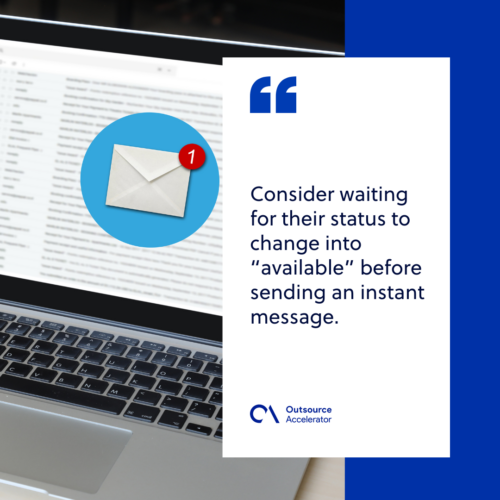 Tip 6: Send chat messages to relevant people only
Avoid creating group chats with your colleagues if it is unnecessary. Do not treat chat tools like an email where everyone has the option to "reply all."
This will only cause a distraction to your coworkers, especially if one-on-one conversation breaks out of the group chat. Other members will have to browse back on previous messages to know what the group message is all about and it will be time-consuming on their part.
Keep in mind that business chat etiquette is different from the code of conduct for emails
Tip 7: Do not forget who you are talking to
Casual communication with your work buddy may entail a simple thumbs-up emoji as a form of thank you. You would not want to send the same emoji to your boss.
Unless you have built a friendly and forthright relationship with your upper management, it's best to keep this chat etiquette tip in mind.
Tip 8: Utilize communication channels for what they are intended
You have several options on communication and collaboration tools for a reason. For example, in dealing with sensitive and urgent concerns, a phone call is a more viable form of communication.
Email, on the other hand, is ideal for sending over announcements or important updates that need to be referenced later on. Online chat communication is perfect for brainstorming, collaborating, project-related discussions, and casual catch-ups on work.
Tip 9: Don't overuse emojis and GIFs
Sending over emojis or GIFs does not break any chat etiquette rules unless you've gone too far.
It is good to keep a fun and lively working environment even virtually. GIFs and emojis can enhance the tone or emotional complexity of a conversation.
However, too much use of these chat features may also cause disruption and annoyance, especially when they are sent incessantly.
As a proper chat etiquette, the first thing you should do is to read the room. If you have been sending GIFs and no one is responding, it may be best to give it a rest for a while.
Do not forget to still use words in responding to your workmates as a GIF or emoji alone can also be misinterpreted. For example, they may see it as immaturity or that you are too lazy to type in your response.
Tip 10: Be wary of cultural differences
This chat etiquette tip is highly applicable to companies with different cultures and nationalities.
Do not overuse slang words or make constant regional references that may not be understood by other members of the team. This will cause them to feel uncomfortable and left out.
Cultural jargon and unintentional cliques may lead to feelings of isolation among your remote coworkers. To help you avoid these problems, use common terms instead and refrain from always talking about yourself.
Tip 11: Keep a polite and friendly tone
Research shows that over 75% of US employees have experienced anxieties during the pandemic, causing them to struggle at work.
More so, a lot of remote workers today would exchange an unsatisfying position for a job that cares about their mental well-being.
In terms of proper chat etiquette, you should also do your part in taking into account your coworkers' mental health.
Always keep a positive rapport even in a remote work setup. A simple polite greeting before launching into your request or question can help you keep a good working relationship with your team.
Tip 12: Write empathetically 
While you are typing in your chat, think about how the person on the other end will take in your message.
As a proper chat etiquette, note that the purpose for writing your message is for the other person to read and understand it clearly. If you notice that what you are typing is hard to comprehend or overwhelming, then consider editing it.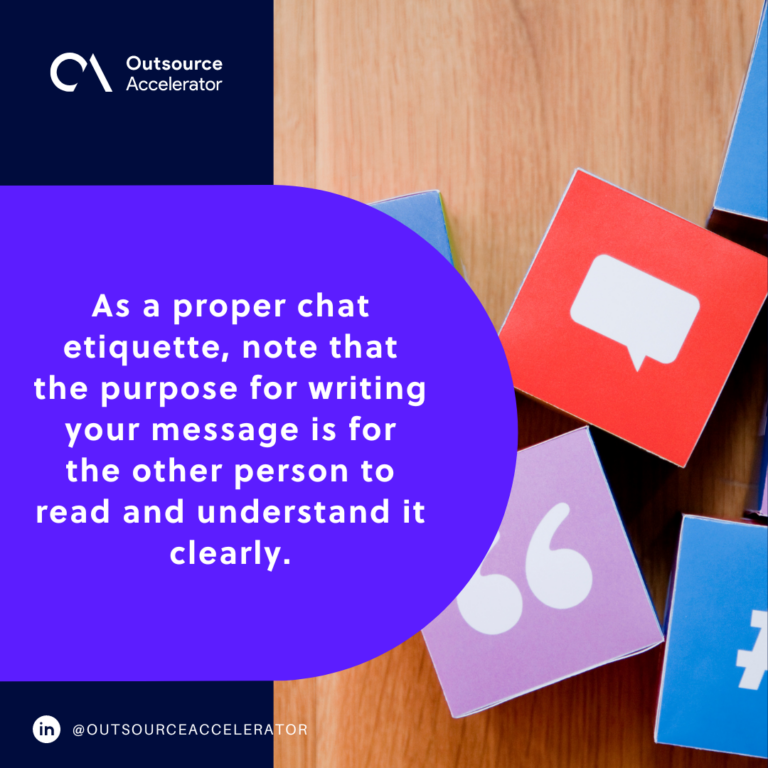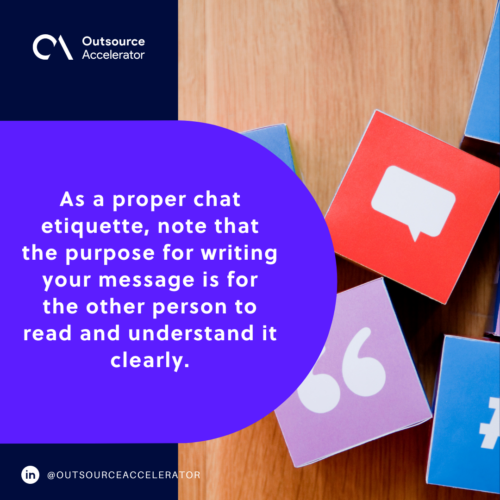 Increase customer satisfaction with these chat etiquette tips
Remote teams should utilize the right chat communication tool that suits their needs and requirements. Aside from chat applications, your team also has tons of options for collaboration tools to help you improve your productivity and efficiency.
By following these chat etiquette tips, your live chat agents can boost customer satisfaction and guarantee that your consumers have a great experience while interacting with your business.
Furthermore, these suggestions can assist you in strengthening customer relationships and customer loyalty. You can ensure that your clients will continue doing business with your firm by providing a proactive support through proper live chat etiquette.