What is remote work?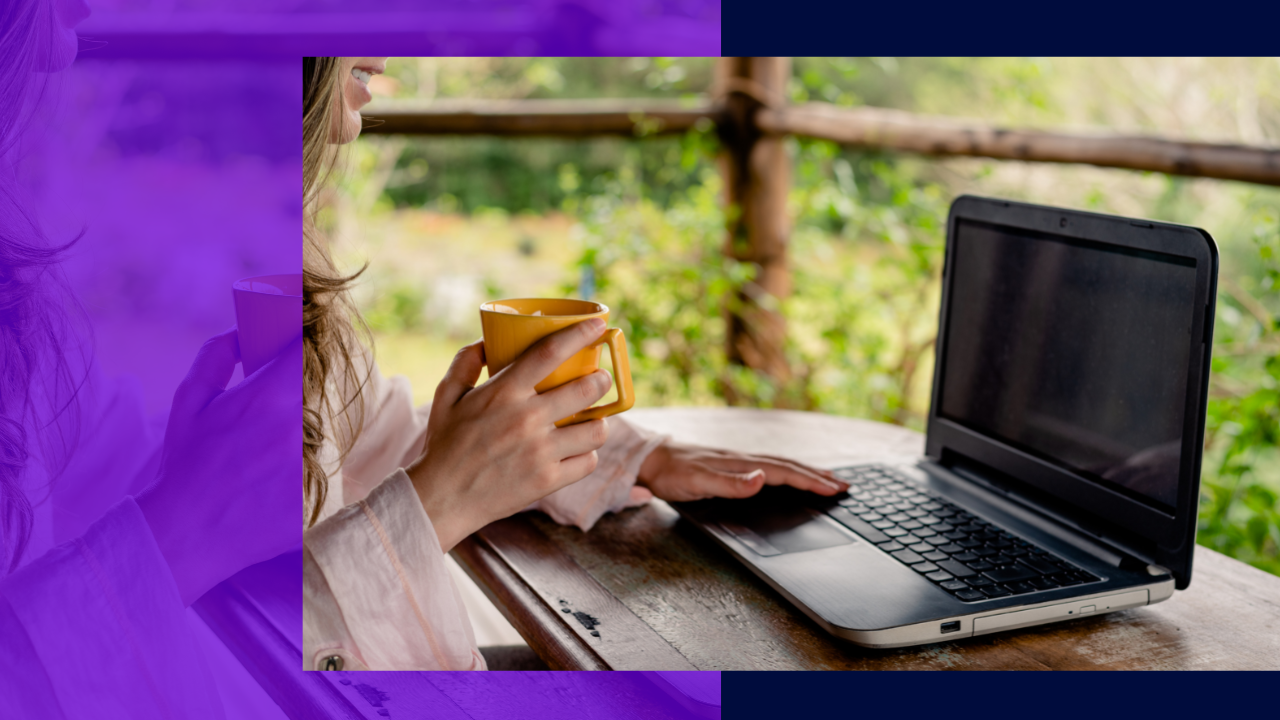 Almost all companies and employees around the world have been rendering remote work since the start of the pandemic. While some of them got used to this setup for years now, most businesses are still finding their footing to establish their communications and virtual collaboration.
Remote work can be a double-edged sword to businesses. Though, this can help them to adopt a more digitized and globalized market that everyone will face. Learn the basics of remote work, its types, and the roles applicable to this method in this article.
What is remote work?
Also known as telecommuting, remote work refers to a method that allows an employee to work outside the traditional office setting. Remote employees have the option to work in any location they want as long as their role allows them to. 
An increasing number of companies now allow their employees to render remote work, whether for a certain period or permanently. Twitter, for instance, is giving their employees the option to render work-from-home "forever".
The National Football League, meanwhile, showed their flexibility at work. Garnering 55 million views, the NFL continued its 2020 draft with the commissioner and team coaches working from their homes and holding a virtual draft.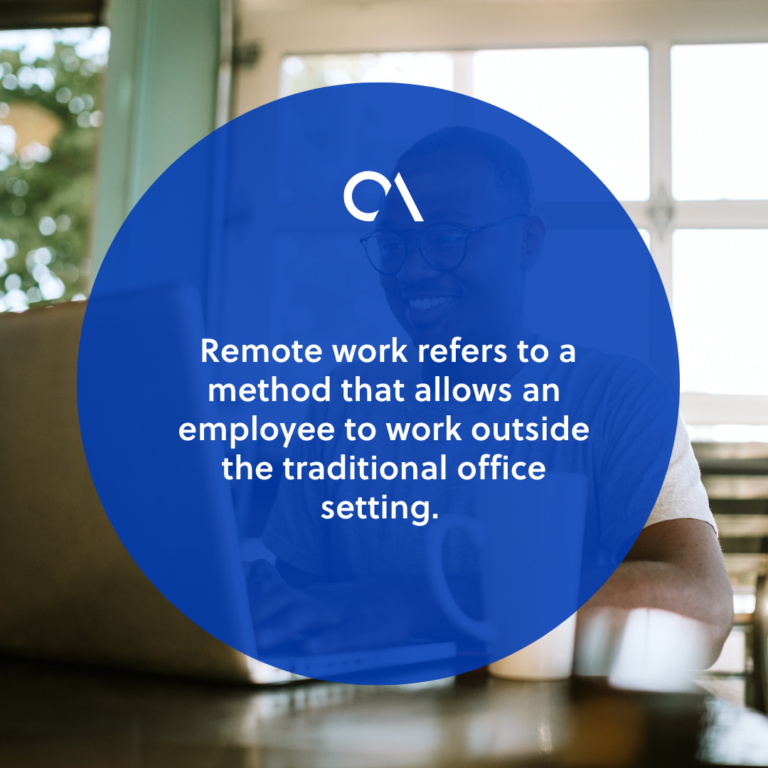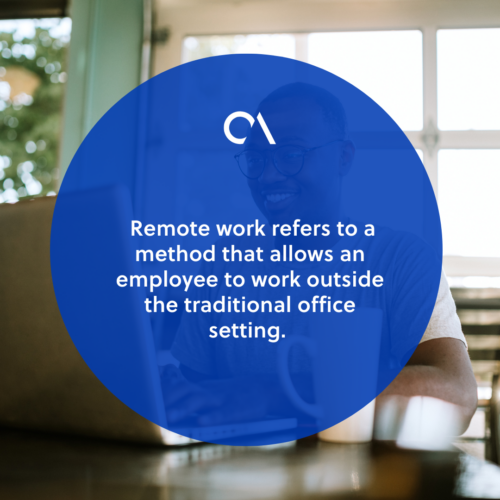 Remote work vs work from home
Though the two terms can be interchanged, remote work and work from home (WFH) have different scopes and methods.
WFH is one way to render remote work. During the COVID pandemic, employees render work from their own homes, complete with a home office setup and online collaboration tools installed on their laptops. 
Remote work in general has a way broader scope compared to WFH. Here, employees can work in a different place, city, or country that is not necessarily their home. However, compared to a digital nomad, they could have a preferred area they go to when working.
Types of remote work
An employee can render remote work in different ways. Depending on their agreed arrangement, they can either go fully remote, have flexible work, or work as a freelancer.
Fully remote
The fully remote option allows someone to work from anywhere all the time. Employees rendering fully remote work are not required to go to the office since their role does not require them to. 
This provides workers full flexibility in their work, regardless of location and schedule. Though, they still get the same benefits and salary the way an in-house employee does.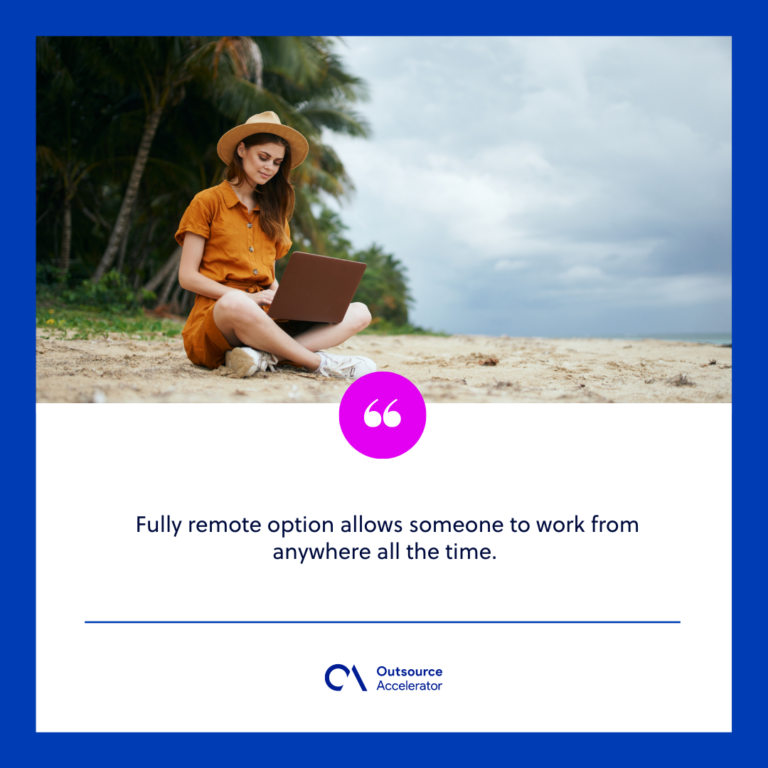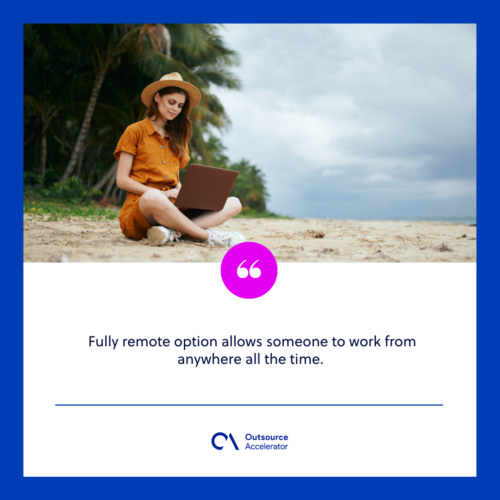 Flexible work
Flexible work, meanwhile, gives workers some flexibility to their work, whether in schedule, location, or both. For instance, they can render remote work for two days while they go to the office for the rest of the week. 
In some instances, companies allow employees to render remote work most of the time, only going to the office for physical meetings and team-building activities. This requires them to work within the city or in a location near the office.
Freelance work
A more usual type of remote worker, freelancers accept short-term, small- to large-scale projects for companies. Workers usually take freelance jobs in addition to their full-time or part-time work as a way to do their passion, have additional income, or build their side business.
Their mode of work is not in the usual office one, either. Freelancers take open projects usually from freelance websites with an abundance of short- and long-term projects.
Remote work benefits and disadvantages
Remote work has been proven beneficial to both the worker and the employer. Both parties have to weigh in on their work arrangement to determine which type is best for them and avoid the disadvantages that go along with it.
For employees
Lifestyle flexibility
Employees usually choose remote work for the lifestyle flexibility it gives. They can work around their schedule, whether through office hours or those they set upon themselves. 
In return, they have the freedom to do other activities to enrich their skills and passions. This includes taking up online courses, having another degree, or learning a new skill.
Improved health and wellness
Even pre-pandemic, remote work has been seen as a way to improve workers' health and welfare. 
A 2018 report by the Royal Society of Public Health indicated that in around 24 million people traveling to work each day, more than half (54%) are saying commuting increases their stress levels. 
With remote work, workers will have to worry less about traveling to and from work. They can instead travel to the nearest coffee shop or set up their home office and start working right there.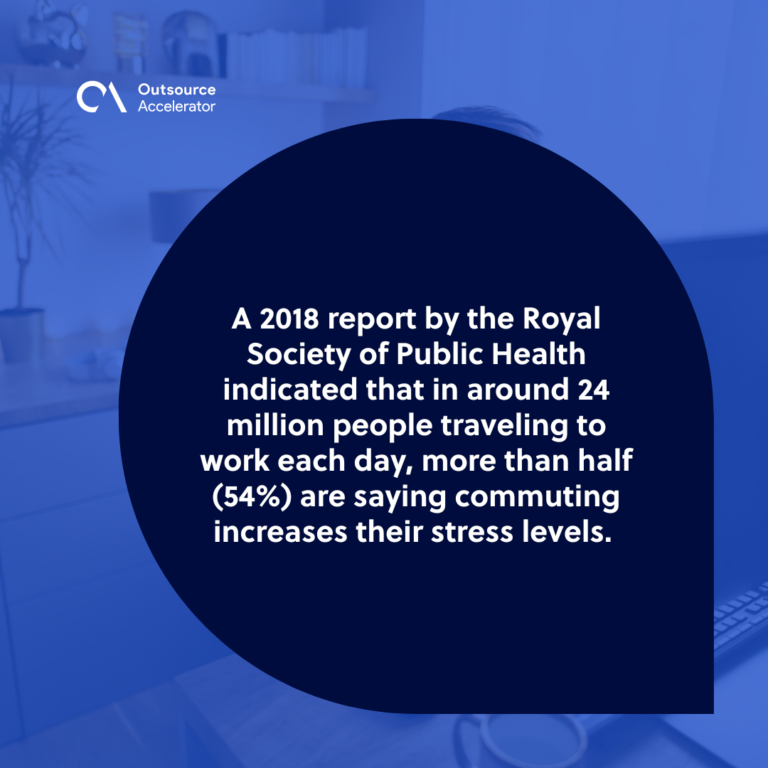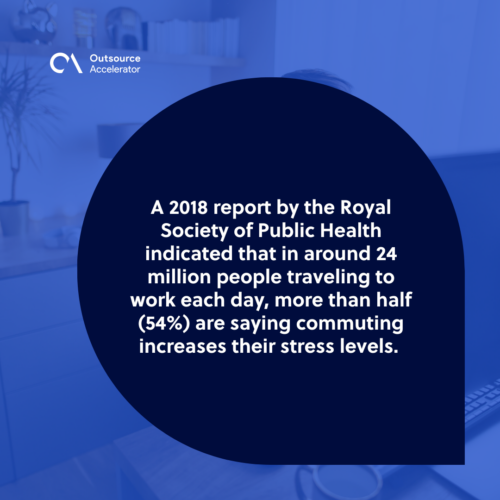 A whole new passion at work
Employees have new motivation at their jobs when they work remotely. This is since they don't have additional stressors that affect them much. At the same time, they can find and build a better environment where they can concentrate on their tasks ahead.
For employers
Cost savings
As indicated in a whitepaper from Global Workplace Analytics, US companies can save an average of US$ 11,000 per employee when working remotely for at least 2 ½ days. These are based on several factors: productivity, office costs, absenteeism, and turnover rate.
With remote working, companies don't have to think about additional office space and resources they need for their employees to work on. This can help them save more in terms of office and labor costs.
Increased productivity
Employers can also see an improvement in employee productivity with remote work. 
Some studies state that an average worker is productive in an office setting for around three to four hours a day. Remote working can increase this statistic since employees have boosted motivations and focus on each task they need to do.
Disadvantages in remote working
Not all roles and workers are compatible with remote working. They can still experience the following disadvantages and challenges that can affect their performance and motivation.
Security risks

. Some tasks dealing with sensitive and confidential information should be taken with proper consideration in case of possible data leaks and breaches.

Technology issues

. Not all remote workers can provide and maintain their own equipment. Technology issues will always arise that can affect communication and collaboration with them.
Maintaining focus

. Remote work introduces a new set of factors that can take away the focus of an employee. This includes household chores, social media, and streaming services.
Isolation

. There will come a time when remote employees will feel isolated and distant from their employers.
Top roles available for remote work
The rule of thumb is that the roles that can be done online are applicable for remote work. With the abundance of online collaboration tools and services, almost anything can be worked on and collaborated with this method. 
Some of the top roles available for remote work include:
Digital marketing 

Social media management

Accounting

Virtual assistant services

Software development

Customer service management
There are many outsourcing firms and other service provider companies that offer remote work solutions for businesses. To ensure that your business's efficiency will not be negatively affected by having remote workers, make sure to partner with reputable firms, such as StaffWiz.