Work from home pros and cons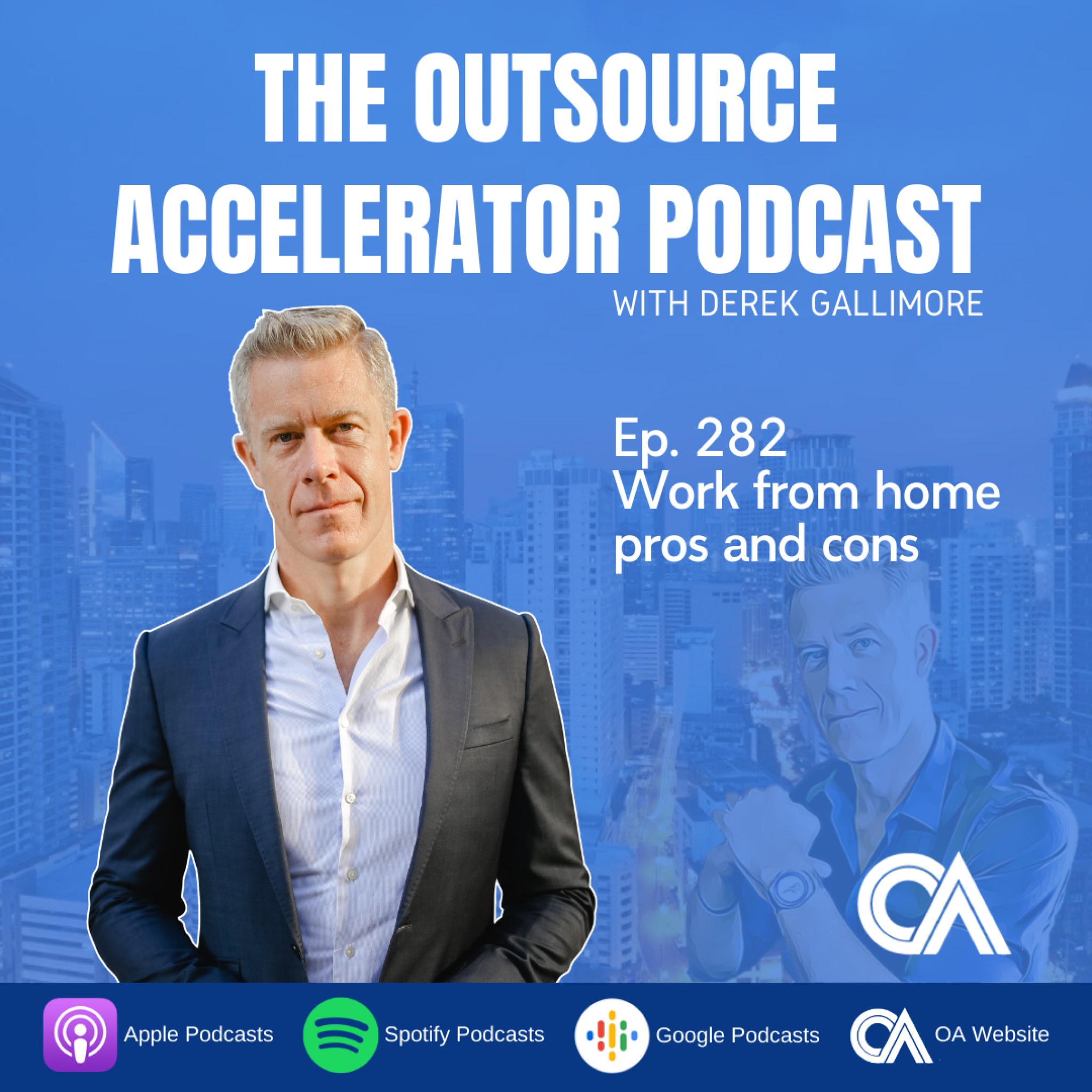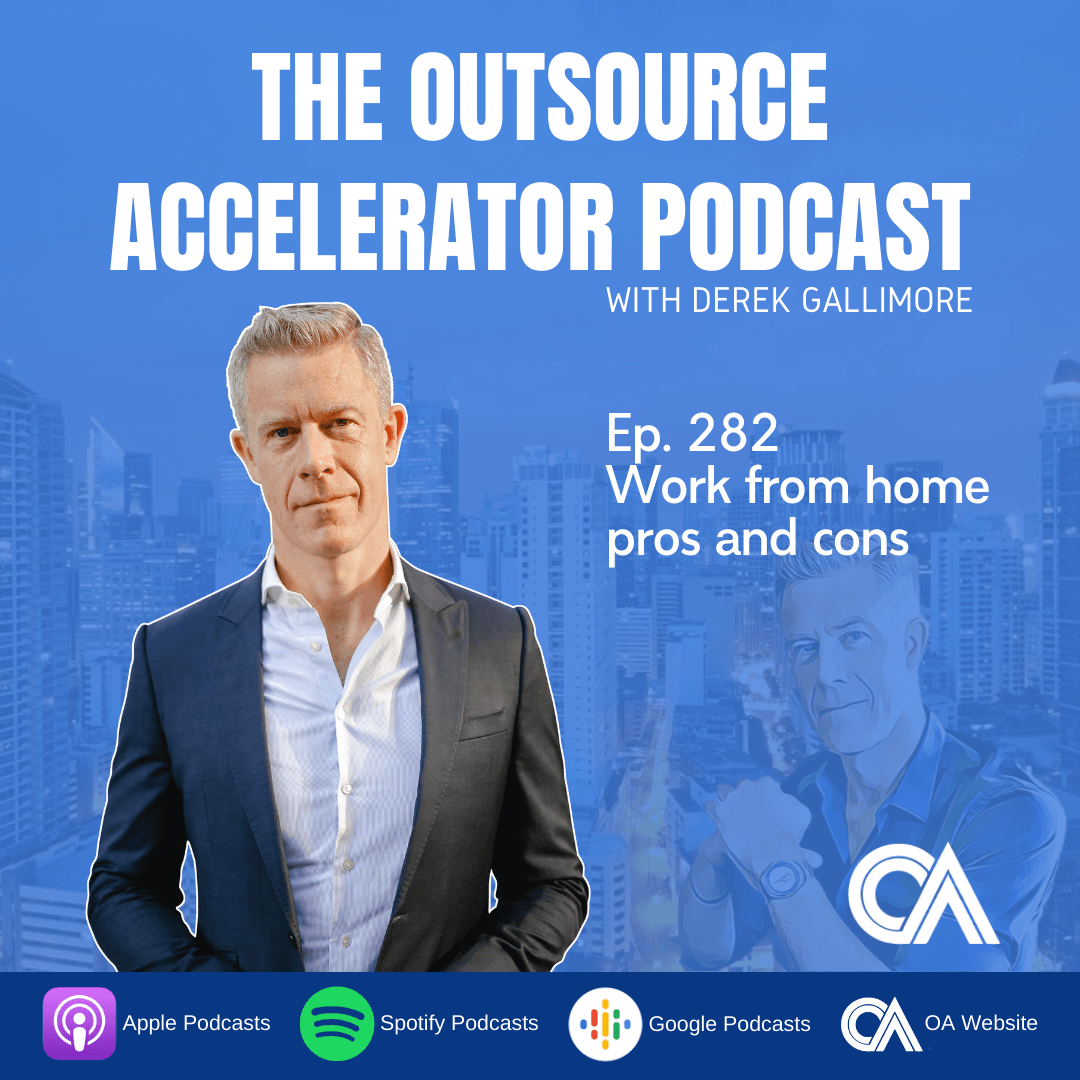 Outsource Accelerator
In this episode, Derek Gallimore talks with Arnold San Miguel, head of operations and a key player of Outsource Accelerator. Arnold has been invited on an earlier episode of the podcast.
In light of the COVID-19 pandemic and the Luzon lockdown, they will tackle about work-from-home setup. It has been an effective way for businesses to run their operations even before the pandemic. However, in the case of a country like the Philippines, there are advantages and challenges that remote teams may face.
Arnold will explain what are these pros and cons and how businesses can make their employees work from home properly.
References: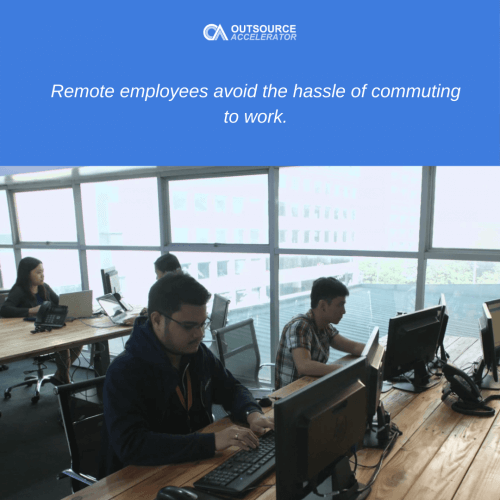 In this episode, Derek Gallimore talks with Arnold San Miguel, head of operations and a key player at Outsource Accelerator. 
In light of the Luzon lockdown amid the COVID-19 pandemic, most businesses have halted operations and put their employees on leave. Business process outsourcing companies, meanwhile, were exempted and instead asked to put their employees on remote work. 
Derek and Arnold tackle work from home setup in the Philippines, what challenges remote teams can face, and what roles are suitable in working from home.
Challenges in working from home
Many companies run a distributed workforce even before the pandemic. Filipino freelancers also work remotely, whether from their homes or other places. Though the concept is familiar to Filipino workers, work from home in the Philippines still has several challenges. Arnold mentioned a few of these in the podcast.
Junior vs. senior expertise
He first cited the difference between employees with junior and senior roles. Senior developers and managers, for instance, don't experience any difficulties in doing their tasks since they have enough training for it. They can also focus on their work more and be more productive in their job. Even when working remotely, the output of their tasks will stay the same as expected.
Employees with junior roles, meanwhile, need to be trained more in their tasks. They may also experience confusion since their output may be different from the expected output by their employers. With this, working from home for junior roles may depend on the training and expertise of the employee in their tasks.
Compliance
Another challenge they can experience deals with security and process compliance. Many businesses, including BPO companies, have ISO and HIPAA compliances to guarantee the security and high standards of their operations.  
BPO companies keep their data secured through maintaining backup storages, infrastructures, and processes in-house. Managers monitor their employees' performance and activities easily inside the office. Working from home may pose difficulties for them in keeping up with these compliances. 
Team culture
Working from home gives more difficulty for employers to establish a team culture. When employees see each other in the office every day, they tend to bond more through starting their shifts together, having lunch, and having small talks. 
This may be different when employees only interact virtually. 
Internet connection
In the Philippines, one of the challenges of working from home is having a stable internet connection. As Derek seconded, a Filipino home is different from a typical home in the West. a lot of distractions can affect a remote employee's performance, including internet connection speed.
A news article last year mentioned that the Philippines is one of the countries with the slowest mobile internet speed. Though connection speed in the country is gradually increasing, it is still 103rd among 139 countries according to the latest SpeedTest Global Index study. The sudden disruption posed a challenge for telecom companies to adjust the internet speed for employees' workflow.
Outsource Accelerator on roles suitable for work from home
Arnold and Derek mentioned the roles that are more suitable for working from home:
Customer service

.

Particularly, non-voice roles tasks that deal with answering emails, chats, and text messages. These roles don't require client interaction physically or over the phone.

Creative roles.

Writers,

designers

, editors, and other creative employees work more efficiently in a conducive environment. This is the reason work from home can be effective for them.

Sal

es and marketing.

As Derek mentioned,

back end marketing

is also a suitable role in a work from home environment. Scraping and client contact can be done efficiently at home since it does not require physical interaction with the clients.
Outsource Accelerator's advice on work from home arrangements
One of the benefits of working from home is the commute. The work productivity of a Filipino employee is affected by their everyday commute to the office. They spend an average of two hours travelling back and forth to their workplaces, longer during rush hours and holidays.
Working from home gives them the benefit of spending time with their families and loved ones after their shift without the extra hours to commute. 
However, as Arnold mentioned, working from home should be a benefit, not a right. When arranging a work from home setup, employers should determine whether their employees' roles and expertise give them the capability to work from their homes. They should also set specific schedules on when employees can render WFH. 
Lastly, they should utilise different tools online for work collaboration. For first-timers, they can start on G-Suite for documentation and Time Doctor for screen monitoring.
Listen to more podcast episodes here: