MK Bertulfo – Outsourcing with Filipina home-based moms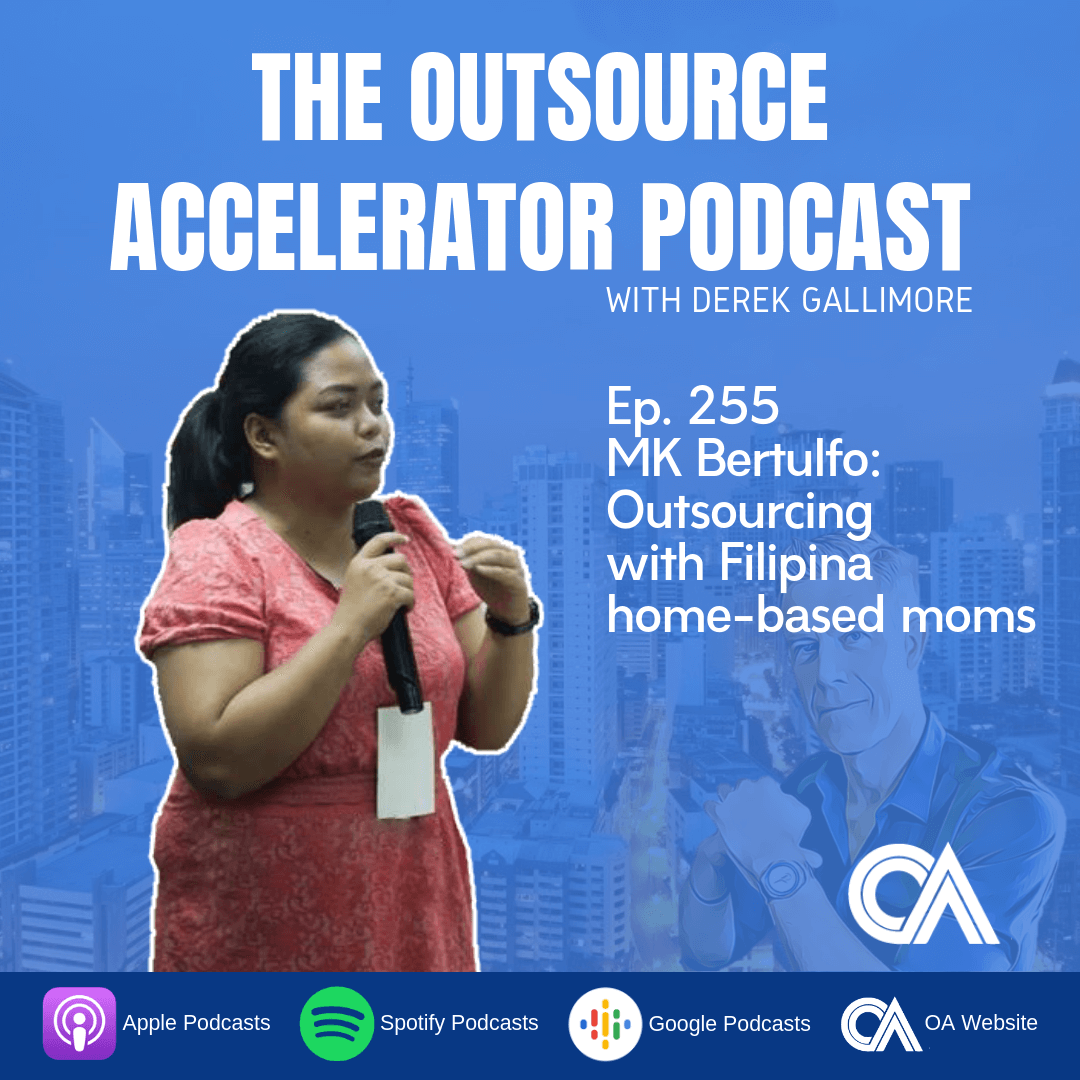 Ep 255 MK Bertulfo
Outsourcing with FH Moms
I'm excited to be joined by MK Bertulfo of FH Moms (Filipina Home-based Moms). FH Moms is really big in the freelance outsourcing world.  They have a huge Facebook community group of over 145,000 people.
Now as the name suggests, these stay at home Filipina mums that work in the freelance community. And as you might know, the freelance online community is just absolutely exploding – specifically in the Philippines.
This is good for several reasons. Of course, it gets people out into the job market, it connects very well qualified eager Filipino workforce with people in the West giving everyone a great opportunity. But specifically in the Philippines, it's allowing people working remotely, it's allowing people to earn money in the provinces of the Philippines where previously, there wasn't an opportunity to do so.
Impact outsourcing
I'm super excited about MK and proud of what she's achieved. Her 'impact outsourcing', is really making a big impact!  Not only has she built this strong community of 145,000 people, but she's educating them, she's advocating for them and she's helping them get jobs. She's helped place over 800 people now into jobs into the freelancer community.
It's a win-win for everyone because it's incredible for the people of the Philippines, and especially these home-based mums, and of course, it's incredible for the employers in the West because they're getting a great deal.  See how you can get involved…
Best outsourcing podcast
If you wan to listen to more podcast episodes about outsourcing, then checkout the Outsource Accelerator Podcast – the leading outsourcing and business podcast.  It's available in all the usual places: itunes, Spotify, Google Podcasts etc
Links and references from this episode: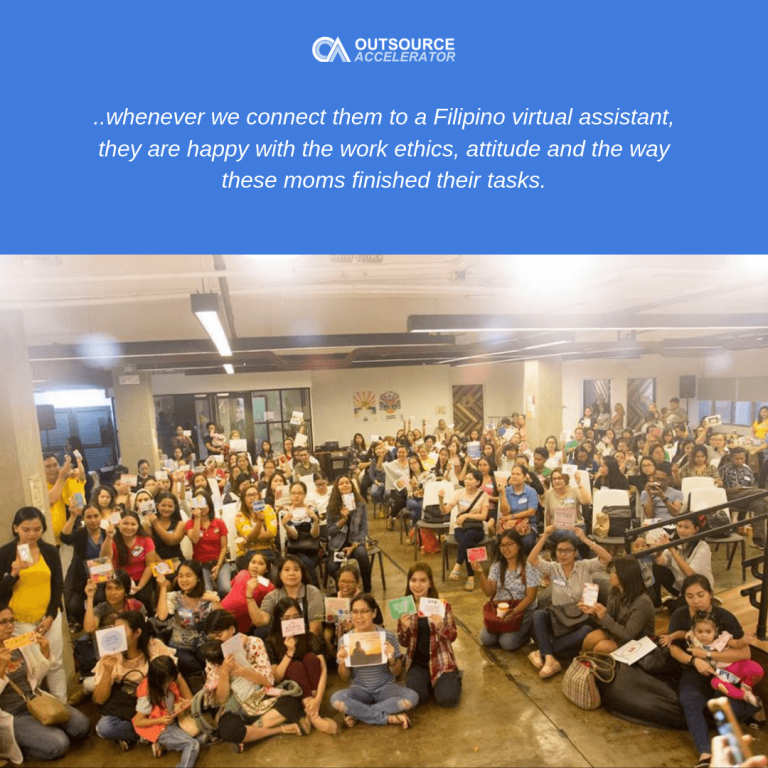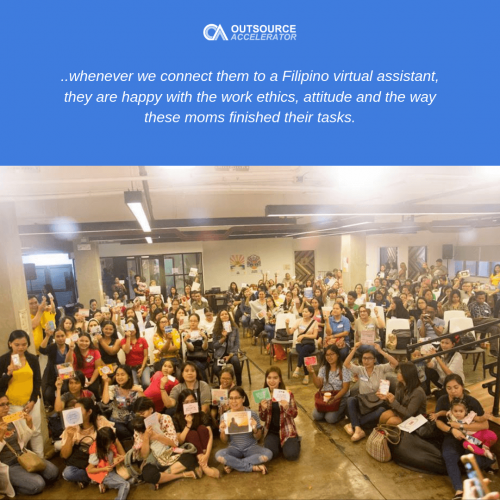 About MK Bertulfo
Derek Gallimore:  Hi, and welcome back to everybody. Today, I'm super excited to be joined by MK. MK is the founder of 'FH Moms', which we're going to be finding out exactly what that is. And she started or certainly been the catalyst for quite a movement here in the Philippines, her Facebook page and I think we're going to corroborate this, it's well over 100,000, I think towards 140,000 in her Facebook community. It really became quite a movement. MK, thank you so much for joining us. How are you today?
MK Bertulfo:  I'm fine. Thank you so much, Derek, for the great introduction.
Derek Gallimore:  Yeah, pleasure. And thank you so much, we were actually going to talk at a recent event, we were going to be on stage together. But unfortunately, I couldn't make that and so I took the opportunity to grab you for a podcast. For those that don't know, and you know, you're far better introducing yourself and then I can you just give people a brief overview of you know, where you fit in into the freelance community and how and what exactly your Facebook community represents.
MK Bertulfo:  Sure. Before I enter the freelancing industry, I am a call center agent. So, after giving birth to my son, I was forced to apply for a call center job. So for two years, been a call center agent, and I tried working for two different call center companies.
So it's really hard for me because I have to earn for my family and be the breadwinner. Then I decided to finally work from home because of the traffic hassle in Metro Manila. Then my son would always throw tantrums every time I would leave home for the office.
Luckily, I got an online job as an email support for 35,000php per month and then that is that time I decided, I was so inspired to create a community because I was able to help a mommy friend of mine. And then right now we are at 145,000 members inside and outside the Philippines. We recently had or Dubai meetup and several meetups and training inside and outside Metro Manila.
Derek Gallimore:  Super cool. So you were working in the BPO industry for 17 years. Is that right?
MK Bertulfo:  For just two years.
Derek Gallimore:  Okay.
Starting remote work
MK Bertulfo:  Yeah, so for 2 years, I've worked in the call center industry, and then in remote work for two years as well. I'm just 25, my journey in the call center industry and then in home-based is just short. But I'm so happy. I'm so happy because of my online job. I was able to invest in a house for our family, and then we just got married. It's really a blessing to be working remotely.
Derek Gallimore:  That's incredible. Amazing. And congratulations on your family and your house. I'm reading your bio on the freedom summit, which is a place where we actually met for the first time and spoke on stage together. And it says there for 17 years to transition into a work at home mom.
That's incredible. And you know, what I want to get, first of all, is your impressions of the BPO industry. A lot of our audience are based overseas, but also here in the Philippines. So can you give the listeners a glimpse into what the BPO industry is for the average kind of call center agent?
MK Bertulfo:  As you can see, I've been in the customer service starting in the corporate set up to the home base, and I feel that the customer service or the BPO industry, there's a future in remote work. Most of the companies right now are considering hiring their customer service support that is working remotely. I believe that what I'm doing right now, what most of the moms doing right now is the future work.
Derek Gallimore:  Absolutely. And there's a lot of talks about remote work, everything, everyone, especially millennials, they're kind of everyone's wanting to work from home, it seems. And then you did two years of work from home. How did you get that first gig? Is that one of the major platforms? Did you get it from Upwork?
Using onlinejobs.ph
MK Bertulfo:  I got the job in onlinejobs.ph. I remember that I started optimizing my profile around midnight. And then luckily, I got an invitation at 6 am asking me if I could work for them. It just took a couple of days, I landed on that online job and then just one week after I got my first job, in the same company, my husband was also hired, and then a few of our friends.
Derek Gallimore:  What was it about that experience? How long were you working in that experience before you thought, you know, I'm going to start a community about this and, and help other people in this journey.
MK Bertulfo:  For my email support job, I guess I would say that I'm just lucky because I have the experience in the call center industry even before I got my online job. So the experience in the BPO industry has helped me a lot in getting my first online job.
Derek Gallimore:  What was your experience with working from home? Of course, you specifically help Filipina home-based moms and a lot of the younger moms, it's such a benefit for them so that they can still be together with their family, being able to look after the kids but still earning a really good income?
Do you think you started a movement, or are you just helping support what was already a pretty big thing, but didn't really have a face and didn't have the voice before?
MK Bertulfo:  When I created the online community, I was so surprised, because I learned that there are so many Filipino moms and families that are looking for an online opportunity where they could juggle both their responsibilities, taking care of their children, and then earning money.
What I did, most of our initiatives in the community focuses on the online courses that we have right now, we have seven online trainers, I decided to hire other mommy trainers that could help me before when I started the community, it's just me who's teaching.
Right now there are seven mommy trainers. And then most of the courses focus on digital marketing, and admin. So we have social media marketing, photo and video editing, e-commerce, and then accounting. So those kinds of courses, and we're looking to add more courses that will focus more on technology like coding, and then web creation.
Aside from the courses, we also have events, so more intensive face to face workshops. Because of those initiatives that we're doing, almost every day, we have moms who are getting an online job. And based on their records, we have 800 moms who landed an online job.
We're full of students or graduates, which is around 3,000 students. So it's a good number. The impact that we have right now, is something that we are proud of as a community.
Derek Gallimore:  800 jobs is just incredible, isn't it? How have you seen the community evolve over the last few years? You know you hear a lot about Upwork changing and struggling to get jobs on there now, onlinejobs.ph is becoming quite a popular spot, do you find that the whole thing is continually moving and evolving? And is it getting easier or harder for people to find jobs effectively, you know, freelance jobs?
Finding an online job
MK Bertulfo:   To be honest, it's hard for the moms to find jobs in those platforms that you've mentioned. And what I do is that I teach them, tell them to try other platforms, there's Linkedin, they can also find clients through Facebook groups. Because for them, what they think is that the opportunities are just limited for them because of some barriers, like the language, some of them is not that good in English, some are undergrad, and sometimes they feel that their age is a hindrance.
I just tell them that they need to focus more on the skills and the knowledge, and then they can find the client like literally anywhere, not just Upwork and onlinejobs.ph because right now, they feel that the clients that they can target or those who are in other countries, but they didn't realize that there's a huge market for the local clients.
I always tell them that the clients or the local clients, or the Filipino entrepreneurs, are also available to work with, or they can reach out to entrepreneurs, as their employer, they just need to know, they just need to let these Filipino entrepreneurs that this is how it works, because most of the Filipino entrepreneurs don't know how to hire and manage a virtual assistant.
Derek Gallimore:  Incredible. People are taking it a little bit personally, that they can't find a job, but you are just sharing the message that, it is hard, it's competitive. It's a competitive environment, and then you're giving them the skills and the process to help them land these jobs.
The courses that you've designed, you've gone into certain sectors, you find that's where the easiest jobs are or the lowest hanging fruit that people get the best results with. How did you select the courses?
MK Bertulfo:  What I did is that I created a poll or a survey asking them what their target online jobs are, I also checked different platforms online, on what is the demand? Or what are the in-demand jobs? So from there, that is how we selected the online courses that we will offer.
Derek Gallimore:  Your community, you've got 140,000 people on your group? Is it a Facebook group?
MK Bertulfo:  It's a Facebook group. Right.
Derek Gallimore:  Wow. And what goes on in that group, do you let guys in as well? Or is it just for Filipinas?
MK Bertulfo:  All of them are Filipinas so that it's not just limited to moms, but we also have members who are single ladies.
Derek Gallimore:  What is that community? What's a day in the life of the FH Moms community like?
MK Bertulfo:  When you get inside the community, you will find success stories of the moms. And then some tips from the trainers. I also posted resources like a template for their resume cover letter, and how to do a recorded interview of mine with a real client just to give them an idea of how to answer an interview question. So support like that. Those are the support that they get inside our community.
Derek Gallimore:  Super cool, super cool. And is it active? And there's a lot of chatter, there's a lot of engagement online, is it? Is it almost like a support group? Are you helping these ladies through this process?
MK Bertulfo:  Yes. We also invite guest speakers to help us with some of the topics that we do not offer. So most of them are soft skills, leadership skills or something like that. Aside from the webinars that we do, we also partner with different companies who are interested to hire from us, we are partnered with ABS-CBN.
Then all that we do is we organize roadshows or job fairs. So that the community has so many to offer, and it's just the online courses and the support that we give inside our group, but even face to face interaction, even to those who are in the rural areas.
Derek Gallimore:  Incredible isn't, and it is a growing movement. And I'm not sure how aware the whole world is of the sort of the Filipino freelancing community. But it's growing, isn't it? And I think there's just such an incredible opportunity for Filipinos.
Because they're able to access the West, from a laptop, from their own home, and they're able to get really good salaries, if they can produce what the client wants. It's a fantastic meritocracy that's really happening over the last kind of five to 10 years.
Is everyone having a fantastic time? Do you see it being sort of aspirational? Are there any downsides? Do you think about this whole Freelancer community? Do you think in an ideal world, these people would prefer a corporate ladder and go into the office? Are there any downsides to this?
Freelancer community
MK Bertulfo:  Most of us who are already working from home are super happy about it. Since the community, most all of us are moms, most of us, we share the same sentiment. Even if it's hard to work with work from home with a toddler, or with a newborn, it's okay.
It's a fulfillment for us to be able to work while taking care of the child and be able to share the same experience with other moms is super cool. The downside that I'm seeing for my personal experience? I would say that I wasn't able to take care of my health, I no longer exercise. So my weight is bad right now, maybe that's the only downside that I can see.
But in the freelancing industry in general, I'm not sure. For me, it's all the benefits. It's all the advantages that I focused on. But we have this inside joke, inside our community that everyone will work from home or it will be harder for us moms to look for someone who can help like a helper or a Yaya so that's the only downside, maybe in the workforce, I don't think that would happen.
Derek Gallimore:  It is amazing the fact that people can get skilled jobs from the provinces which has always been the issue with emerging economies and places like the Philippines, because there's a lot of people living out in the provinces, and they just don't have the opportunities. Whereas now, that playing field is being leveled, and people have the opportunity if they have the skills.
There was talk that we were both going to talk at an event, but I, unfortunately, couldn't make it the Philippine Impact Sourcing conference, and that was hosted by one of the government agencies.
The broader subject is around impact sourcing. So outsourcing with a good social impact. And a large part of that is the freelancer economy. And a large motivator to that is to get money flowing out into the provinces and those places where there is no opportunity.
How have you seen the reception of the government? Because sometimes I think the government isn't quite sure how to handle this new freelance economy. You know, what their stance on it should be? How have you found your interaction with the DICT and the various government departments?
MK Bertulfo:  What has happened in this PISCON 2019 in Pampanga is great because the government is now open to this new opportunity. And they are doing their best to organize such trainings in rural areas. And right now, this is not just limited to rural areas, because they just launched 'Digital Jobs PH', which will be available, not just to rural areas, but to all the Filipinos.
Derek Gallimore:  You've got a huge workforce there of about 145,000 people, and if people want to access these resources, how are you sort of getting these resources out into the community? Is the best sort of conduit still the onlinejobs.ph or are you looking to sort of build your interfaces with your community?
MK Bertulfo:  Right now, what I do is I'm actively joining different startup competitions so that I could build my idea and also create a platform specifically for moms, that's our plan. We wanted to level up to social enterprise niches, another Facebook community. So we wanted to help not just moms who have access to the internet and computer but also we want to do help moms who don't have access to the internet and the entrepreneurs as well.
Derek Gallimore:  That's a big ambition, and how do you find the clients then in the West? And I assume that could be anything from a solar printer to a business that needs some assistance? How do you find a response to your employees or the FH Moms versus anyone else? Are they particularly impressed that people are in the provinces? They may be work from home moms, or do you think they're just focused on they want work done and that's as far as the relationship goes?
MK Bertulfo:  We have several clients who are in the West, and they are super happy about our community, how we help these moms and whenever we connect them to a Filipino virtual assistant, they are happy with the work ethics, attitude and the way these moms finished their tasks. Because moms are naturally multi-taskers, and creative and talented.
Derek Gallimore:  They ought to be able to balance the needs of the day. Where are your hopes for the future then? Where do you want to see FH Moms or the freelancer community generally?
Filipino virtual assistant
MK Bertulfo:  Right now, my husband also created the community. It's called 'Pinoy home-based Dad', that is also somewhat. They got an inspiration from Filipina home-based moms. Right now, I can see that their community is also growing. It has 8000 members. And it's like a family thing right now.
Inspiring, not just moms, but also dads and also everyone to try working from home. So it's a movement, not just for moms, but for everyone.
Derek Gallimore:  If anyone wants to find out whether it's in support, or whether it's because of strategic partnerships, or of course if you know people want to join the freelancer community, how can they find out more?
MK Bertulfo:  If you are an aspiring virtual assistant, if you're a Filipino virtual assistant, you can join our community. Just go to 'Filipina home-based moms' on Facebook, we have a Facebook page, a Facebook group, you can also visit our website. It's FHmoms.com, we actively post YouTube videos.
Just search 'FH Moms' community as well. And if you are a dad, you can join Pinoy home-based Dads just search for 'PH dads'. And then if you are an employer, and you wanted to hire your own the virtual assistant from us, you can send us an email at [email protected]
Derek Gallimore:  Incredible. Thank you MK and it's an amazing, inspiring story. And it's incredible to have this community that has been built from this ecosystem. Thank you so much for sharing it and good luck in the future.
MK Bertulfo:  Thank you so much, Derek.
Derek Gallimore:  That was MK Bertulfo of FH Moms. If you want to get in touch with her or learn any more about anything on this podcast, go to outsourceaccelerator.com/255 and as always, if you want to ask us anything, then just drop us an email to [email protected] See you next time.