Top 20 call answering service companies in UK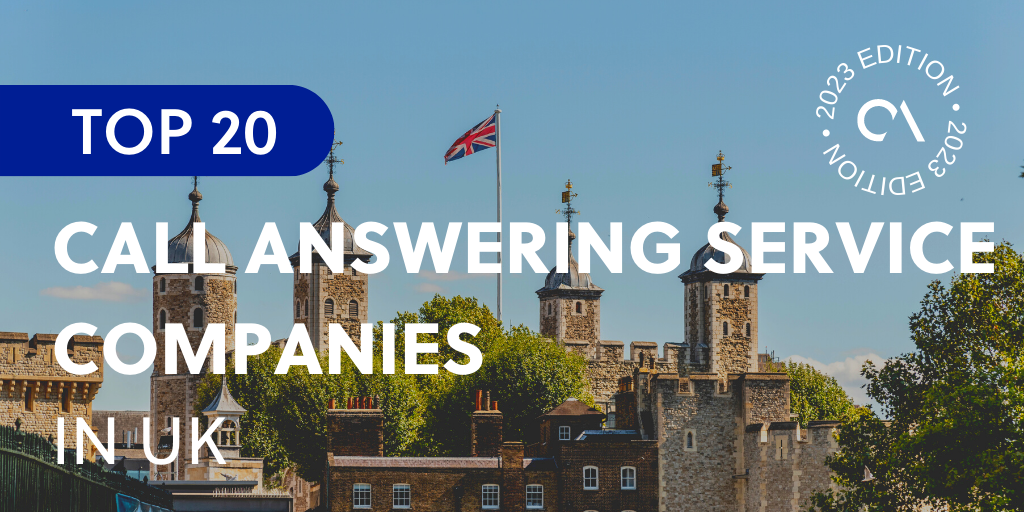 Top 20 call answering service companies in UK 
You might be wondering how call answering services differ from what a call center company does when dealing with clients. Well, the difference can be tracked in the calling techniques. 
Call answering service requires a third-party company to take and communicate messages to represent a business on a personal approach, compared to call center companies that use improvised scripts to answer calls, chats, or emails.
Customer satisfaction and revenue significantly increase because of this approach. Its personalized and customized practices built a strong relationship with customers.
Many countries are now engaging in the booming call-answering service industry, and the UK is one of these. As we go along, this article will help determine why your business needs a call-answering service partner.
Call answering services: What do we need to know?
Most small and medium-sized businesses have limited resources to hire in-house employees and handle operation-related calls. The call answering services have paved the way to manage this challenge and bring significant change in business strategy.
The presence of answering service agents serve as an in-house receptionist who can also act as an after-hour advisor and will ensure the proper addressing of all calls.
An answering call service company can provide extensive assistance. It can monitor all calls, including those urgent or emergency, such as a move-in request from a tenant or a patient requesting an immediate operation.
A closer look to UK's call answering service industry
Customer service support is a vital aspect of life in the UK. It is attributed to its unique culture, tradition, and rich history.
Consumer Minister Jo Swinson developed the "customer service best practice" code in 2013 that showcases government support in ensuring a high standard of customer service in the country. 
No wonder call answering services have established a name in the UK that is reflected in their outsourcing industry. It helps businesses, including SMEs and start-up businesses.
It transforms business reputation and entices more clients or customers to deliver honest and outstanding service that directly contributes to shaping the country's economy. 
Businesses enjoy the benefits of having a call answering service focusing on the following areas:
Maximize return on investment (ROI) and cost-effective operation

Boosting business potential and productivity

Enhance reliability and increases competitive advantage
Top global outsourcing lists
Outsource Accelerator is the world's outsourcing marketplace and advisory. We list over 3,000 BPO firms located across the globe in our global directory, and we provide detailed information, price guides, and reviews.
Whether you're a solopreneur, SME owner, or corporate executive, we can help you find the most suitable outsourcing provider for your business. Explore our outsourcing directory now. 
You may also check out our lists of top call answering service companies per country here:
Top 20 call answering service companies in UK 
Location: Edinburgh, United Kingdom
Founded: 1998
AnswerForce aims to help businesses grow and cement services with a high-quality service reputation. The company believes that customer trust is an essential element in business. 
That's why an always-available person to answer is needed, not bots. This agency offers a wide range of services, including the following:
24/7 live answering and live chat

After hours of answering and appointment scheduling

Lead qualification and bilingual answering
Location: Edinburgh, United Kingdom
Founded: 2002
AnswerConnect is named the best overall answering service by Forbes in 2023. It provides live virtual receptionist services, making a 24/7 availability to answer business calls.
It helps businesses to leave a good impression on their clients where services are always available and captures every lead. It offers live calls and chat support, appointment scheduling, and connecting teleport video.
Location: Wrexham, United Kingdom
Founded: 2000
Established in 2000, Moneypenny led the call answering service and outsourced the switchboard market with determination and commitment. Its quality of service and advanced technology helps to attend more calls from many businesses than any other company.
It offers business partnerships with no obligation and instant set-up. Most of its clients appreciate its free trial offer, making it a top choice for businesses in the country.
Location: Thatcham, United Kingdom
Founded: 1997
This agency offers a combination of a virtual receptionist, call center, telephone answering, and web chat answering services from professional, dedicated, and friendly, UK-based expert professionals.
Verbatim offers a trial with a money-back guarantee that almost 99% of businesses stay with them and enjoy the benefits of the following services: 
Virtual receptionist and call answering service

Web chat answering service and 24/7 call handling

Lead Qualification and business continuity

Telephone order taking
Location: Birkenhead, United Kingdom
Founded: 2006
The Contact Company helps add value to its clients, working as trusted partners to manage and enhance its customer service processes. It filters unnecessary communication practices.
It has proven cost-effective and time-saving strategies trusted by clients throughout the UK and beyond. It services businesses new to outsourcing, looking to change providers, or starting a business.
Location: Leeds, United Kingdom
Founded: 1994
Arise is a leading customer experience management provider in the UK that links your brand with the top network of gig-economy service partners in the BPO industry.
This agency was recognized as rated A+ by the Better Business Bureau. As service partners, it magnifies passion and delivers personal care that creates enduring relationships, keeping the business' brand essential and growing.
Location: Lowestoft , United Kingdom
Founded: 2016
Pocket Receptionist specializes in professional telephone answering services. It has an in-house, fully trained, and accent-neutral pool of receptionists.
Additionally, Pocket Receptionist offers 5-star rating call strategies and can cater to short and long-term partnerships.
This agency will help you with an expertly trained and experienced team that will look after your business operation & your customers to support your business as it evolves and grows.
Location: Wokingham, United Kingdom
Founded: 2000
Founded in 2000, Answer Centre has grown into one of the UK's leading providers of telephone answering services and business mailing address services.
The agency has offices in Edinburgh City and Wokingham in Berkshire. It is composed of staff based in the UK and are well-trained professionals in handling calls with utmost professionalism. 
Location: Burscough, United Kingdom
Founded: 2011
Face for Business is a UK-based company specializing in telephone answering and managing live chats. Since 2011, the firm has incorporated outstanding customer service experience into its servicing brands and is recognized for quality and excellent service. 
It is also an ISO 9001-accredited company that focuses on setting goals and is committed to delivering excellent service and building good relationships with its customers to ensure the achievement of common goals. 
Location: Countesthorpe, United Kingdom
Founded: 2018
Founded by sales trainer and author Rob Spence in 2018, Paragon Sales Solutions has put together telemarketing and telesales experience to learn what it takes to get results maximizing the use of telephones.
All the agency's campaigns are anchored and designed for businesses looking for leads, appointments, sales, or brand marketing.
Paragon also catered to different services and connected with clients because of its skilled and committed team.
Location: Nottingham, United Kingdom
Founded: 2004
Started over 15 years ago in the UK, Answer4u is now one of the leading telephone answering service providers. It established principles in providing genuine and excellent service for the continuous growth of the agency.
It trains telephone staff to deliver and communicate with client calls as if they are its own, offering a warm, friendly, and personal approach.
Further, the company helps create a genuine impression of your company's professionalism to your valuable clients.
Location: Brighton, United Kingdom
Founded: 1990
The Telemarketing Company is one of the UK's leading telemarketing agencies that started in 1990.
The firm provides a full service of high-quality voice services, including:
Telephone research and data services

Lead generation and appointment setting

Telesales/inside sales

Inbound call handling and lead management 
The company has a portal called TTMC Connect that provides the capability to offer 100% call recording and delivers complete real-time transparency. It also shares agility, allowing clients to experience new and fresh customer service ideas.
Location: Glasgow, United Kingdom
Founded: 1996
Go-centric is a business process outsourcer with years of experience managing end-to-end customer solutions since 1996. It provides products and services that aim to help businesses to deliver an outstanding customer experience.
Further, Go-centeric offers flexible solutions with an omnichannel experience for business customers.
They manage telephone calls, email, SMS, social media, webchat, and messaging applications, with well-trained teams with a high level of service professionalism across all channels.
Location: Kingston upon Hull, United Kingdom
Founded: 2019
In 2019 Sam, Emilie, and Andy founded the Call Answering Company to assist and support other businesses experiencing issues and challenges that came with answering volumes of operation-related calls.
This agency understands the importance of first impressions on customers. It puts value on your business by providing a quality, trusted, and reliable service that works with the following industries:
Facilities management and maintenance

Security and well-being service provider

Hospitality and tourism 

Trades and online retailers 

IT companies, estate agents, and financial services
Location: Southend-on-sea, United Kingdom
Founded: 2010
Ventrica is a UK-based call answering service company founded by professionals with years of experience delivering intelligent customer contact solutions. Ventrica elevates sales, retains customer relationships, and increases the customer's lifetime value.
This agency is one of the UK's leading full-service contact center outsourcers. It offers intelligent Omnichannel customer management and digital marketing solutions, including the following:
Outsourced contact center services

Digital marketing and review moderation

Inbound bureau services

Customer insight and data analytics

B2B and B2C telemarketing

Social media and web chat management
Location:  Borough Green, United Kingdom
Founded: 1998
Since 1998, Clearanswer has been a top provider of customer support services for mobile marketing programs, broadband, and financial services brands in the UK and across Europe.
It also provides outsourced customer call solutions with teams that perform day-to-day communications. It includes call handling, providing specialist services, and advice to adapt to the advancing customer scenarios and communication channels.
Location:  Milton Keynes, United Kingdom
Founded: 1999
Konecta was established in 1999, committed to providing services in business process outsourcing and call center.
It has more than 54,000 multinational professional staff that collaborates in delivering excellent customer service experiences. 
The company performs on three continents with more than 200 clients in different industries, including finance, insurance, utilities, telecommunications, and public administration, providing unique customer service strategies for its clients.
Location:  Glasgow, United Kingdom
Founded: 1988
1Call Direct has been in the industry for more than 30 years, working with some of the UK's largest utility, mobile, home phone & broadband providers.
The agency is passionate and committed to helping businesses to generate more sales, which makes it a top call center company. The team of its organization is enthusiastic and determined to share the best service for its partners.
Location:  Kirton in Lindsey, United Kingdom
Founded: 1995
Anserve is equipped with the latest communications technology providing its clients with excellent call answering and messaging services.
With flexible and cost-effective service, this call answering service company helps business staff to lessen workloads and concentrate on their core functions.
Staffed in this company are carefully trained and highly experienced tele-receptionists. They will attend to your incoming business calls promptly and with utmost professionalism.
Location:  Borehamwood, United Kingdom
Founded: 1977
JAM is an award-winning telephone and call answering company with a proven record and an unrivaled reputation for excellence.
It operates 24 hours a day, seven days a week, to ensure that highly trained, experienced, and motivated staff will attend to all client calls.
Started in 1977 by Jackie Ann Millman to help musicians with bookings, JAM developed into a comprehensive, technologically advanced company capable of attending clients worldwide.