What does a live virtual receptionist do?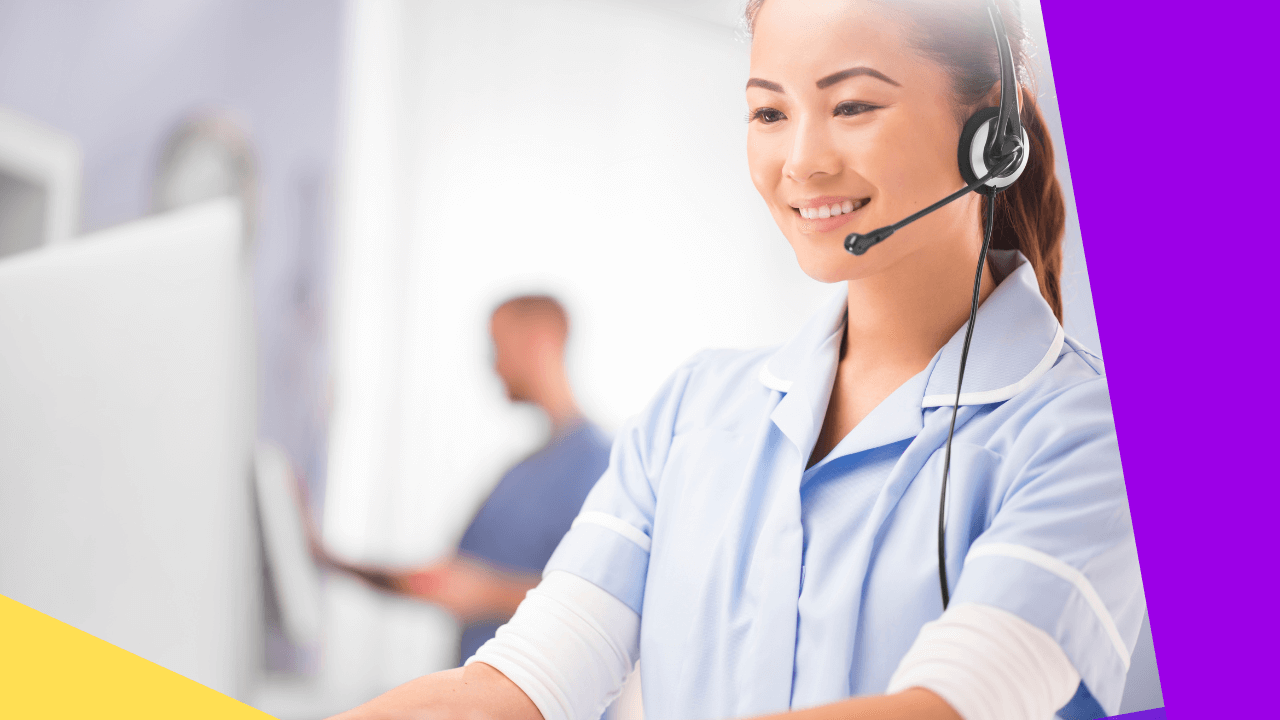 A live virtual receptionist performs the same duties as their physical or on-site counterparts.
These functions range from greeting clients and taking inbound calls to booking appointments and making follow-up calls. Virtual receptionists may also take on other administrative tasks such as: 
Filing and maintaining documents

Obtaining and forwarding information from clients to management and vice versa

Updating client records at the point of contact
Aside from performing the same responsibilities as an on-site receptionist, a virtual receptionist also comes with a bunch of other advantages.
Benefits of having a live virtual receptionist
A live virtual receptionist can perform better in many job functions compared to traditional on-site receptionists.
Below are the benefits of hiring virtual receptionists: 
Cost-effective
Like other outsourced business functions, delegating reception services to offshore providers presents a cheaper alternative than hiring traditional employees.
With access to employees from developing countries, businesses can save up to 70% on labor costs. They can also save time and resources by not having to provide the equipment or training for their virtual receptionist.
Improved productivity
By offshoring a business's reception functions, in-house employees will have more time to focus on the core aspects of their jobs.
For example, some companies may have their human resources staff accommodate inquiry calls from clients. With a virtual receptionist taking over this responsibility, human resources staff can focus on their core functions like employee management.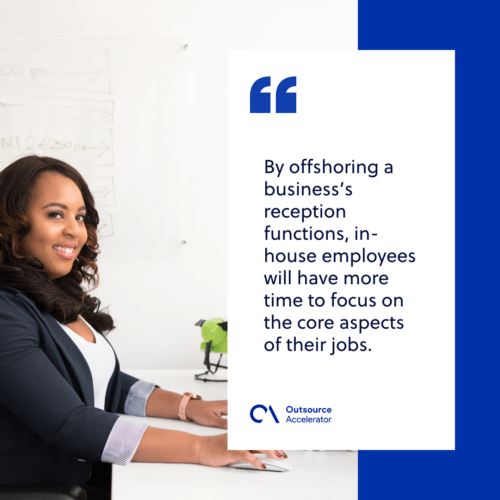 24/7 availability
Outsourcing firms typically operate 24 hours a day and seven days a week. These companies have employees working on a rotational basis to support their continuous and uninterrupted operations.
Thus, partnering with a business process outsourcing (BPO) company for virtual reception services gives organizations access to a virtual reception desk manned all day, all week – holidays included.
Multilingual receptionists
BPO firms often have multilingual agents who speak fluent English in addition to their native tongue and sometimes a third language as well.
Businesses that hand over reception functions to outsourcing companies can tap into a wide pool of polylingual agents.
In short, they gain access to receptionists that can converse in the language their clients speak, adding to a better customer experience.
Why businesses are switching from on-site to virtual receptionists
There are also other aspects of the reception function where a live virtual receptionist outperforms its on-site counterpart.
Virtual receptionists typically have access to proprietary technologies otherwise unavailable to companies.
These software solutions significantly boost the capabilities of virtual receptionists in various ways by giving them access to powerful functionalities.
These may include:
Features that help increase the number of calls a virtual receptionist can field per day

File management features for more streamlined document processing, forwarding, and receiving

Customer relation management (CRM) systems that can integrate with other existing software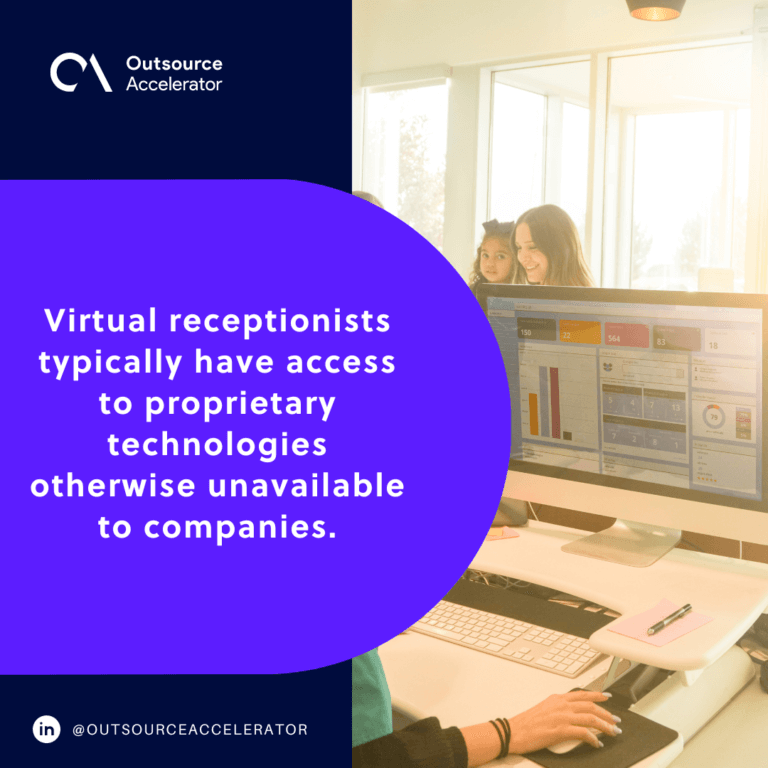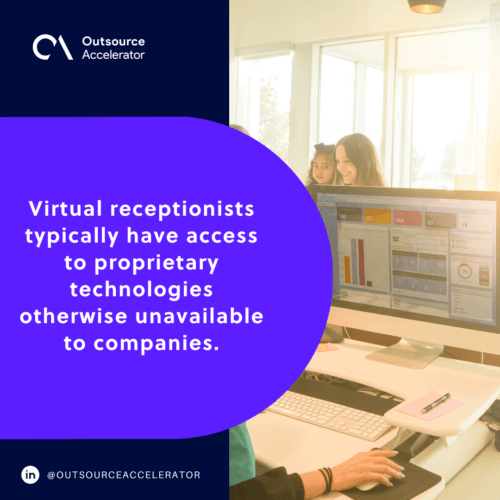 Why you should hire a live virtual receptionist thru Wing Assistant
Receptionists are a client's first point of contact with a company. Thus, they serve as its face to customers and external parties.
So, choosing the right outsourcing company to provide your business with live virtual receptionist services is paramount.
When it comes to live virtual receptionist services, Wing Assistant is a leading contender.
Hiring a live virtual receptionist thru Wing Assistant ensures that you'll be getting the best value for your money.
This accredited firm's virtual receptionists are equipped with the industry's latest tech and can handle the following tasks and more:
Answer FAQs

Take inbound calls

Book and schedule appointments

Pick-up orders over the phone

Receive payment and billing information over the phone

Field queries directed to HR
Another great thing about Wing Assistant's live virtual receptionist services is its pricing. Unlike other firms that charge by the minute, Wing Assistant bills by the number of calls per day – a payment scheme that proves to be more cost-effective in the long run.
Companies also don't have to worry about additional fees for cancelation, setup, or other hidden charges, as these are non-existent with Wing Assistant.
Schedule a call with the Wing team today and increase your business's efficiency by hiring live virtual receptionists thru Wing Assistant!