Top outbound call center services in 2023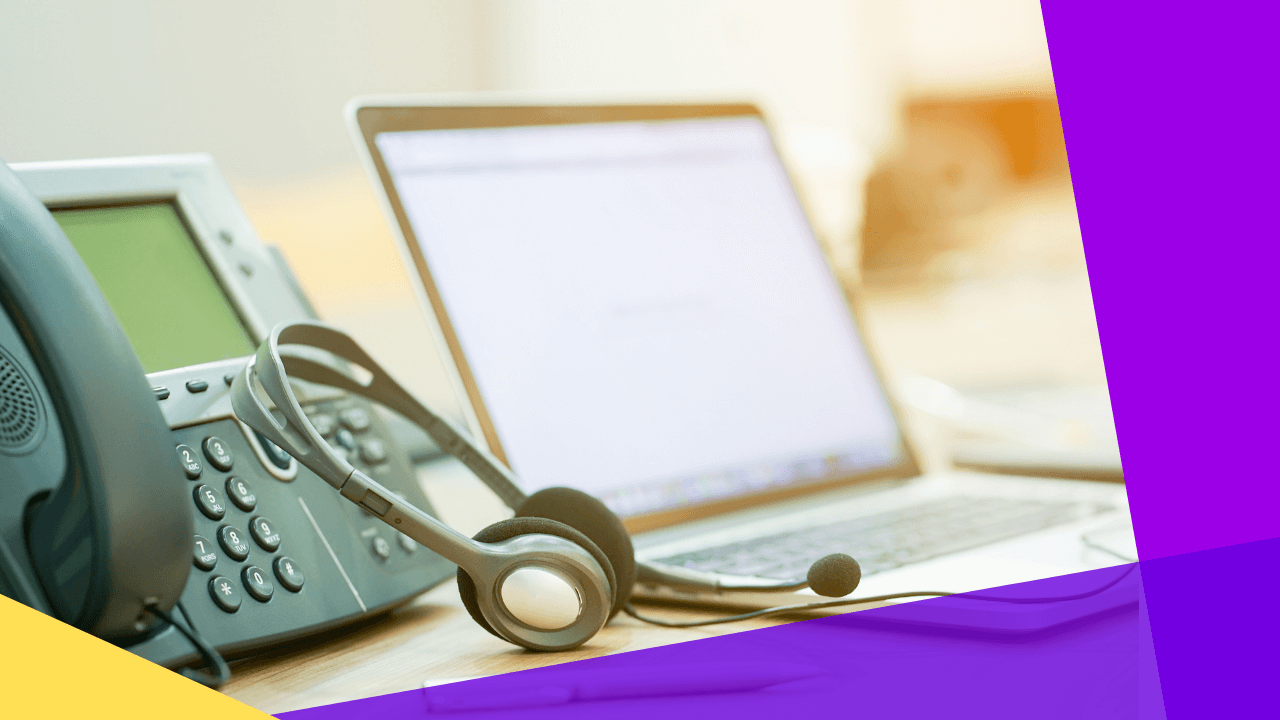 One of the most popular outbound call center services is telemarketing—but there's more to it.
Call centers have had a tremendous impact on the overall business process outsourcing (BPO) industry. From inbound to outbound campaigns, call centers opened and paved the way for the local and international markets. 
According to Statista, the call center subsector is projected to increase its value to USD 496 billion by 2027. With this amazing growth, it's no doubt that call centers are here to stay.
What are outbound call center services?
Actively reaching out to clients and customers via phone calls is what we refer to as outbound call center services.
That kind of activity is most commonly found in contact hubs, BPO companies that offer call center services, and, lastly, standalone call center agencies.
Agents reach out and converse with clients and customers about the brand they're working with. Be it complaints, surveys, or claims, outbound call center employees ensure the quality of each call.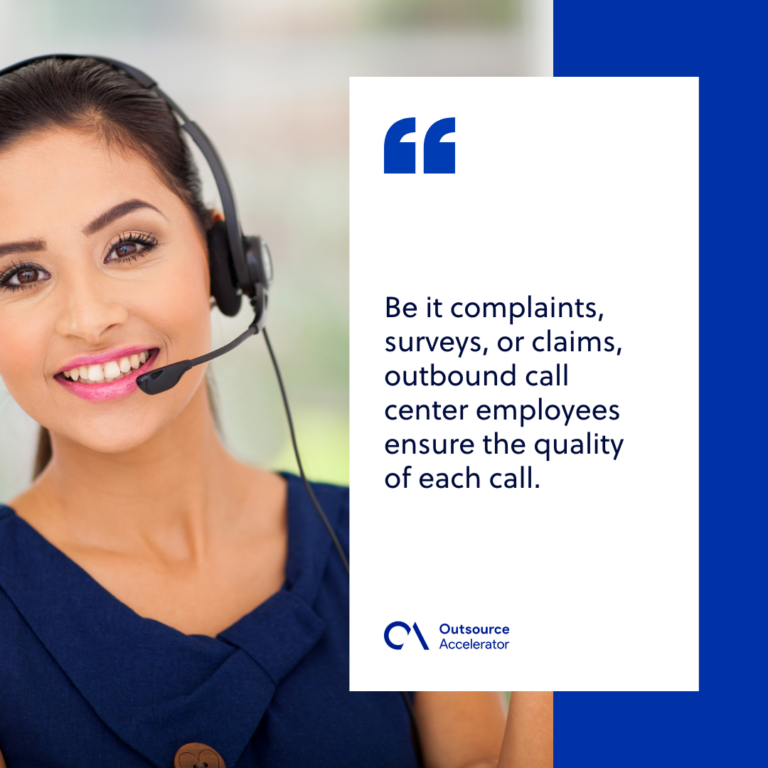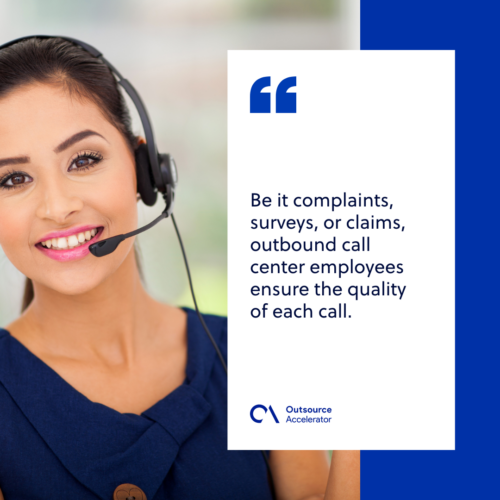 Advantages of having an outbound call center
Like any other department out there, there are obvious advantages to having an outbound call center. This is especially true if your business focuses on customer outreach.
These advantages will be more prominent when the work with done by a third-party service provider. Outsourcing is a world-renowned way to effectively cut costs without sacrificing the quality of service.
It's no secret that most companies are adopting this business model to run their business efficiently—especially in the middle of a pandemic.
Efficient
Without outbound services, a business may not reach out to existing customers and clients, much less to their prospects.
Sure, most of the staff can do phone calls and outreach campaigns, but how efficient are they? Outbound call center agents are trained professionals. They go through extensive training and procedures before phoning their first-ever customer.
These agents are used to every outcome that the call may take on—rebuttals and rejections are part of their day.
Productive
Let's say that a business has got half a department to deal with outbound calls. On top of their regular workload, they have to reach out to their call list.
To the trained eyes of an expert, this is not a workable way of running a department.
Responsibilities get set aside to wiggle in a few calls, reaching the KPIs for the month. Days get longer and production is slower.
It's always better to invest in a dedicated department for outbound calling campaigns.
Partnering with a BPO service provider like GetCallers can help provide businesses with a dedicated outbound calls team for a significantly lower price.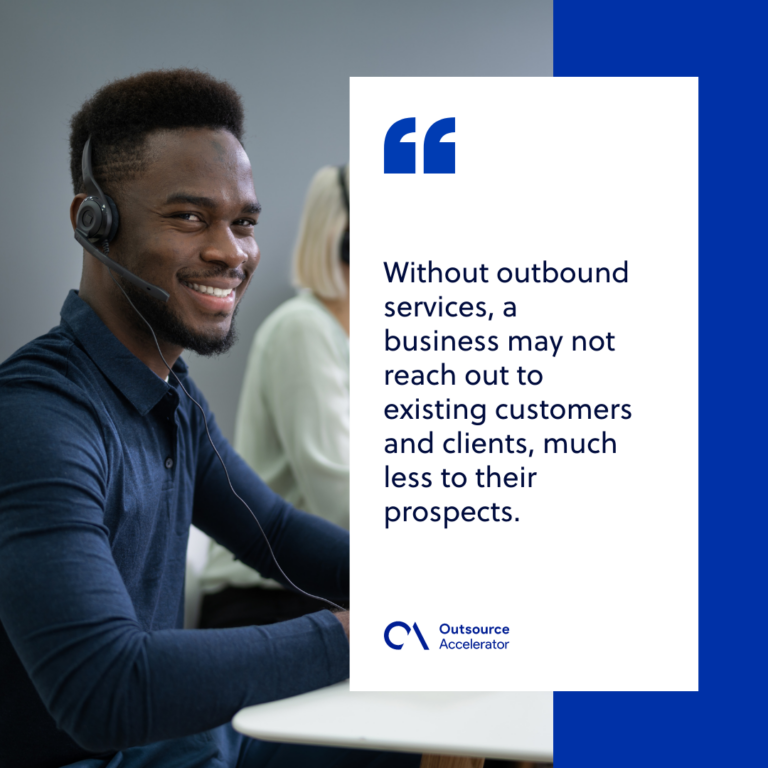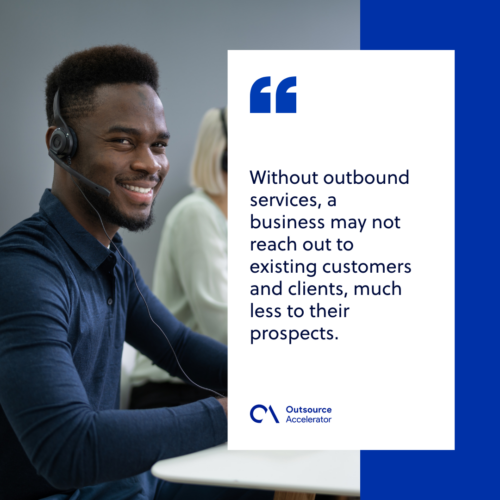 Scalable
Thinking about the future? 
Expansion within a company is inevitable. Even if it's just a ramp-up within your outbound department, it's important to note that growth starts from within.
Start small with the team and work from there. Train them with free tools before upgrading to enterprise plans and more.
This way, the growth of the company is organic and founded by the pioneering team themselves.
Flexible
In any industry, businesses need flexibility and the ability to adapt to any changes.
Without room for growth and improvement, companies would suffer while their competitors flourish. A call center (whether inbound or outbound) can be open 24 hours a day, seven days a week, all throughout the year.
24/7 businesses that can be reached at all times are most likely to drive up their revenue compared to competitors who operate the regular nine-to-five hours.
Types of outbound campaigns in a call center
Most folks would see the word call center and imagine an office worker picking up the phone and talking all day. While, technically, that's the gist of call centers, there's more to it than speaking over the phone all day.
First off, call centers all have different accounts or clients. These clients vary from tech companies to healthcare providers, as every industry needs a call center to get in touch with their customers and clients.
Financial services
Banks, lending institutions, insurance firms are all in the finance industry.
These companies and institutions are always filled to the brim with clients and customers, mainly for their transactions. Outbound calling only happens when a customer has an unpaid debt, or the company is conducting surveys or an annual update of information. 
The latter can always be done in person or online and not necessarily always through a call. However, these businesses still need to send out emails and text reminders to their customers.
Insurance claims
Insurance claims are tedious work. Therefore, all insurance companies only hire the best and most competent applicants in their system.
Most, if not all, agents would call and reach out to their prospects for processing their claims and following up on the status of the said claim. One of their responsibilities is to call third-party vendors and partners to verify information, update their internal database, and more.
Billing
Outbound campaigns also play an essential role in keeping your clients up-to-date with their bills and other updates to their accounts. These are especially helpful for overdue payments, service interruptions, and other essential notices.
Engaging with your customers and reminding them of the human behind every phone call is key to having 100% customer satisfaction.
Often, outbound billing campaigns are not flocked by agents—thinking that it's hard and the environment is emotionally draining for them.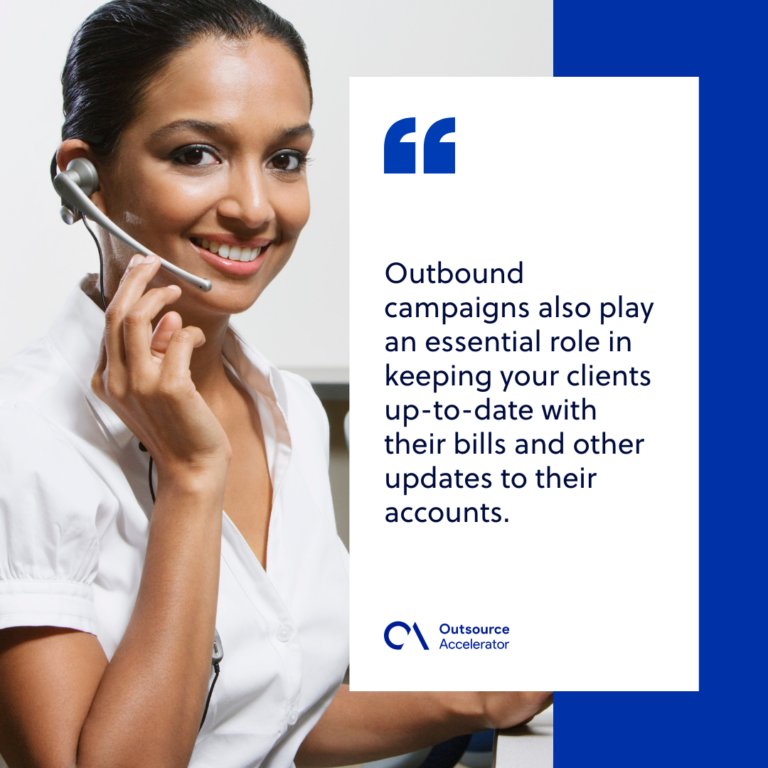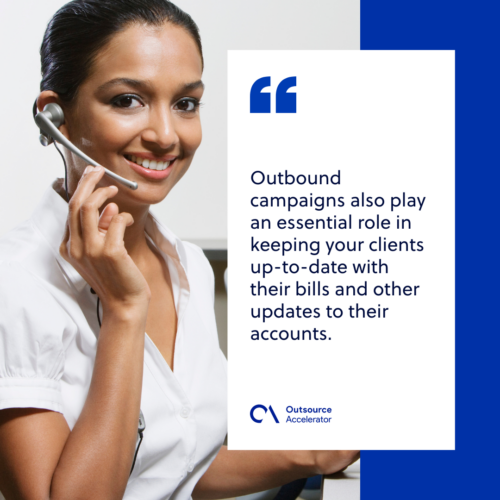 Prospecting
On the other side of things, prospecting financial clients is just as important as the two above. Reaching out to potential clients, customers, stakeholders, and investors makes the company grow.
It's no doubt that to be a successful business, executives have to mingle with their colleagues, but in this case, outbound agents are conducting business-to-business (B2B) calls.
Educational services
We've all been there—past schools, colleges, and universities calling or emailing us about an event exclusive to their students and alumni. But what if it's more than that?
With the rising tuition costs and other fees, some students—both continuing and pursuing their degrees or post-graduate studies—may feel the need to take out a loan to continue their education.
While some might think that the schools are the ones giving out loans, they usually partner with another institution to fulfill their student's needs.
Student loans
As mentioned above, student loans help individuals cover their school expenses. The plans are usually very comprehensive and, depending on the service provider, students will only pay after they graduate.
That said, loan providers need to reach out to their clients — whether it's for processing claims, verifying identities and information, and reminding customers about their fees.
Surveys
The school or university representatives would try to reach out to their old students, alumni, past professors, and employees to ask about their time in school.
Alternatively, researchers (with the institution's approval) may contact individuals to invite them to participate in the said survey. But not all surveys are about the school nor research. Sometimes, colleges would hold an alumni fundraiser for their current students.
During this time, the school representatives would reach out to their prospects via a letter, an email, or a phone call.
Recruiting services
From sourcing candidates to firing employees, recruiting will always start with an outbound campaign.
For instance, a recruiter (whether outsourced, offshored, or in-house) has to call and reach out to the applicant for a quick interview. If the prospect passes, they will have to wait for an interview schedule, and so on.
Recruiters may handle blended accounts, doing both administrative and client-facing tasks that involve outbound calls and outreach programs. These may be handled by recruitment process outsourcing or RPO firms, which can help lessen the burden of the in-house HR department.
The recruitment process outsourcing industry is well in the way of being one of the biggest subsectors of the outsourcing industry.
Outbound sales
The act of actively pursuing and reaching out to a customer to close a deal via calling is what we refer to as telesales. Telesales agents spend their day talking to customers over the phone to determine their needs, wants, budgets, and more.
That being said, there are still people confusing the terms telesales and telemarketing. Always keep in mind that telemarketing doesn't always involve selling a product or a service.
Outbound marketing
Telemarketing is the process of gauging a prospect's interest in a product or a service that an agent is representing.
Of course, not all telemarketing calls and programs revolve around trying to make a sale. It can also be surveys funded by a private or public institution, a re-engagement campaign, and more. 
Are call centers dying?
Some might think that automation and AI would soon replace call center agents and other workers. The feeling of inadequacy amongst the young professionals in every industry is ever-present, as the competition is tight. 
This concern is valid and well-known in the industry. However, there will always be a significant number of call center services that are best handled by the human workforce.
There is no doubt that call centers are here to stay. It is not a dying industry. Call centers have paved the way for multinational corporations to thrive, and they will remain as one of the most profitable employers in the years to come.