Recruitment Process Outsourcing (RPO)
Definition
What is recruitment process outsourcing?
Recruitment Process Outsourcing (RPO) can refer to handling the entire recruitment process or be tasked with providing talent to satisfy specific project requirements. Ultimately, an RPO provider, as opposed to a recruiter, will work with the business and management team to be able to meet their staffing requirements.
Much like everything in the outsourcing industry, it is a relationship between companies and experts to clarify their business needs and create strategies to address them. Similarly, companies and business owners can choose the degree to which they commit to developing that relationship, depending on their time, focus, and resources.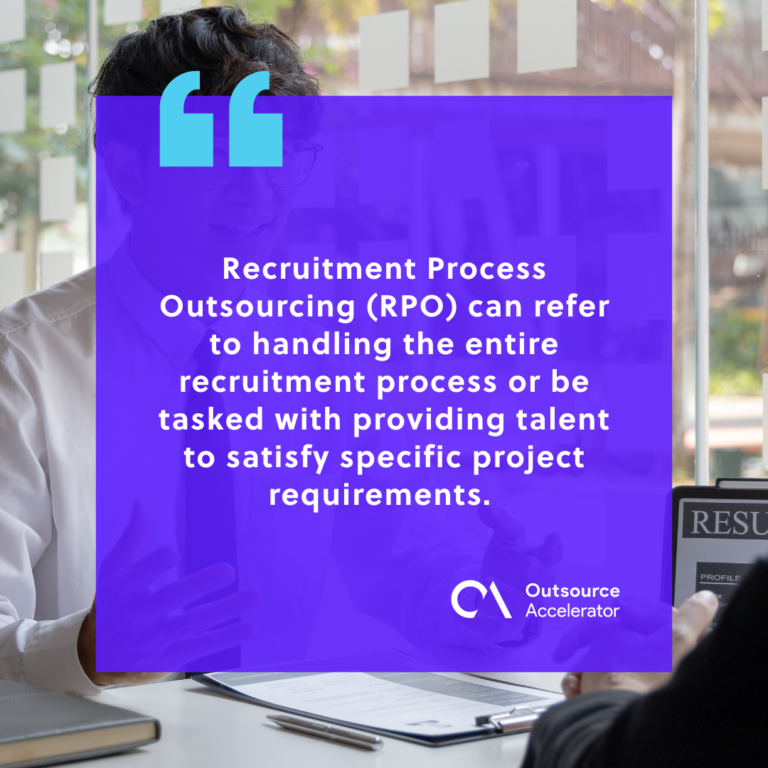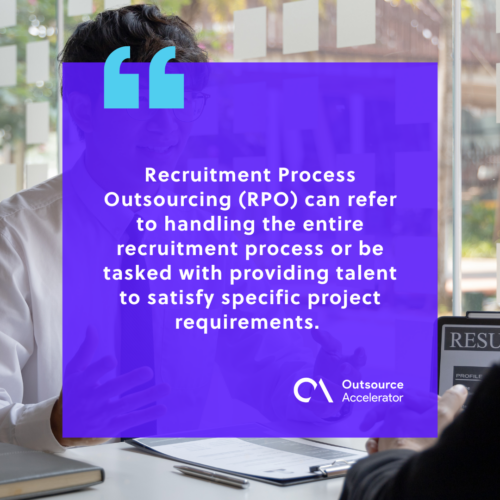 How does the recruitment process outsourcing work?
Our Hudson RPO quality recruitment outsourcing program blends dedicated recruiters, technology, and best practice hiring processes to transform an organization's talent acquisition function. 
Aligned to your hiring managers, RPO solutions drive the end-to-end recruitment process from forecasting to sourcing, assessing, placing, on-boarding, and reporting while utilizing expertise, innovative technology, and key performance indicators.
Through clearly defined processes and deep specialization, RPO solutions can dramatically reduce cost-per-hire, time-to-hire, and attrition, plus measurably improve quality of hire, reporting, and scalability, delivering you a far greater return on investment.
RPO recruitment definition
Through a complete set of external recruiting tools, recruitment process outsourcing can support part or all of your company's permanent staff hiring. RPO recruitment helps you find the appropriate talent efficiently by providing process excellence, a scalable model, cost savings, and market information.
Your RPO recruitment strategy may be customized to include a specific collection of services that are suited to your company's goals, needs, and recruitment difficulties. Recruitment resources may be scaled up or down in response to changing hiring demands, giving your company a lot of flexibility.
Benefits of recruitment process outsourcing
At its best, recruitment process outsourcing is an ongoing process that starts from understanding the business environment and vision to branding the business as an employer that attracts the ideal talent, all the way to acquiring, hiring, and onboarding new talent needed by the business teams.
Outsource Accelerator provides you access to Recruitment Process Outsourcing suppliers from the Philippines starting from $6 per hour, where you can save up to 70% on staffing cost. We make it easier for clients to learn about, and engage with recruitment process outsourcing.
The outsourcing recruitment process has numerous benefits over traditional hiring methods. It makes use of existing talent resources and innovations to find the best applicants depending on the needs and preferences of companies.
Some benefits of the recruitment process outsourcing are as follows.
Improves scalability and flexibility of recruitment
Most organizations' recruiting requirements differ throughout the year, depending on established targets and goals. In these situations, determining the exact number of employees necessary for maximum workplace efficiency can be difficult. 
A competent recruitment process outsourcing firm will recognize this and handle it with ease. Recruitment will be done on a project or on-demand basis, based on analyzing the specific requirements of diverse businesses. 
It ensures that the right number of the most competent workers are needed to fill workforce roles at all times. Further, companies must adapt rapidly to the ever-changing market environment.
Provides access to an exclusive talent pool
Without the services of a recruitment process outsourcing provider, acquiring the essential talent required to meet corporate goals and objectives may be a problem.
In addition, deploying an RPO solution can help you take a more controlled approach while ensuring a high-quality partnering service.
The majority of well-known RPO providers have a thorough, broad database of complicated individuals required to fill critical employment positions. 
The demonstrated experience of recruitment process outsourcing providers, when combined with their exclusive access to these highly desired talents, will make it easier for client firms to obtain the services of in-demand candidates. 
Lessens the burden in HR Department
Using a skilled recruiting service provider will relieve stress on the human resources department and boost efficiency and production significantly.
When all parts of recruiting are handled by a recruitment process outsourcing agency, HR can focus more on dealing with internal issues that arise inside the company.
Provides a robust recruitment service
Recruitment process outsourcing is ideally committed to making a full recruiting solution to the businesses they represent, especially to their experience and exclusive access to internationally sourced talent.
From the target candidate screening process through the testing phase and final employment, these recruitment outsourcing services will pay close attention to the smallest of details to offer the finest prospects potential.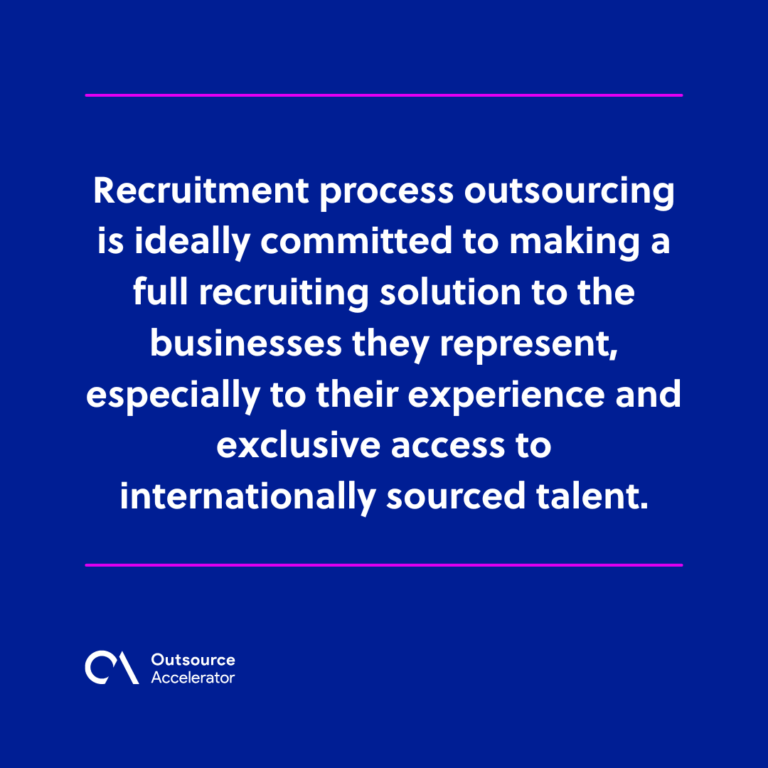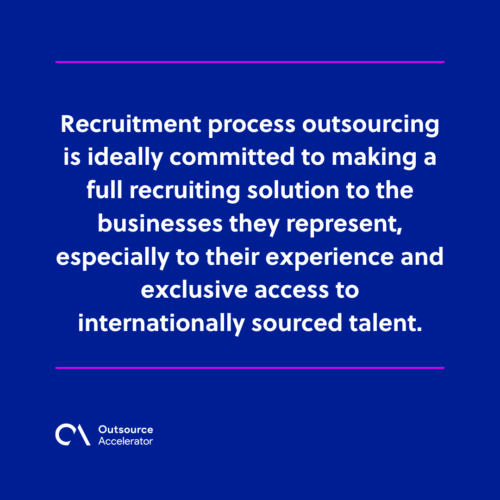 What services does an RPO offer?
The services provided by recruitment process outsourcing are not limited to filling roles. Their objective is to guide you in improving your overall recruitment techniques.
As a response, here are a few factors to expect from recruitment process outsourcing.
Complete assistance with the hiring process
Your recruiting manager will benefit from an RPO's assistance with their tasks. Companies can rely on professional recruitment services to bring the potential individuals to work who can be approved by you, the hiring manager, and your RPO.
The use of advanced technology
To discover candidates, a recruitment process outsourcing will not use traditional approaches. Instead, they'll employ technology that interacts with other leading candidate-sourcing platforms. This will allow you to reach out to a larger pool of qualified individuals.
Monitoring
Clients will be able to see progress using real-time portals and dashboards provided by recruitment process outsourcing. Over time, this will assist the management in improving the hiring process.
Consulting and evaluating
Many RPO providers will provide consultation services if you want further assistance. They will assist you in evaluating your existing recruiting practices and making intelligent suggestions for improvement.